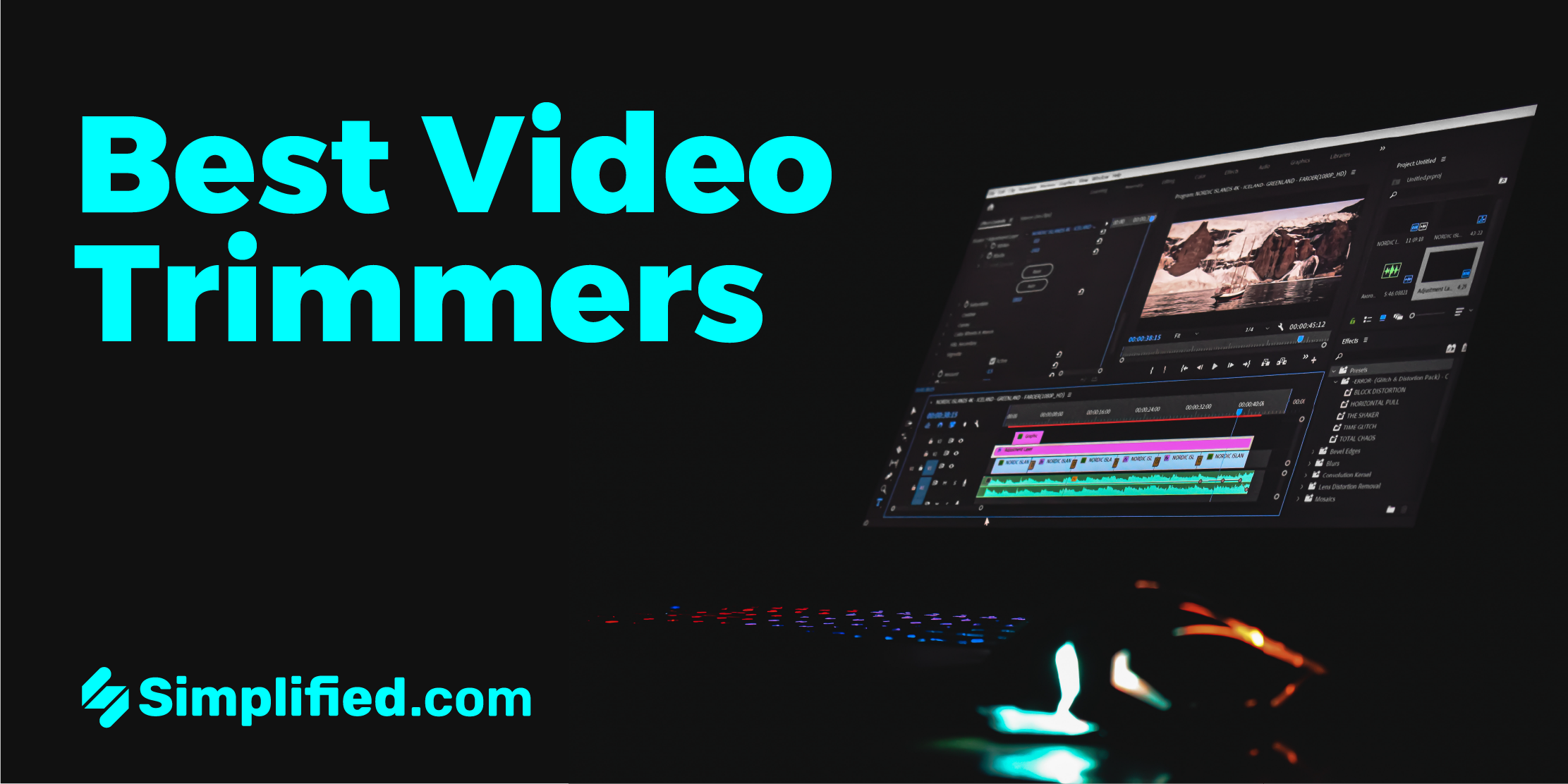 When it comes to video editing, it's pretty common to find that some parts don't belong. Maybe it's a shot that didn't turn out how you wanted, or maybe it's just a section that adds nothing to the final product. Whatever the case, you'll want to trim those parts away with the best video trimmer software.
Luckily, there's no shortage of video trimmers on the internet. However, getting the best program to cut videos may be difficult to determine on your own. But worry not, we've got you.
In this blog, we'll be showing you some of the best video trimming software your video editing needs!
The Best Video Trimming Software for Businesses in 2023
Here is a list of the best video trimmer software for business, professional and personal use in 2023:
1. Simplified
When it comes to the best video trimmers out there, Simplified is definitely at the top of the list. But what makes it so great? Well, for starters, it's incredibly user-friendly. Even if you have no video editing experience, you'll have no problem navigating the software. It also offers advanced features for those looking to do a bit more with their videos. With Simplified you can trim all types of video formats including AVI, MP4, MOV, and more.
But that's not all, Simplified has a wide variety of filters, effects, animations, stickers, icons, and other design elements, to help you make your video more visually engaging. Whether you choose to use one of the millions of watermark-free videos in the media library or one that you've uploaded, Simplified ensures the original quality of your videos is maintained when downloaded.
And this isn't even the best part. Simplified has many other features to help you create the best videos, like an AI writer that will help you write copy or captions for your video, a brand kit manager to ensure you can easily access brand assets, and much more!
Key Features:
Unlimited filters, effects, animations, stickers, and icons.
Cut lengthy videos frame by frame to make for an easier editing experience,
Compatible with PC and Mac.
Thousands of fonts & design components.
Related: 7 Free Stock Video Sites Every Marketer Should Know
2. Joyoshare Media Cutter 
Joyoshare Media Cutter is an easy-to-use video editing software. It is considered one of the best video trimmers. It allows you to cut and edit clips and also supports a wide range of output formats, including AVI, MPEG, MP4, and others. You can also include special effects and frames in your video.
Key Features:
Trim and cut video clips
Mix video and audio
Adjust settings
Easy to use
Windows and Mac support.
3. Movavi Video Editor
Movavi Video Editor is a video editing software that allows you to trim and cut video clips, merge multiple videos into a single video, and add text, music, and special effects to your videos. It should be noted that the tool is not completely free. However, it provides a free 7-day trial.
Key Features:
Trimming and cutting video clips
Add text and music to your videos.
Accessible in multiple languages and is 
Compatible with PC and iOS.
4. Weeny Free Video Cutter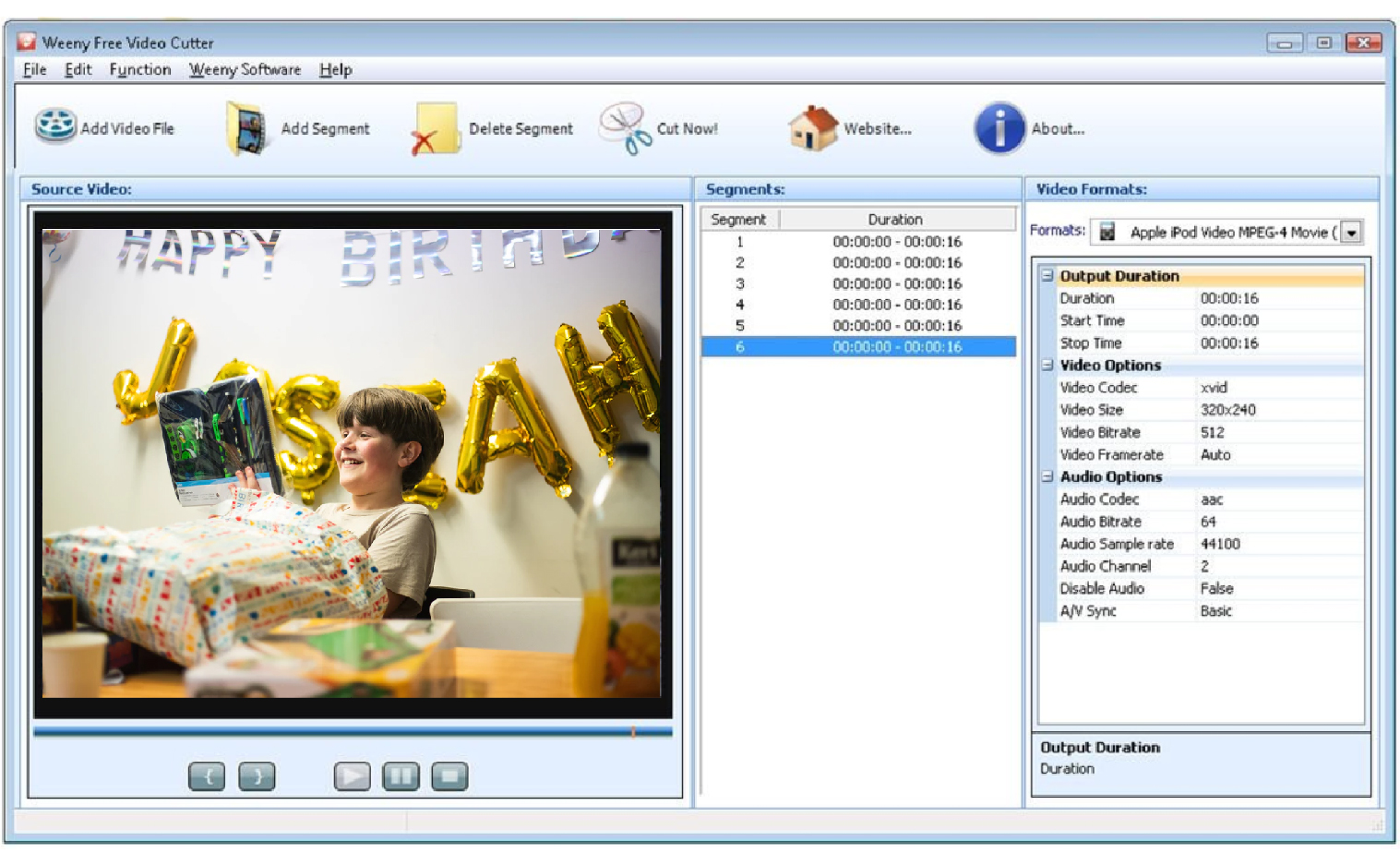 Weeny Free Video Cutter is an application designed to help you trim video files, as well as convert them to other file types, such as MP4, MPG, AVI, WMV, MP3, and OGG. It is designed to be simple and easy to use, with a straightforward interface that lets you select the portion of the video you want to cut and then save the trimmed video to a new file.
The software supports a wide range of video formats, including AVI, MP4, MOV, and more. It is a useful tool for quickly trimming down long videos or for removing unwanted segments from a video.
Key Features:
Cut video files into smaller pieces.
Support for a wide range of video formats.
Simple and easy-to-use user interface.
Adjustable quality settings.
Preview trimmed video
5. Bandicut Video Cutter
Bandicut is known as a super-fast video cutting/joining application with an easy-to-use UI. It lets customers reduce video segments while maintaining the original video quality. The user-friendly interface allows you to select the portion of the video you want to cut and then save the trimmed video to a new file.
Dozens of different video formats, such as AVI, MP4, MOV, and others, are supported by the Bandicut. Additionally, it has a preview feature that enables you to see the edited video before saving it.
Key Features:
Video merging and video splitting.
The ability to add audio to video files.
It is a useful tool for quickly trimming down long videos.
Removes unwanted segments from a video.
6. Adobe Premiere Pro
Adobe Premiere Pro is a video editing software that is part of the Adobe Creative Cloud suite of tools. It is widely used by professionals in the film and television industry, as well as by amateur videographers and content creators.
Key Features:
Ability to edit your video footage in a non-linear fashion.
Add multiple video and audio tracks to your project, allowing you to layer and mix different elements together.
Playback engine that lets you preview your edits in real time.
Built-in effects and tools for color grading, and audio editing.
Related: 6 Best Gaming Free Online Video Editors Of 2023
7. IMovie
iMovie is a user-friendly video editing software that comes pre-installed on all new Apple devices, including Macs and iOS devices like iPhones and iPads. It's a great tool for beginners to get started with video editing, as it has a simple interface and a range of basic features. With iMovie, you can easily import your video footage, trim and split clips, add transitions and effects, and export your finished project to share with others.
Key Features:
Pre-designed themes that you can apply to your videos to give them a professional look and feel.
You can add custom titles and credits to your videos using iMovie's built-in title editor.
iMovie allows you to adjust the volume of your audio tracks, as well as add sound effects and music from its library or from your own collection.
you can add transitions between video clips to make your movie flow smoothly from one scene to the next
Create Amazing Videos with Simplified's Free Video Editor
Video editing and trimming is a crucial aspect of creating high-quality content for your brand in 2023. Choosing the right video trimming tool can make a huge difference in the final outcome of your videos.
The above mentioned top 7 video trimming tools are all great options, each with their own unique features and capabilities. It ultimately comes down to your personal needs and preferences.
Whether you're a professional video editor or a small business owner looking to create engaging content, these tools can help you create polished, professional videos that will set your brand apart but if you're looking for a user-friendly high-quality video editor with no learning curve then look no further than Simplified.
Simplified is the best video trimming tool offering a variety of features for editing and enhancing videos, including basic tools such as trimming, cropping, and adding text, as well as more advanced features such as color correction, motion graphics, and 3D animations.
Happy editing!