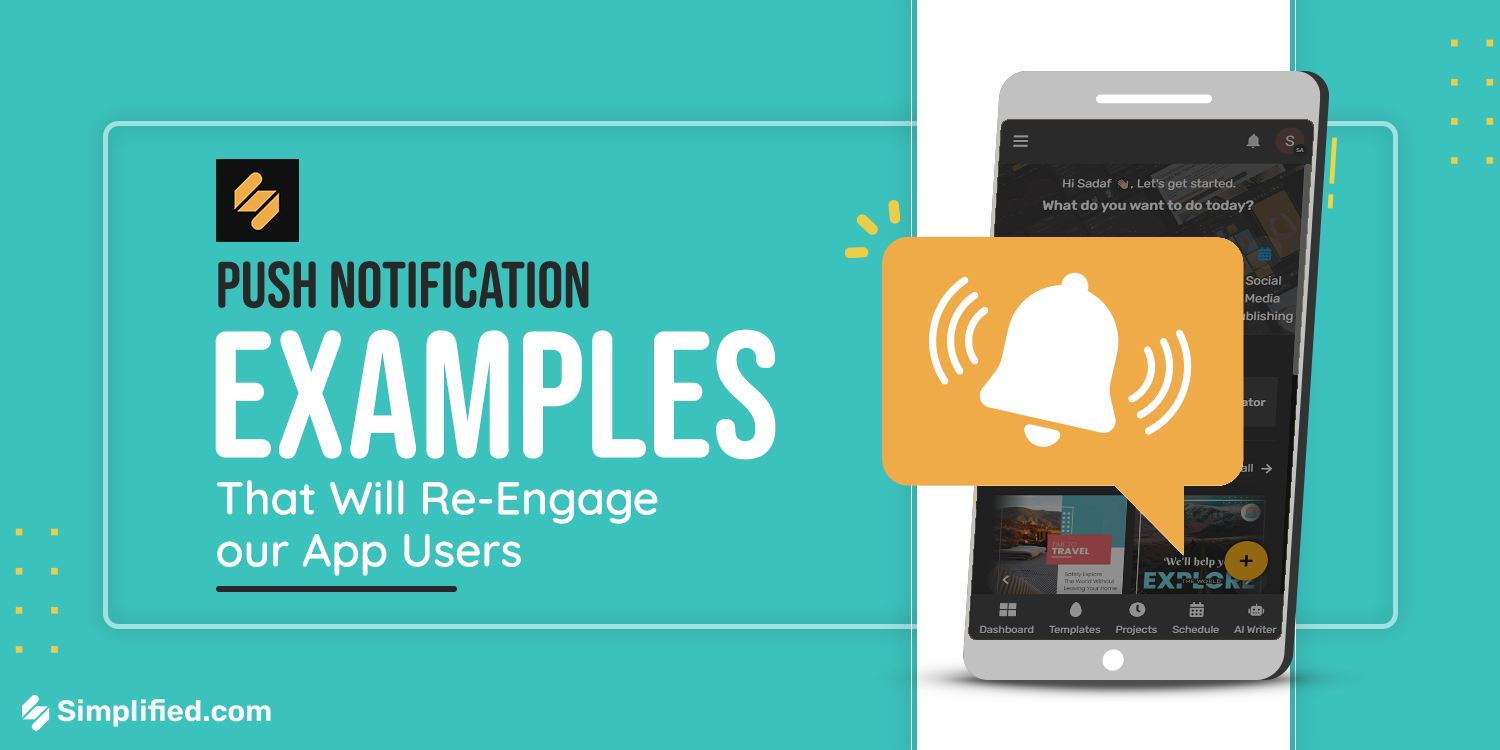 Push notifications draw attention to a user's smartphone and encourage the user to open the app. They are a great way to send timely information and updates to the users of your app.
They can also help increase user retention by re-engaging users who have stopped using your app.
One brilliant push notification example is one used by Facebook. They provide value to the user by letting them know exactly what's new on your feed like a friend tagging you in a post or comment.
But we all know that creating push notification copy can sometimes be challenging to create and implement. So here are some push notification examples that can help you re-engage your app users.
Related: The All-in-One Twitch Size Guide to Create a Professional Streaming Channel
What's The Best Push Notification Strategy?
Push notifications are easy enough to implement. The challenge is in figuring out exactly what to say with your notifications. They need to be short enough so they're easily skimmable, but not too short that you're unable to deliver your message. Here are some examples to inspire your next push notification copy:
Push Notification Examples
Here are some excellent push notification examples to help you get inspired.
1. TheLADBible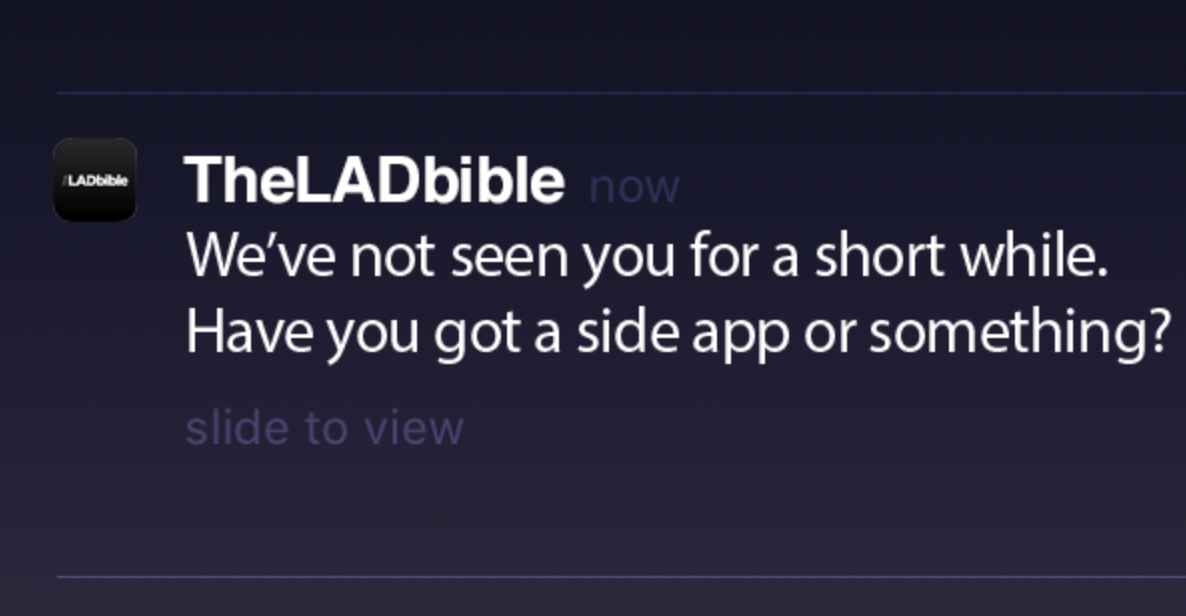 The app has a successful push notification strategy. TheLADBible sends out a daily alert with funny visual content and a caption from their website. They focus on humor and draw attention to their app by using a fun, entertaining way to grab people's attention.
2. Duolingo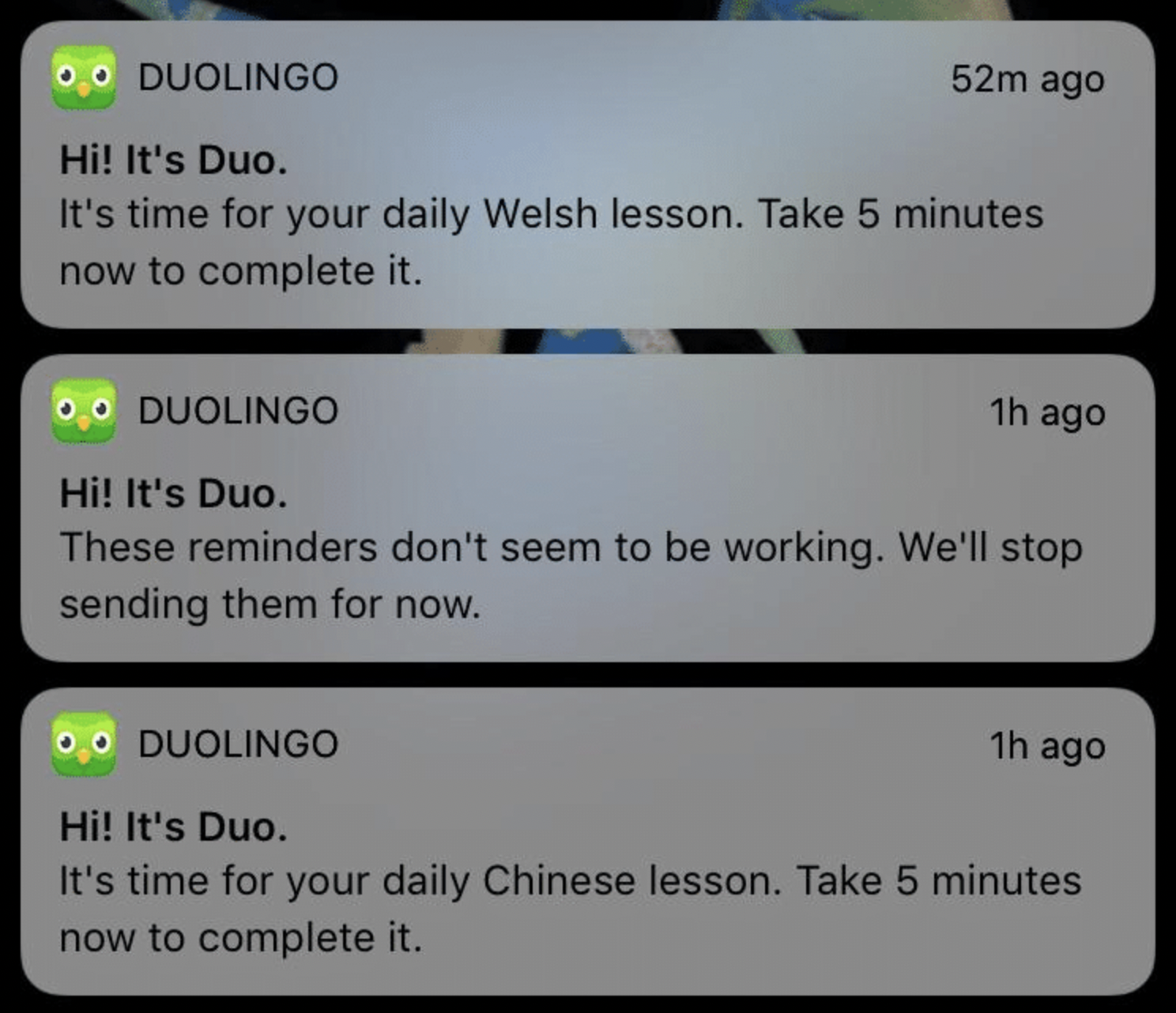 Duolingo is another excellent push notification sample. They encourage users to use their app more by introducing scorestreaks, leaderboards, tiers, stages, and a status bar for completion.
Inspired by the newest design trends, Duolingo sends motivational push notifications messages that inspire users to pursue the language they want to learn.
3. Yummly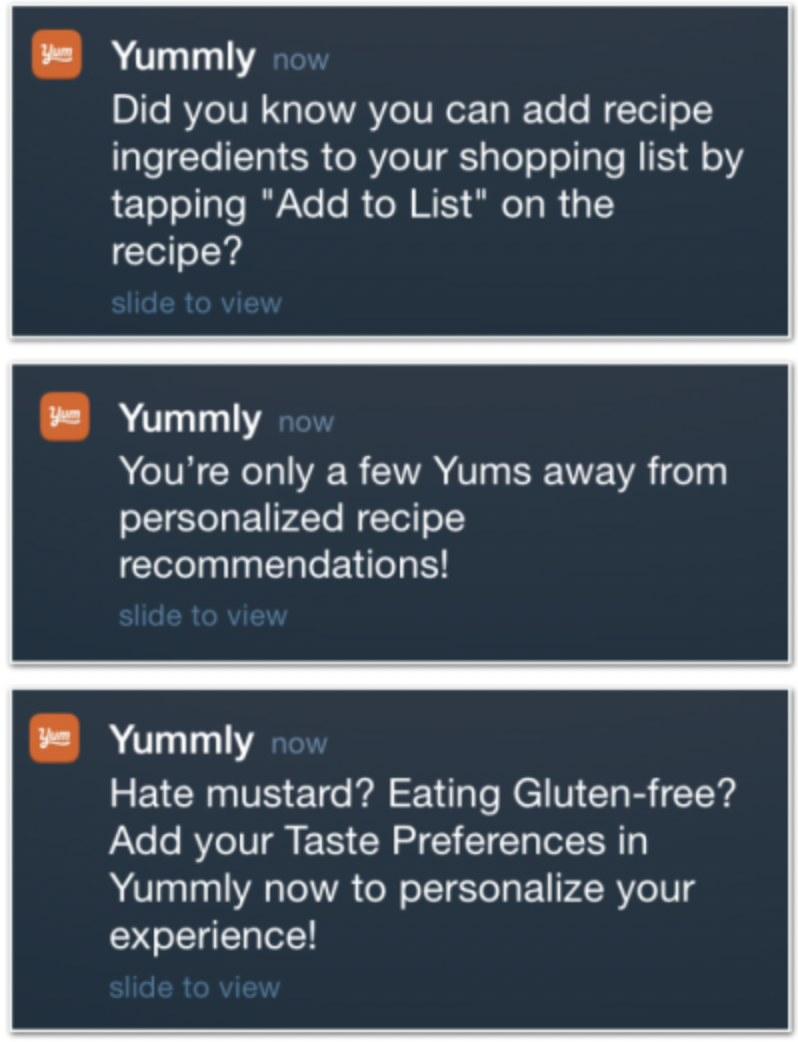 Yummly uses tracking to find the best recipes and ingredients near your local supermarkets. They also suggest recipes you can make based on your culture because the app tracks your location.
Because Yummly allows you to store recipes and share them with others, they need to make sure you can access them at any time. They've discovered that tracking assists them in delivering push notifications depending on your location.
Related: How Email Personalization Can Up Your Marketing Strategy
4. Wondershop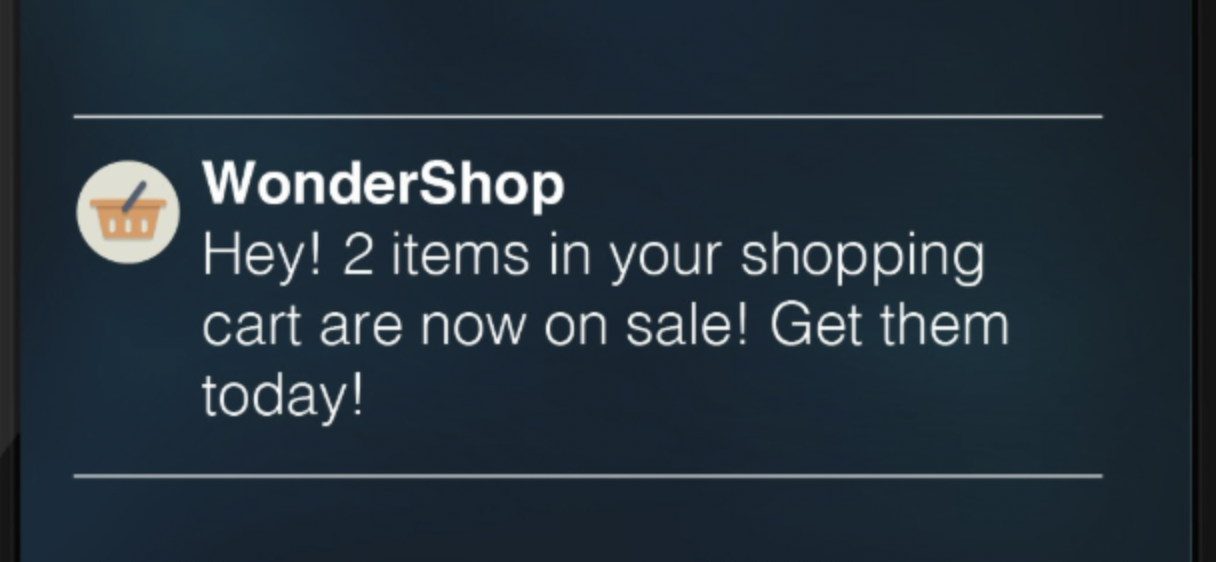 Wondershop uses a timer to create urgency and make it seem like the player has to act fast, or else they'll miss out on something. They also use colors and animation effects based on graphic design to draw attention and make their app more appealing to users.
5. The Wall Street Journal

The Wall Street Journal uses tracking and data to provide users with the most up-to-date news. Their app also shows users articles from different countries to learn about things happening worldwide.
6. The New York Times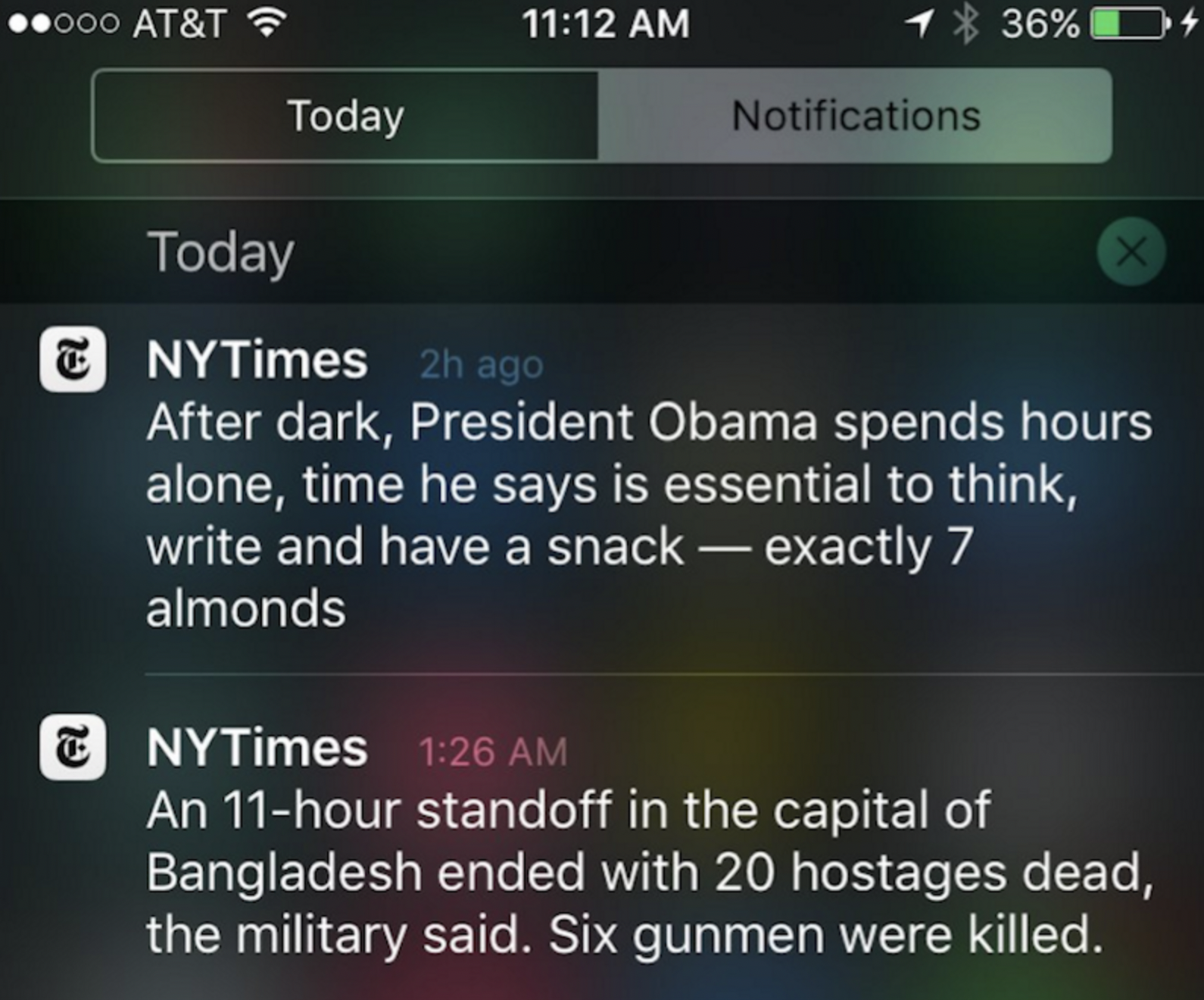 The New York Times uses notifications to highlight essential articles and news users might want to read. The app also allows users to read full stories for free or subscribe if they want access to more content.
7. Amazon
Amazon uses notifications to inform users when they can buy products at a discounted price or get free shipping. The company also uses push notifications to highlight new offers from third-party sellers, giving users more options for shopping.
8. Level

Even with its simple logo, Level excels by complimenting and rewarding users by appreciating their efforts based on their habits and phone usage. Rewards help in creating a better user experience and keeping the users engaged.
The app uses push notifications to remind users when they have hit their goals with an achievement sticker.
9. Imgur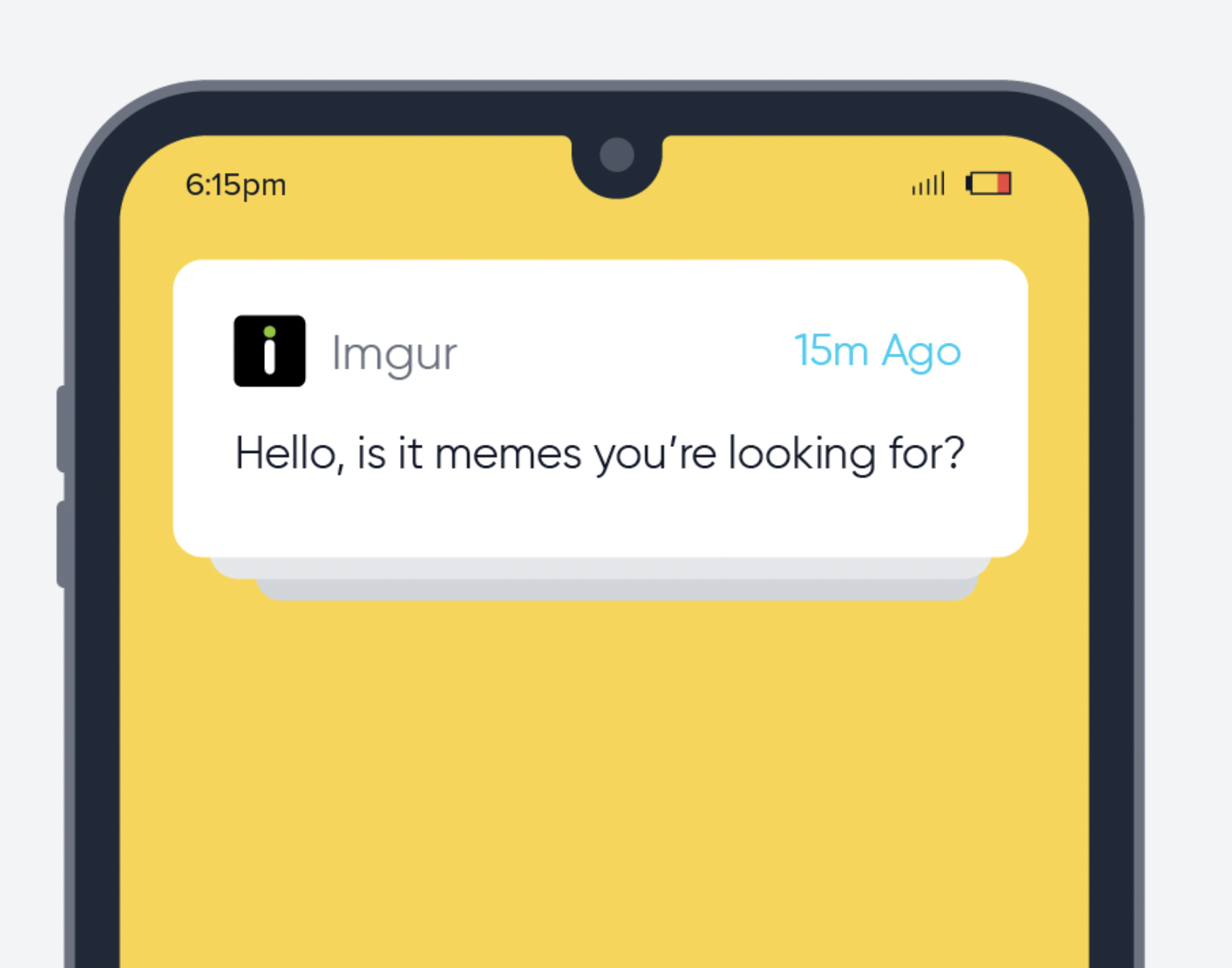 Imgur has great humor as they send notifications for new memes, trends, and viral content. The notifications are often funny and entertaining, which makes it hard for the users to ignore them.
10. CNN

CNN sends out news alerts and breaking stories, which are essential for users who want to stay up-to-date with the latest happenings worldwide. The app also has a feature that allows users to customize their notifications based on topics they care about.
How to Use Push Notifications
There are many ways to keep users engaged with your app through push notifications. Some examples include:
Promoting a sale or new product release
Reminding users about an upcoming appointment
Sending information about new products and services
You can use push notifications in two ways:
1. In-app Notifications
Our AI assistant will help you brainstorm and generate ideas for the perfect push notifications.
For example, if you want to remind someone about an upcoming appointment, you might send a push notification saying, "Your appointment is today at 3 p.m." A message like this is helpful because it doesn't require the user to open the app.
They can see it as soon as they launch their device. The downside is that users may dismiss these messages before reading them, so it's crucial to ensure they're relevant and timely.
2. Alerts
These are delivered outside your app so that users don't have to open them before seeing them. Also, unlike in-app notifications, they aren't automatically dismissed after being read.
Instead, users must manually click "Open" or "View" to interact with them.