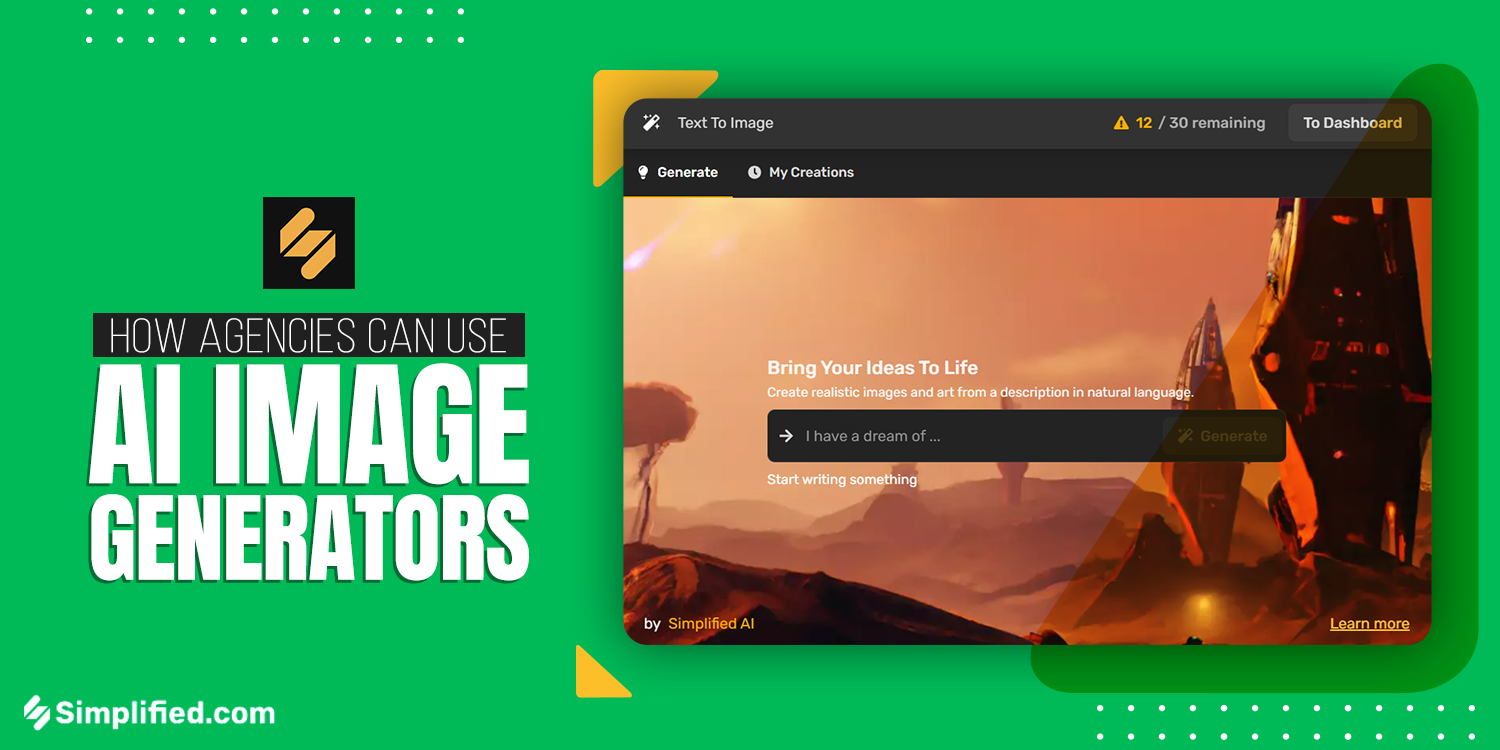 AI image generators are text-to-image-based tools that help you create high-quality art and images in an instant. You can generate different image ideas for your next project in less than 5 minutes. Isn't that awesome? Creating content has never been easier.
Content creation is the need of the hour for every business, and getting equipped with tools that can create easy content is the next wise step to take. With AI tools, the future of content looks more technology-based than human-based.
In this blog post, we will cover 5 ways to use AI image generators for your business or agency and guide you on how you can create easy content too.
Related: AI Artist: 9 Best AI Art Tools in 2022
How Can Agencies Use AI Image Generators?
AI is taking over the design sector with tools that generate close-to-accurate art and images from text prompts. Here are 5 ways agencies can use ai based content creation tools.
1. Help Clients Find Their Brand Voice and Brand Messaging
Brands usually struggle to construct and find their voice to communicate. With ai image generators, agencies can build mood boards and brand guidelines in a way that is authentic and resonates with the brand's audience.
Clear brand messaging, brand aesthetics with high-quality graphics will help reel in the customers' attention.
2. Provides Unique Content and Unlimited Creativity
AI image generators can create unlimited amounts of images in different formats and languages. They can also be used to create content and art for different platforms, industries, and more.
With no limit on the number of images generated, agencies can produce content at scale for industry sectors like marketing, advertising, finance, and more. With AI Art Generator, visual content will no longer be a tedious task that takes hours to complete.
3. Generate Content Efficiently
AI Content Generators can be used to create website banners, social media posts, and even infographics. Additionally, they are also used to create realistic 3D images and videos.
They are often used by businesses to create marketing materials, illustrations, and other visuals. These images are realistic, authentic, and made from scratch.
Related: A Quick Look At The Google New AI Image Generator: Imagen
4. Generate Content for Different Purposes
Creating content is not limited to social media posts or infographics. AI tools can generate images, and visuals for blog posts, articles, newsletters, brand assets, social ads, and long-form content.
The functions make ai tools an all-in-one solution for agencies, freelancers, graphic designers, and writers.
5. Perform Efficient Research
Researching content to publish takes time, be it social media posts, blogs, articles, etc. The images generated with these tools are high quality, social media optimized, and creative. Now, one would not have to research on 5 different platforms for one image that matches with their content.
Can You Create a Social Media Post Using AI Image Generators?
AI content generators create high-quality infographics, video covers, and more. The best AI art generator by Simplified can create a variety of social media posts for different niches. Some of the best features to explore are :
Thousands of templates to create posters, brochures, flyers, business cards, etc.
Professional-looking visuals without the hassle of Photoshop. 
You can resize, crop, remove backgrounds, animate graphics, and edit posts.
It uses the combination of Stable Diffusion & DALL-E in its model.
The best part? It generates content that is optimized for social media. So you can spend less time creating content and more time connecting with your audience.
Re;ated: 6 DALL-E 2 Alternatives That Will Help You Create AI Art