Owning a gym and keeping it profitable requires good marketing. With so many gyms in the market, you need to attract more clients and stand out from the crowd.
Though it may seem difficult to market your gym while managing it, your gym promotion ideas will help you go a long way. From offline promotions to social media marketing, spread the word about your gym through a good marketing strategy.
If you own a gym and wish to increase your clientele, this blog is for you. We have curated a list of 10 creative fitness marketing ideas to help you build a strong brand identity and increase your revenue.
10 Creative Ideas to Ace Gym Marketing in 2023
If you haven't got a fitness marketing strategy for your gym, here are 10 creative ideas that you can explore for gym promotion ideas in 2023.
1. Create a strong brand identity
The first step to promoting your gym is to create a brand identity. You can start by creating a brand kit, including the colors you will use, the typography you will use, and your logo. This establishes a brand recall in the minds of your viewers, who will then identify your brand just by looking at the creatives.
You can create your brand kit on Simplified for FREE.  You can keep these as a preset on the platform to maintain consistency while creative posts across platforms. 
2. Email Marketing
You can attract new clients via email marketing by sending people emailers about offers, discounts and what sets you apart. Eye-catching emailers will make people stop and read and can help generate leads. 
For existing clients, you can send emailers about new updates, events, tips and tricks, and even healthy recipes that will interest them. You can create these emailers for free on Simplified using the AI Copywriter to generate content in minutes and design the same using the free templates:
3. Influencer Marketing
You can collaborate with local influencers who can make videos of them working out in your gyms or ask fitness influencers to come conduct sessions.
People today look up to these influencers, and this will add trust and legitimacy to your gym.
You can even ask the influencers to start a challenge and make it go viral on TikTok or Instagram reels by generating a lot of user-generated content and spreading awareness about your gym.
Related: How to Make a Community Post on YouTube: Everything You Need to Know
4. Build a Community
People who are working towards fitness are always looking for a community to engage with. For many, these communities act as an encouraging push and a way to learn from each other.
You can tap on existing Facebook Community pages or create a community of your own gym where fellow fitness enthusiasts can interact and share updates about their journeys and so on. This will give you an edge over competitors who care less about their clients.
Create goals for your members to make it more engaging and also increase their visits to your gym.
You can create posts for these groups and also their covers on Simplified. Try templates to spread awareness about events and offers.
5. Offline Promotional Events
Offline events are a great way to attract new members to your gym. You can organize free workshops by professionals and local influencers. This will make it attractive for people to come to your events and help you convert leads.
Cool print ads and billboards are also great for grabbing attention. For example, check out this super cool billboard ad by Gold's Gym: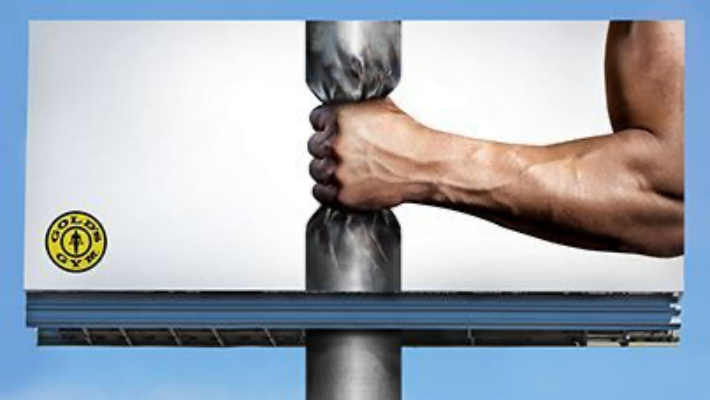 6. Target Audiences
You can target specific audiences on your social channels, like seniors or millennials, to expand your clientele. Create posts that are more relatable or unique to them and run targeted ads to register that will help you generate leads. 
Define your audiences clearly, like: 40+, male, fitness or technology enthusiasts, or health conscious. This will narrow down your audience, and you can spend money on ads to target those who will actually be interested in your gym.
Create unique and click-worthy ads on Simplified with their royalty-free assets, free brand kit, and a wide range of ready-to-use templates for gym membership marketing.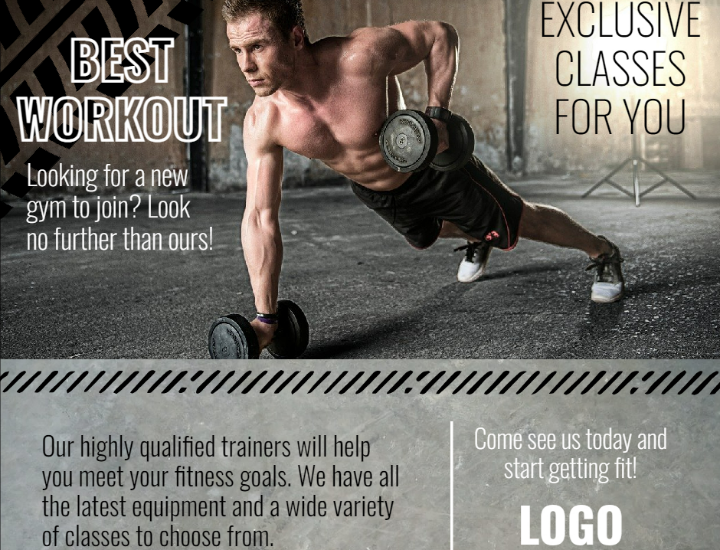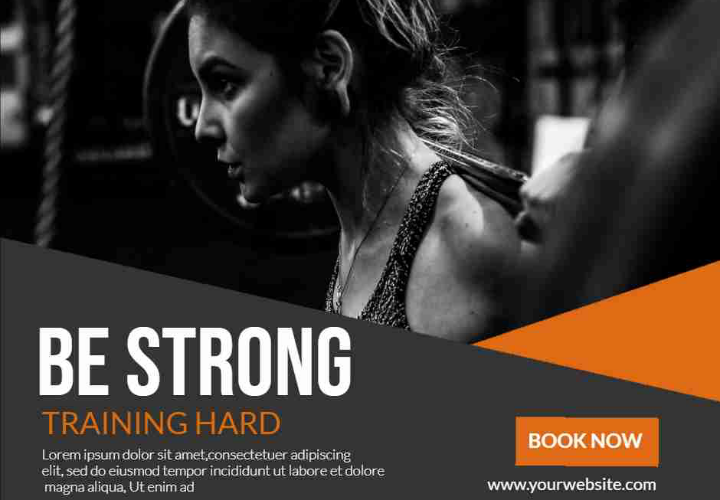 7. Run Offers and Loyalty Programs
Referral programs are a great way to bring in new customers from word of mouth. You could offer special discounts to those who bring new clients.
Special promotions like family or couple discounts and loyalty programs also incentivize customers to continue with their membership.
Create discount and sale ads using Simplified's FREE templates for gym membership marketing. You can also run special offers during Christmas, New Year's, and other special days.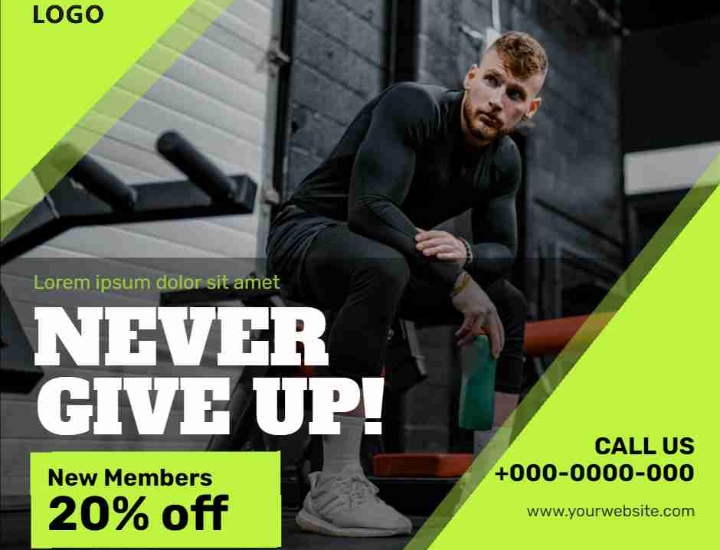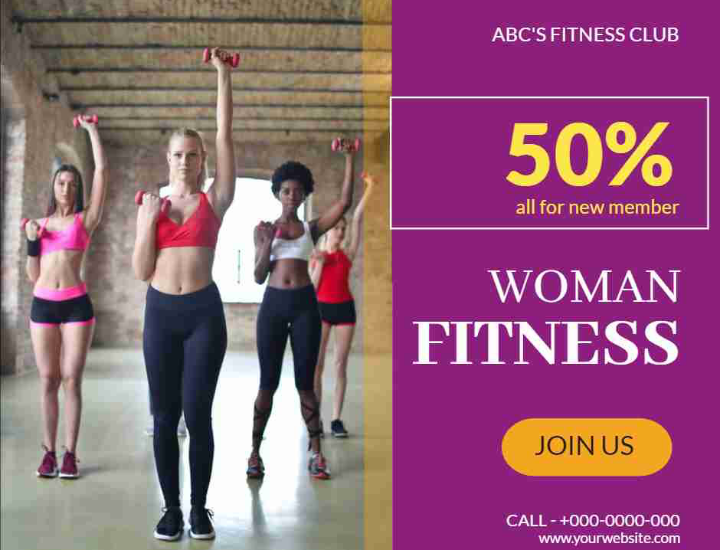 8. Website & Blog Marketing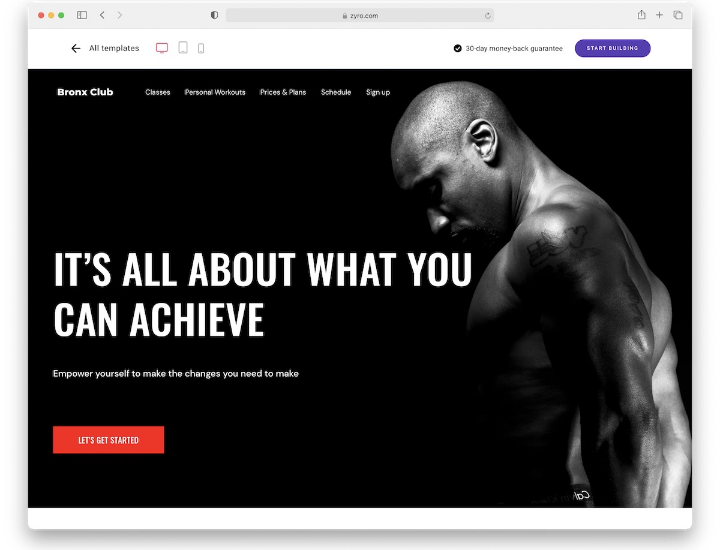 Maintain a proper website for your gym that people can check out and register online. Create compelling content that is both useful and educational for your readers.
Blogs about workout techniques, recipes, and healthy lifestyles will attract them to your gym. These will also help your search engine optimize your page on Google.
You can use Simplified's FREE AI Copywriting tool which will generate blogs with strong CTA's from scratch. You can also use this tool to generate strong value propositions and social media copies for ads and posts. 
A few tips for content: 
Keep it crisp
Make it quirky and exciting
Use real and appealing images 
Write educational and helpful content 
Always end with strong CTAs
9. Social Media Marketing + Videos
With Instagram Reels, YouTube Shorts, and TikTok Videos, short-form video content has become super popular. To increase your brand visibility, create videos that showcase your gym and its features. 
Use real images and videos of clients working out, of coaches helping, and of events. You can make super interactive videos using Simplified's FREE video editor, which has thousands of templates, animations, and transitions you can explore. 
You can even add voiceovers and royalty-free music to your videos. Other than videos, you can also create social media posts and generate captions for the same using Simplified.
10. Data Led Campaigns
Analyse data using Simplified Social Analytics Tool to measure the effectiveness of your gym marketing campaigns. This will help you study the industry and the audience to create better campaigns in the future. 
Thus you can spend your money in the right direction and generate better leads.
Related: Facebook Groups: A Valuable Resource for Growing your Business
Streamline & Automate Fitness Marketing with Simplified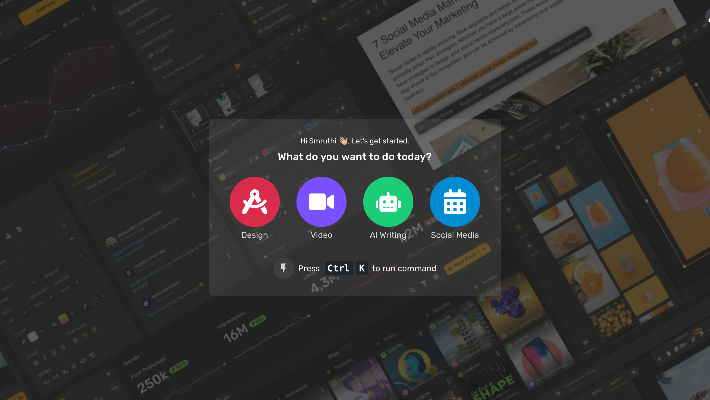 Simplified is a one-stop shop for all your gym advertising and social media marketing needs. From writing blogs and copies to helping with descriptions, the AI copywriting tool generates copies in just a few clicks.
You can also create super cool designs, ads, and videos with a multitude of free templates, royalty-free assets, and stock images.
Simplified's AI-powered marketing tools also help you analyze data and metrics. You can even collaborate with team members, schedule and plan content, and post them directly to social media channels for your fitness marketing.