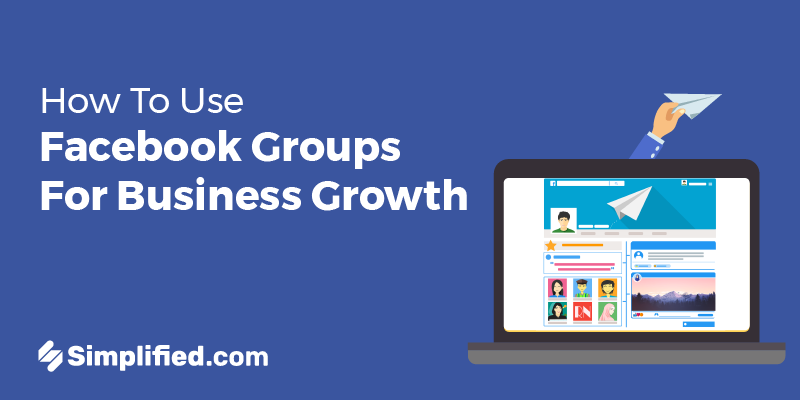 Are you looking for new ways to grow your business on Facebook? While many businesses and organizations primarily use Facebook Pages, there is another powerful tool at your disposal: Facebook groups.
By using Facebook groups for business, individuals with shared interests come together to connect and engage with one another, all without the presence of ads. By utilizing Facebook group marketing, you can not only increase your brand exposure but also foster a strong sense of community among your customers.
In this blog, we'll explore the many ways in which you can use Facebook groups to boost your business and drive engagement.
Why Should We Use Facebook Groups For Business?
1. Strengthen your brand
When used correctly, Facebook groups can be a great way to build brand awareness and loyalty. They can also help you connect with your target audience in a more meaningful way. And when people feel connected to your brand, they're more likely to do business with you.
2. Create exclusive content for the group
Keep your Facebook group members intrigued by posting content that they won't find anywhere else. This element of exclusivity will increase the group's appeal and make it feel much more exclusive to members. You might, for example, give early-bird discounts or give behind-the-scenes content which won't be found elsewhere.
One way to keep creating enticing content visually and textually is to use Simplified's powerful tools for AI writing and graphic design.
3. Take advantage of word-of-mouth marketing
The basic mantra of Facebook group marketing is to focus on expanding your community while your community members automatically market for you through their interactions within the group.
The more people that join your community, the more likely it is that your customers will talk to others about your product.
The strategies for bringing new members into your Facebook group for business can take on many forms. Some effective methods include promoting your Facebook group on all your social media platforms, directing your website traffic to your group's main page, and promoting your group as an additional avenue for customer service.
4. Engage with members
Keeping an active group means having your brand buzzing through the minds of your most loyal audience. One way to do it is by initiating healthy discussions about various related topics. Another way is getting genuine feedback and showing that you're doing everything to implement the feedback.
Perhaps your most recent product launch didn't do as well as you had hoped. Rather than policing the criticism and treating the group as a positive echo chamber, accept feedback. Allow users to express their real feelings about what went wrong, thank them, and continue with the conversation.
You don't want the members of your Facebook group to go rogue and constantly criticize you but attempting to regulate people's speech will backfire in the long term.
5. Have brand ambassadors
Another reason to build a Facebook group for business is to stay in touch with your best customers.
Consider making these ambassadors your admins to promote what you have to offer. They can also provide value by championing the brand image, gaining the trust of prospective customers, and retaining the loyalty of existing customers.
You can also have your ambassadors test new product features before releasing them to your consumer base, similar to a "beta testing group."
6. Promote your events
If you plan a lot of events, a Facebook group for business can come in handy.
Facebook group marketing is helpful in notifying members of upcoming events so that they can mark their calendars and attend.
When it comes to event promotion, make sure you mention the event multiple times to grab your group's attention. People will not notice or remember it if you simply say it once or twice.
7. Have community groups for different locations
Consider creating localized Facebook groups for your brand's communities in different cities. By creating these city-specific communities, you can get a better knowledge of what connects with your clients in different market zones. You can use this to share local sales, events, and news.
If you have an international business, it can become a hassle to post at appropriate times. One way to tackle this issue is by scheduling posts using Simplified's social media planner!
Related: 12 Facebook Trends and the Meta: Tips, Tricks, and Useful Tools for 2023
8. Assess your target market
When trying to produce fresh unique products or ideas for your business, you may find yourself unable to assess whether the product is good enough for the market.
How can you overcome this issue?
By connecting with your community, you can get insights into customers' desires and needs. Meaningful customer input is one of the most effective methods for developing new goods.
9. Ask for feedback from the people in your community
Reaching out for feedback is one of the most effective practices for customer retention. It allows you to know exactly what you need to improve on.
This accomplishes two important tasks: increasing product quality and increasing customer relations.
10. Show your authentic, human side
When it comes to marketing, it's easy to fixate on figures, impressions, and content ideas. However, one of the most important components that are sometimes forgotten is showcasing the human side behind the business.
Facebook groups for business are particularly helpful in creating a solid bond between business owners and their customers.
11. Create private groups for exclusivity
One point discussed above was how a feeling of exclusivity can create loyalty amongst your customer base. To take it a step ahead, create private groups which only your customers can join using a specific code. This really helps in creating a sense of inclusiveness for people who are all your customers.
12. Customer testimonials
Another way of featuring more content is by posting customer testimonials. You can also make it so that the customers feel obliged to provide feedback based on an incentive.
This could be done by providing discount coupons or other exciting offers and freebies to people who make the effort of making a video testimonial.
Schedule Your Posts With Simplified For Free
Keeping track of all your groups can be a hassle. Facebook groups for business can prove to be a game changer when done the right way. For that to happen, you need to be consistent with your posting with a pre-made plan.
The planning part can take days, but to execute this plan well, all you need is Simplified's social media planner tool. Using the calendar view, you can schedule up to 10,000 posts for different groups from anywhere at any time.
Related: How to Schedule Facebook Reels in 4 Easy Steps
Conclusion
In conclusion, Facebook Groups can be a valuable resource for growing your business. They provide a platform for connecting with like-minded individuals and potential customers, as well as a space for sharing ideas and information.
If you're looking for a way to streamline your social media and content creation efforts, be sure to check out Simplified, which offers a range of tools for graphic design, AI writing, and social media scheduling.
And don't forget to take advantage of Simplified's "free forever" plan, perfect for people on a budget. So why wait? Join Simplified today and start growing your business with the power of social media!
Simplified offers an array of graphic design tools to help you create amazing-looking and eye-catching Facebook posts for your groups.
Complete your designs with an amazing copy with the help of Simplified AI writer which has more than 70 templates to help you write engaging and personable copies in seconds! And, finally, schedule and automate all your publishing.