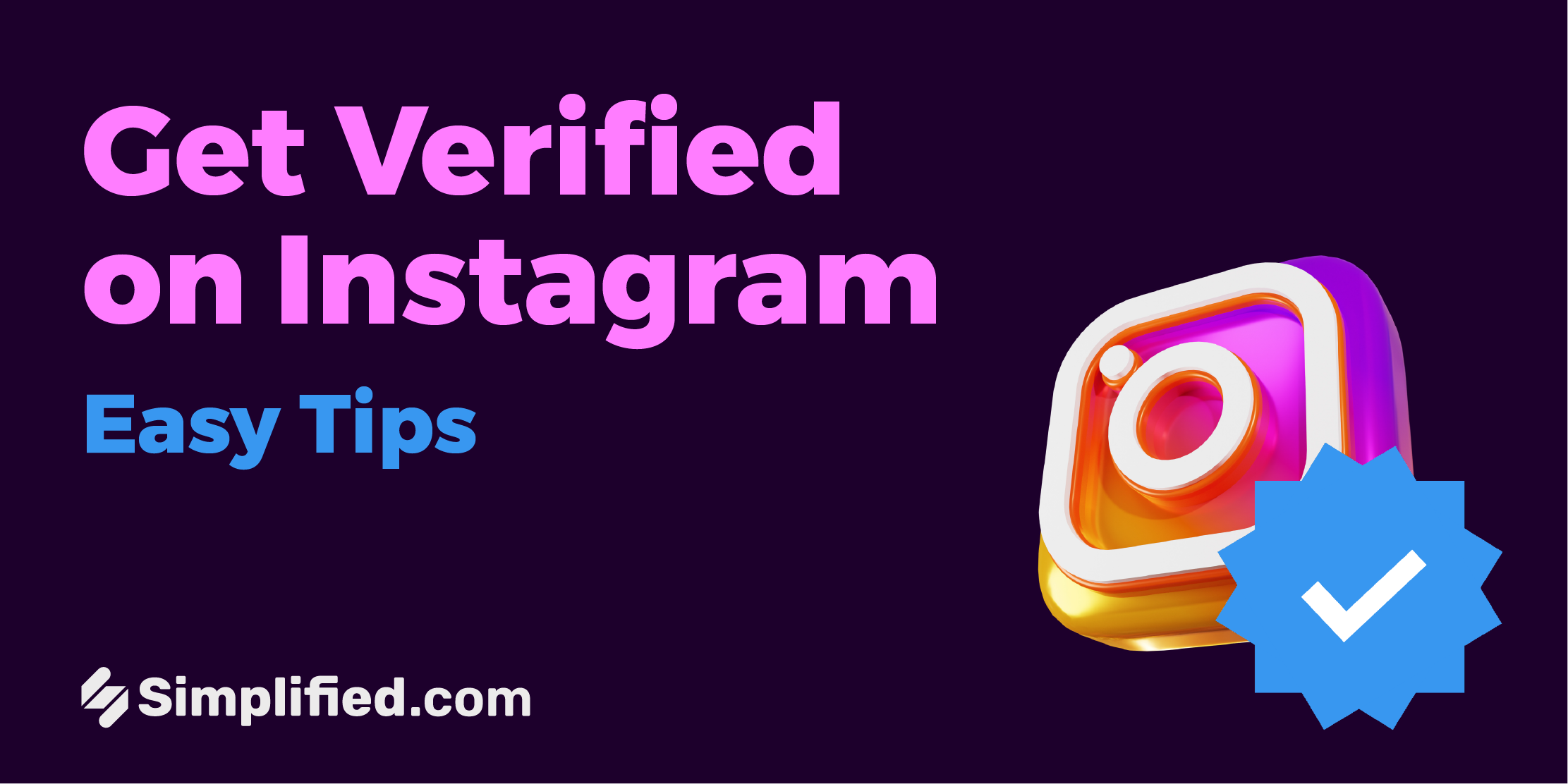 Getting verified on Instagram is a social currency, which means that it is a symbol of digital power. The "blue-tick" Instagram profiles are often celebrities from movies or reality TV shows, activists and politicians, or acclaimed artists in their fields. However, the Instagram badge signals a lot more than a verified account, it also reflects the power to influence and shape decision-making behaviors.
So, if you're wondering whether a blue tick is for you and if you can get your hands on it, you might want to stick around. In this guide, we'll explain the 6 easy steps to get verified on Instagram, and how you can improve your odds of getting an Instagram badge!
Related: 5 Blogs You Need To Follow To Up Your Marketing Game
What Does the Instagram Blue Tick Mean?
A verified account on Instagram is the authentic presence of the public figure, celebrity, or global brand it represents. This is straight from the horse's mouth, as Instagram states it.
What's so special about Instagram's Blue Tick?
Instead of being just another profile on social media, you'll stand out from the crowd in your industry. You may already have a ton of followers that provide proof that your content is worth following, but Instagram verification makes it known that you're worth following. It's also much harder for people to imitate a verified account, and you'll get access to new features before the general public.
Now let's explore below who gets verified and how you can get Instagram verification from the social media giant.
Who Gets Verified on Instagram?
First of all, let's get the obvious ones out of the way. Of course, Rihanna is verified and so is Cristiano Ronaldo. The same is true for Bella Hadid and Alexandria Ocasio-Cortez. These high-caliber profiles have achieved international fame and are recognizable symbols of influence worldwide.
If you're wondering whether mere mortals, aka regular people and small businesses, also have a chance at getting the Instagram blue tick, this guide will help you gauge where you stand regarding Instagram verification. For instance, The Stockroom has less than 10k followers and still has the Instagram blue tick seal of approval.
Related: Understanding Instagram Post Dimensions: Types & Usage
Some Official Requirements for Getting Verified on Instagram
Your profile must represent a real person or business.
You'll need a completed bio, a display picture, and at least one post on your Instagram feed.
Your Instagram account must be the only legitimate account, save for language-specific accounts.
How to Get Verified on Instagram in 4 Easy Steps
By now you're probably itching to know where the blue tick request button is. So, let's get down to the details of getting verified on Instagram. Before we begin, keep your legal documents handy because you will be asked to provide the information to confirm authenticity.
Step 1
Log into your Instagram profile and tap the three lines on the upper-right side of the screen.
Step 2
Click on "Settings" and scroll down to "Request Verification".
Step 3
On the next screen, you'll see "Apply for Instagram verification" where you have to fill in the form with website links. You must also provide a photo of your legitimate government ID. That might be a passport or driver's license for an individual. For companies, a utility bill, a legal contract, or tax returns will do.
Step 4
Hit the "Submit" button and keep your fingers crossed!
You can expect Instagram to reply in about 2 weeks, but be aware that it may be a negative outcome. This is because getting verified on Instagram and earning the blue tick can be hard to get your hands on. Keep reading to find out how to improve your chances of getting verified below.
Related: The 3-Step Guide To Run A Profitable Instagram Shop
Instagram Verification: While you Wait
You could have tens of thousands of followers and quality content on your feed being uploaded every day. However, Instagram has strictly regulated guidelines to protect the authenticity of people and brands. As a reflective exercise, ask yourself these questions:
Are my followers/fans having trouble searching for my account in an ocean of similar accounts?
Am I at risk for copycat profiles? (This especially includes fan or spam accounts.)
Do I already have a large presence outside of Instagram, and will Instagram verification help me engage more with my followers/fans?
If you answered yes to even one of the questions above, the odds of getting verified on Instagram are in your favor. Nonetheless, the final decision rests with Instagram.
Related: How To Host An Awesome Instagram Giveaway And Grow Your Following
Common Myths About Instagram Verification
The blue tick is only for celebrities, recognizable worldwide. (No, a blue tick can blow up your business too – you don't have to be a celebrity).
If my profile gains 100k followers in 2 months, I'll get verified by Instagram. (No, while follower count matters for your brand's visibility, it does not guarantee you a blue tick).
You need to know someone inside the Instagram corporation to get verified. (No, you don't need an inside person to get verified).
How to Improve Your Chances of Getting Verified on Instagram
While we may not be able to guarantee you an Instagram badge, let's explore the possible ways that you can boost your Instagram profile from aesthetics to organic growth. Below, we'll talk about how you can make your profile stand out from the crowd of one billion Instagram profiles!
1. Optimize your Instagram Profile
As you've seen above, your profile doesn't need to have hundreds of thousands of followers. However, you will have to put the work in to gather a few thousand followers at least. Furthermore, you'll want to make sure that your personal bio is professional, crisp, and unique.
Additionally, you can also add your website link to your bio to improve authenticity. Lastly, you'll need a distinctive brand logo for your business and/or a professional photograph.
Related: Paid vs Organic Social: Everything You Need To Know
2. Build a Community Outside of Instagram
This may not come as a surprise to you, but cross-marketing your brand and services on other social media channels and personal websites will boost your account's visibility. Essentially, the more you diversify your community, the better your chance of getting verified on Instagram.
Brand coverage in blogs and magazines will also increase the likelihood of an Instagram blue tick. Interviews, podcasts, and shows are great avenues for brand exposure too!
3. Stay Active on Instagram
Finally, it isn't enough to gather resources, it's equally important to know how to use them! If you have a sizeable following, you need to hold your audience's attention and maintain a good engagement rate. By posting regular and unique content that your followers enjoy, they will hopefully turn on their post notifications for your account.
This will help your posts get more views, likes, and comments to increase the likelihood getting verified on Instagram. Posting on your feed 3-5 times per week and using a range of tools like reels and stories, is ideal.
Related: How To Calculate Your Instagram Engagement Rate For The Best Results
4. Get on Google
Has your company's name been in several media sources? A recent white paper or press release was published? Have you been featured in a prominent international newspaper or received a sound bite? Paid or promotional content certainly does not count.
You can have a harder time demonstrating how "notable" you are if PR hasn't been a focus for your business thus far. Especially considering that there is nowhere to submit your proof and Instagram does its own research. Therefore it's your responsibility to make sure that your news is prominently displayed and difficult to ignore.
4. Work with a publicist or agency
Hire a credible digital agency with access to Facebook's Media Partner Support capabilities if you have the funds and the drive to do so. Through their gateway for the industry, your publicist or agency may make requests to consolidate accounts, claim usernames, and verify accounts.
Is verification assured? Obviously not. However, a request made through the Media Partner Support page comes with greater weight and sets you apart from the competition.
Finally, don't compromise on organic growth, perfect your profile before requesting to get verified on Instagram, and remain consistent with compelling content! Get started with Simplified today – the all-in-one design platform for creating content for Instagram posts in seconds!
Tell your story with original design, graphics, and layouts
Design Instagram ads, posts, and stories with premium Instagram templates. Simplified is the only app you need to create your dream Instagram feed.