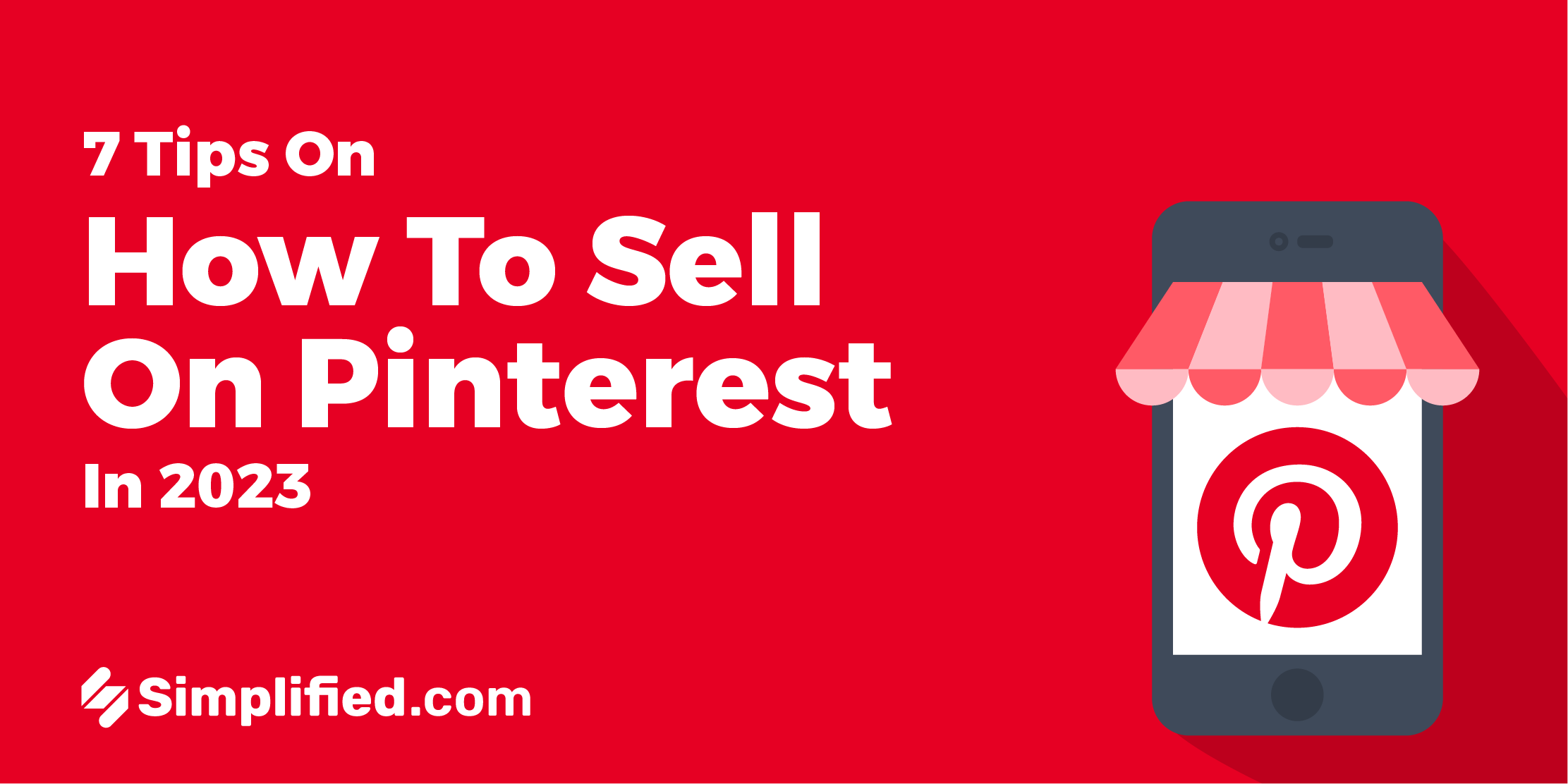 Pinterest is the house of inspiration, where people come to take action 9 out of 10 people use
Pinterest to get inspired about things to buy eight of whom end up doing so. As you've found your way here, looking for great tips on how to sell on Pinterest, let's begin!
Like any other social media platform, Pinterest shows users content based on what they're interested in, and we're here to show you how you can use that algorithm to your advantage when it comes to advertising your products on Pinterest.
In this guide, we're going to explore the whys and hows of Pinterest. Why is Pinterest important for your brand's social media marketing strategy? How can you grow your brand and sell on Pinterest in 2023?Keep reading to find out!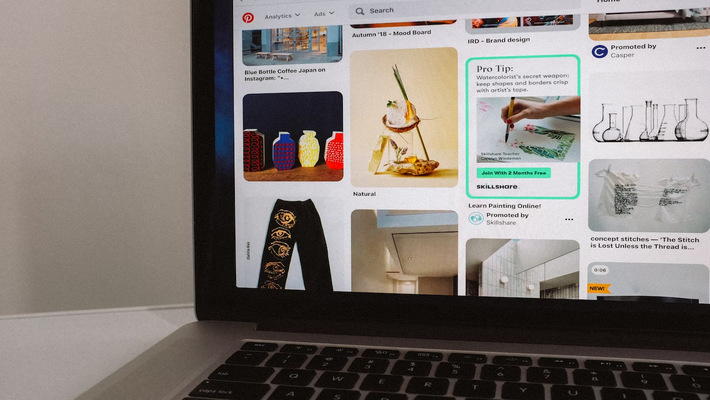 The Whys of Pinterest
Chances are that you're here for one of the following reasons:
You're interested in setting up your business on Pinterest.
You already have a Pinterest shop and are looking to scale.
You want to know what's so great about selling on Pinterest.
What Makes Business on Pinterest Worthwhile?
First, let's take a look at some statistics to understand why you should incorporate Pinterest in your social media marketing strategy:
Pinterest users are 3x more likely to click on and learn about products compared to any other platform.
9 out of 10 users are on Pinterest to get design inspiration for their homes, offices, and other living spaces.
Pinterest has more monthly active users than Twitter and Snapchat combined. Yes, you read that right.
Therefore, Pinterest not only drives sales but also influences decision-making behaviors that will drive more traffic to your shop. Additionally, since the pandemic, online shoppers have been motivated to flock to Pinterest to find more décor, recipes, and furniture ideas for their homes.
Simplified's 7 Tips on How to Sell on Pinterest
Whether you're a small shop owner, a brand strategist, or a CEO, there's always more to be learned about the cutthroat world of social media marketing.
1. Create Pin-Worthy Designs
First, it's important to bear in mind that, when thinking of how to sell on Pinterest, the answer involves aesthetics. Evidently, there are literally billions of pins on this platform, so you have to create stunning visuals in order to make your Pinterest shop stand out from the crowd.
Hire someone to take professional photographs of your products.
Align the choices of fonts and colors, whether trending or classic, with your brand identity.
Finally, optimize graphics for the platform before you start to sell on Pinterest.
For example, we love Swarovski's Pinterest shop with its gorgeous photographs and color scheme!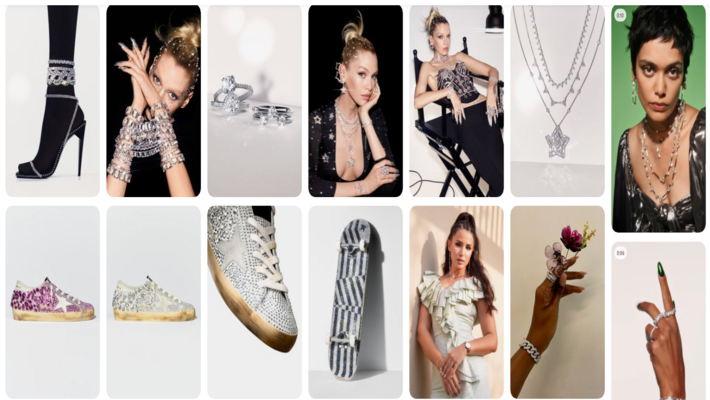 Not sure how to get started?
Don't worry about measuring the exact dimensions of the graphics you create. Simplified offers thousands of templates for you to tweak and post in seconds!
Related: How To Get Started With Pinterest For Business?
2. Communicate With Your Audience
No matter what products you have to sell on Pinterest, your customers want to hear from you. So, give your audience a sneak peek at your business operations.
What's it like to run a Pinterest shop? How did you conceptualize your latest product?
Real-time communication with your audience is essential in any social media marketing plan. This is because it helps customers understand that the brand they are purchasing from is handled by a person or a community. For instance, to learn how to create persuasive marketing text that will appeal to your target demographic, you can through at LUSH on Pinterest.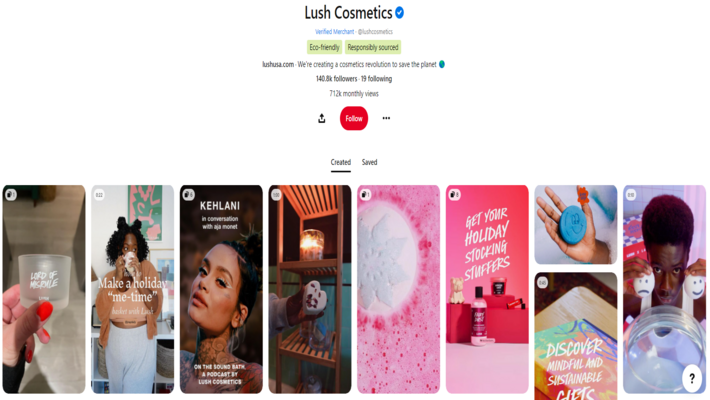 Related: Effective Tips To Boost Your Pinterest Marketing
3. Know Your Target Audience
Statistics clearly show that more than 60% of Pinterest users are women. Additionally, GenZ and millennials are driving the platform's growth. These insights may seem skewed or arbitrary, but they're essential to know if you want to sell on Pinterest consistently and scale your brand.
For example, sharing a meme about self-care on your feed hits the sweet spot between incorporating demographic trends and marketing products to a younger clientele. Take a cue from Allure below: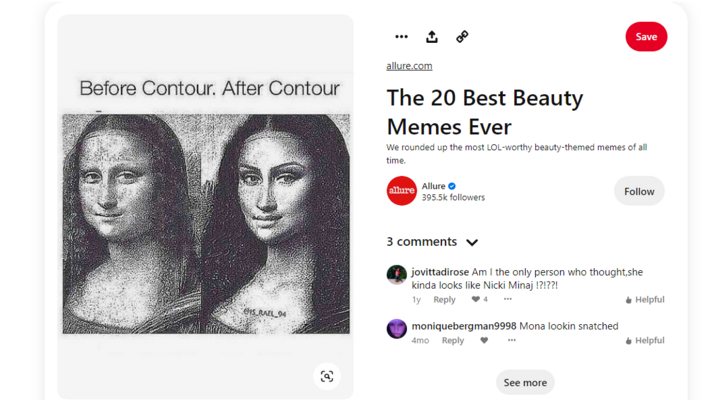 4. Hack Pinterest SEO
Pinterest is a visual search engine – so using the right keywords will help your content reach the right audience. Keywords are the building blocks for search engine optimization, and there are a few ways to do keyword research on Pinterest.
For example, you can use guided search to see automatic suggestions or draw inspiration from hashtags. The right keywords can inspire content for your blog, website, social media accounts, and more.
Hashtags:
This might be overwhelming for small business owners and freelancers who are looking to sell on Pinterest but don't know where to start. How about trying Simplified's Hashtag Generator for some inspiration?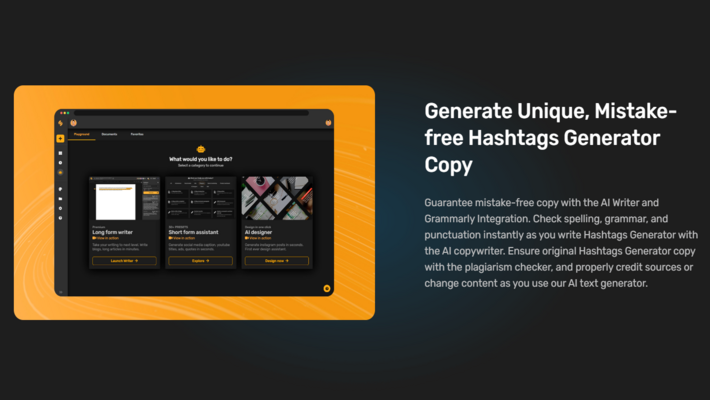 Rich Pins:
Rich Pins: Rich Pins are the best way to boost SEO on Pinterest! There are four types of Rich Pins you can use on Pinterest:
Product
Article
App
Recipe
5. Identify Keywords
Keyword research is a crucial component of selling on Pinterest, just like it is with SEO. For instance, if you sell wine glasses, you want your items to show up when people search for "wine glasses."
Despite how frighteningly intelligent they are becoming, search engines still mostly rely on descriptions and keywords to interpret the content of photos. Research may be as simple as experimenting with the Pinterest search box to discover what keywords best describe your business.
Or, as sophisticated as using a tool like Pinterest Trends to see precisely what people are searching for and when.
6. Writing Powerful Copy
Does your Pinterest shop have what it takes to stop your audience from scrolling past your brand's page? Creating stunning graphics is definitely thumb-stopping, but you want your audience to actually stay and linger on your brand's feed. So, how exactly do you sell on Pinterest using powerful copy?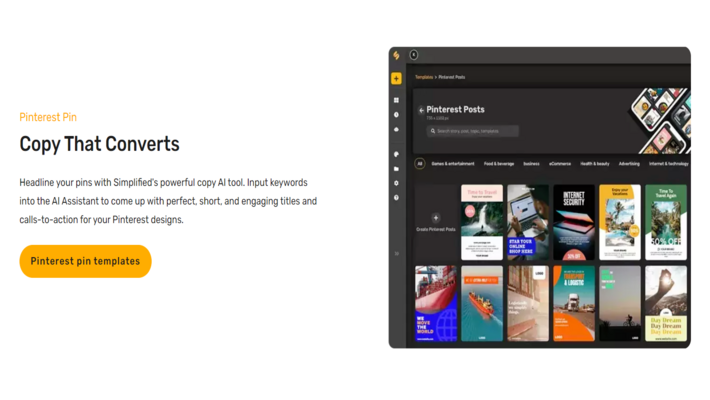 Profile: The description section should be filled out with relevant keywords for your industry.
Pin Titles: Pin titles can be up to 100 characters long. Here, it's best to keep your title simple, compelling, and relevant.
Pin Descriptions: Choose the words to describe your products in a way that appeals to your audience. (Take a whirl with Simplified's Product Description AI tool that produces conversational text in seconds!)
Headline your pins with Simplified's powerful copy AI tool. Input keywords into the AI Assistant to come up with perfect, short, and engaging titles and call-to-action for your Pinterest designs.
Related: The Ultimate Pinterest Size Guide for Your Brand
7. Make Groups For Your Products
Pinterest is a great site for themes, including cooking, fashion, camping, and posters. Whatever goods you sell, your brand will appeal to particular demographics. Think outside the box here; what other ways can your visuals be arranged to motivate and awe?
Although original content should make up the majority of boards, don't be afraid to use other people's photographs in your own collections. A little bit of outside stuff places your own in context (and can be very useful for achieving that visual balance).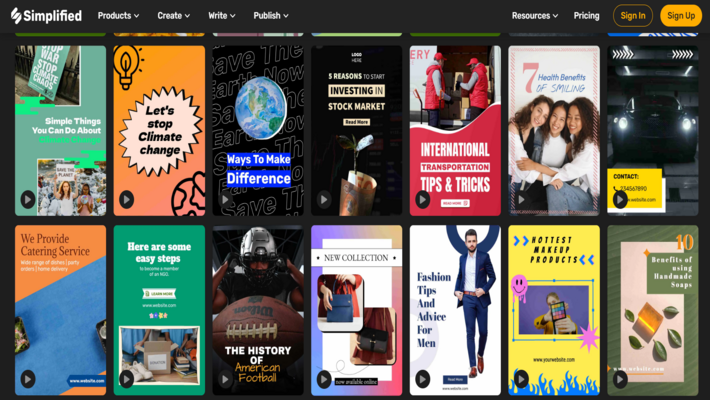 Engaging Pins To Boost Sales Only With Simplified