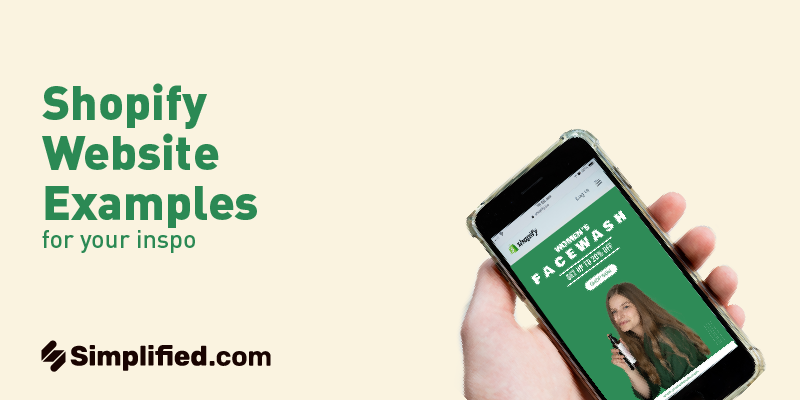 For anyone with an e-commerce business idea, the launch of Shopify came as a true godsend. Setting up a landing page, listing your products, managing orders, and even conducting sales: this platform does it all!
However, when it comes to executing your many ideas for your brand, things may not be quite as straightforward. The question remains: where and how do I get started?
So, we gathered 15 of the best Shopify website examples where you can get handy design inspiration along with some helpful tips. With these, you can make your online business venture look aesthetically pleasing and successful!
Related: Creative Ideas To Boost Your Sales On Shopify
Shopify Example Sites for Clothing
1. Parks Project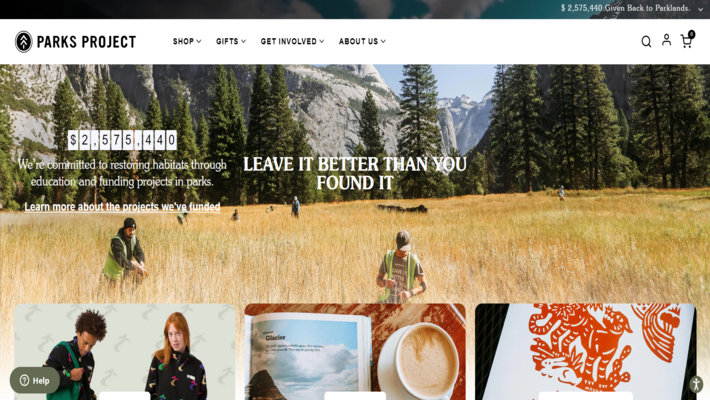 Parks Project uses its collection of t-shirts, home goods, and accessories to emphasize the importance of saving national parks. At a time when we need social change more than ever before, it may be worth using your platform to dedicate a portion of your profits to a brand mission.
Charities, nonprofits, or simply a cause you strongly believe in can help your audience connect and join your community. And undoubtedly, our top Shopify website examples would be incomplete without a nature-inspired aesthetic with calming earthy tones!
Related: Your Ultimate Guide To Nonprofit Marketing
2. Thinx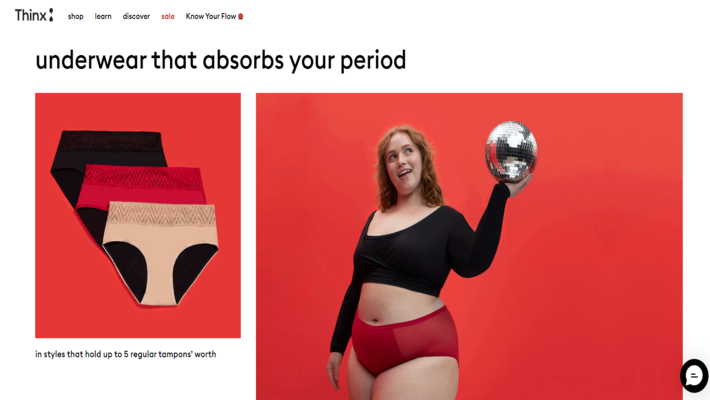 In their own words, Thinx aims to create a healthier world through sustainable solutions to menstruation and incontinence.
And with their inclusive brand imagery, advocacy towards gender equity, and focused brand values, Thinx has effortlessly become one of the best Shopify website examples for womxn.
3. Naja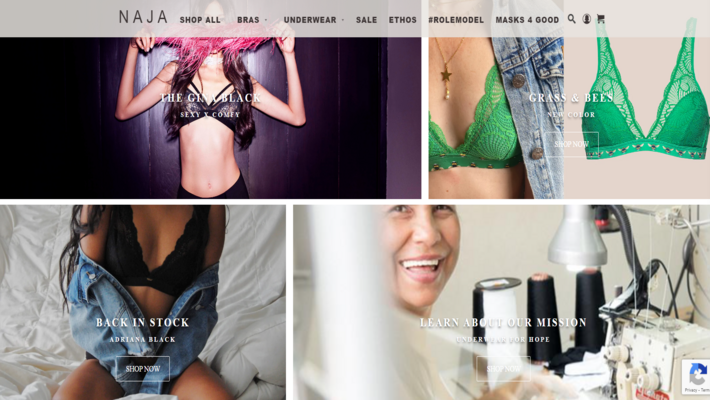 When it comes to women's empowerment, Naja makes sure to include all women by making inclusive undergarments. It's sustainable too! More than that, they support sewing programs and make it known by including them on their Shopify website.
For more inspiration, here are some Shopify templates from Simplified you can use: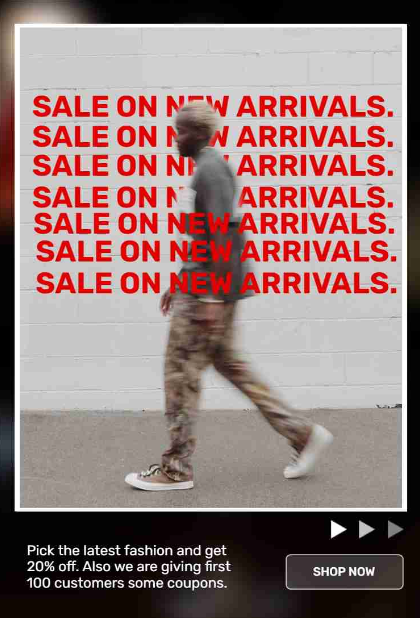 Cosmetic Stores on Shopify
4. Beardbrand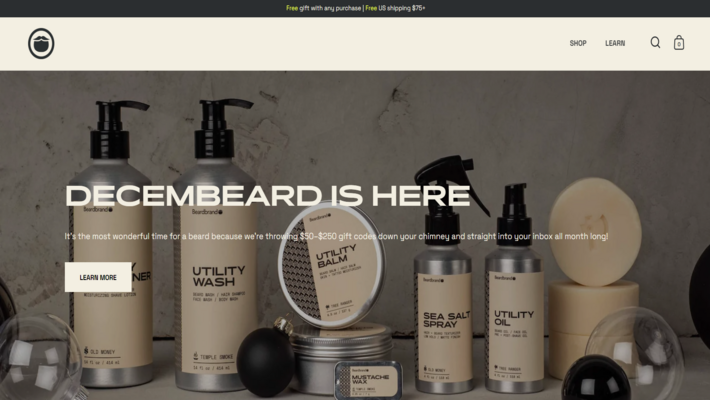 We all know how using multiple products with a whole platter of different smells can make anyone smell confused. As a result, Beardbrand came up with a creative solution and curated a grooming routine for men that smells both unique and uniform.
Our marketing lesson from this Shopify store example? Try aiming for personal audience experiences instead of providing a fixed-for-all catalog through your website!
5. Happiness Abscissa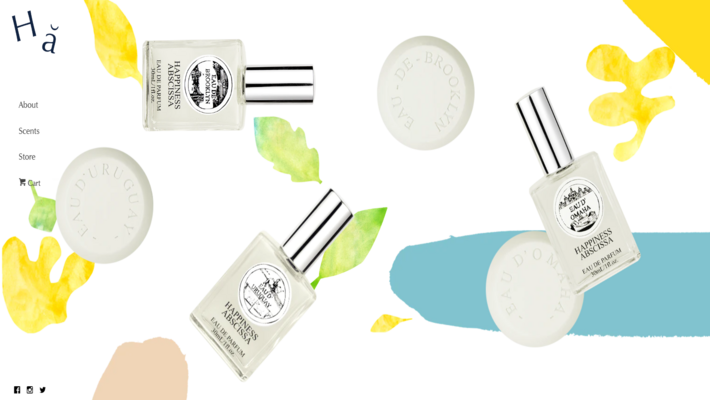 What if a scent shop could help you buy scientifically proven happiness in bottles, jars, and tins? Happiness Abscissa uses its gorgeous web design featuring foliage, light colors, and minimal typography to spotlight its product images.
Hands down, this is one of the best watercolor-based design templates for Shopify you can find!
Best Shopify Website Examples for Accessories Shops
6. GOOD ART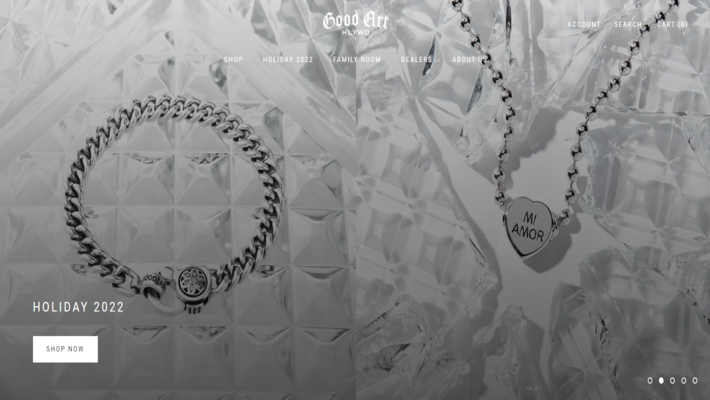 If you've ever watched an episode of Pawn Shop, you know how stunning vintage-inspired metal-based jewelry can be. GOOD ART is your perfect spot to find such intricate jewelry, from the heart of Los Angeles, California. Better yet, it's easy to order via their Shopify e-commerce website!
Unquestionably, their large headers and product-focused imagery stand out. With Simplified, you can also do something similar for your brand using this template.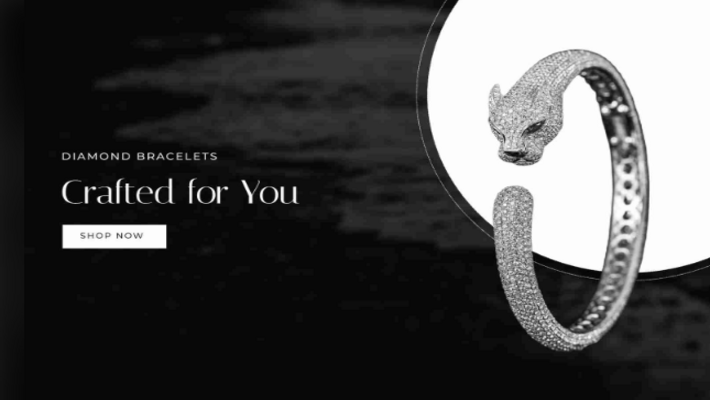 7. Wolf Circus Jewelry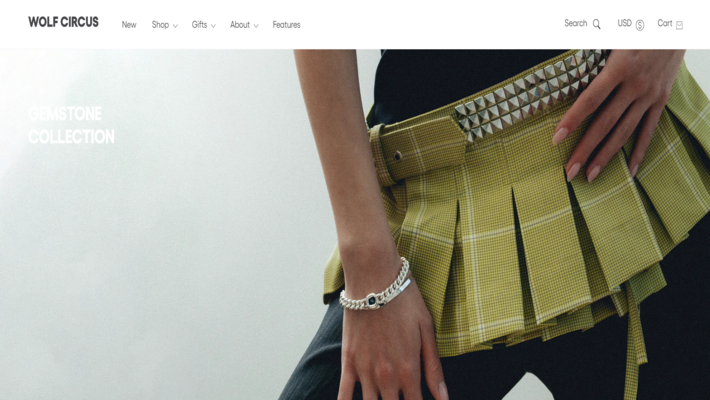 Moving our design quotient from low-Goth to Demi-fine fashion, we have Wolf Circus Jewelry from Vancouver, BC. Their brand values emphasize attainable craftsmanship using recycled silver and bronze without ever compromising on details.
8. Allbirds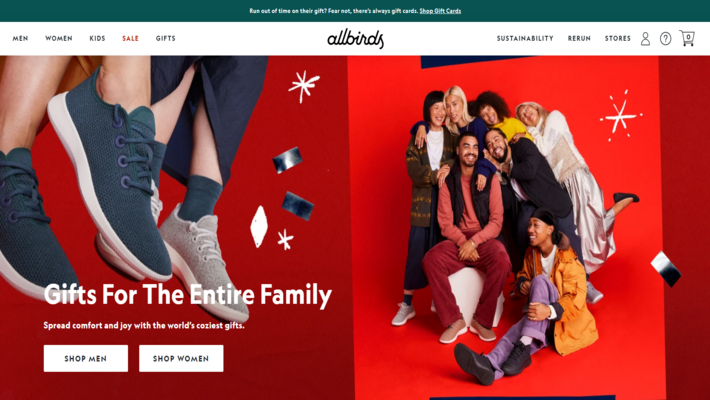 Allbirds is a footwear company that prioritizes natural materials and sustainability. Their Shopify website is a good example of adding a personal touch to your branding. You can edit product photos to fit your brand's aesthetic and appeal to your target audience even more.
Shopify Dropshipping Store Examples
9. Turned Yellow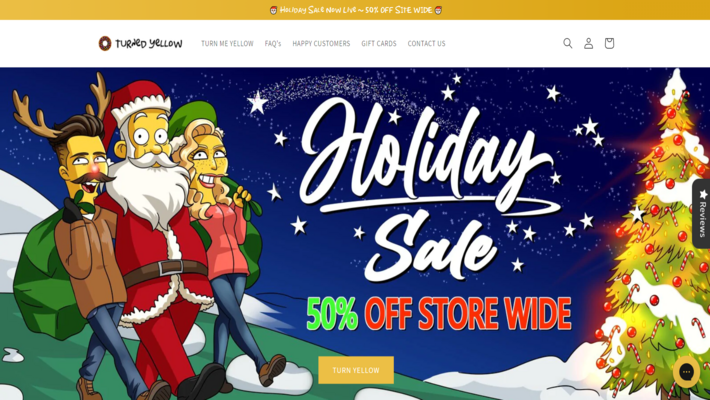 One great benefit of placing an order from Shopify dropshipping stores is the extent of personalization they have to offer. Turned Yellow uses a famous sitcom to promote its unconventionally personalized gifts for loved ones.
Turned Yellow's catalog is as broad and bizarre as one could imagine, and yet their images are amusing enough to aid massive sales!
10. Meowingtons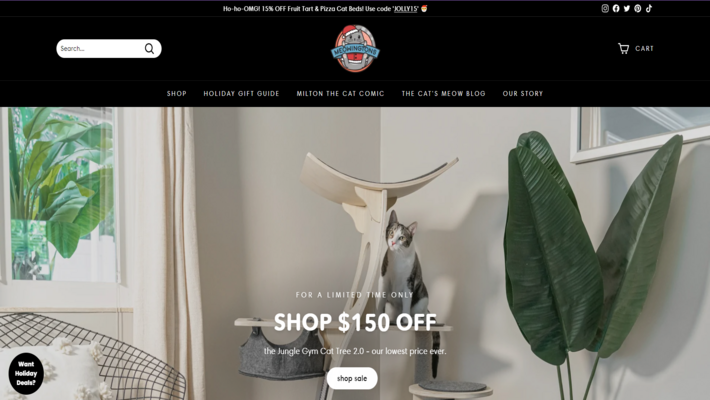 Meowingtons takes your boring cat store aesthetic and upscales it with a funky, animated, and niche aesthetic. Moreover, this dropshipping Shopify store knows well to take care of its humans too! Check out their website for all your home decor and kitty-themed apparel needs.
Additionally, you even have the option to get your hands on some personalized goodies with your little furry friend printed all over!
Best Shopify Website Examples For Furniture
11. Maiden Home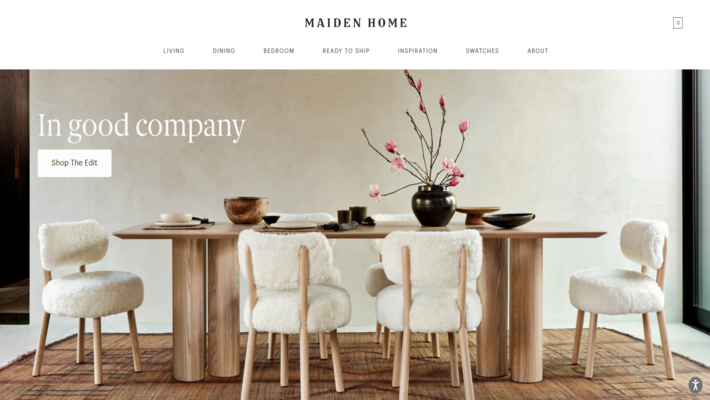 Shopify home decor stores famously use a brown-beige palette on their website designs for a modern and homely effect. And with Maiden Home's sleek template, anyone would feel like they're inside an Architectural Digest magazine page!
Furthermore, they also provide swatches and mood boards to their customers before they make a final decision.
12. Haus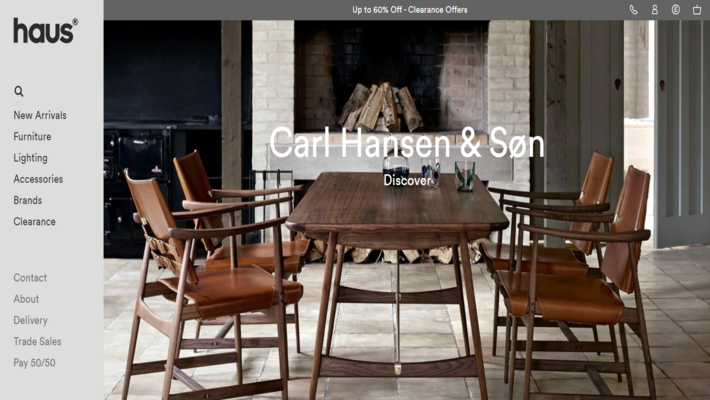 As Germanic as the word itself, Haus provides their customers with a unique European taste in contemporary homeware, furniture, and lighting. Moreover, their designs are eccentric and tastefully conceptualized on their Shopify website.
You can also show how eccentric the furniture you're selling are by using this template below from Simplified.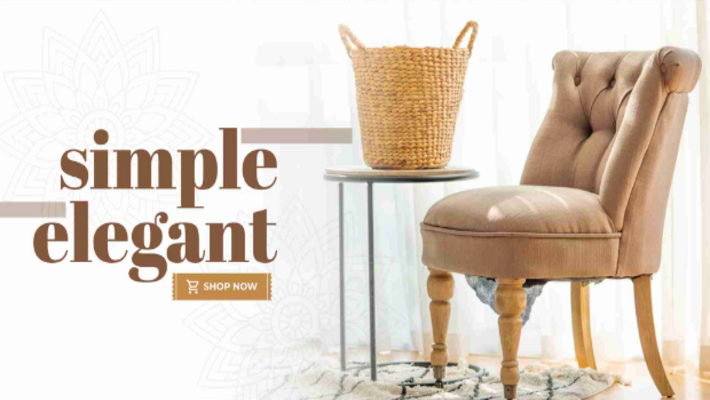 Shopify Website Examples for Art
13. Artisaire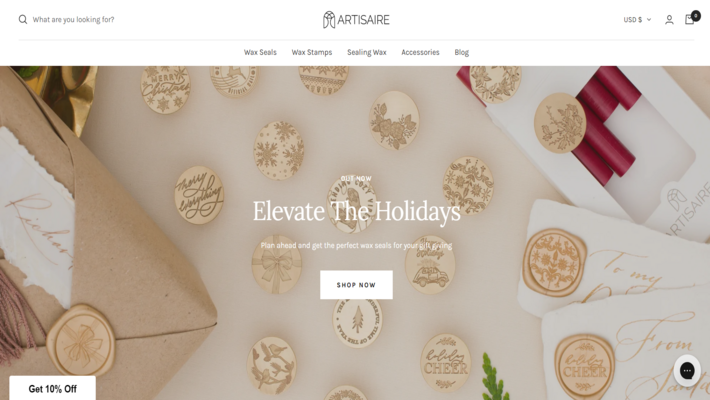 Opening Artisaire's shop, you immediately see a photo of wax seals with a simple and effective CTA. And when you scroll down, their products are already advertised making it easy to browse through their shop.
14. Uppercase Magazine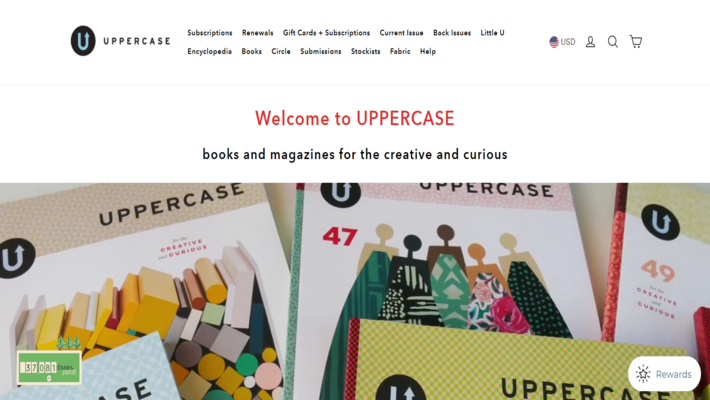 With Uppercase Magazine, they show a video on a loop of their books and magazines. This is a good idea, especially if you want to show multiple products at once without overwhelming your audience.
15. Rainbow Vision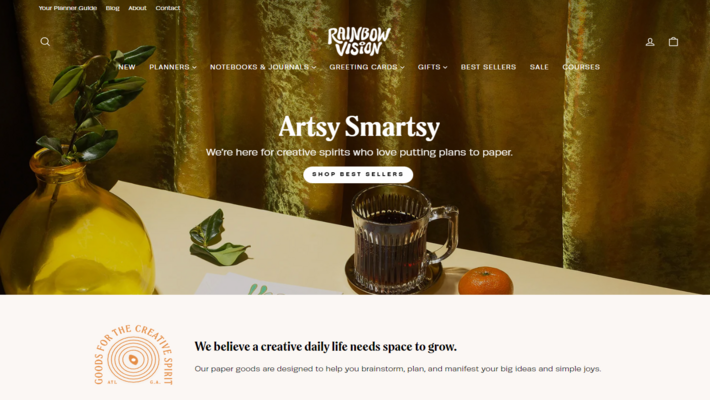 Notice how art brands have captivating photos at their website's forefront? It's to capture a potential customer's eye and show how aesthetically pleasing their brand is (considering they are an art shop!).
Time to Start Designing!
If you've ever wondered what makes Shopify stores so successful, the answer lies precisely in their web design. Their dedication to their craft is evident in their minimalist product images that look like something straight out of an art exhibition catalog.
And if you want the same design for your website or maybe a completely different one, you would need a tool that can help you design and conceptualize your ideas. Basically, you need Simplified. It's an all-in-one tool where you can look through thousands of design templates, customize, and publish at the same time.
You can also start from scratch, use the easy one-click graphic design tools, or maybe edit a promotional video! If you're working with a team, try out Simplified's collaboration features that lets you edit and leave comments in real-time and assign roles to your team members.
The possibilities are endless with Simplified: all you need is your ideas and you're all set.
Design to Sell with Simplified!
Plan, design, and publish your own Shopify website using Simplified, the One App for Marketing. Sign up today!