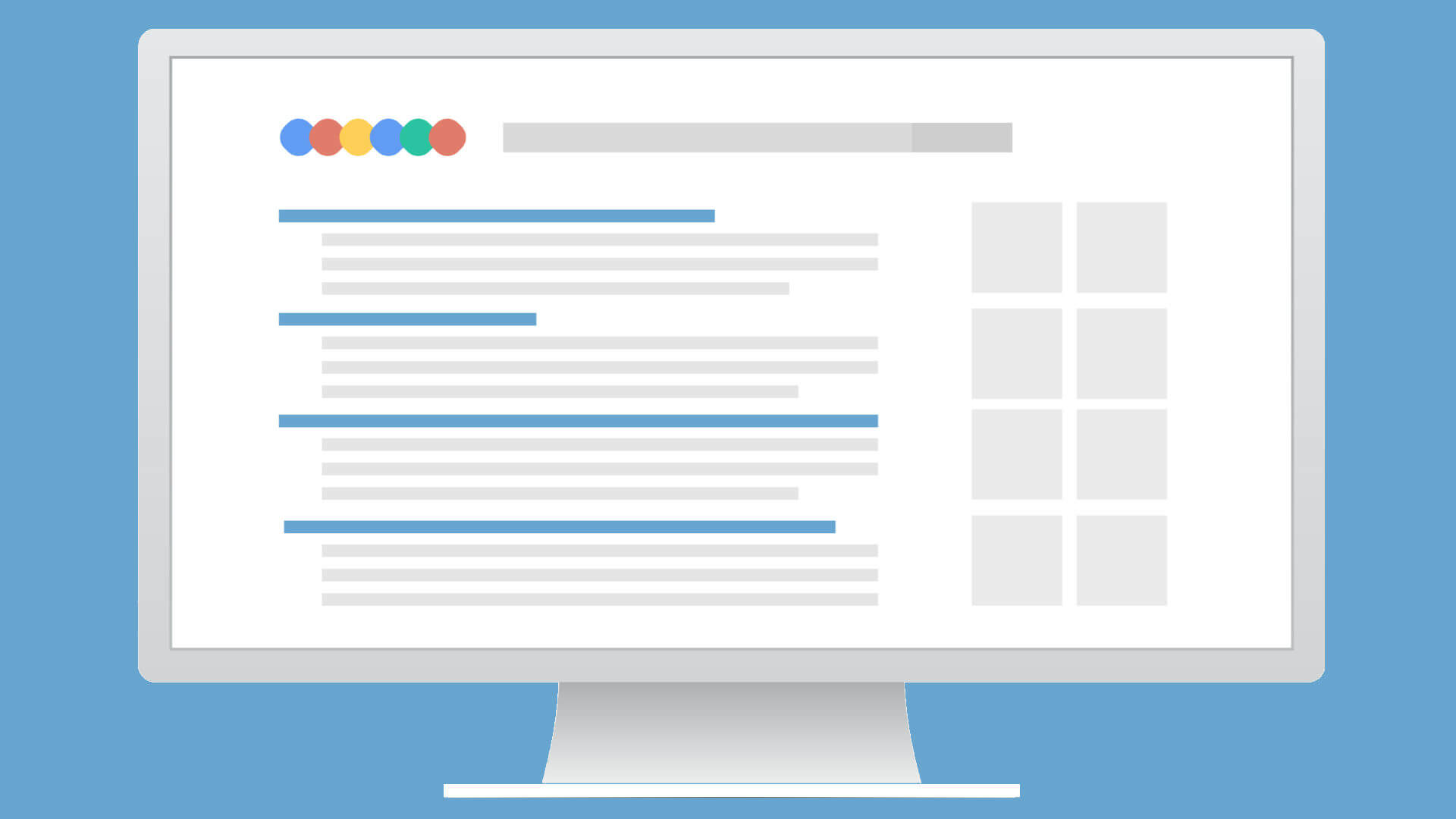 Search Engine Results Page (or SERP) are pages that appear after inputting your query into a search engine. By tailoring your content to be search engine optimized, you can increase the traffic you drive to your website. Search engine optimized content also makes your website more visible on SERP. The more visible your brand is on SERP, the more people you will have clicking on your website because in most cases, your website will be one of the first few they see.
Did you know that over 90% of consumer traffic goes to websites found on the first page of a search engine? So, if your business appears on the first search engine result page, you're more likely to get customers than if you're on the second or third page. But how do you get on that coveted first page?
Related: Scale Your Brand With Simplified's Brand Kit
What are SERP features?
We've described some of the most popular SERP features below. Read on to find out how you can leverage these features to your advantage!
Featured Snippet
A featured snippet, also known as an instant answer, consists of a few lines that directly or indirectly give an answer to the search query. So, if you have a specific business offering, including answers to the most commonly searched phrases could help you gain SERP visibility.
FAQs
FAQs, or frequently asked questions, are shown when a user either searches using the term 'FAQ' or asks a question that would fall under FAQs. By having an FAQ section or using keywords that customers are most likely to incorporate in their searches, you can increase your probability of showing up on the first page of that keyword.
Website Links
These links are displayed under the main search result. Site links lead to parts of a website that customers want to access quickly. For example, if you search for 'Facebook', you will see sitelinks to sign up or log in right below the main link. If you want site links to be visible under your website, you need to link keywords to the parts of the website you want displayed.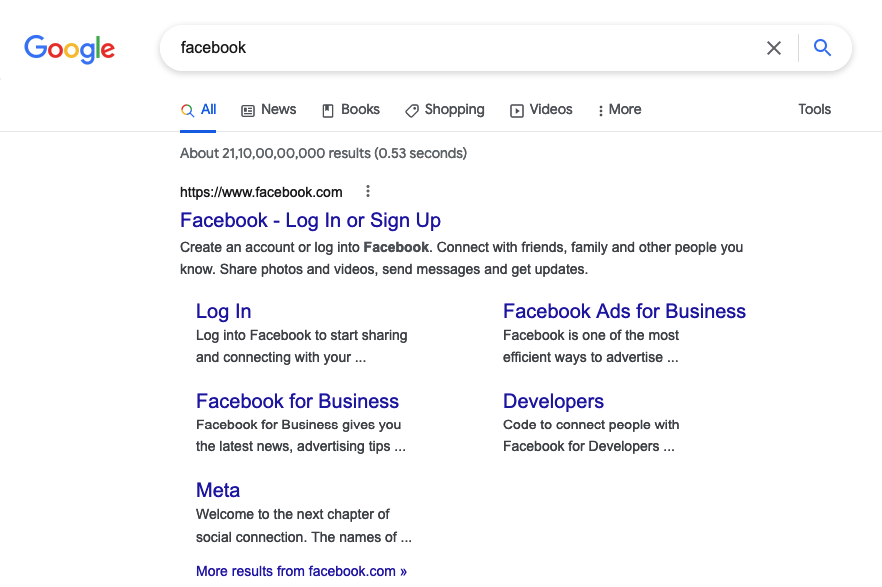 Related: Top Social Media Sites Your Business Needs Now
Reviews
Sometimes, restaurants and stores you search for have a rating scale displayed under their names. These are 'review snippets' and give customers an idea of the quality provided by the business. 73% of customers trust in reviews they see online. So, if you want your website to garner more clicks, get your customers to leave you positive reviews.
Images
Search engine algorithms sometimes determine images will better serve a search than only text. In such instances, the SERP will also show a series of photos for the query. If you want to take advantage of this feature, make sure you caption your photos properly. You can also include accurate alt text and appropriate dimensions of images to increase your chances of being featured. The dimensions of the photos used should ideally not be wider than 2560 pixels. Another important factor to keep in mind is file size; the smaller the file size, the faster your image will load.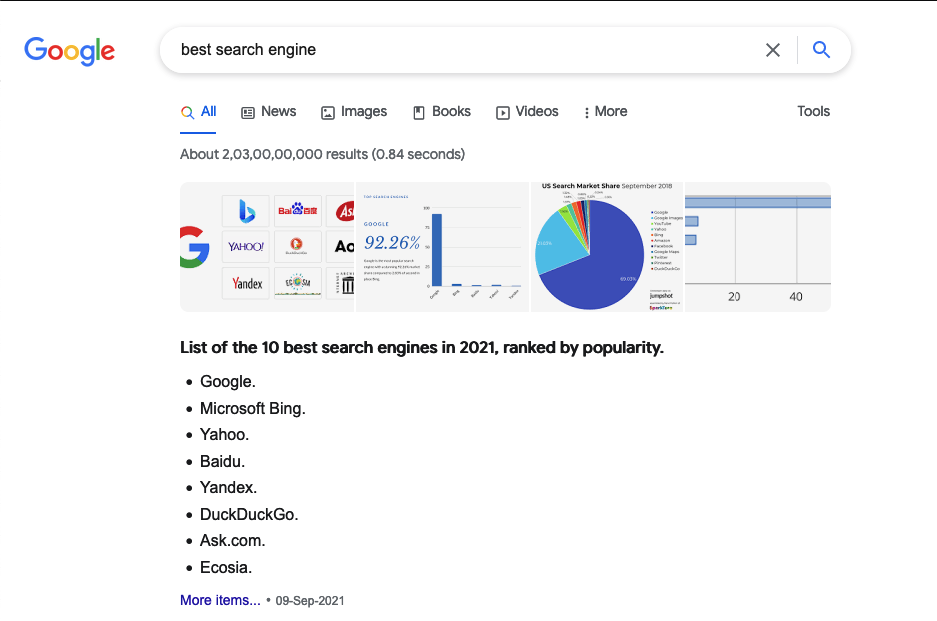 People Also Ask
If you search for 'Simplified', your first result will be a link to the Simplified website. But, below that, you'll see common questions that people also search for like synonyms and meanings.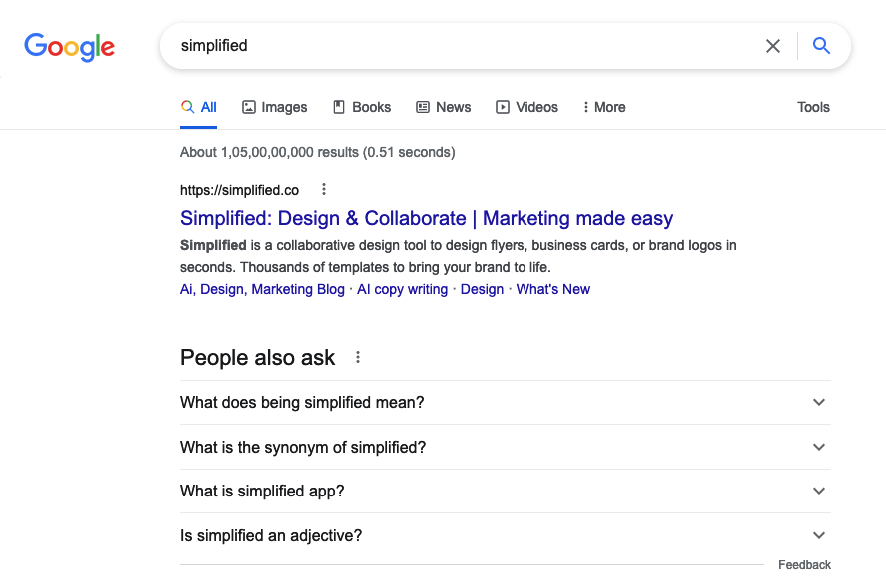 Types of Searches
Now that we've covered a few basic SERP features, let's look at the most typical search queries. These categories are universal and will apply to every kind of business or company. Depending on what you want your customers to go to you for, you can tailor your website to rank highly on a search's SERP!
Searches for Websites
Rarely do we actually enter the website URL of a brand or company, which is called direct traffic. This is why it's important for you to bid on keywords that are important to your company. By bidding higher than your competitors, you ensure that your website shows up on the first page of the SERP when someone searches your specific brand name.
Searches for Information
Most of these queries start with "how to…", and your website is where you want them to come for the answer! So, it is a good idea to optimize the keywords and content on your website specifically to answer such questions. You could even use broad keywords like "How to…?" on your page so it shows up in search queries.
Searches for products and services
Often, customers don't search by brand. They prefer to explore available options before choosing what they feel is best. If you offer a niche set of products or services, buying keywords and giving direct links to these products on your website is a good way to gain traffic!
Related: Why Marketing Products Is More Important Than You Think
Now the next question you're probably asking yourself is "can I do all of this on my own?" The answer is…yes! You don't need to spend a ton of money hiring a team of digital marketers to help you get your online presence on point.
Simplified is a free, easy-to-use tool that can scale up your branding with no hassle! From designing your brand logo and creating images and videos to automating your posts using AI, marketing has never been simpler.
One Free app to design, collaborate, and scale your work – try Simplified today.