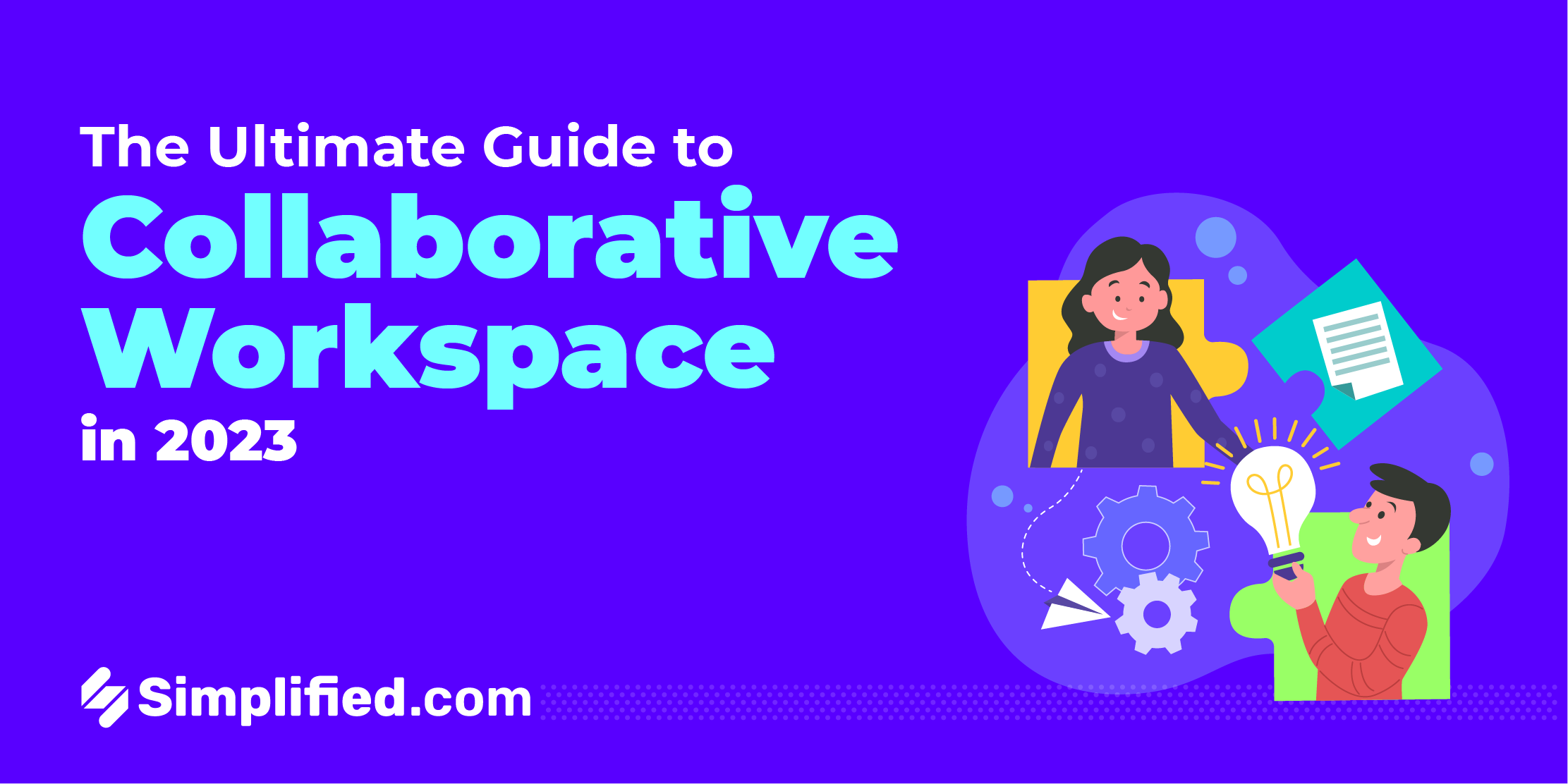 A recent study found that over 50% of United States workers say their jobs rely on collaboration. The modern workplace requires a lot more cross-team collaboration than ever before, especially with remote and hybrid work becoming the norm. This is also why 56% of employers use online collaboration tools to manage work within and across teams.
Working together in real-time can be challenging, especially when managing multiple projects and people within short deadlines.
Simplified enables businesses to build a collaborative workspace no matter where their employees are located. Let's walk you through some of the ways you can accelerate your productivity with our collaborative Workspaces.
Related: How To Switch Between Multiple Workspaces
Benefits of a collaborative workspace
Faster Communication: Keep your teams on track with prompt updates to stay on top of your product launches and deadlines. Not only will real-time comments help you get feedback from the clients more efficiently, but they can save you loads of time by making last-minute changes so much simpler!
Active Execution of Ideas: Without effective communication that aligns with your design vision, the execution of your ideas can fall flat. Answer queries in real time and provide necessary input to unify your brand vision in a collaborative workspace.
Unrestricted Workflow: No one wants their creative effort to go to waste if the final piece doesn't meet certain standards. The ability to have multiple team members communicate their expectations and keep checks on the progress makes for highly efficient progress.
Plus, the workspace is open to all team members, 100% remote, and comes with design tools available for everyone to use.
How to use Simplified for team collaboration
Visualize a workspace where team members stay in sync and on top of all the tasks that need to be done. Except you're managing this workspace virtually. That's how Simplified works. Its suite of tools fosters better real-time communication, makes your teams a lot more efficient, and lets them manage projects end-to-end with ease.
Check out these amazing features that'll make your everyday work super easy to manage:
Create a Workspace: A Workspace is one where which all your teammates have access. This is where collaboration begins, all online, so it's accessible anytime, anywhere. Simplified also has an app that makes it easy to stay on top of things when you're on the go.
Assign team roles and permissions: Based on your team members' roles in the hierarchy, you can assign permissions and team roles, so everyone knows what's expected from them.
Easily edit designs: Simplified makes it possible to edit and create designs, provide feedback and get comments from the team lead or the client, all in real-time. This avoids unnecessary back and forth and fixes any communication gaps, making for a smooth design process.
Collaborate in real-time on video projects: Video projects tend to be more challenging to manage, but you can use Simplified's in-built free video editor and choose from a library with hundreds of stock images and video clips to create professional-looking video content in just a few minutes.
Brainstorm with your team: Get to brainstorm within and across teams, get ideas and inputs and plan the way ahead together, all in one place.
Organize your brand assets: Create a comprehensive Brand Kit within the platform so you can organize your fonts, colors, and other brand assets into folders that everyone on the team can use and access for designs.
Use AI for faster output: Simplified also has an AI content generator, that eases the content creation process and an AI image generator that caters to your photography needs based on text prompts.
How to create a workspace on Simplified
Now that you know the importance and value of a collaborative workspace let's see how to make one on Simplified!
First: Log in to your Simplified profile.
Second: Click the drop-down arrow next to your Display Name and Email.
Third: Select the option "Create Workspace." You can name it whatever you want! For example, "Team X" or "Simplified Workspace" and get started.
Next: Now, on the "Invite your teammates" page, enter the email addresses of people you wish to give access to your workspace.
Finally: Click on 'Send Invite'.
And boom! You will be redirected to your home page, where you can start collaborating. You can:
Start with a template
Start from scratch
Or continue working on existing projects in "My Projects"
How to make use of a collaborative workspace
Related: Benefits Of A Shared Workspace: Tag, Comment & Create
Get Talking!
The comment section of your project helps keep everyone's ideas in one place and allows them to be accessed by all of the team members.
Let everyone be on the same page by collecting reactions and input from multiple members.
See what's working or what's not – in real-time.
You also have access to features such as Edits, Add-ons, Feedback, Suggestions, and so much more!
Innovate and Inspire!
Found an interesting design on a website? Share the link with your teammates in the comments!
Researching your competitors can also be a great source of inspiration for your collaborative workspace.
To sum up
Simplified gives you the option of making your design workspace more collaborative. This takes away all the hassle of updating each individual team member at different times.
Accountability and transparency in your project can make the work more focused. Not only will you save time, but the team will also feel more responsible as a whole for the quality of the final product.
Most importantly, your final design can be completed with active participation from all team members. You no longer need to wait on individual approvals before submitting work to the client.
Remote work has now become a preferred option for many people. It's not just for freelancers anymore! With a collaborative workspace, coordinating with your colleagues has never been simpler. Accelerate your team's productivity with collaborative workspaces by Simplified.