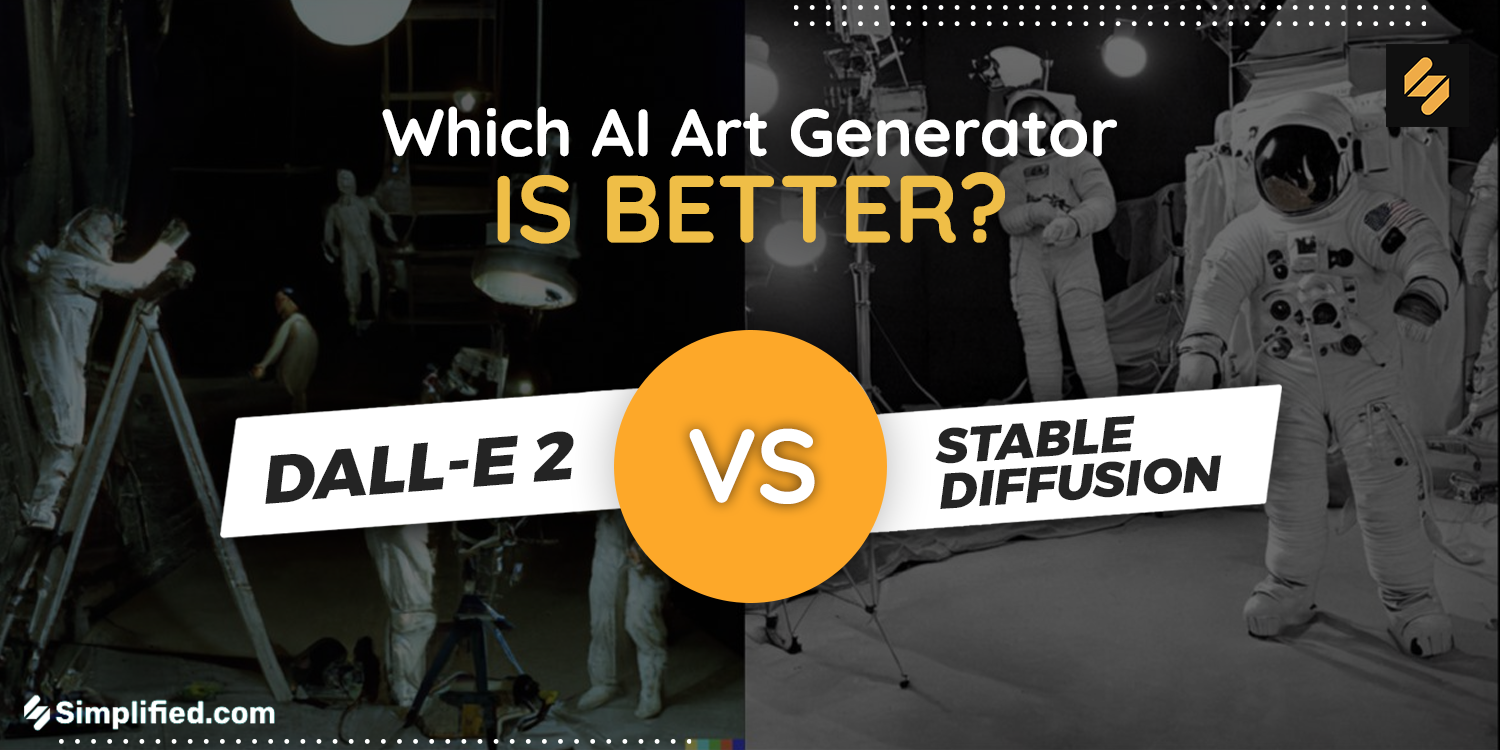 Seen as a cool abstract art generator by some and a vital business tool by others, AI art generators are creating a niche for art and design in the market today. These tools can help you create flashy product designs, elegant magazine covers, unique NFTs, and even one-of-a-kind avatars in the Metaverse, but which one should you use and why?
You can use the DALL-E 2, which has a proven track record of producing quality images, or you can opt for the latest clip diffusion, stable diffusion, which can also create a myriad of images and designs. The good thing is that you don't have to choose just one with Simplified's new AI Image Generation, which uses both DALL-E 2 and Stable Diffusion.
Dall-E 2 and Stable Diffusion are two of the most popular AI art generators, and both tools have their unique strengths and weaknesses. In this article, we'll compare the two AI art generators side-by-side to help you decide which one is right for you.
What is the Dall-E 2?
The Dall-E 2 is a limited-access AI art generator created by OpenAI that generates digital images from text descriptions. Created and first launched in January 2021, this AI program can create over 250 million images, including realistic portrait images and unique combinations of text prompts to create art rich in colors, hues, and tones.
It uses a 12-billion parameter training version of the GPT-3 transformer model to interpret the natural language inputs and generate corresponding images. The Dall-E 2 is best used for stock images or images that require adherence to long and complex details.
Related: Generating Images: A Comparison of DALL-E 1 and DALL-E 2
What is Stable Diffusion AI?
Stable Diffusion AI is a project funded by StabilityAI and Runway, and it is built upon the theory of "high-resolution image synthesis." It became available as an open-source generator in August 2022, and it has a database of over 5.85 billion clip-to-image pairs. Stable Diffusion AI is best used for generating short videos and aesthetically pleasing photos and designs.
Related: Stable Diffusion: The Next Great AI Image Generator
Pros & Cons of Dall-E 2
Let's understand this AI art generator in detail:
Pros
Ability to understand hyper-specific details and long prompts
No text is eliminated and all text is fused appropriately
Extremely creative while simultaneously being extremely obedient to the prompt
Excellent crop function that allows for easy zoom-ins, zoom-outs, and panning
Ability to generate various concepts and iterations into realistic images
Safety: Censor policy that bans proper names, violence, blood, and controversial text 
Clip-end diffusion
Cons
Limited access as it is not open-sourced
A database of 250 million images is mostly stock images
Generations tend to be dull and plain if not provided with enough specific modifiers
Inability to generate clear and accurate close-ups of faces (especially of famous people)
Inability to generate images from certain keywords such as Japanese anime text
Inability to run on a computer's GPU  
Pros & Cons of Stable Diffusion AI
Now that we understand the advantages & limitations of Dalle-E 2 let's weigh in the same for Stable Diffusion.
Pros
Capable of generating beautiful and aesthetically pleasing images from short prompts
Clip-end diffusion
Ability to generate clear and accurate close-ups of faces, especially of famous people
Unlimited, free access to over 5.85 billion clip-image pairs
Requires only 4GB of ram
Generates in around three seconds
Ability to generate short videos
Cons
Inability to avoid or ignore heavy presumptions to properly balance text prompts, creating distorted images
Eliminates text that doesn't seem to fit, producing less than ideal images that don't match the prompt
Inconsistency in generation diversity from its uncensored dataset and models
Creating AI Art with Dall-E 2
See how everyone else is generating AI art from text 👇🏼
Prompt: Cabin in the Woods, rain
Prompt: Spiderman and Dr. Strange in spiderverse in with smoke and fire in the frame close-up
Creating AI Art with Stable Diffusion
See what the world is creating using Stable Diffusion 👇🏼
Prompt: World of Wakanda Black Panther in Marvel cinematic universe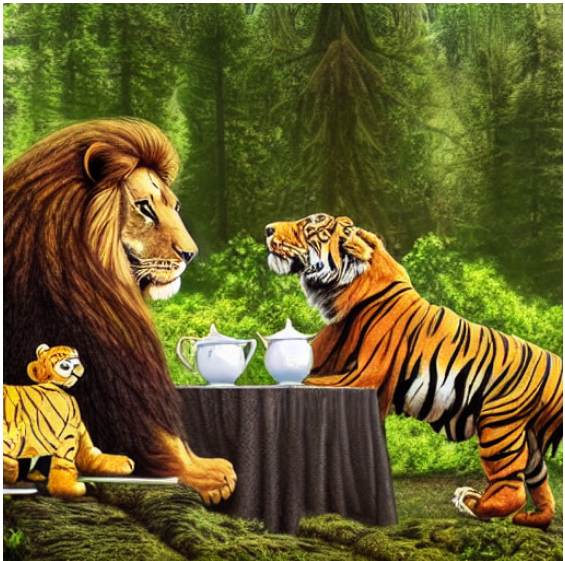 Prompt: Vegan Lion, Tiger, and Bear Having Tea in the Forest
The generated image is a cartoon with slightly distorted faces. Also, for the Lion prompt there were no elements that would suggest "vegan," nor did it include a bear. However, it is a beautiful scene of a lion and tiger in the forest with a table for tea.
Comparing AI Art generators From Text Based Prompts: Dall-E 2 and Stable Diffusion
1. Prompt: A Huge Bumblebee on Fire in a Cave, Painting by H.R. Giger, Award-Winning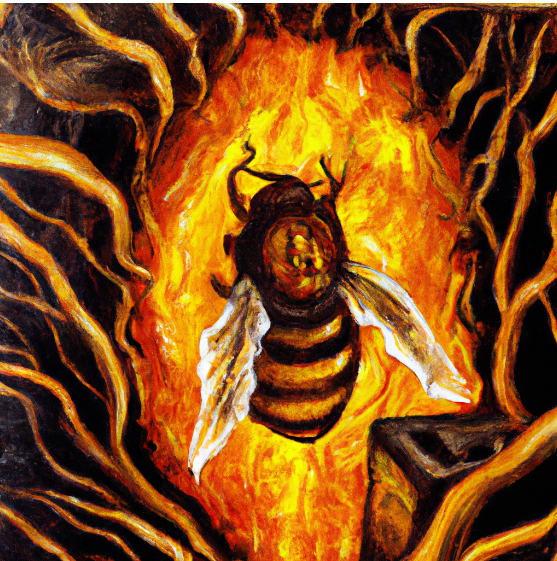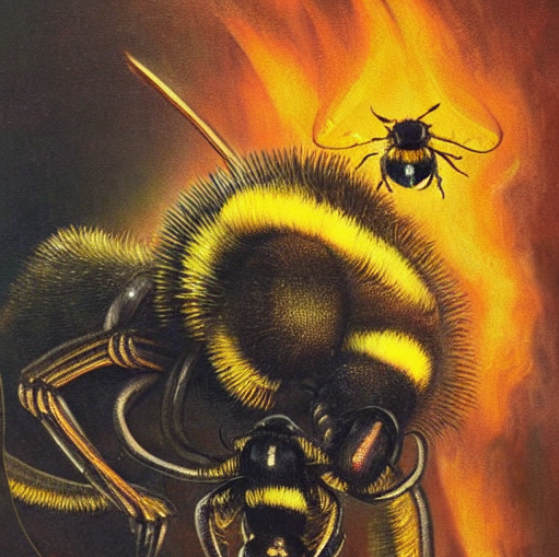 2. Prompt: Amanda Gorman and Phyllis Wheatley meet at a bookstore
3. Prompt: An Ocean Full of Beautiful Sea Creatures, Plastic Bottles Float Just Above
Free AI Art Generator To Create Stunning AI Art Always: Simplified
There is no need to scour the web, desperately searching for design tools or a free AI Art generator anymore. Creating exclusive banners and logos for your small business, creative photos/images for your blog or custom designs for your whitepapers and social media posts is easy using Simplified AI Art Generator.
Pros of Using Simplified's free AI Art Generator
Free forever account with monthly free credits
Uses Stable Diffusion & DALL-E instead of only 1 model.
Does more than image/art generation. 
Edits Images and creates social media posts/content
Ability to publish to social media directly after image generation
(No cons)
Research and Brainstorm different image combinations, and simply input them into Simplified's Text to Image Generator to get stunning results. Add a