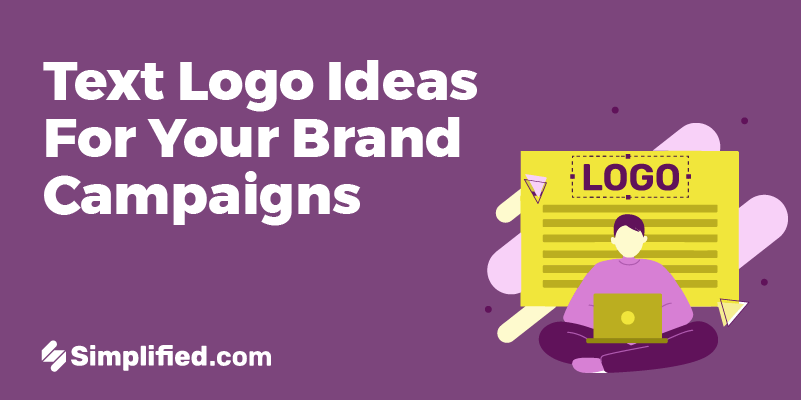 As the world of marketing and advertising evolves, so do the trends in logo design. Today, consumers are looking for brands that can deliver a message that is concise, impactful, and relevant. One way to achieve this is through the use of text logos. So, to help you get started, we've compiled a list of 10 text logo ideas with examples (and a FREE tool!) that you can use for your next brand campaign.
Here you'll also find what text logos are, as well as the different types of text logo design ideas you can try for your business this 2023. Plus, a free tool that can make your next campaign shine even more (and maybe even help you manage your social media accounts better!).
What is a Text Logo?
Also called a wordmark logo, a text logo is text-based and features the brand name as the main element without including any graphic patterns, symbols, or emblems. Basically, a text logo's main focus is its typography so it has a more direct style than other kinds of logos (like illustration logos).
Plus, text logos work particularly well for businesses with memorable brand names! It's a very effective tool for visual communication where you can freely express your brand's identity and attract your target audience.
Not sure how to choose the right design for your brand? Don't worry! Check out Simplified's handy guide to the different kinds of logos you should have in your brand kit.
10 Best Text Logo Ideas (with examples!) For Your Brand
When you're gauging whether or not your brand kit will benefit from a text logo, bear in mind that it takes just one tweak to transform a logo from forgettable to timeless.
For instance, Google's text logo is instantly recognizable across the world and clearly communicates the brand identity to its audience. They've added a playful animation too! Google's branding is a perfect example of combining traditional text logos with the new technology of animated logos.
1. Handwritten Text Logo Inspiration
Handwritten text logos are a great way to connect with your audience by adding a personal touch to your brand identity. By using this kind of design, you can explore custom fonts, different colors, and designs that express your brand's personality.
For example, Sharpie does this best – what better way to market writing tools than with a custom cursive font?
Here are a few more handwritten text logo ideas from the brands that have built and retained a loyal customer base over decades.