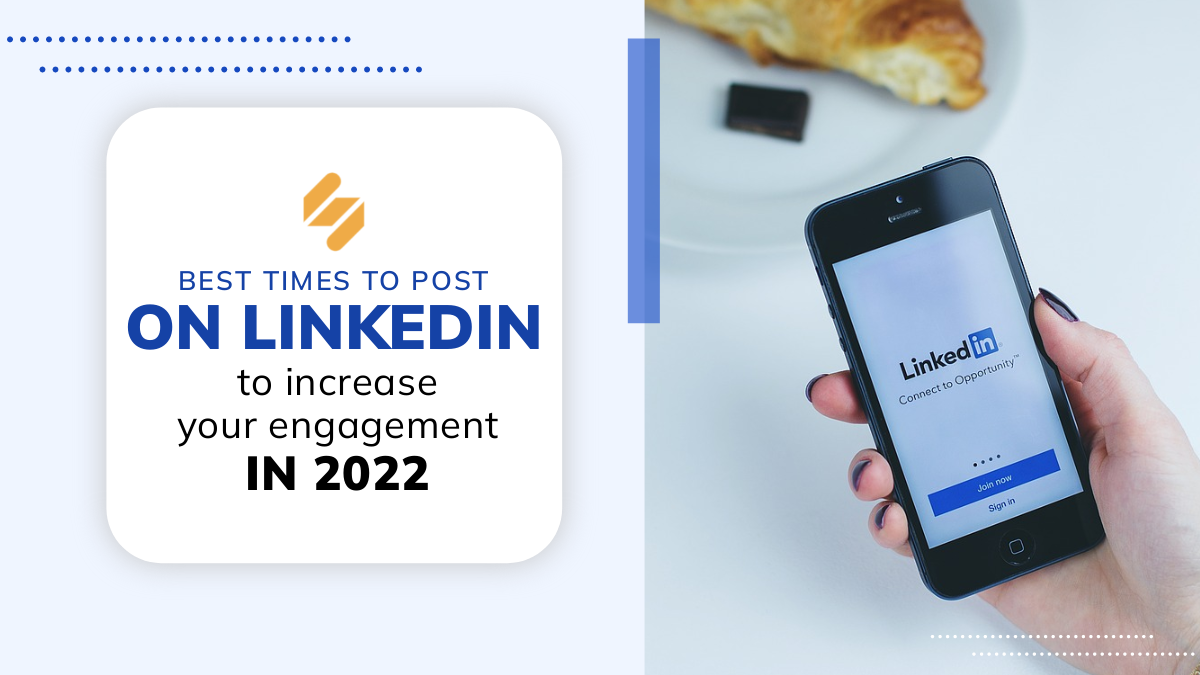 Picture this: after several attempts to get views on LinkedIn, you finally post something that you feel will be a massive hit. But then, when you check back, you find out your level of engagement has stayed the same. What gives?
If you're wondering why your posts are stagnating with their engagement, you need to consider this important factor – time. Knowing the best time to publish your content on LinkedIn will unlock the true engagement power of your posts.
Now, there's no doubt that this can be tricky. But, fear not! In this blog, we'll let you in on the best times to post on LinkedIn and explore how important it is for your marketing efforts. Let's dive in!
Why The Best Time To Post On LinkedIn Matters
LinkedIn is a professional social networking site mainly used by individuals seeking to find employees or employers. Those in the B2B niche also use it to find potential clients and make connections. This makes it more unique than platforms like Facebook, Twitter, TikTok, and Instagram which are more focused on personal interactions and perform better for B2C brands. Nonetheless, it is a great place for B2B and B2C marketers to promote their content and increase brand visibility.
Since its launch in 2002, LinkedIn has grown to be much more than just a job searching platform. It now a space brands go to make names for themselves. The platform boasts over 300 million active users monthly. Now, imagine how great it would be for your posts to reach even just 0.001% of those users (that's 300,000 people!).
With LinkedIn features such as a video feed, robust targeting tools, and stories, brands have a better chance of increasing their LinkedIn engagement rate. It has become a place where not only connections amongst people occur, but where companies can organically grow their brands.
That being said, we all know that nobody pays attention to generic posts, so you need to create intriguing and compelling content such as blog posts, native videos, text posts, and image/graphic creatives. However, even if you post the greatest write-up ever, it wouldn't make much of an impact if you don't do it at the right time.
So, it's important to figure out the best time to post on LinkedIn so that you know how to increase engagement on LinkedIn. It'll also allow your target audience to see your updates on a regular cadence.
The Best Posting Times to Increase Your LinkedIn Engagement Rate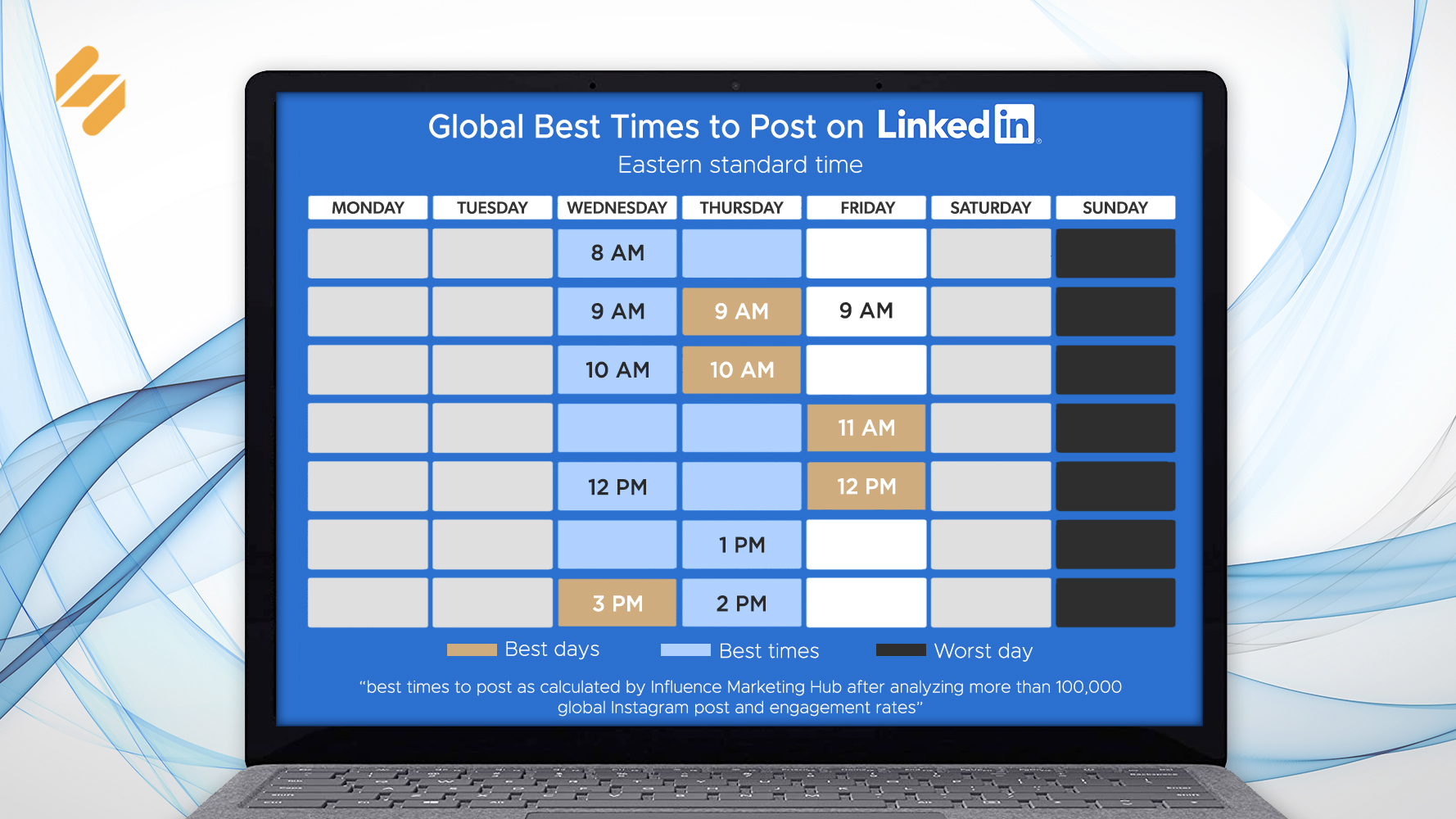 Several factors determine when to schedule LinkedIn posts, and we've compiled some recommended times from a few different studies. From there, you can test each of them to see which one has more of an impact on increasing your LinkedIn engagement rate.
The following are the results of said studies to determine the best time to post on LinkedIn:
More Factors to Consider on When to Schedule LinkedIn Posts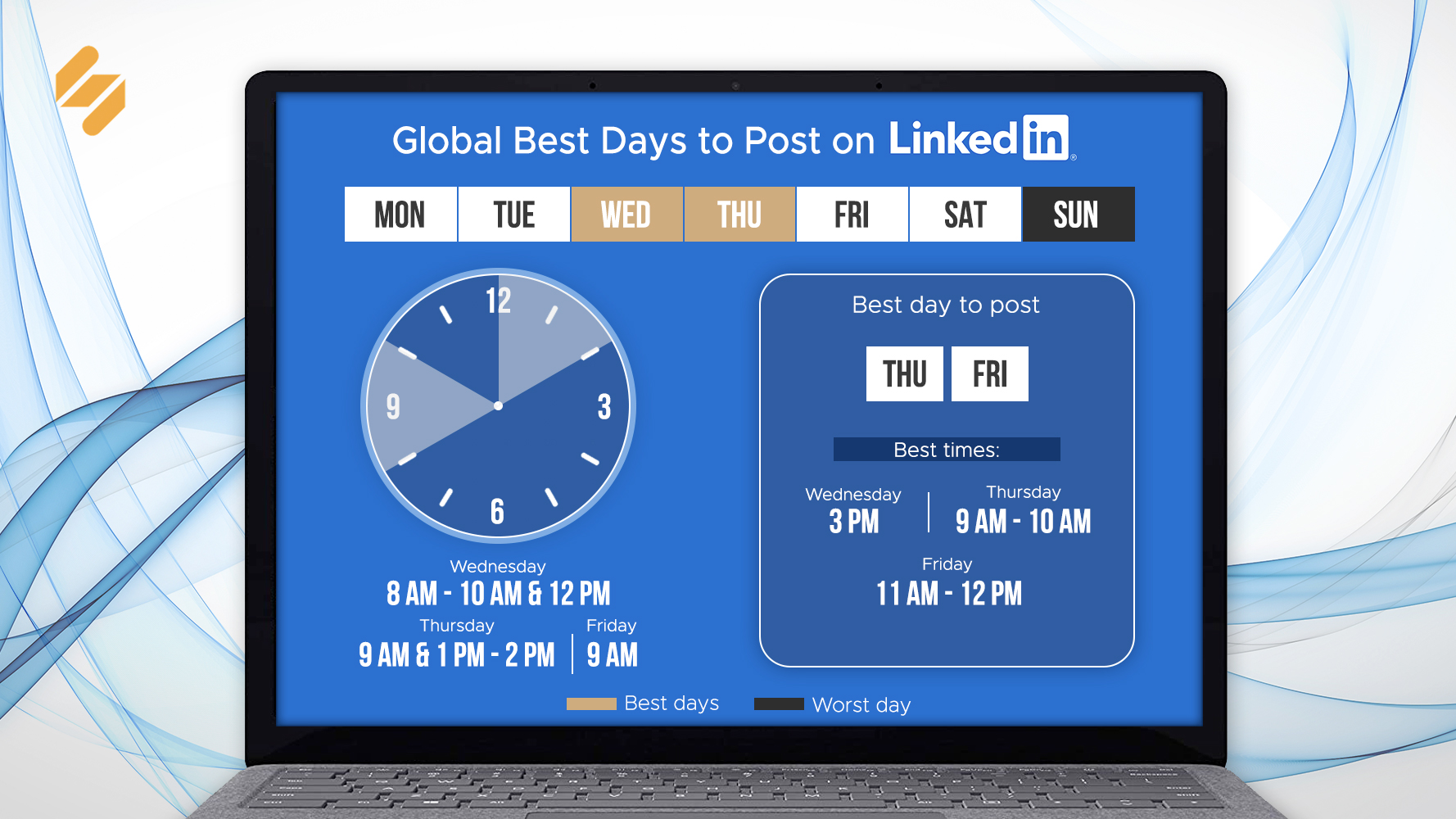 1. Days of the Week
As established above, Tuesdays, Wednesdays, and Thursdays are the most appropriate days to post, with Wednesdays getting the highest level of engagement. Mondays and Fridays are least favorable for drawing engagement. Try not to schedule LinkedIn posts on weekends. Why? Because LinkedIn usage is low during this period of time. Also, during weekdays, posting during lunchtime (12pm) will spike your post's engagement rate as users will be more active then.
2. Time Zones
Pay attention to the time zone of where the largest percentage of your target audience lives. This is so you can schedule your LinkedIn posts at the appropriate time for them, and not for you. For instance, if you're in India, it's advisable to post using IST as that time zone will help you reach a greater number of people. You can use social media analytics tools to discover where your target audience is predominantly located.
3. Your Industry Matters
The best time to post on LinkedIn is dependent on your industry as well. For example, research has shown that posts from B2C businesses and software companies are more engaged outside of the 9 am–5 pm range.According to HubSpot, posts from:
Software and Media companies work best on weekday mornings or outside of traditional work hours;
Higher Education and Healthcare companies do better during weekdays from mid-morning to early afternoon (10 am–2 pm);
B2B Businesses typically work best on weekdays in early mornings, during lunch, and during commuting times;
B2C Businesses work best on weekdays during lunchtime or outside of traditional business hours.
4. Follow Your Specific Audience
Take note of the behavior of your target audience so that you can know the best time to post on LinkedIn. Find out how they use the platform, the kind of content they like seeing, and when they are most active. Also, make sure to use social media listening tools to help you understand more about your target audience.
---
Simplified allows you to stand out with a plethora of design templates and copy AI by adding your logos, slogans, and brand photos into banners, posts, and pdf carousels. You'll be able to build a truly exciting LinkedIn profile that'll draw other professionals and businesses to you and increase your engagements.
In case you missed it, we'd like to reiterate that it's free! So, join Simplified today and completely simplify your LinkedIn experience.
Simplify your LinkedIn Marketing Posts
With our free LinkedIn scheduling tool, marketing your brand becomes as easy as ABC! This tool allows you to promote your brand by customizing content for posts, uploading images or videos, writing descriptions, and auto-posting to your brand's LinkedIn page in minutes. You can even directly publish to your socials from your desktop or phone, and manage multiple accounts and clients at once!