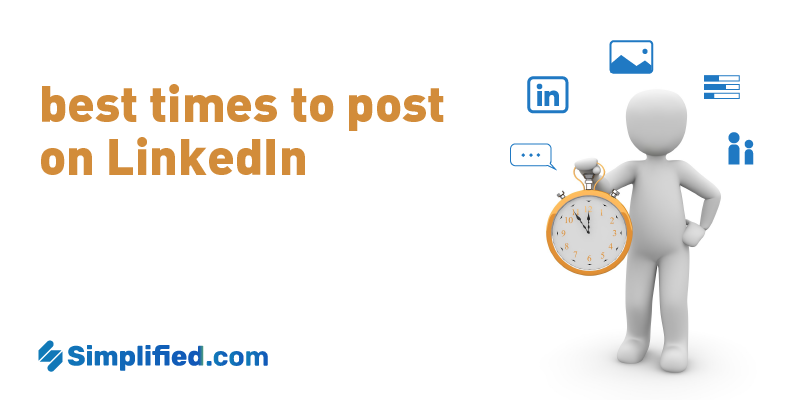 Have you been trying to establish your brand on LinkedIn and haven't seen any growth yet? Whether attracting new clients or increasing your brand awareness, LinkedIn engagement and reach are essential aspects to consider.
It's important to know the best time to post on LinkedIn in 2023 to get the most optimal engagement on your posts. If you have good content and no reach, this is your cue to relook at your posting time on LinkedIn.
Figuring out the best time can be difficult initially. In this blog, we'll take you through all the factors you must consider to know the best time to post on LinkedIn for your brand and how it'll boost your reach.
Before we get to that, let's know a bit more about LinkedIn as a platform, its audiences, and the type of content and ads people post here.
LinkedIn as a digital platform
LinkedIn is a social media platform for professionals to find jobs, connect with other businesses, and locate potential customers. It is mainly used by job seekers and recruiters, and is popular among B2B specialists. While other social media platforms like Facebook, Instagram, TikTok, and Snapchat are geared towards personal communication and are better for B2C marketing, LinkedIn focuses on professional content and connections, making it a unique platform.
Audience reach on LinkedIn
Related:The Best LinkedIn Marketing Handbook for Enterprises
Both B2B and B2C marketers can use it for advertising their products or services and raising their brands' visibility. LinkedIn has developed from a job searching tool to a place where brands establish themselves.
It claims to have over 300 million active visitors per month. Targeting even a small percentage of these users will help boost your reach and attract new customers.
LinkedIn allows you to post different types of content, from polls and posts to videos and blogs. With proper social listening and targeting tools, you can find an audience for your brand on LinkedIn and increase your engagement rate.
Why does LinkedIn posting time matter?
If you want your brand to stand out on LinkedIn and attract consumers to view your content, you will have to step up your game. Step one is upgrading the content you post in terms of eye-catching copies and beautiful visuals! Use infographics, polls, strong graphics, etc, to attract people.
Even the best content posted at the wrong times can reduce your engagement. If you are posting while your target audience sleeps, the number of people viewing your post would be drastically less.
Thus, it's crucial to study your audience and understand what is the best time to post on LinkedIn which boosts your brand's engagement and reach.
What is the best time to post on LinkedIn in 2023?
Several factors determine when to schedule LinkedIn posts. Here are a few recommended times from different studies. You can test them to see which has a better impact on increasing your LinkedIn engagement rate:
HubSpot recommends Tuesdays between 8 am -12 pm; Wednesdays between 8 am–12 am; also Thursdays at 9 am is the best time to post on LinkedIn.
Oberlo reveals the best times include Tuesdays, Wednesdays, and Thursdays between 10 am–11 am.
Quintly suggests posting your content from 7 am–8 am, 12 pm, and 5 pm–6 pm on any day.
For Sprout Social, it's better to post on Wednesdays from 8 am–10 am and at 12 pm, on Thursdays at 9 am and between 1 pm–2 pm, and on Fridays at 9 am.
According to Buffer, Tuesdays, Wednesdays, and Thursdays between 7 am–8:30 am and 5 pm–6 pm are the best times to post.
The Balance SMB recommends that you schedule LinkedIn posts from 7 am–8 am and 5 pm–6 pm.
What are the best days to post on LinkedIn in 2023?
Tuesdays, Wednesdays, and Thursdays are the most appropriate days to post, with Wednesdays getting the highest engagement.
Mondays and Fridays are the least favorable for drawing engagement, people are usually busy with work. Try not to schedule LinkedIn posts on weekends because LinkedIn usage is low on these days.
Also, during weekdays, posting during lunchtime (12 pm) will spike your post's engagement rate as users will be more active on digital media platforms.
Does the best time to post on LinkedIn in 2023 differ for different industries?
The best time to post on LinkedIn is dependent on your industry as well. According to HubSpot, your posts on LinkedIn will work best if posted during the following times:
Software and Media: Weekday mornings or outside of traditional 9-5 work hours
Higher Education and Healthcare: Weekdays from mid-morning to early afternoon (10 am–2 pm)
B2B Businesses: Weekdays during early mornings, lunch, and commute times
B2C Businesses: Weekdays during lunchtime or outside of traditional business hours.
Know your audience to know the best time to post on LinkedIn in 2023
Take note of the behavior of your target audience so that you can know the best time to post on LinkedIn. Find out how they use the platform, the kind of content they like seeing, and when they are most active.
Using social listening tools will help you understand more about your target audience.
Do time zones matter while posting on LinkedIn?
Yes, you must pay attention to the time zone where the largest percentage of your target audience lives. Schedule your LinkedIn posts at the appropriate time for them and not for you.
For instance, if you are targeting audiences in India, it's advisable to post using IST as that time zone will help you reach a greater number of people.
You can use social media analytics tools to discover where your target audience is predominantly located.
Create LinkedIn content with Simplified
Related: Everything You Need to Know About LinkedIn Sizes for Images and Posts
Now that you know what type of content works on LinkedIn and what times to post, create posts for your LinkedIn account with Simplified for FREE.
There are multiple templates and royalty-free assets that you can explore. You can create graphics using the text-to-image AI tool and generate copies or descriptions with the AI copywriting templates.
If you wish to write blogs or informational pieces, you can check out the platform's long-form AI writing tools! Simplified also has a vast range of video templates that you can use to create interactive content to attract professionals and businesses to your brand.
Make more LinkedIn Connections with Simplified
With Simplified's Free Forever LinkedIn Content Calendar, take your LinkedIn marketing up a notch. You can schedule up to 10,000 posts and design posts for LinkedIn using free templates and assets.
Create your brand kits, customize the content, generate captions and descriptions, manage multiple accounts and collaborate with your clients and teams. Plan your LinkedIn calendars and schedule posts in advance based on the best time to post on LinkedIn for your brand. You can create and directly post content on LinkedIn from Simplified.
So what are you waiting for?
Make More Connections With the Free LinkedIn Content Calendar