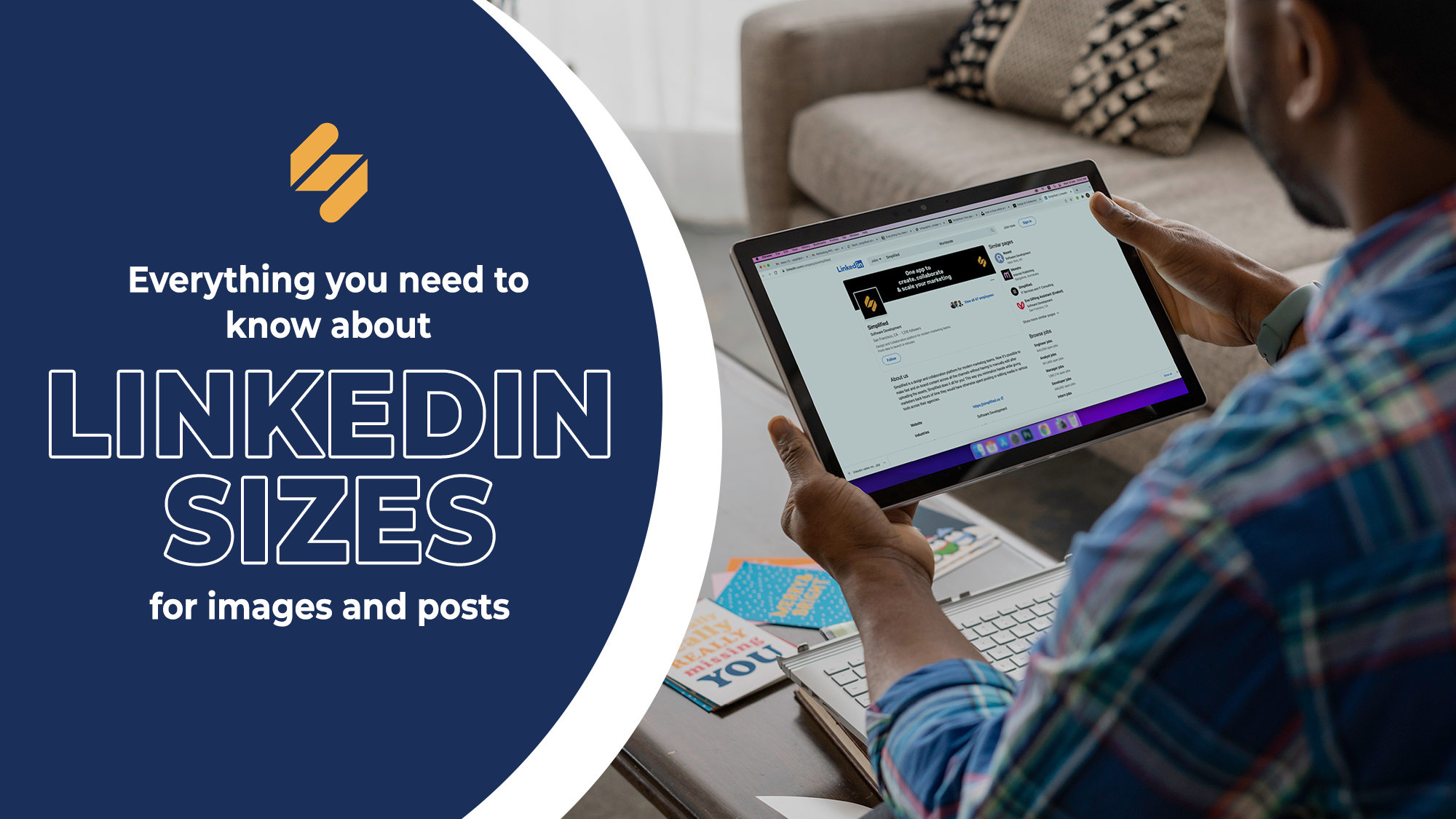 If you are a young professional and business owner looking to expand your network, creating content on LinkedIn will help with increasing your brand's visibility. LinkedIn is the most popular social media platform for building professional relationships and growing your connections. One of the most important aspects of LinkedIn marketing is using high quality images with the correct dimensions.
While images are not the most important aspect of this platform, having high quality images and using the correct dimensions show a high degree of professionalism. Images are used in profile pictures, company pages, and posts. They have the potential to attract wider audiences and thus maintaining high image standards is essential to build credibility and a professional presence.
This guide will cover everything on LinkedIn sizes for images, posts, and videos. And in case you are wondering how to effortlessly get the right dimensions we have a FREE tool for you! Simplified is an online design tool that you can use to automatically create stunning images and videos with the correct LinkedIn size.
How to use Simplified to get the right LinkedIn size for every post?
Simplified is an all-in-one design tool to help you create great content without any hassles! Whether you want to get the right LinkedIn size for your company banner or your profile photo, you get it all. Get pre-designed templates to edit or start from scratch. Check the steps below to get started.
Create your account by signing up with Google or your email.
Select from a wide array of design choices presented on the dashboard.

Alternatively, you can search for your preferred template to get all the LinkedIn sizes for company covers, profile pictures, posts, etc.

Customize your selected template or create your own design with Simplified's easy-to-use tools including an AI writer for stronger headlines.
You will find plenty of creative media including fun stickers, GIFs, and modern fonts. Play around with colors and create a fantastic brand kit that you can reuse for every project.
Although Simplified will automatically format any LinkedIn post size, it can still be useful to know the specific image format requirements themselves.
Related: Creative Branding Trends Of 2022
LinkedIn Sizes for Profile Images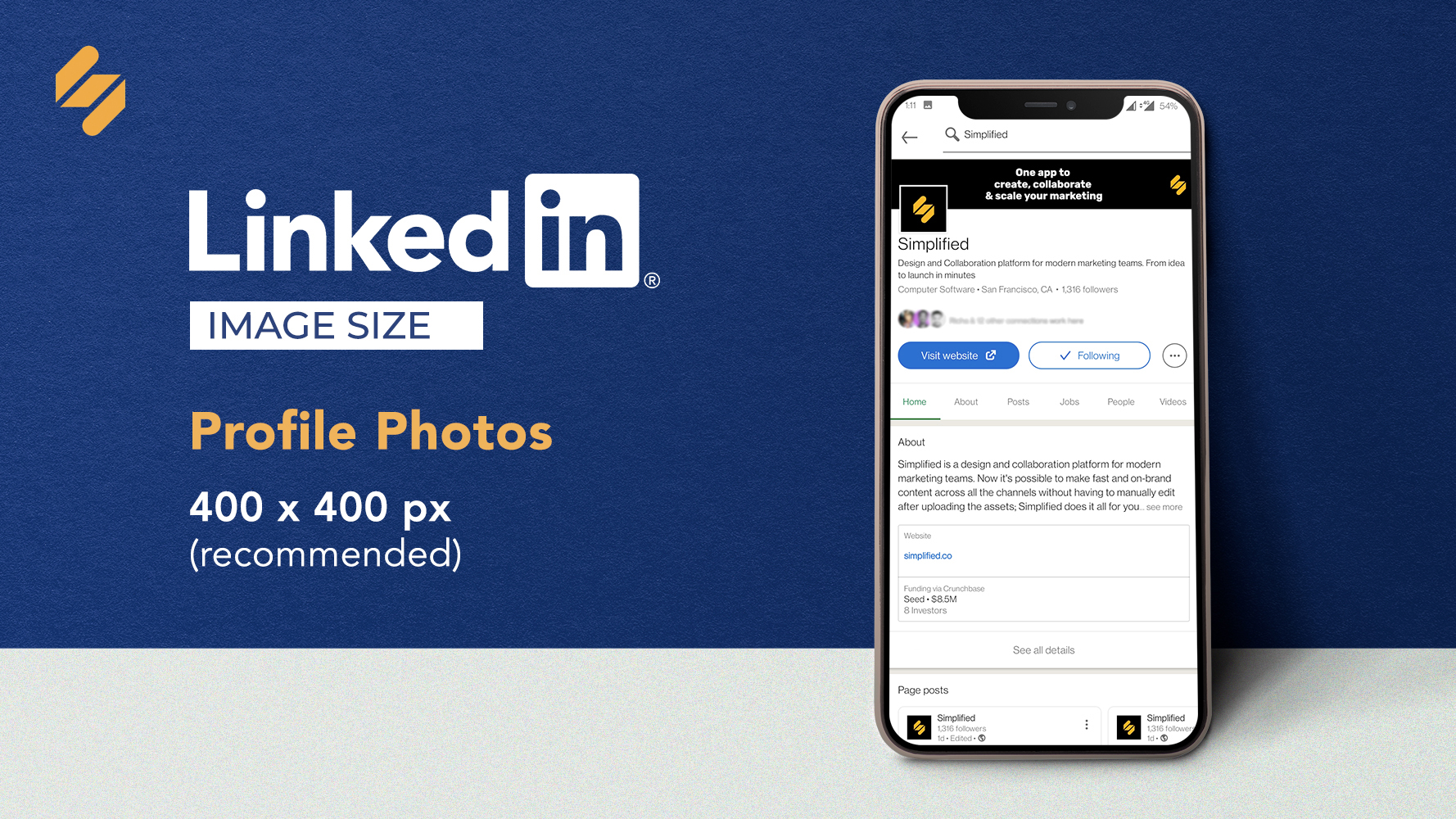 The LinkedIn profile is very important for professionals, especially if you are looking for jobs or hiring for a new role. Use the right dimensions in your images to give the best first impression.
Profile photos: 400 x 400 px
LinkedIn cover photo size: 1584 x 396 px (Aspect ratio- 4:1)
These are the minimum LinkedIn sizes to get the best quality. You can upload larger files of higher quality up to 8 MB size. Be careful while uploading cover photos as they can appear quite differently on mobile and desktop screens.
LinkedIn Sizes for Company Pages
The company pages are not the same as the profile pages. They represent the entire organization or company and come with many extra features. Uploading the right LinkedIn size for logos and the life tab is very important in representing the company.
Company logo: 300 x 300 px
Square logo: minimum 60 x 60 px
Company page cover: 1128 x 191 px
The life tab is where companies can highlight unique content by giving viewers a peek into their work, company culture, and events. A great inspiring image in this space can spark some real interest.
Life tab main image size: 1128 x 376 px
Life tab custom modules: 502 x 282 px
Life tab company photos: 900 x 600 px
These LinkedIn sizes for images can also be applied for LinkedIn showcase pages. Use the aspect ratio of 1:91:1. Make sure that all your images are in the standard JPG or PNG format.
LinkedIn Sizes for Blog Post and Ads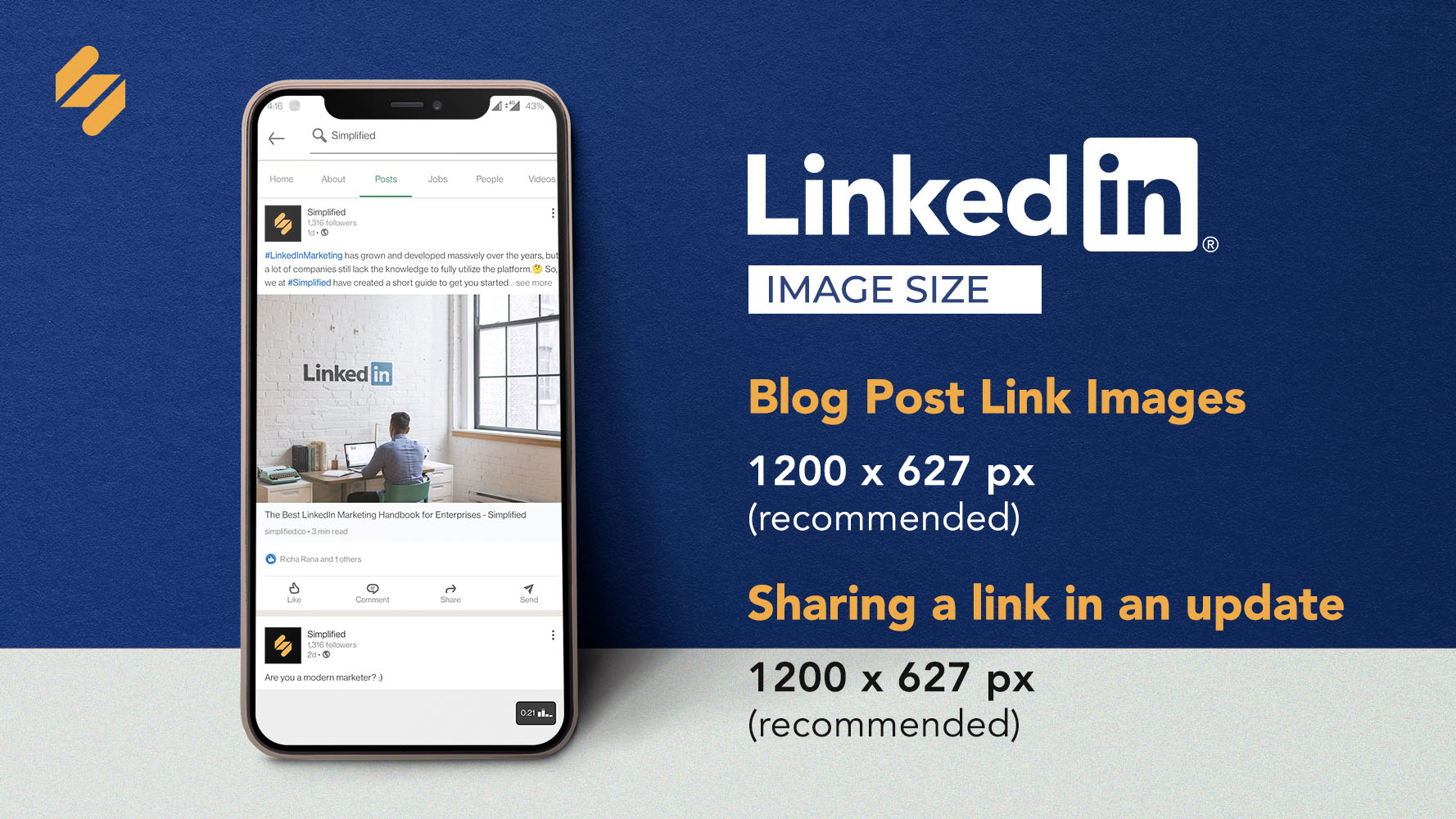 Many people share blog links and articles on LinkedIn to share opinions. Whenever you copy a link, there is an auto-generated thumbnail image. This can also be customized and it's good practice to add a more appropriate thumbnail image that may be different from the default.
Blog post link images: 1200 x 627 px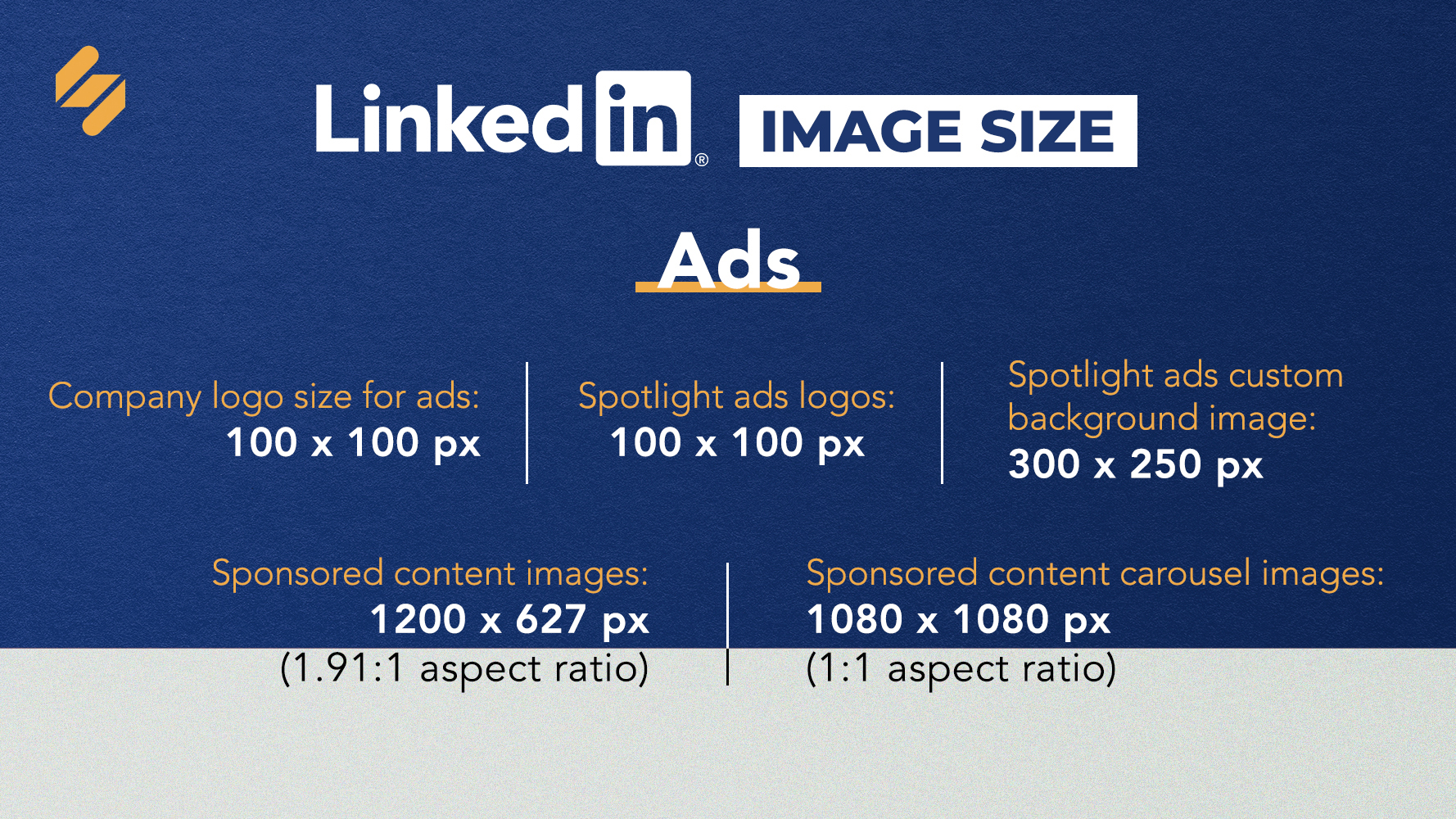 LinkedIn ads have become a popular tool for B2B companies to create recognition and expand. With the right content, you can easily reach your target audience. Needless to say, great image quality is a must for great ads.
Company logo size for ads & spotlight ads logo: 100 x 100 px
Spotlight ads custom background image: 300 x 250 px
Sponsored content images: 1200 x 627 px
Sponsored content carousel images: 1080 x 1080 px
Related: 5 Epic Ingredients For A Successful Social Video Marketing Strategy
LinkedIn Size for Images & Posts: FAQs
What is the standard LinkedIn post size?
LinkedIn size for images: 1200 x 1200 px (square) & 1080 x 1350 px (portrait)
Blog post link images: 1200 x 627 px
LinkedIn size for videos: 256 x 144 (min) to 4096 x 2304 (max)
Maximum video length on LinkedIn: 10 minutes
What is the recommended LinkedIn banner size?
LinkedIn size for profile banner: 800 x 200 px
Company banner image: 1536 x 768 px
What is the best LinkedIn size for logos?
Square images for logos are best on LinkedIn.
Small logo: 60 x 60 px
Large logo: 92 x 92 px
Get the best images for LinkedIn with Simplified
Simplified is the most efficient tool if you are looking for the right LinkedIn sizes. Simplified removes the need to memorize or have a reference list for this complicated list of dimensional requirements. Additionally, you can browse through a variety of templates and designs and create brand kits with your brand colors and logos to create the perfect LinkedIn content.
You can also collaborate with your team members on Simplified. Once you have edited your design, you can share it directly or download it in standard JPG and PNG format.