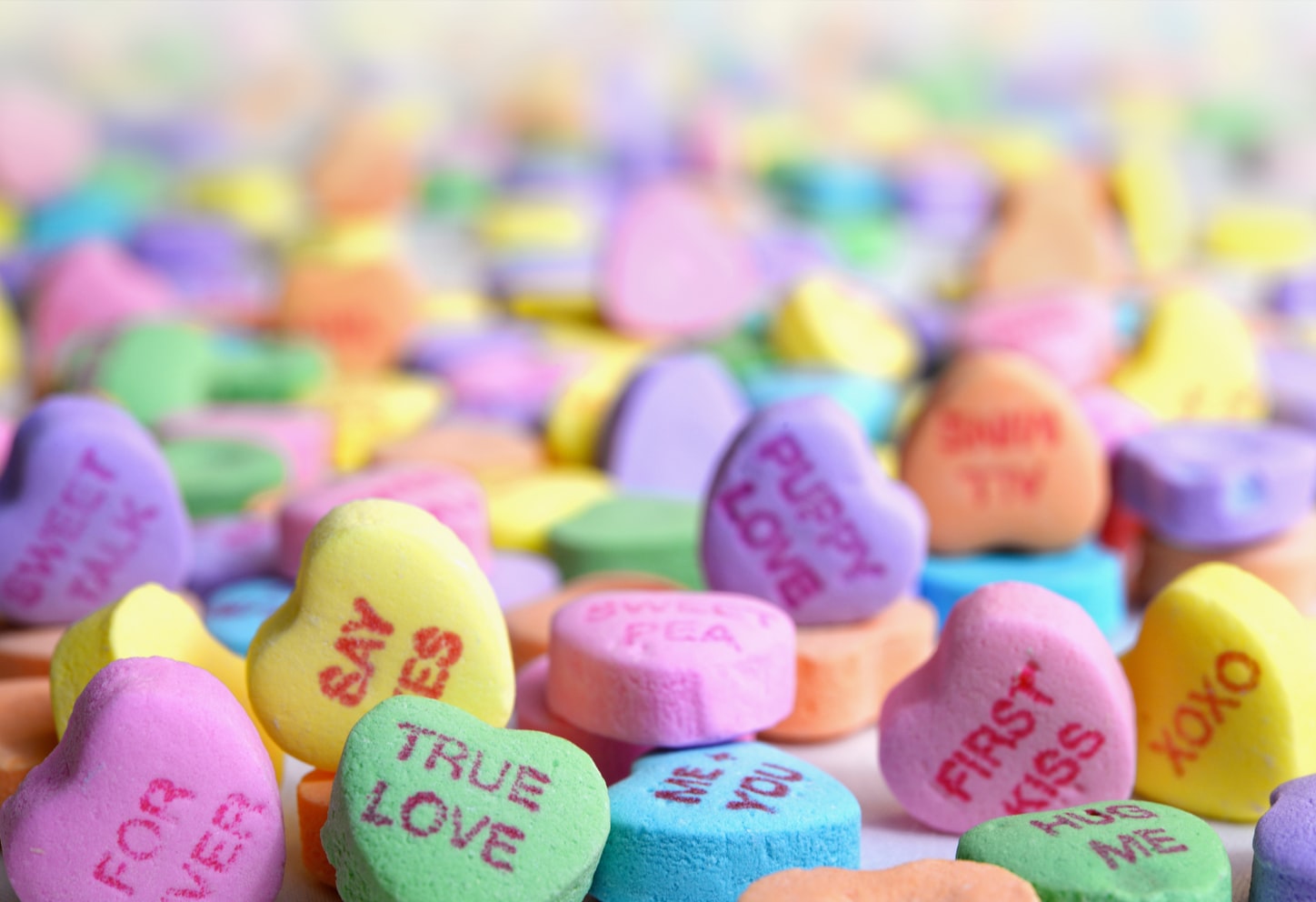 Ah, February! The month of red roses, love letters, and chocolate boxes. Whether it's confectionery, lingerie or flowers, the business of love is pandemic-proof. And, if you're reading this, you're likely bored with looking at the same red hearts plastered all over social media. Don't worry, we got you! Below, let's explore 6 amazing Valentine's Day marketing ideas for your brand's promotions and campaigns.
This Valentine's Day, give your customers something stunning to look forward to. (And make them fall in love with you and your brand.)
Is Valentine's Day Marketing Effective?
Valentine's Day is a red-letter day for business-savvy companies. It is, after all, the most celebrated holiday in the world for lovebirds! Let's take a quick look below at what makes this day delightful for customers and businesses alike:
As of 31st January 2022, we're expected to spend $23.9 billion on Valentine's Day this year!
In 2021 alone, Americans spent $21.8 billion on Valentine's Day gifts for partners, friends, kids, and pets.
53% of Americans are planning to celebrate Valentine's Day in 2022. Of those, 40% of consumers would love to "receive a gift of experience."
Now that you know the compelling numbers behind the world's day of love, let's dive into our guide!
Related: 5 Epic Ingredients For A Successful Social Video Marketing Strategy
6 Valentine's Day Marketing Ideas to Make Your Audience Fall in Love With You + FREE TOOL!
1. Build an Interactive Valentine's Day Campaign
In February 2022, Valentine's Day falls on a Monday. This means you can plan a special campaign for the whole weekend leading up to Valentine's Day!
A weekend campaign on social media has greater reach because most businesses take a short break before the new week. Therefore, you have the competitive advantage of reaching high-intent customers who are ready to take action.
So, how can your brand create an immersive experience for customers?
HASHTAG CONTESTS: You can promote your brand's products or the experiences you offer by inviting your audience to participate in branded hashtag promotions. If you want to hack any social media platform's SEO, hashtags are important for your marketing strategy. For one, hashtags make your posts more discoverable, for two, they function by clustering similar content together! Therefore, you and your audience can browse love-themed content clubbed together by hashtags. For example, Uncommon Good's Instagram challenge is simple, fun, and interactive: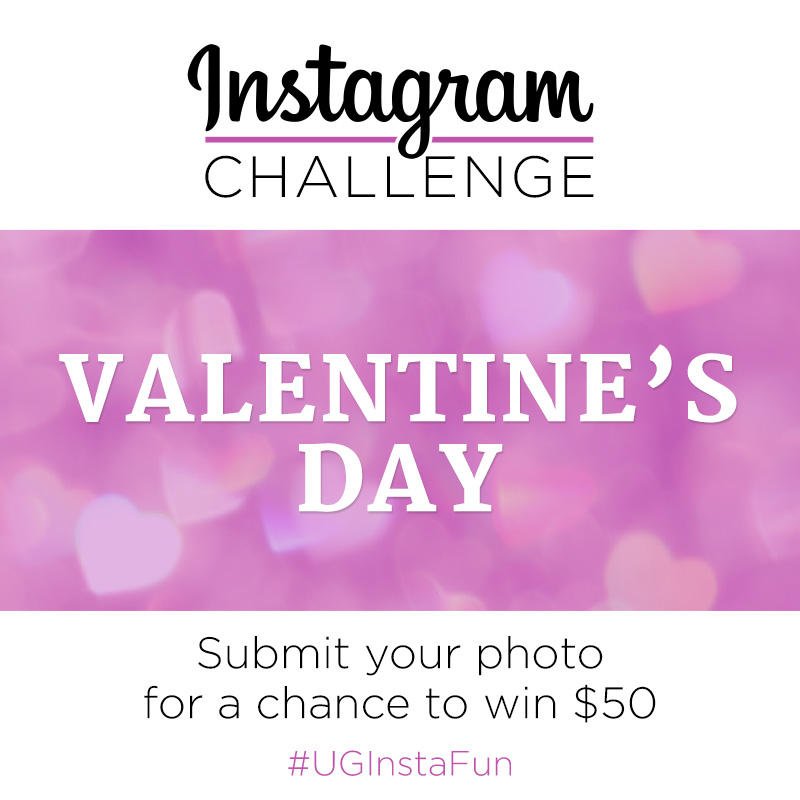 Don't know where to start? Simplified's AI Hashtags Generator is every company's dream come true!
GIVEAWAYS: Giveaways make for some of the most popular Valentine's Day marketing ideas. And for good reason! They boost brand visibility, encourage people to follow your brand, and potentially drive future sales! Take a cue from Dunkin Donut's vibrant Valentine's Day promotion campaign. They created a trivia game on Instagram and asked customers to prove their love for the brand. This would then unlock a secret promo code for a free drink! This is a wonderful example of how a company can engage and reward their most loyal customers at the same time.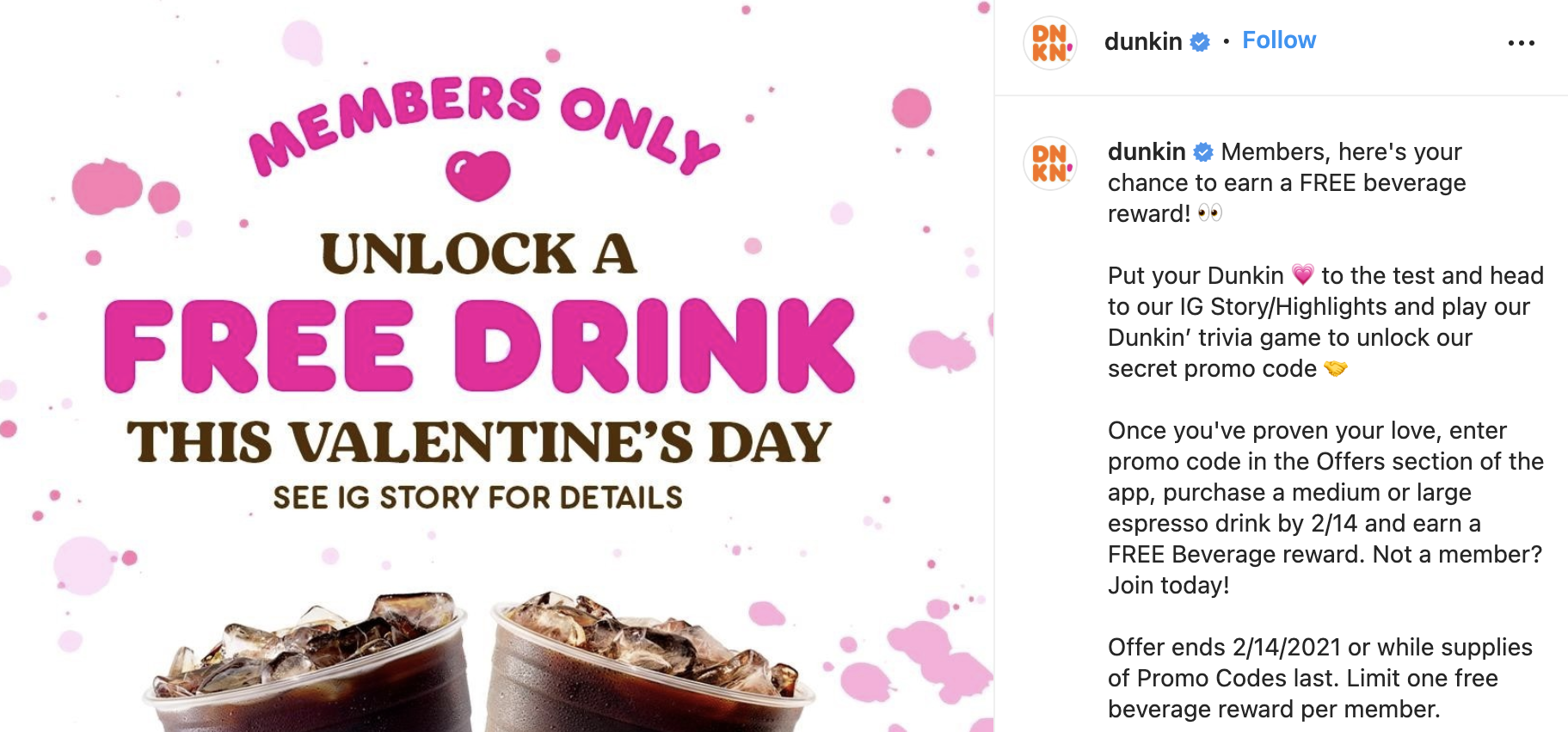 We're not all writers by trade, and even the best of us run into the dreaded writer's block. So, if you're looking to create catchy social media captions or compelling product descriptions, test drive Simplified's Short Form AI Writer!
2. Offer E-Gift Cards
An effective Valentine's Day marketing strategy is to offer digital gift cards. Sometimes even when we love someone, we don't know what they would want as a gift. So why not skip the uncertainty and let them shop for themselves?
By including digital gift cards for Valentine's Day promotions, your brand becomes a breezy shopping destination!
Many popular brands, including Marks and Spencer, allow their customers to send E-gift cards to their loved ones.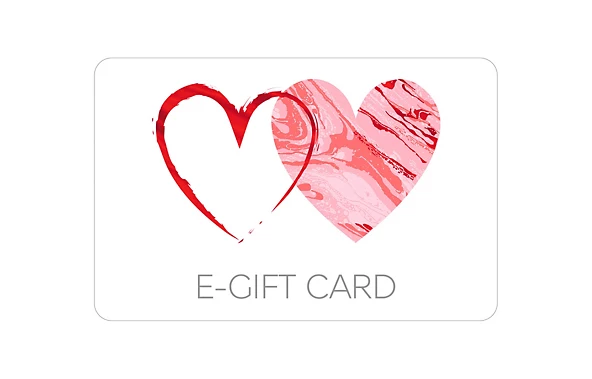 The best part about E-gift cards is that your customers can customize the amount to send to their loved ones.
For some extra oomph, create animated E-gift cards with Simplified's intuitive video design tools!
3. Curate Love-Themed Content into a Guide or Playlist
Your Valentine's Day marketing shouldn't limit itself to only driving sales for your brand! Think of ways you can add value to your audience's time by sharing memes, gift ideas, or even romantic songs.
For example:
Club all the love-themed products available on your shop into a Valentine's Day gift guide.
You can also make your very own Valentine's Day playlist and share it on social media. Log into your Simplified account to duplicate the template below!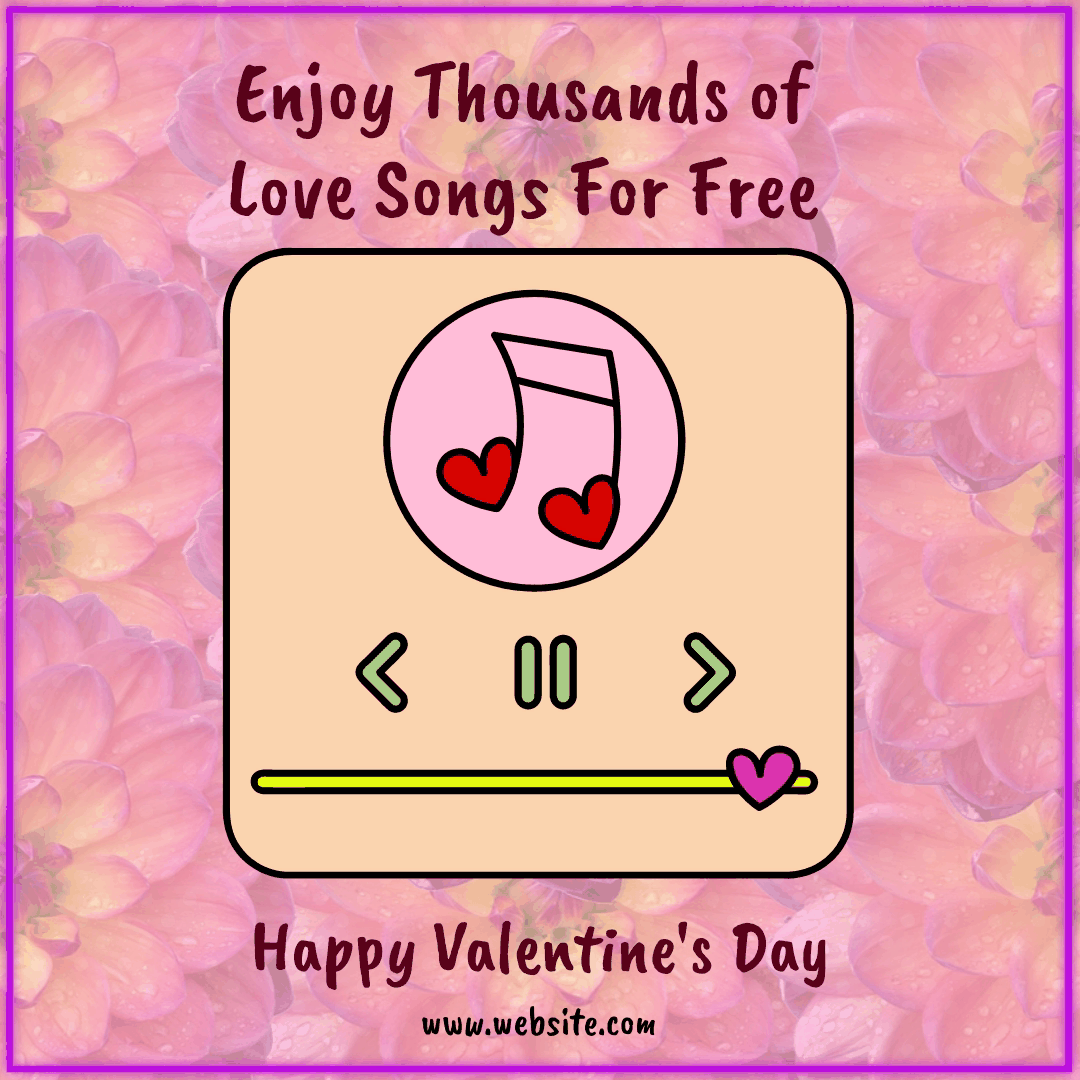 4. Celebrate Platonic Love
February 14th sees a lot of wedding proposals and dinner dates every year. However, you can invite your audience to introspect on platonic love too. This is one of the best Valentine's Day marketing ideas if you want to stand out from the crowd.
You'll find the statistics to prove that romantic love isn't the only love worth celebrating!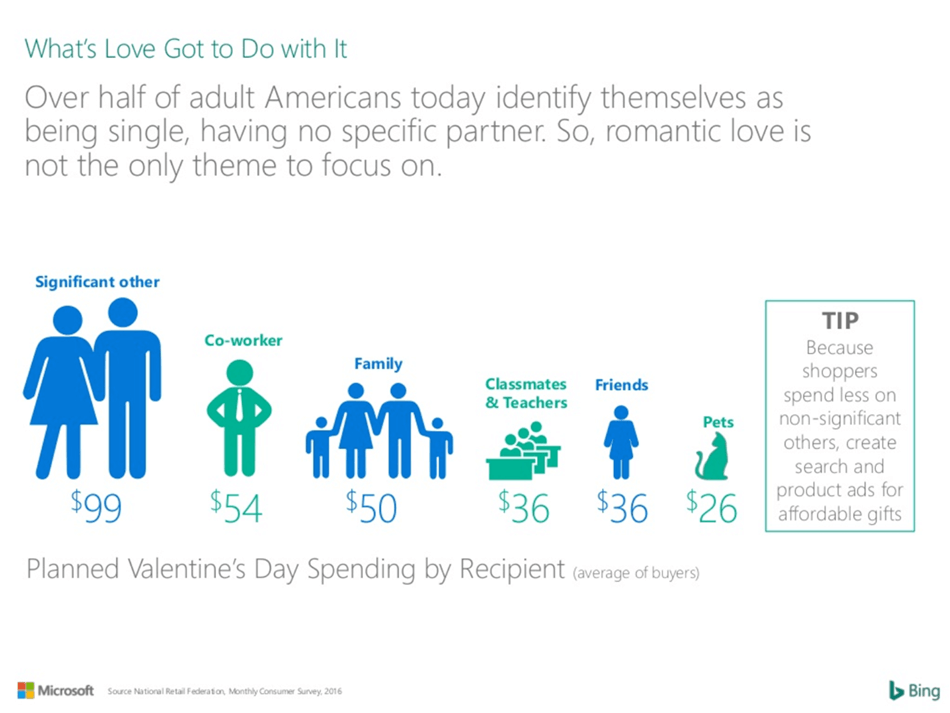 A great way to connect with your audience is to encourage them to nurture non-romantic relationships.
Related: How Good Storytelling Can Help You Design Great Products
5. Offer Amazing Discounts and Sales
Who doesn't love steal-a-deal price and site-wide sales? An evergreen advertising strategy to drives sales in February is by offering irresistible discounts.
Make sure that your sales copy is crisp, memorable, and theme-specific for Valentine's Day.
Moreover, it's important to bear in mind that your customers will be overwhelmed by virtual content leading up to Valentine's Day. Therefore, one of the best Valentine's Day advertising practices is to create stunning graphics that hold attention.
Go ahead and download Simplified's Valentine's Day sales templates for your brand! 👉🏼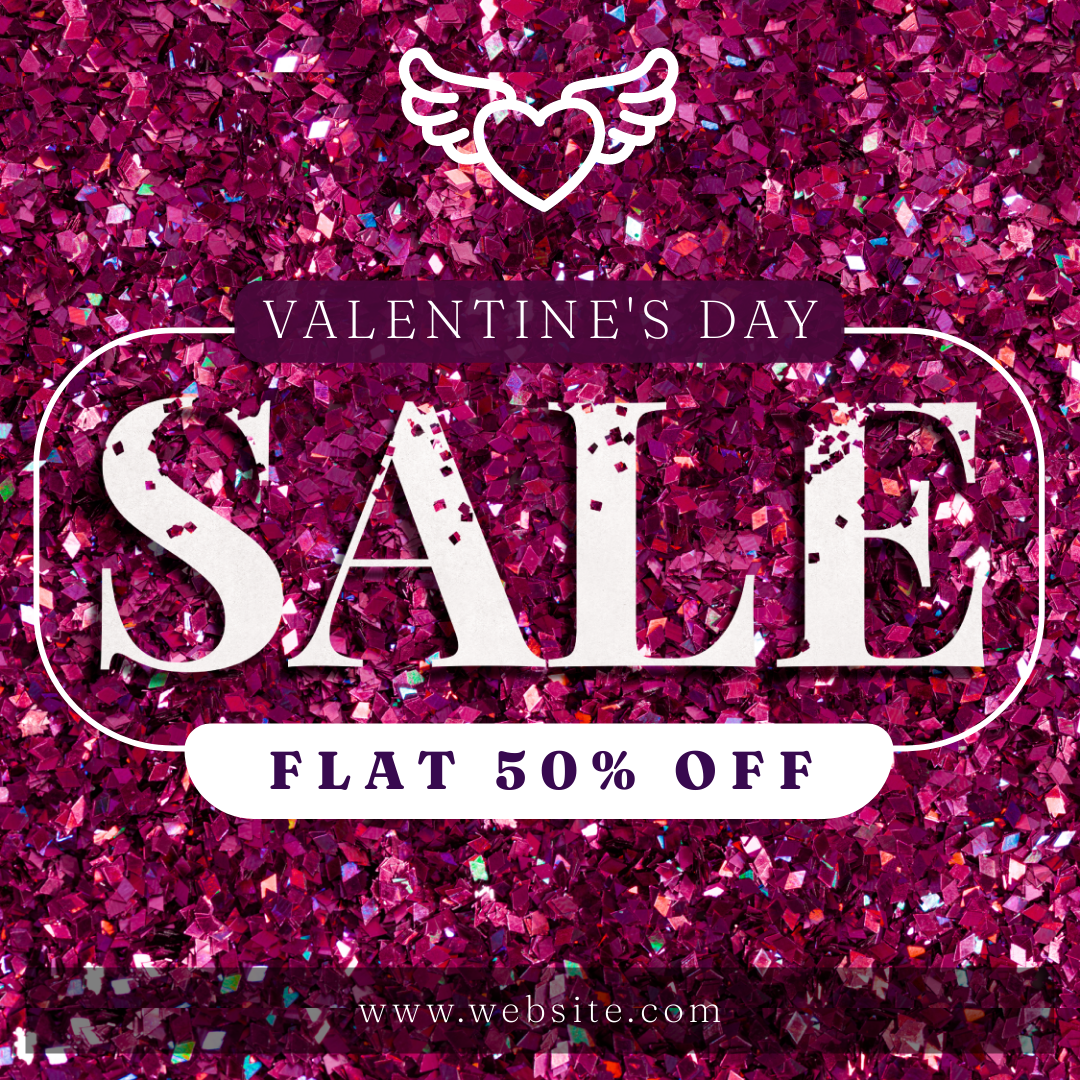 6. Run Promotional Ads on Social Media
Promotional ad campaigns are short-term marketing techniques that use instant customer incentives to boost sales. They're one of the easiest Valentine's Day marketing ideas to expand your brand's reach.
What makes for successful promotional ads on social media?
High-resolution static and/or dynamic media that is memorable and innovative.
Intelligent and compelling sales copy; free of grammatical errors, typos, and incorrect syntax.
A well-balanced mix of written content and visual posts to stand out from your competitors.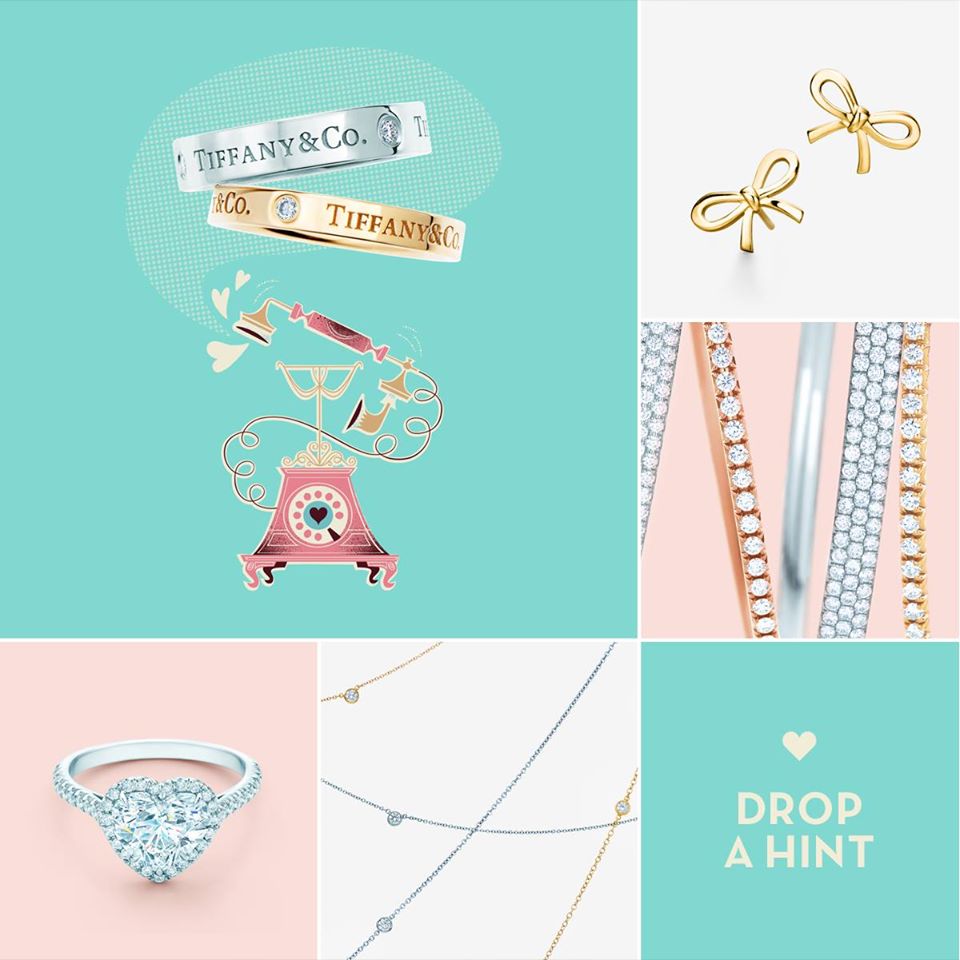 Related: 15 Promotional Ads Examples For Your Brand (Free tools + Resources included)
You can generate the following content in less than fifteen seconds on Simplified:
…and so much more with Simplified's AI Promotional Ads Generator!
Wrapping Up (Pun Intended)
Valentine's Day is a big deal. Whether you love or hate Valentine's Day traditions, the days leading up to February 14th is a great time for business!
You have the opportunity to gain new customers, drive sales, and boost brand awareness. Marketing to friends, family, and significant others is the most effective way to run Valentine's Day campaigns on the day that celebrates love.
Join Simplified and start generating beautiful visuals and compelling copy for free!
One Free app to design, collaborate, and scale your work – try Simplified today