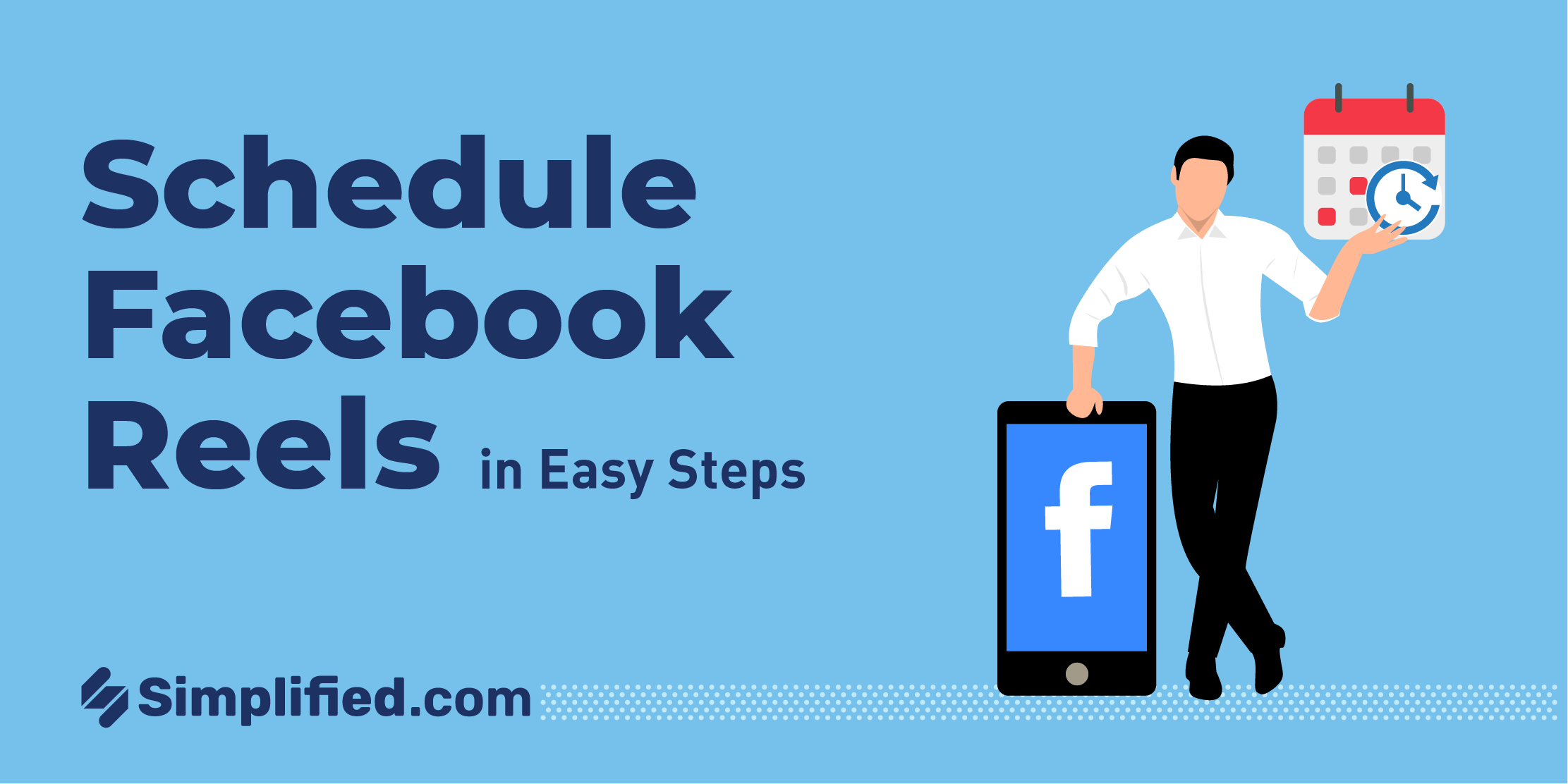 Are you looking for ways to save time and streamline your social media marketing efforts? If so, you're not alone. As more and more brands turn to social media to connect with their audience, it's becoming increasingly important to find ways to stay organized and efficient.
One of the best ways to do this is by scheduling your Facebook Reels in advance. By scheduling your content, you can ensure that your videos are published at the optimal time for your audience. Even when you're not available to post them manually.
In this article, we'll walk you through the process of scheduling Facebook Reels in just four easy steps. So whether you're a seasoned social media pro or a starter, these tips will help you save time and stay consistent. So let's get started!
How Do Facebook Reels Help You Interact & Engage With Your Potential Audience?
Facebook Reels has a feature that allows you to add a URL in the caption.

And this game-changing feature has made Facebook and Instagram Reels a major asset for businesses, especially in the E-commerce space. You can showcase your product and send the customer on their first step in the sales funnel, almost instantly.
Using a Social Media Planner like Simplified can dramatically improve your marketing efforts by allowing you to automatically publish content. You can schedule your Facebook Reels to be published at different times, across different platforms for different target audiences, automatically. This helps in automating your strategy so you can focus on building quality content consistently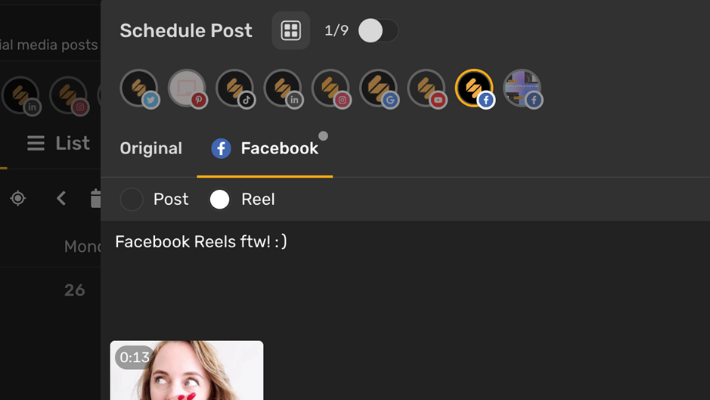 Related: All About Instagram Reels Analytics for Video Creators in 2023
4 Easy Steps to Schedule Facebook Reels with Simplified
It's super simple to use a Social Media planner, here's how you can schedule your Facebook Reels in 4 steps:
Step#1: Open the Content Calendar on Simplified
The very first step to schedule your Facebook Reel is to go to Simplified Social Media scheduler , which can be found in the left side menu. The visual interface makes it very easy for you to see all your posts in an easy-to-understand calendar format. There all you have to do is click on the "New Post" button, or go to your desired date and click the "+" icon.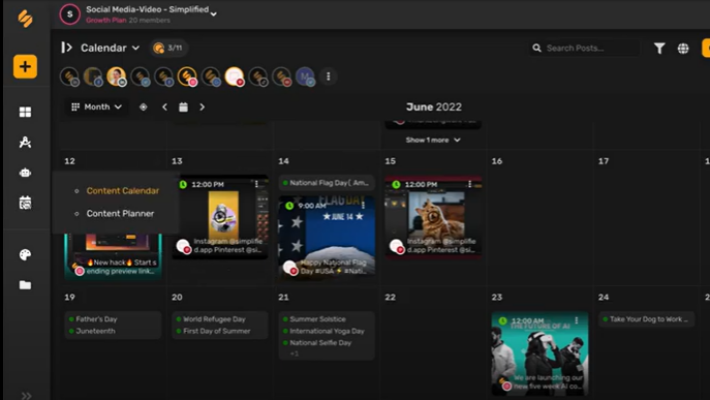 Step#2: Add media to your Reel
Once the creation window pops up, select and highlight the accounts you want to post from. This includes Facebook and Instagram pages. Now you can upload media by clicking on the "+" icon, where you have the option to either upload original media or browse your Simplified Media Library.
In your Media Library, you can explore Simplified's many tools and create amazing posts by using your own media, or Simplified's fantastic library of stock images and videos. All you have to ensure is that the content is in a 9:16 aspect ratio, and you're good to go!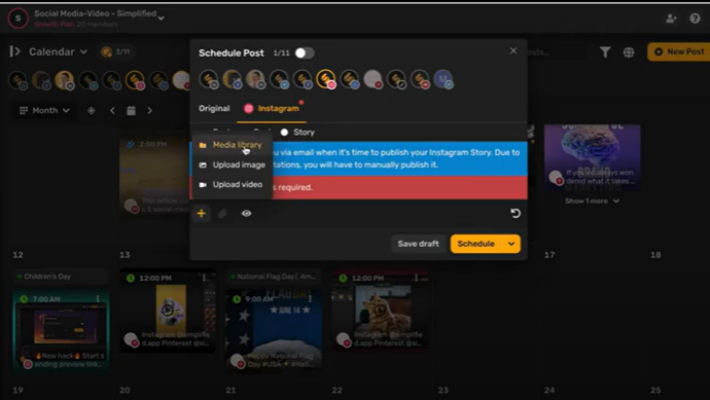 Step#3: Customize your Post
Once you're done with creating or selecting the video you're going to post, it is time to customize. You can add a supporting link to your Reel, add relevant hashtags, and select a cover image that you think makes your Reel interesting even without being clicked on.
The ideal thumbnail and the right hashtags increase the success rate of your Reel tremendously, so make sure to spend a second on this step and customize your post for success!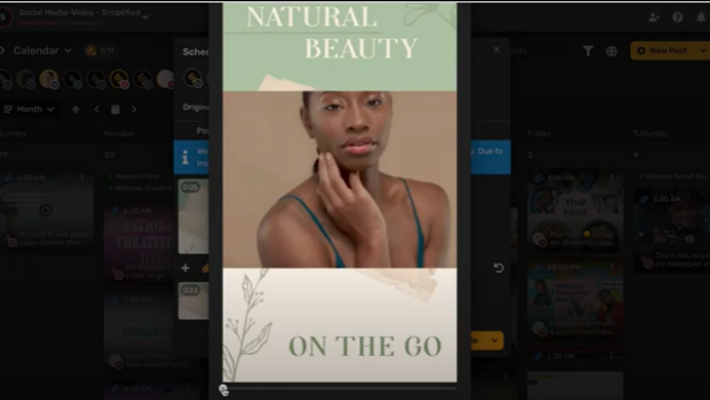 Step#4: Schedule the Reel to be Posted whenever you want!
Now that you have uploaded the right video, customized and tweaked it to perfection, and chosen the right thumbnail, all that's left to do is schedule your post! On Simplified, you can choose 1 of 3 options. You can either publish the post right away, add it to the queue, or select a specific date and time that you feel is the best for that specific post.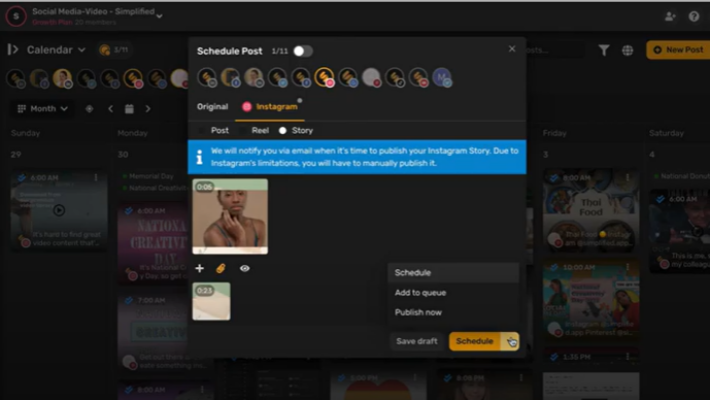 The Biggest Reason to Schedule Facebook Reels
Now that you know how to schedule Facebook Reels, you should also know that the significance of Facebook and Instagram Reels is only going to increase as time goes by. Meta has decided to double down on the importance of short-form content and has made sure that it is getting all the attention it deserves. For business owners, it means that their efforts will be rewarded further.
The important takeaway here is, that Facebook Reels should be a part of your social media marketing strategy if it isn't already.
Manage All Your Social Media Accounts from One Simple Platform
Simplified lets you schedule all your social media content easily; posts, stories, reels, and more. What's more? It also allows you to write, design, publish and measure your growth all in one place. With the Simplified Social Media planner you can:
Schedule up to 5000 posts
Manage 30 Social Channels
Advanced collaboration with clients & team members
Measure results with customizable Analytics metrics
Bulk import and schedule posts
Fast post creation with integrated AI writer for captions and hashtags
Up to 45 mins video posts you can upload from your projects or local storage
Design & edit posts, stories, and reels