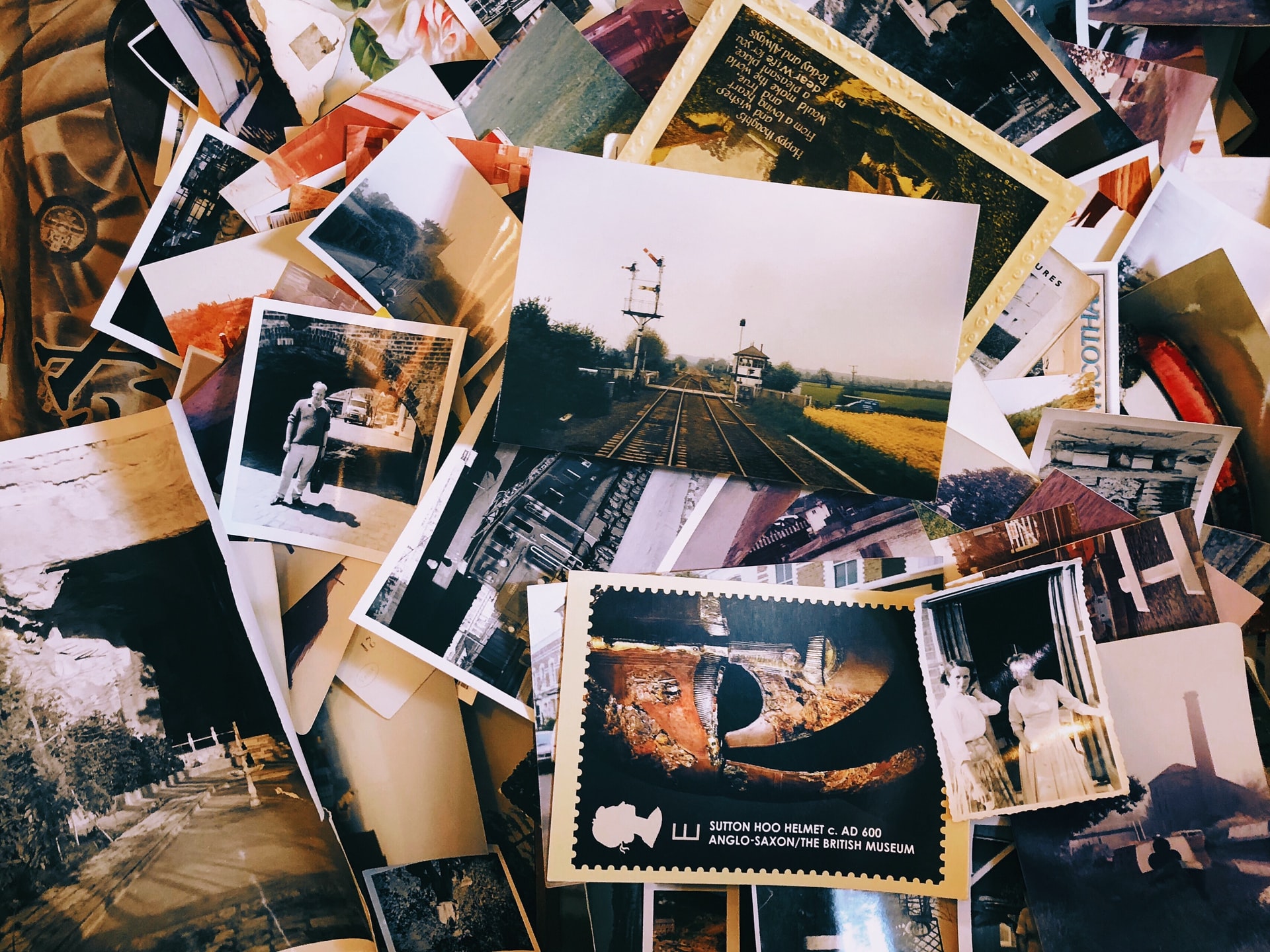 You can never have too many free stock photos. They're incredibly versatile when it comes to creating marketing assets for your business. Plus, they'll help you save a ton of time and money. But with so many sites to choose from, it's hard to know where to find the perfect images for you. So, if you're just starting out in the world of free stock photography, you're in the right place. Explore our guide below to find the best free stock photo websites out there!
What are Stock Photos?
Stock photos are existing images that are made available for license by paying a fee to the artists that produced them and the stock agencies managing them.
Stock images are widely distributed and you can find many paid and free websites on which to access such content. A lot of stock photos are licensed for creative or editorial purposes with no charge for the user.
Most stock photo websites have a range of different categories such as nature, holidays, film, fashion, and more.
Why Do You Need Stock Photos?
Stock images have many benefits for creators and businesses but the biggest one is time and money-saving.** What's more, you can use them for different purposes such as personal, commercial, and editorial use.
As you already discovered, stock photos are a great resource to use for your marketing and advertising campaign to enhance the effectiveness and impact of your content.
According to research, visual content is processed faster by the brain and is easier to consume. Additionally, people search for appealing visual content like photos, videos and infographics through their purchasing lifecycle.
Now that you know the basics of what are stock images and why you need them in your campaign let's explore the best free stock photo websites out there.
10 of the Best Free Stock Photo Websites
1. Simplified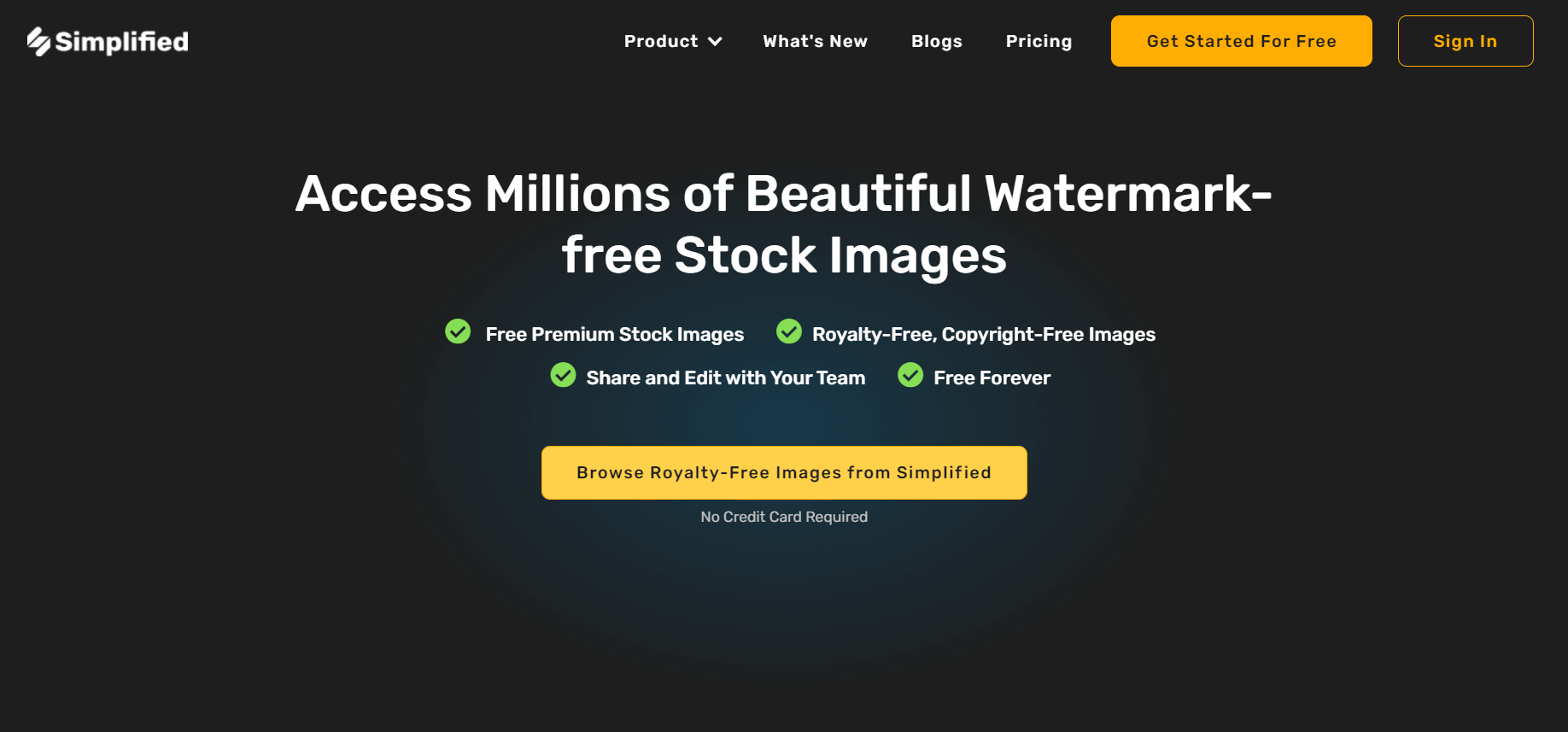 Number 1 in the list of the best free stock photo websites has got to be Simplified! With Simplified, you can access copyright-free images without paying a penny and use them however you like. The app allows you to find the perfect free stock photos for every project. Plus, Simplified's design tools allow you to create stunning content for your brand in seconds.
You can import images directly from Simplified's library, adding as many as you need into your design. You can then edit and customize them according to your brand needs or the social platform you're posting on – it really is that simple!
Moreover, you can share your working projects with your teammates to get feedback on your project. For example, whether the images you've chosen from Simplified's library fit your brand's needs.
2. Unsplash
Unsplash offers you a collection of more than 1 million images from contributors around the world. Unsplash's searchable catalog recognizes multi-word searches which makes browsing for images super easy. Furthermore, Unsplash has a Help Centre for advice on using the platform and managing your account.
This free stock photo website offers you quality images that you can use for your branding campaign across different platforms. However, you can't edit designs within the website, so you'll need to use another program for that.
3. Pexels
Among the best free stock photo websites, you can visit is Pexels. They have a wide variety of neatly-organized, high-resolution images you can find through search. Additionally, Pexels offer free stock videos, making the website a great resource for bloggers. Just be aware that the search filter works best with single words vs. long-tail phrases.
4. Morguefile
This website is a bit different from what we've seen so far. Morguefile is specifically designed for amateur photographers and creators to share their work and get more popularity. You can choose candid shots of people and relaxed images of everyday places and objects. Imagine if a friend of yours shared their Google Photos account with you – this is what Morguefile feels like.
Although this free stock photo website isn't quite as professional as others, it can definitely provide you with some decent images for your campaign.
5. Pixabay
Pixabay is another of the free stock photo sites that may prove useful to you. Not only does it offer you a large selection of quality images, but also free vectors and illustrations. Vector images as especially useful because they can be easily animated and manipulated. You can scale them up and down to any size depending on the assets that you need for your marketing.
More oriented towards marketing and business, this website is helpful for bloggers and content marketers who want to keep costs down. The only drawback of Pixabay is that its search engine relies on tags provided by the author of the image. Finding the perfect image can therefore take a bit longer than it would with a more responsive keyword tool.
Related: Top 10 Apps To Edit Aesthetic Photos On Your iPhone
6. PicJumbo
Run by a 24-year-old photographer, PicJumbo is a royalty-free photo community with a huge selection of free images. Additionally, you can subscribe to PicJumbo's newsletter and have new stock photos sent directly to your inbox. You don't even need a membership! You can also switch to a dark mode on this site if you wish.
However, if you want to have access to more content, you'll need to upgrade your membership to access at least 50+ extra photos each month. You'll also need to use specific keywords when searching as the website doesn't use categories.
7. Stockvault
Stockvault is among the best free stock photo websites from which you can also access wallpapers and textures. The website is easy to navigate which compensates for its size – namely half of Unsplash's image library. The neat organization is realized by a great search engine that gives you the opportunity to browse by category and quickly discover what you need. The only downside is you won't have quite as much choice as you would on the bigger sites.
8. Reshot
Behind Reshot's stock photo library is a community with a mission. Their goal is to provide a platform for young photographers to share their creativity with the people who need it. All of their collections are beautiful and completely free. What's more, Reshot offers a collection of free vector illustrations and Scalable Vector Graphics in XML format. However, Reshot doesn't have a user platform which means you can't make an account or store collections of images for later.
9. Rawpixel
Rawpixels is amongst the best free stock photo websites because of the diversity it offers its users. Besides the normal free stock photos, you can find vector images, PSD mockups, and even famous Japanese word panel prints.
Though if you need access to premium images for personal or commercial use, you'll need to upgrade to a paid "Casual" or "Business" subscription.
10. Pikwizard
Pikwizard has a large collection of quality stock photos and videos that are free for commercial use. What's more, just like Simplified, you can make edits on the images by adding text overlays before you download the images. However, only the basics are free, and to get full access to the image editing tool, you'll have to pay. Meanwhile, Simplified is entirely free to use!
Final Thoughts…
With so many opportunities and choices, it can be hard to decide on a single one among the best free stock photo websites. Simplified has made it easier for you to discover the best royalty-free images and use them in ways that fit your brand assets.
Plus, you can do so much more with Simplified and all the features it offers such as AI content writer, one-click design tool, video editor and so much more! Whether you're creating designs for your IG account or working on your blog page, Simplified is the tool for you!