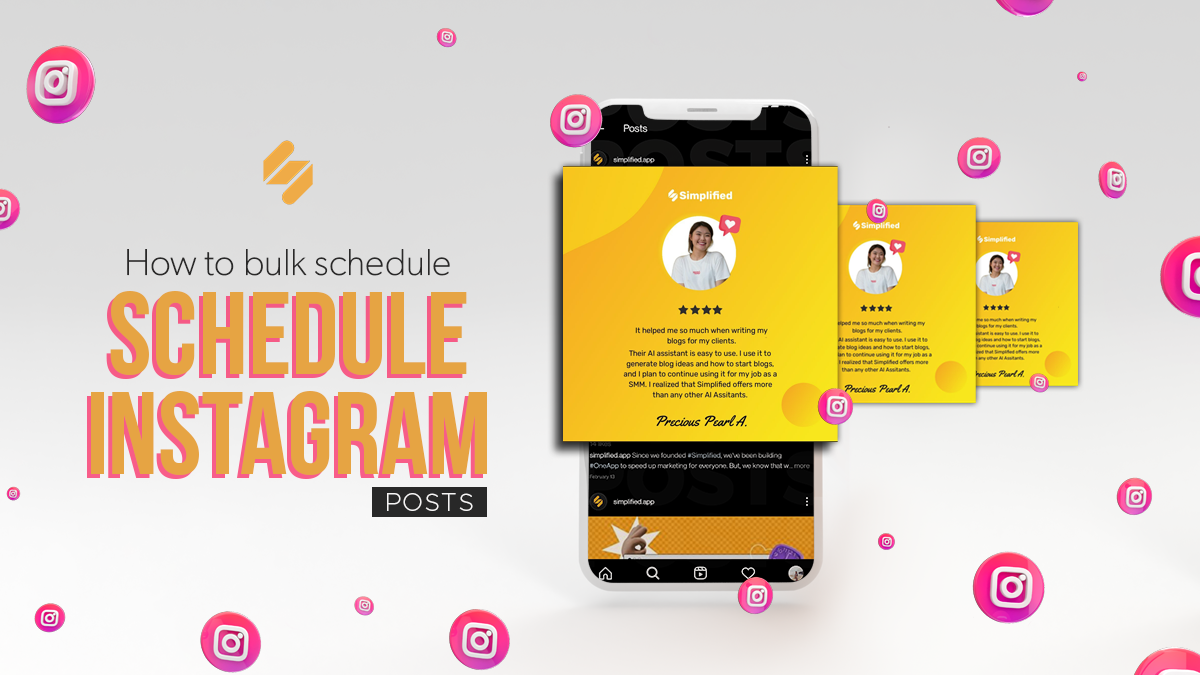 In 2022, consistency in Instagram marketing is extremely important to set your brand apart. Whether you are a creator or an entrepreneur, you know that time is precious ! That's why scheduling your posts ahead of time on Instagram can help save you time and allow you to focus on other important tasks. Here are three simple steps to bulk Instagram upload and save time!
3 Super-Simple Steps to Bulk Instagram Upload your Posts!
Instagram now allows third-party apps to batch upload, a huge time-saver! And if you are looking for the perfect tool to create and schedule your posts, Simplified is the one. An innovative design and organization platform, Simplified helps you throughout your content publishing journey. Read on to discover how you can bulk upload your posts on Instagram with the Simplified content calendar.
1. Sign up on Simplified and Connect Your Instagram Account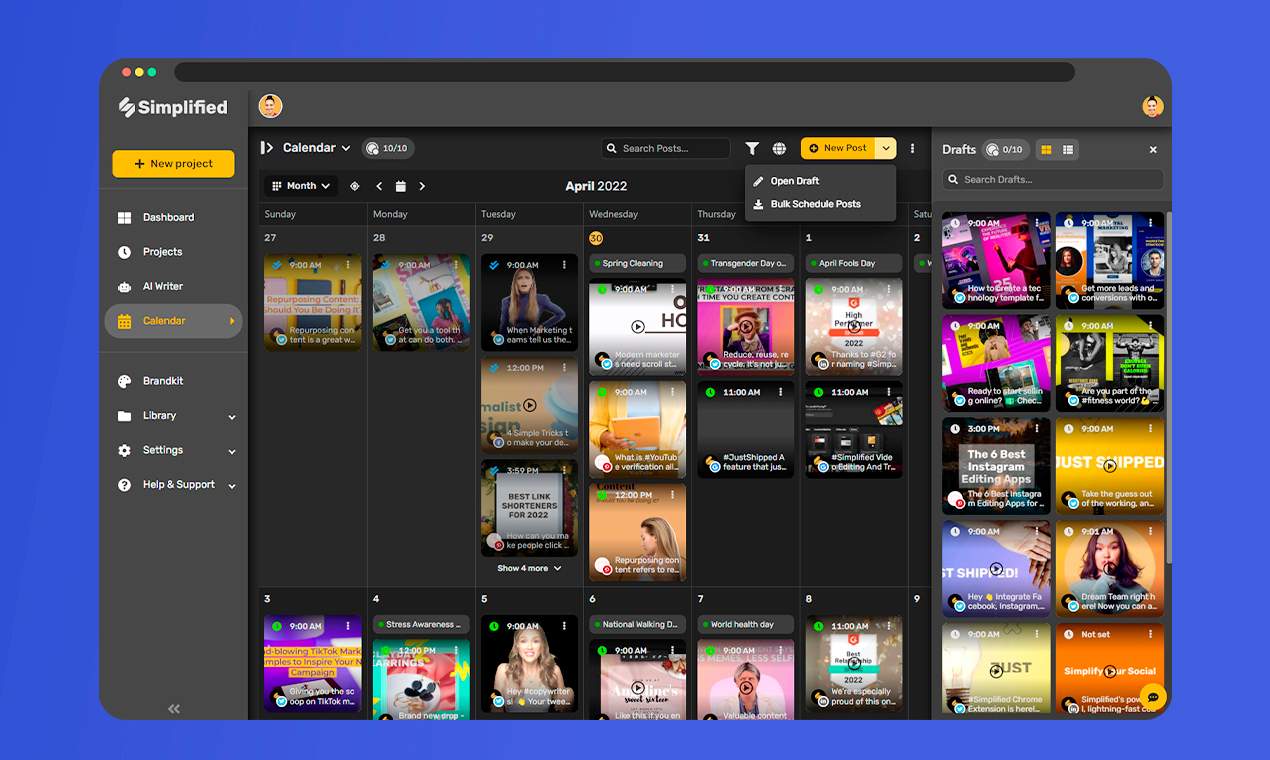 Simplified is an all-in-one design tool that offers a variety of tools to content creators. You can choose from a variety of Instagram templates or start from scratch. Want to create a post for World Environment Day or edit a reel on a trending format? You can easily create a social media workflow with Simplified !
Simplified's new content calendar can come in very handy for social media organizers. All you have to do is sign up on Simplified and go to the content calendar. Here, you will get the option to add multiple social media accounts including Pinterest, Twitter, and LinkedIn. Choose Instagram and log in by entering your credentials. Now, you are ready to bulk schedule Instagram posts!
2. Organize Your Content on a Spreadsheet
Now that you have set up your account, you must organize your content on a sheet. Don't worry if Excel sheets intimidate you. All you have to do is make four columns with the following details:
Date in format YYYYMMDD
Time in HHMM
Add the message that goes along with your content.
And finally, add the content link for your posts. This can be optional.
Download the file in CSV format and follow the next step.
Related: How to Bulk Schedule TikTok Posts in Minutes With Simplified
3. Upload Your Images/Videos and Schedule Them for Posting
After organizing your content on a sheet, the task of bulk Instagram upload becomes a breeze.
Go to the content calendar in Simplified and go to the top right corner on "New Post". Choose "Bulk Schedule Posts".
A dialog box will open up where you can add your Instagram account and upload your CSV file. You can also switch on the toggle button to automate your publishing time. Drag and drop your CSV file and hit "Next".
You will find all the details of your bulk Instagram uploaded posts. You can edit the posts to add your creative assets. Feel free to choose your template or creative from the Simplified library or add your own file.
Finally, once you are satisfied with all the parts of the posts, you can click on "Import".
You can view all the bulk Instagram uploads on your content calendar. It is so fun and easy, you will love to see how fast your posting is completed. Check the video below to see all the steps.
Pro Tip: To make the posting process even faster, you can add the Simplified Chrome extension. This will help you add your content to your calendar with just a click while browsing.
Pro Tip: To make the posting process even faster, you can add the Simplified Chrome extension. This will help you add your content to your calendar with just a click while browsing.
Things to remember Before Bulk Upload on Instagram
Bulk scheduling with social media calendar tools can be awesome. It barely takes any time and keeps you relatively carefree about your social media handles. However, following these few best practices will help you get the best of it.
Follow the rule of thirds before scheduling. One-third of your content bucket should include personal stories that build your brand. One-third should be about influencers in your industry and another one-third can be promotional posts to convert your followers.
Keep every content fresh and unique. Just because you can bulk Instagram uploads does not mean that you make them similar. Add a variety of content including statistics, gifs, and videos. Create fresh copies for every post and connect with your target audience.
Be active on social media. Once you have completed bulk Instagram upload, utilize your time to engage with your followers. Check their comments and reply to them. Conduct live sessions to directly engage with them.
Stay consistent and focus on strategy. As you schedule Instagram posts, make sure that you are sticking to your schedule. Find out the time slots that work best for your audience and set the time accordingly. Look at the larger picture and work on building strong campaigns that boost your speed to achieve the desired goals.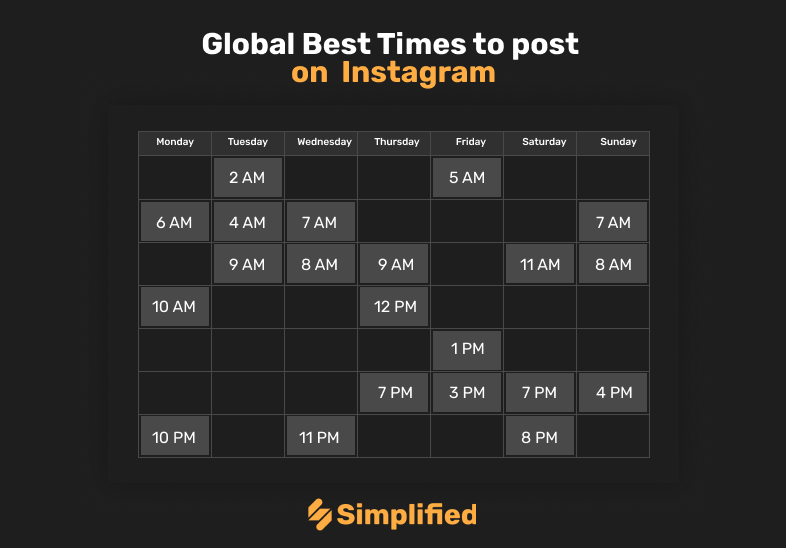 Bulk scheduling can be an excellent way to stay consistent with your monthly plans. With Simplified's content calendar, you would never need to skip a post on any social media.
Not only do you get to bulk Instagram upload smoothly but the tool also helps in creating posts. You can access the image editor to create quality designs. Play with a ton of cool fonts, gifs, and media assets to create engaging posts. You can schedule up to 10,000 posts with Simplified on multiple platforms including Instagram posts and stories.