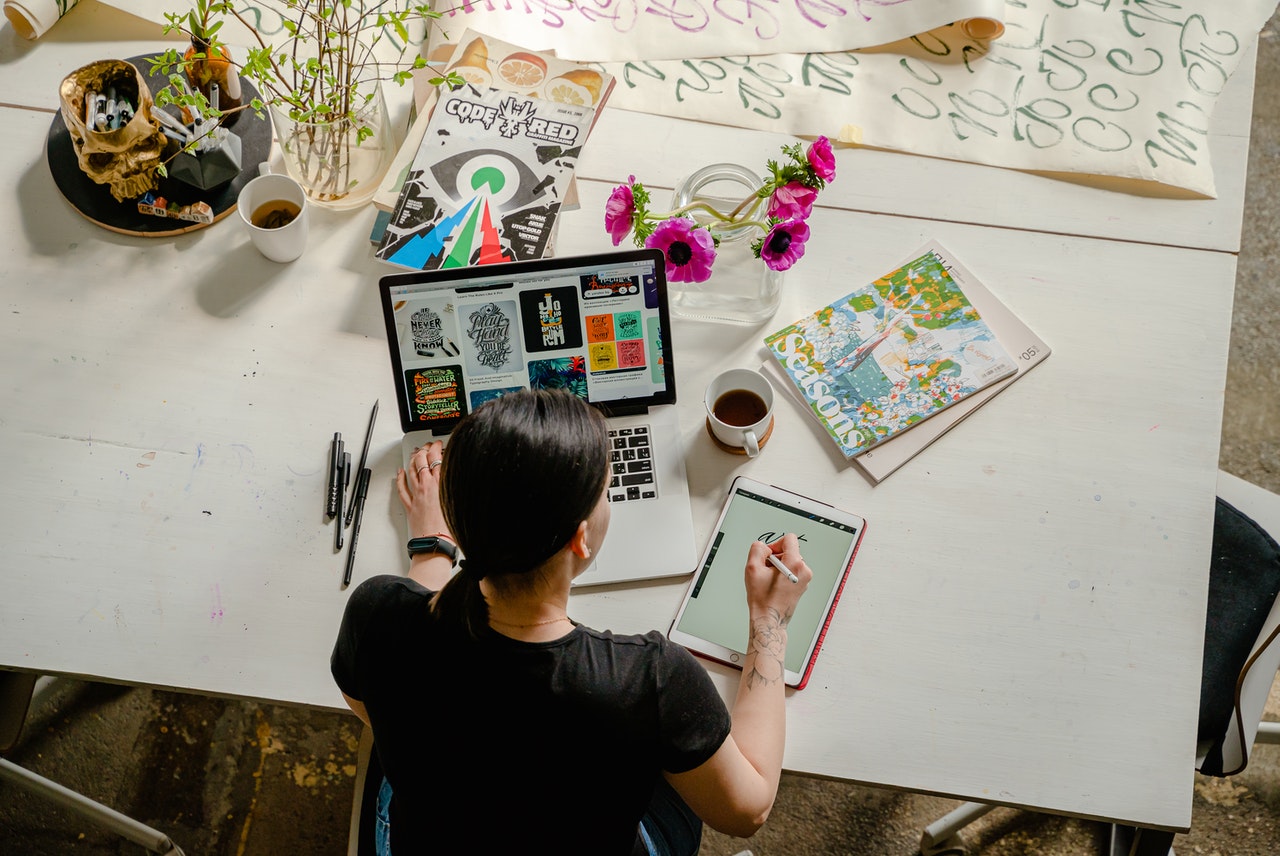 Over the past few years, Canva has become the go-to tool for designers thanks to its easy-to-use tools and interface. It's budget-friendly and all of its templates look very professional. Plus, it's a great resource for free stock photography, too. However, the downsides of using Canva are becoming more and more apparent. Recently, prices have gone up. They've restricted the number of features and are focusing more on promoting their paid plans. Its popularity also appears to be working against it. This is largely because the same filters and presets are accessible to so many people. If you want to create simple but original designs, you may be on the lookout for an alternative to Canva. To help you, we've compiled a list of the 10 best Canva alternatives for 2022. Some of these are completely free, while others have better interfaces or unique features.
Do you want to work with the best graphic design tools? Here are some alternatives to Canva that'll strengthen your design game:
1. Simplified
Simplified is one of the best graphic design tools as it goes above and beyond what you'd expect. If you're looking for a free graphic design tool, Simplified is perfect because its basic plan is completely free. It's also very quick and efficient. Even if you have no previous design experience, you will find it easy to use. Simplified enables you to design anything, scale your brand, and collaborate with your team in entirely new ways.
You can easily edit pre-made templates with Simplified's resource library, which contains millions of photographs or create your own. There are thousands of font styles and a wide range of design components for you to choose from.
Apart from that, Simplified also gives you access to its amazing AI. It can eliminate backgrounds, make animations, and resize images with a single click. You'll never have to use more than one tool again! Simplified has everything you need to help you make your design game strong. As a user-friendly, all-in-one tool with a million resources, it will not disappoint.
2. Adobe Spark
Adobe Spark is a free online graphic design tool from Adobe. This Canva alternative enables users to generate three forms of content: social media graphics, web stories, and animated videos. We've been able to create images for social media using Canva for years. But web stories and animated video production are tools that aren't available for free anywhere else. And it's these characteristics that really make Adobe Spark stand out.
Its interface is clear and easy to use, and the onboarding process for new projects is efficient. You can make social media graphics in a variety of sizes. So, Adobe Spark is ideal for users who wish to quickly and easily generate content for different social media channels.
Spark has a free basic plan and a premium subscription which starts at $9.99/month. With the premium plan, you get access to all templates and design assets, plus 100+ GB of storage.
Cons
Adobe Spark is not the best program for image design.
While Spark allows users to create and edit designs, they are primarily confined to designs for social media. Users can select from a number of predefined sizes, but they cannot enter customized dimensions.
Users can contribute their own photos and content, but they are limited to using preset themes and color palettes. Spark also restricts users to only a few text design options.
Related: 5 Simple Ways to Sky Rocket Your YouTube Engagement
3. Visme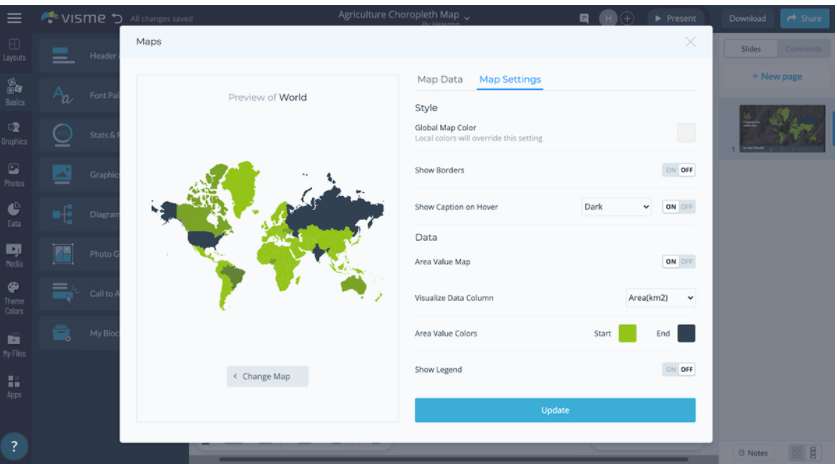 Visme works best as a paid design tool. So, if you're on a budget, a free app like Canva might seem like a better choice. However, Visme specializes in more complex designs such as infographics and marketing documents. It's ideal for creating charts and widgets to share throughout your workplace.
Visme's graphic design tools are useful for individuals and even more so for teams. Team plans feature collaborative tools that allow teams to work together on projects by submitting comments and edits. Managers, designers, marketers, and content creators can all work together to create stunning visuals.
Cons
You can only create three free projects, and they'll all include the Visme logo. It is only when you pay for an upgrade that your visuals will no longer include the logo.
4. Crello
Crello's layout is quite similar to Canva's. It features a simple search bar to help you explore all the different templates. It has fixed dimensions, too, for certain designs such as Facebook posts. In the design module, you can create objects, set color palettes, and drag-and-drop elements to where you want them.
This tool includes a huge number of templates in a wide range of styles and formats. From media platforms to print and marketing materials, it has everything. And the editor has a big library of animated images that are perfect for use in your Instagram stories.
Cons
Crello, similar to Canva, has a free plan, but you are restricted to five design downloads each month.
Crello allows you to collaborate with a team of up to ten people, but only if you upgrade to the Pro plan.
Related: The Best Logo Makers to Simplify Your Branding
5. Stencil
With Stencil, you can create high-resolution graphics without the need for sophisticated tools such as Photoshop. Its set of features is, however, limited. The basic concept behind Stencil is to take a backdrop image and add text to it. You can also use simple icons and shapes to improve a design.
The editing options that they provide are beginner-friendly. Unfortunately, no animation or video backdrops are available.
Cons
If you choose to use Stencil as a free graphic design tool, be aware of its limitations. You do not have full access to images and icons and uploads are capped 50 images.
Stencil's unlimited plan costs $144+ per year, making it one of the pricier options on this list.
6. Easil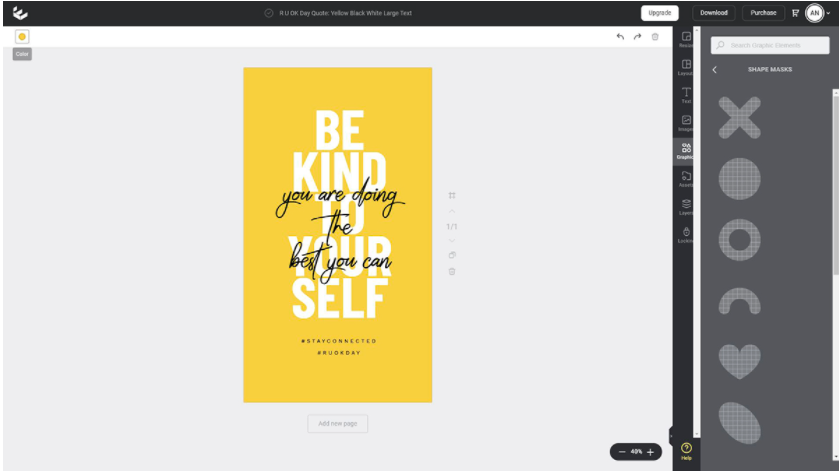 Among the alternatives to Canva, we have Easil. Easil has some of the most advanced image editing features available – plus, pre-sized templates for numerous social media channels. Easil allows users to upload their brand assets and develop their templates for other team members. Users can print images directly from the application if necessary.
Easil also provides customers with exclusive stock photographs, allowing you to avoid reusing the same royalty-free images as everyone else. You can also use Easil to create GIFs as well as static images.
Cons
The issue with this tool is that, when loading photos and formats, it causes delays in the delivery of work.
There are also no filter options for further adjusting the overall design.
7. Snappa
Snappa is yet another graphic design tool with an extensive template library. It has royalty-free photos to choose from and lets you upload your own branded images to use in your designs. Snappa distinguishes itself from the other alternatives to free apps like Canva by letting you import custom fonts. You can also publish your designs immediately to your social media without having to leave Snappa.
Cons
Snappa limits free users to five downloads per month.
Free users cannot post photographs on social media. For that integration, you have to sign up for a paid plan.
Related: Experiencing creative burnout? Here are 7 ways to deal with it
8. Design Wizard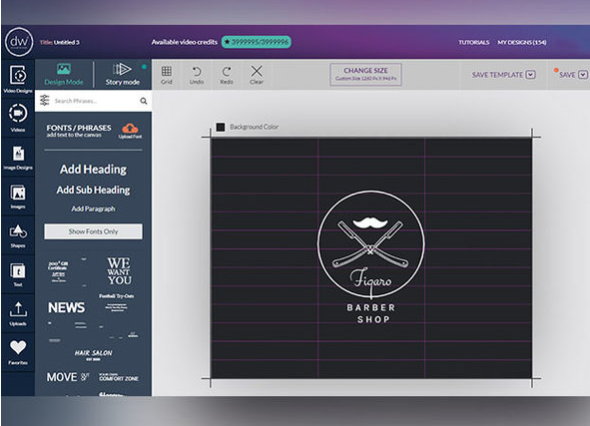 Design Wizard is an easy-to-use alternative to Canva for creating static graphics as well as short videos. The tool includes templates for social media as well as documents and presentations. It lets you choose between a photo editor and a video editor.
Design Wizard's design elements are similar to Adobe products, and they use the same terminology, e.g., "layers" and "artboards".
Cons
Customization options are limited.
Some preset designs are outdated and do not catch the eye.
The grid colors cannot be customized, and sometimes, the grids are not visible.
9. PicMonkey
PicMonkey is a great picture editing tool that allows users to get creative with their designs. You can use its advanced editing features, filters, and also create collages. PicMonkey was originally meant for photo editing, so it's not the best alternative to Canva for social media images. But it does provide some templates and design elements for that purpose.
PicMonkey provides a seven-day free trial. This allows you to try it out before you have to start paying for a Basic or Pro subscription.
Cons
PicMonkey does not have an image size auto-fix available.
You only get a seven-day free trial. And you can't download your images until you upgrade to a subscription.
10. Pixelied
Pixelied is another software like Canva. It includes tons of ready-made themes and icons, numerous stock photos, and a whole new array of photo-editing features.
Pixelied has two characteristics that make it different from many other DIY graphic design toolkits. First, you can use its mockup editor to generate amazing product mockups for your brand. And because of its workspace functionality, you can effortlessly move between workspaces. Each workspace can have its own assets, designs, and team members.
Cons
The main issue with Pixelied does not support the creation of video material or animation with music.
Are you looking for a quick and easy-to-use graphic design tool that'll take your design game to the next level? Let Simplified help you out! With Simplified, you have access to a range of templates, fonts, and other components. Get started with the free Simplified graphic designer today and impress your audience with your breath-taking designs!
One Free app to design, collaborate, and scale your work – try Simplified today