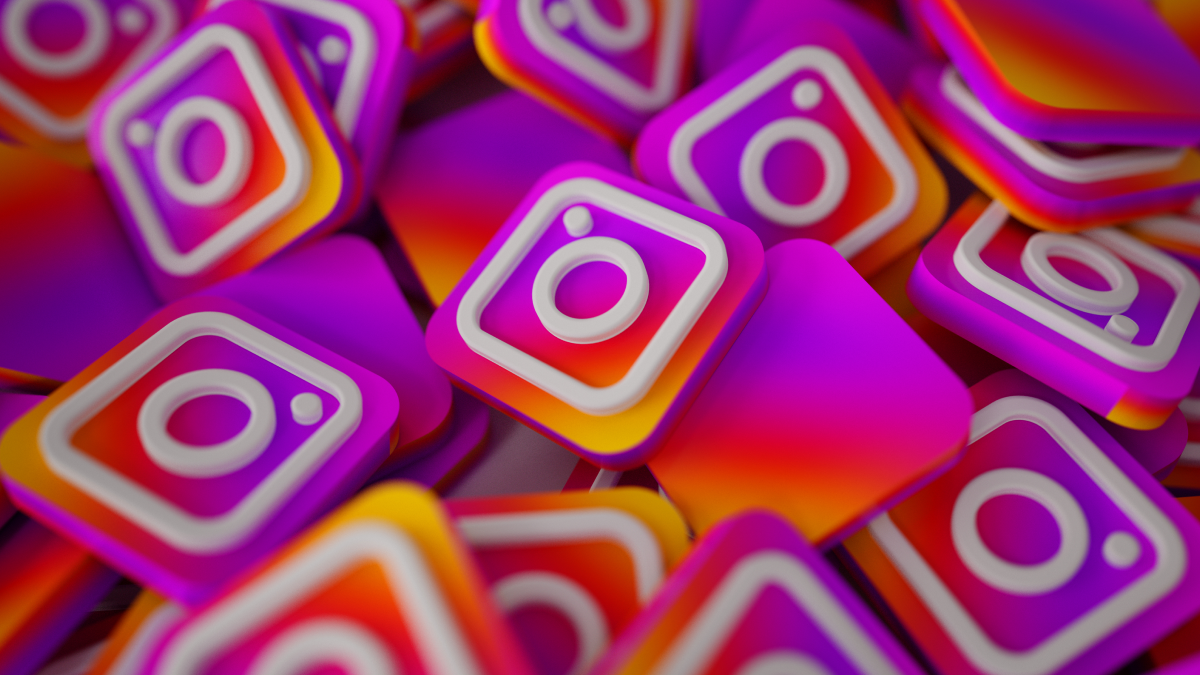 What do fashion, art, politics, and design have in common? Instagram. We get our news, fashion inspiration, and daily updates on what the people in our circles are doing all through Instagram posts and stories. Whether it's online thrift stores, homegrown skincare brands, or stores selling gorgeous scented candles – their products have been made available to browse and purchase on Instagram. If you're looking to level up your social media marketing game, you've come to the right place. In this guide, we'll walk you through Instagram story hacks to make your brand stand out!
Related: How to Use Instagram Branding To Promote Your Thrift Shop
Simplified's Guide to 6 Cool Instagram Story Hacks
For your brand to stay relevant you must have a strong presence on Instagram, especially as one billion people across the world are active users! The most common problem that brands run into while devising their Instagram marketing strategy is the struggle to remain fresh in their audience's minds. This is where Simplified comes in – let's get started!
1. Add a Layer of Translucent Color (Color Overlay)
Adding a layer of translucent color to your photo or video can give your media a boost of mystery and aesthetic. In this Instagram story hack, you can choose any color to achieve this translucent effect. How can you achieve this effect?
First, choose the photo or video you want to upload.
Tap the marker icon on from the top menu, and click on the highlighter.
Choose your preferred color from the bottom menu.
Finally, long press and hold!
This hack is especially effective if you want to tease a new product launch or show your audience a sneak peek of the behind-the-scenes operations of your brand.
Don't know where to start? Find inspiration with Simplified's templates for Instagram stories!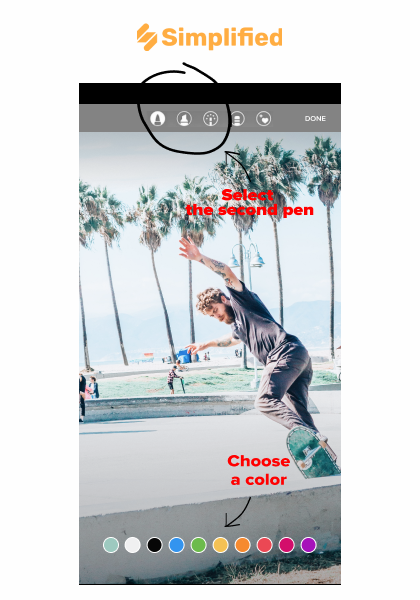 This is one of the most useful Instagram story hacks to prevent visual clutter in your uploaded photographs or videos! Essentially, shadow tagging is used when you want to tag multiple accounts in your story but don't want your media to be hidden by the text of the tagged accounts. So, how do you hack this trick?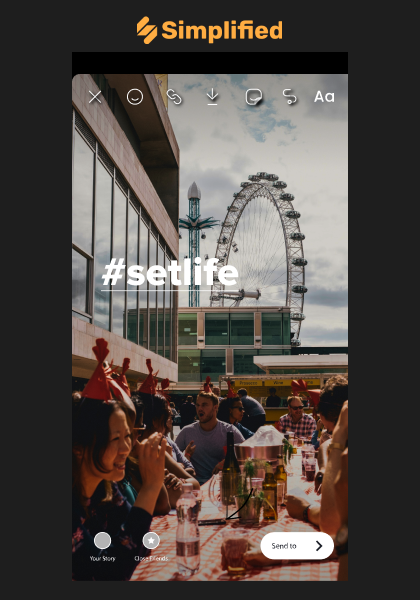 Method 1:
Type out all the hashtags and accounts you want to mention in your story.
Carefully drag all these tags to the left or the right of the delete icon and drop them at the very bottom of your story until they are out of sight.
Method 2:
If you can't hack the method above, try this one instead:
Pinch and reduce the hashtags and tagged accounts to the smallest text size possible, until they disappear.
AND/OR
Place a gif or sticker over all of your hashtags and tagged accounts to hide the text!
Of all the Instagram story hacks, this is one of the most important ones to maintain the aesthetic of your brand's media while tagging accounts and entering hashtags that will boost your brand's visibility!
Related: What Are Hashtags And Why You Need Them For Your Business
3. Upload a Custom Background
Sometimes you need to shake up your Instagram marketing strategy with tricks that will make your brand memorable. For example, if you have a product photograph ready for upload, you can place the photograph on a custom background of your choice. Simplified offers millions of watermark-free stock images integrated with Unsplash to get you started. Similarly, you can choose backgrounds from your Pinterest mood boards! How can you hack this feature?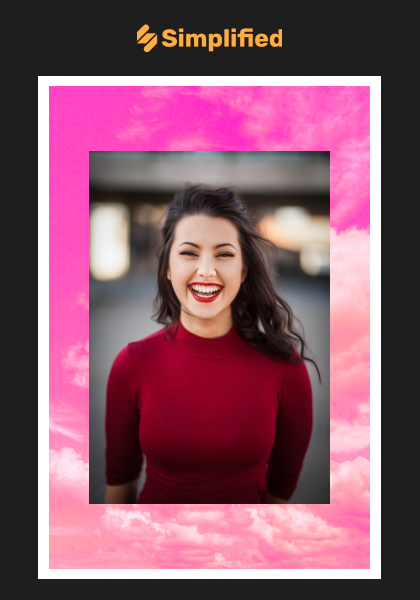 First, save your photograph/video as well as your custom background to your camera roll.
Go into your personal gallery and choose the photograph to "copy to clipboard".
Next, choose the custom background from the camera roll.
Finally, long press and hold to paste your media on your custom background!
Add this hack to your Instagram marketing strategy and your audience will always have something cool to look forward to!
4. Layer Text for a Drop Shadow Effect
Did you know that adding effects to your text is one of the most popular Instagram story hacks? Adding the drop shadow effect in your Instagram stories makes the text pop when paired with the visual media of photographs and videos. So, how do you layer text for a drop shadow effect?
Related: Generate Instagram Quotes on Simplified with AI-powered Loki!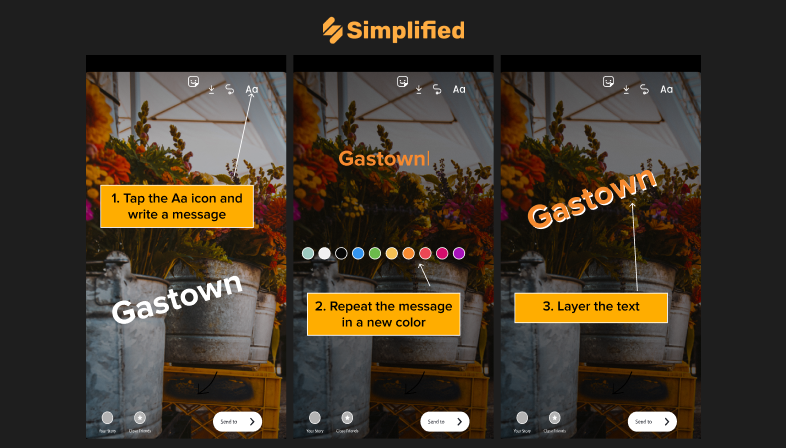 First, type out your text and then select all + copy.
Next, create a new text box and paste.
Make sure the text is still selected because now you have to choose a different color from the rainbow wheel at the top. (Simplified Tip: choose a color that contrasts or complements the original text color for maximum readability.)
Finally, place the new text and layer underneath the original text for a cool drop shadow!
For your brand's Instagram marketing strategy, adding effects to the text increases visibility, improves readability for those with visually challenged, and alerts your audience to important information. If you're looking for content that will level up your social media marketing, check out Simplified's guide to clever captions for posts and stories!
5. Create a Grid of Photographs
When it comes to Instagram story hacks, this hack is one of the savviest ones for when you just can't decide if one photograph will do your product, vacation, or delicious dinner any justice.
First, select the "Layout" option from the left side of your screen – the icon that has dissecting lines.
Second, you will see your screen divided into quadrants. All you have to do now is start uploading photographs.
The "Layout" feature is especially useful for advertising products where you can upload up to 6 photographs to give your customers a thorough look from all angles. The feature is also delightful to use when uploading multiple photos of you and your friends, pets, book recommendations, and so on.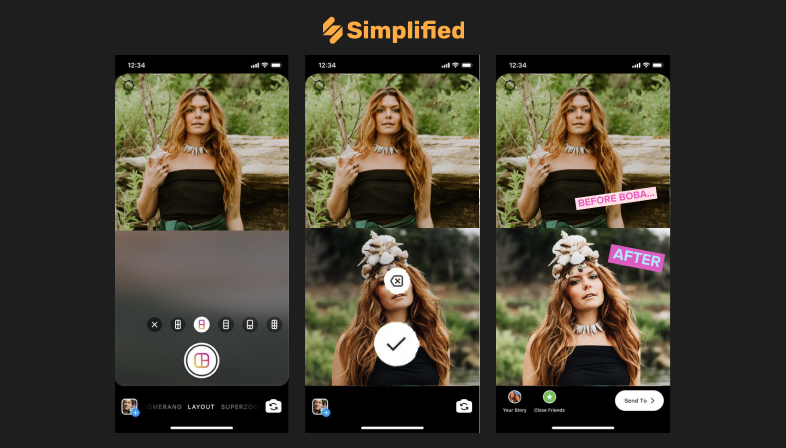 Related: Understanding Instagram Post Dimensions: Types & Usage
6. Create Cool Effects With the Eraser Tool
We promised you cool Instagram story hacks, so we're saving the best one for last. We love the neon tool for a dreamy effect and to make photographs pop!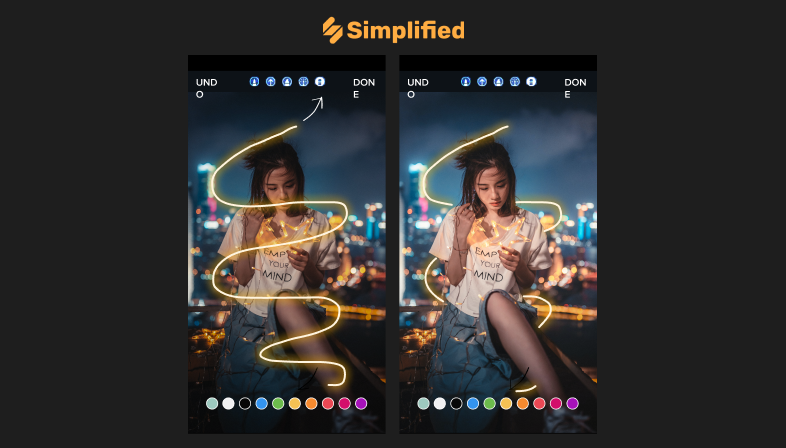 First, Upload your photograph.
Second, use the neon brush to create any kind of line – wiggly or zig-zag – around the focal point of the photograph.
Finally, select the eraser icon and erase parts of the lines for a cool 3D effect!
Related: 6 Benefits Of Creativity In Your Marketing Campaign
In sum, not only do these Instagram story hacks liven and lighten your profile, but they also deliver actionable results – brand visibility, engagement, and staying relevant to your audience. With Simplified, you can start creating Instagram stories for free!
One Free app to design, collaborate, and scale your work – try Simplified today.