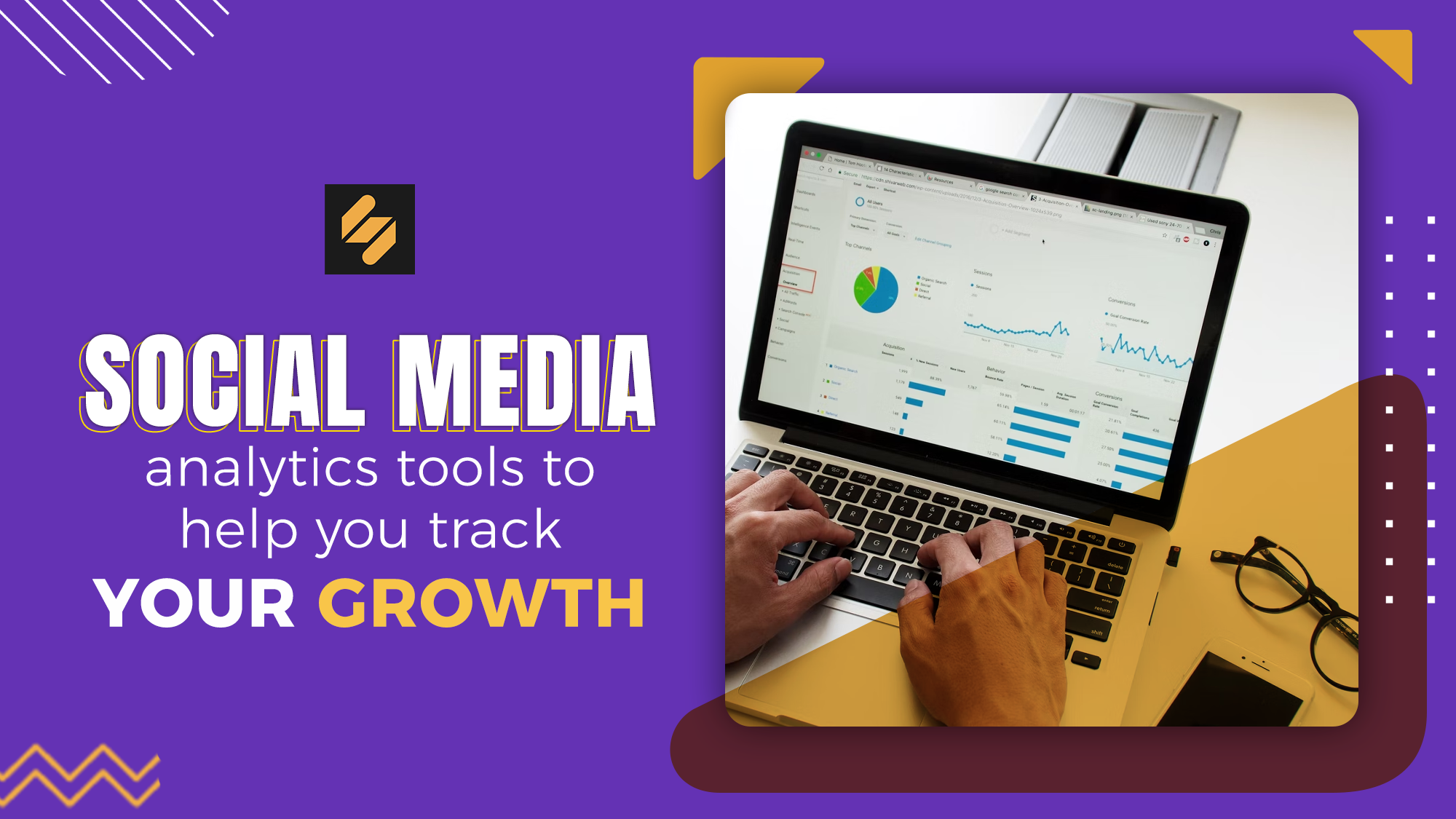 As a business owner, you know that social media is vital to your marketing strategy. But what good is all that work if you're not tracking your progress?
Luckily, there are a number of social media analytics tools available to help you track your growth. In this blog post, we'll take a look at 10 of the best social media analytics tools to help you track your progress ( social media growth, engagement, and even sales! ) to help you make better decisions for your business.
Why do you need tools for social media analysis?
Social media analytics is the collection of data from sources across the entire web, not just social media data from social channels. It serves as the overall framework for making business decisions. It helps with the following:
Free Social Media Analytics Tools You Can Try:
1. Simplified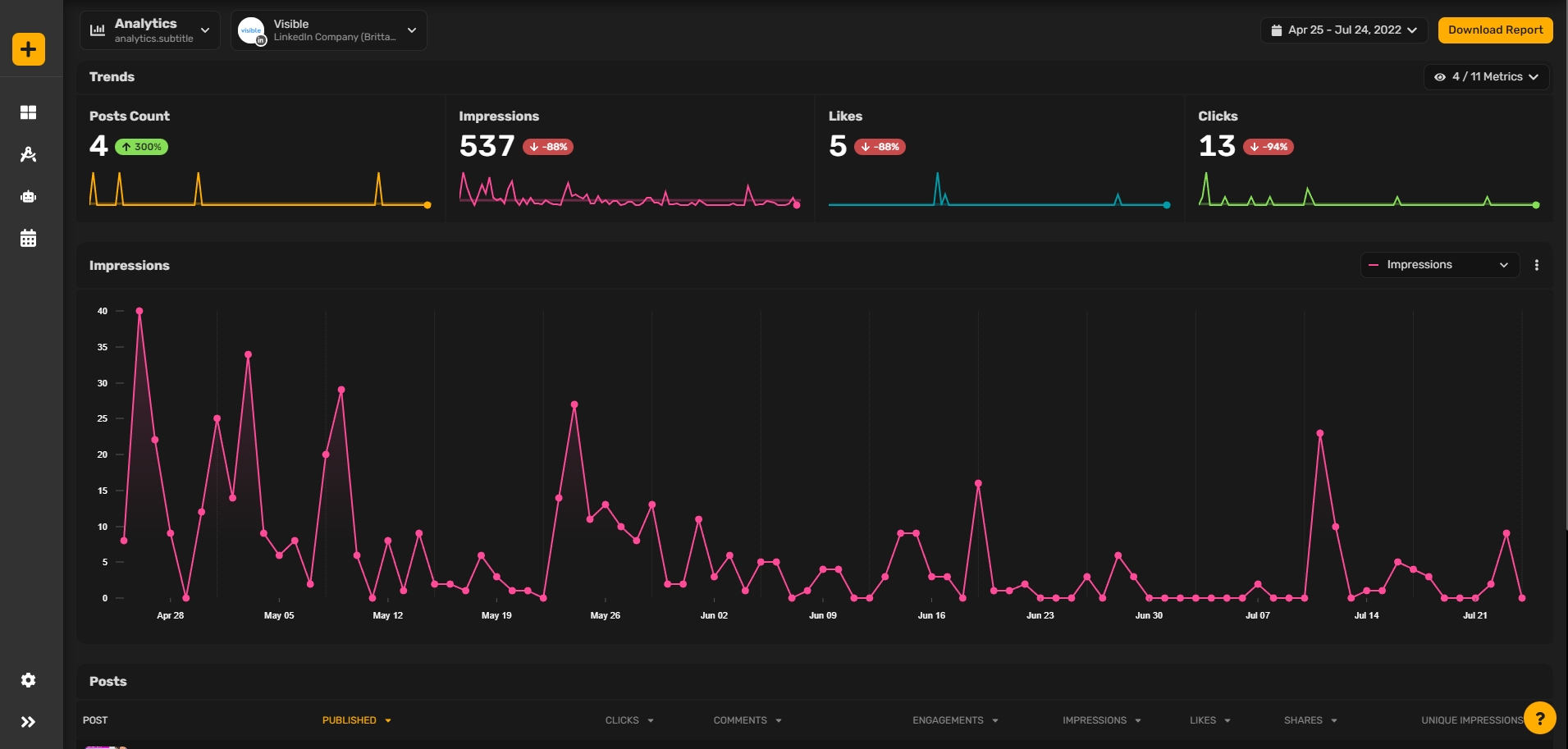 Simplified is your one-stop shop for all of your marketing needs. It is the best analytics tool for social media because it has a content calendar that allows you to plan both ready-made marketing materials or create one from scratch with their design tool. Now, you can get the analytics report from all your connected accounts in just one app.
Standout Features:
Simplified Analytics: The best way to track your social media growth and create automated reports.
2. Hootsuite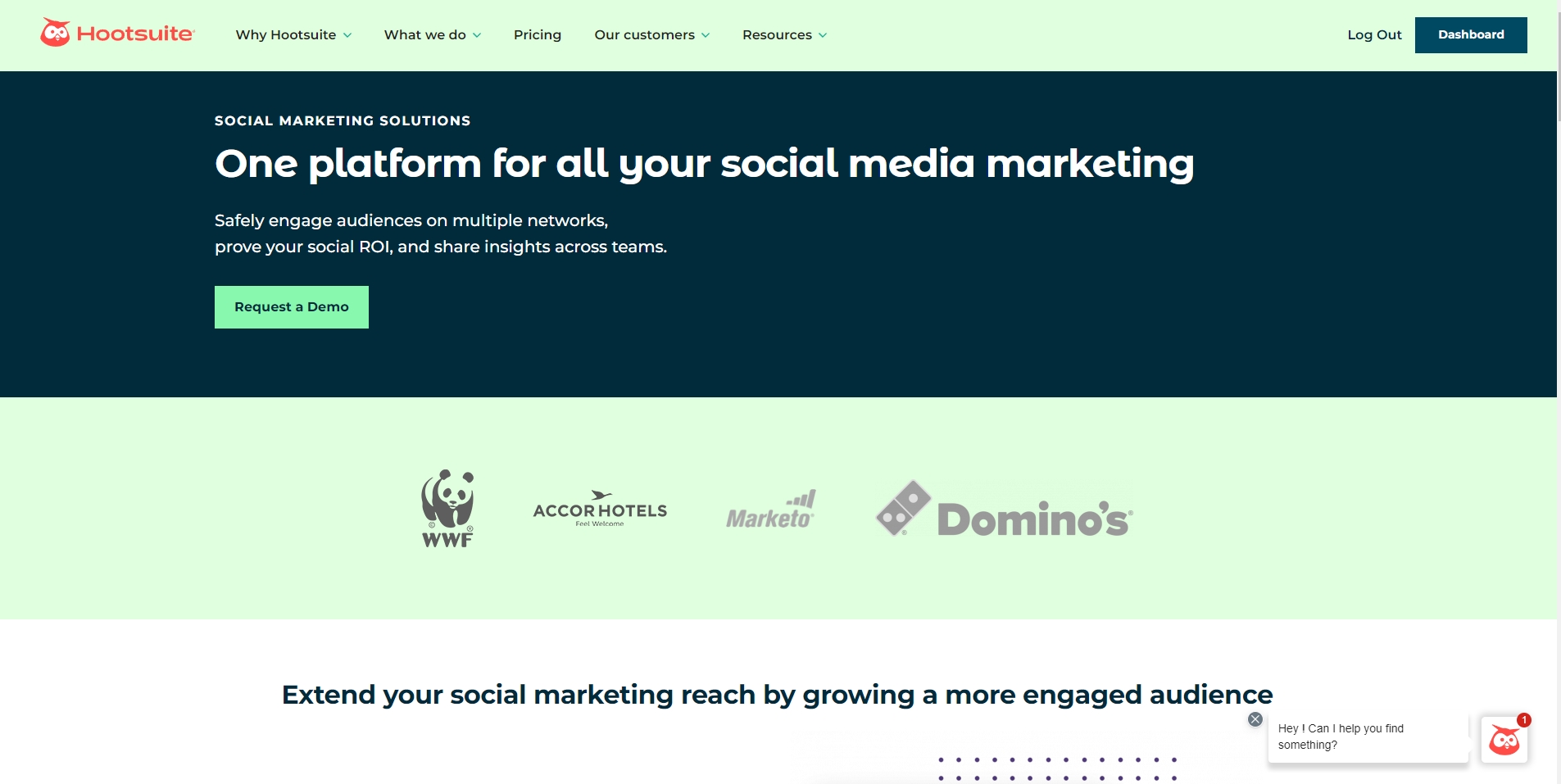 Hootsuite is a platform offering social media posting, administration, analytics, and listening capabilities. It provides comprehensive analytics tools that enable you to understand your performance across all social media networks.
Top features:
➝ Can support over 200 metrics and export reports in PDF, Excel, or PowerPoint formats
➝ Can measure response and resolution time when it comes to community engagement
➝ Can integrate with other tools that track brand mentions
Monthly Pricing:
Free account to $739
3. Buffer Analyze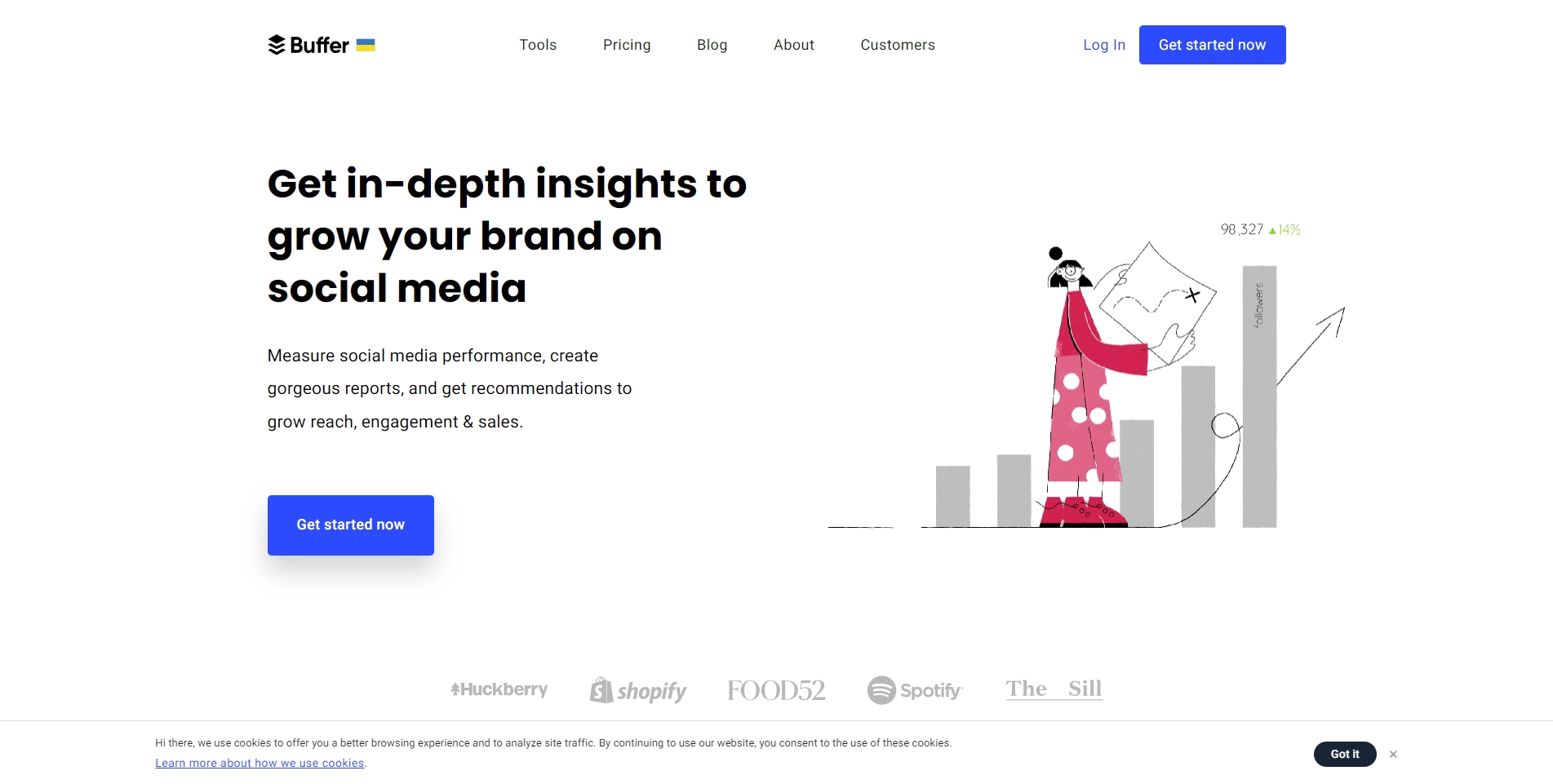 Buffer's social media analytics tool, Buffer Analyze, is designed for online brands who want to improve their social media strategy and measure their performance without being overwhelmed.
Top features:
➝ Can provide analytics for Instagram Stories
➝ Has recommendations about posting strategy
Monthly pricing:
Free account to $100
4. Followerwonk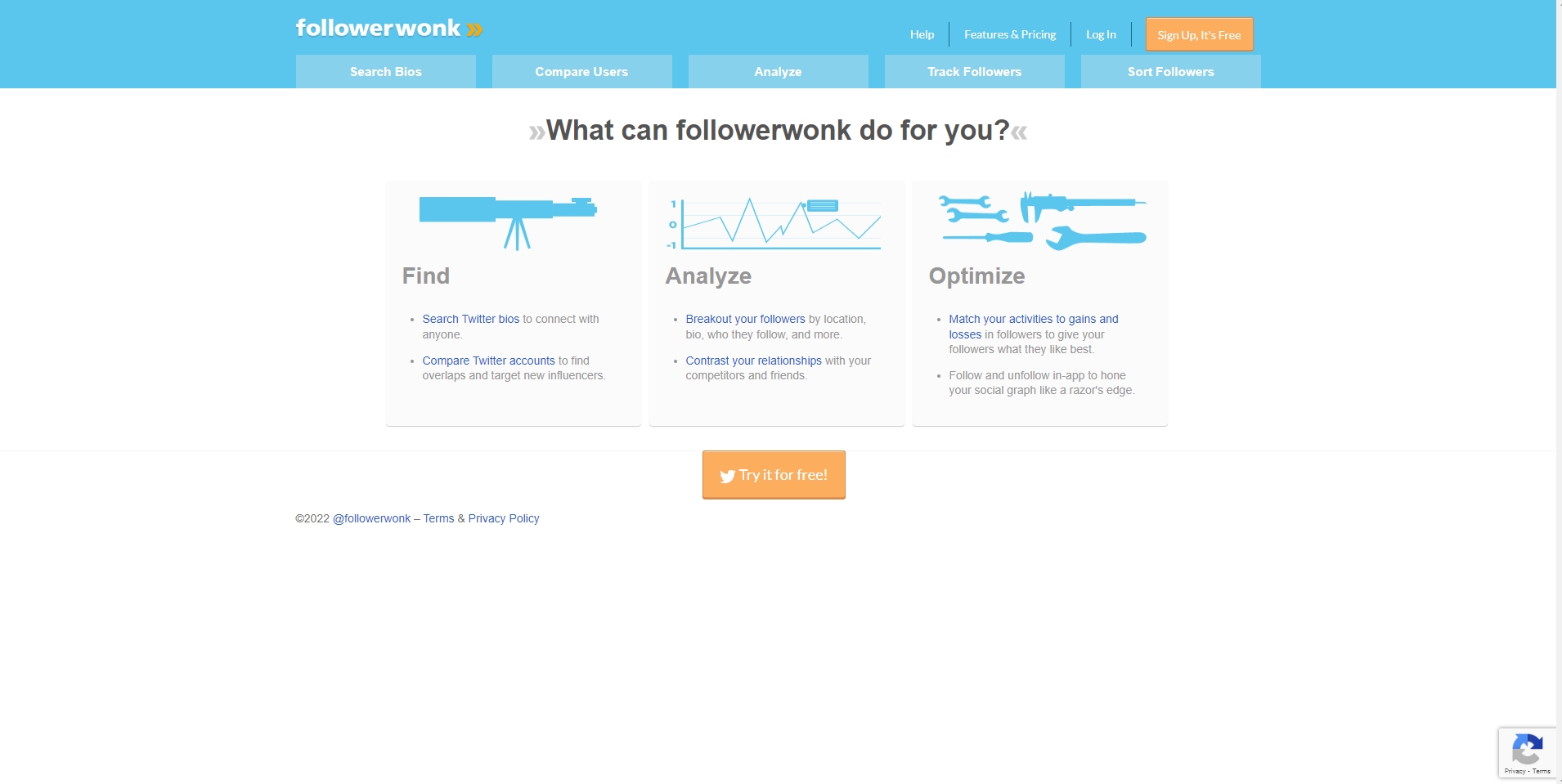 This Twitter-only analytics tool gives you a thorough overview of your following and activity. You can view information on your followers' online and posting times, as well as how they rank in terms of social authority, activity, number of tweets, and follower count.
Top features:
➝ Can use the terms from profiles or bios to find specific users.
➝ Can sort account users or followers based on insightful criteria like impact or activity.
➝ Has a visual graph to compare your statistics to those of rivals or peers
Monthly Pricing:
Free account to $79
5. Talkwalker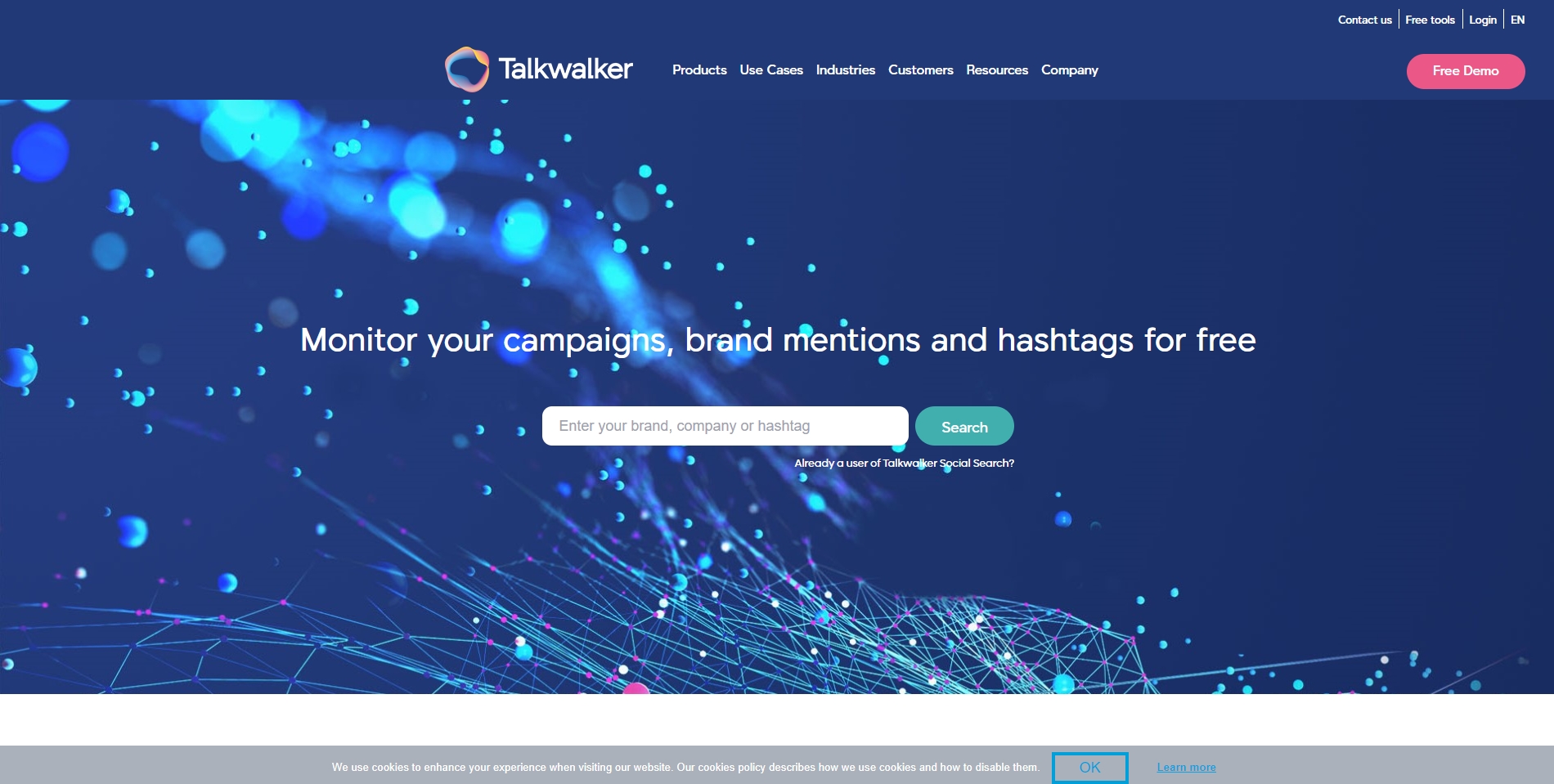 Talkwalker is a social media analytics tool free to use. It provides limitless, free searches for hashtags and phrases on popular social networking sites. It offers a wide range of information, including mentions, conversation distribution, top posts, and more.
Top features:
➝ Has real-time monitoring of what customers say about your brands, products, events, etc.
➝ Can map "mentions" to a world map
➝ Can get demographic information such as age, gender, and occupation on your audience
Monthly pricing:
Free to use
6. Sendible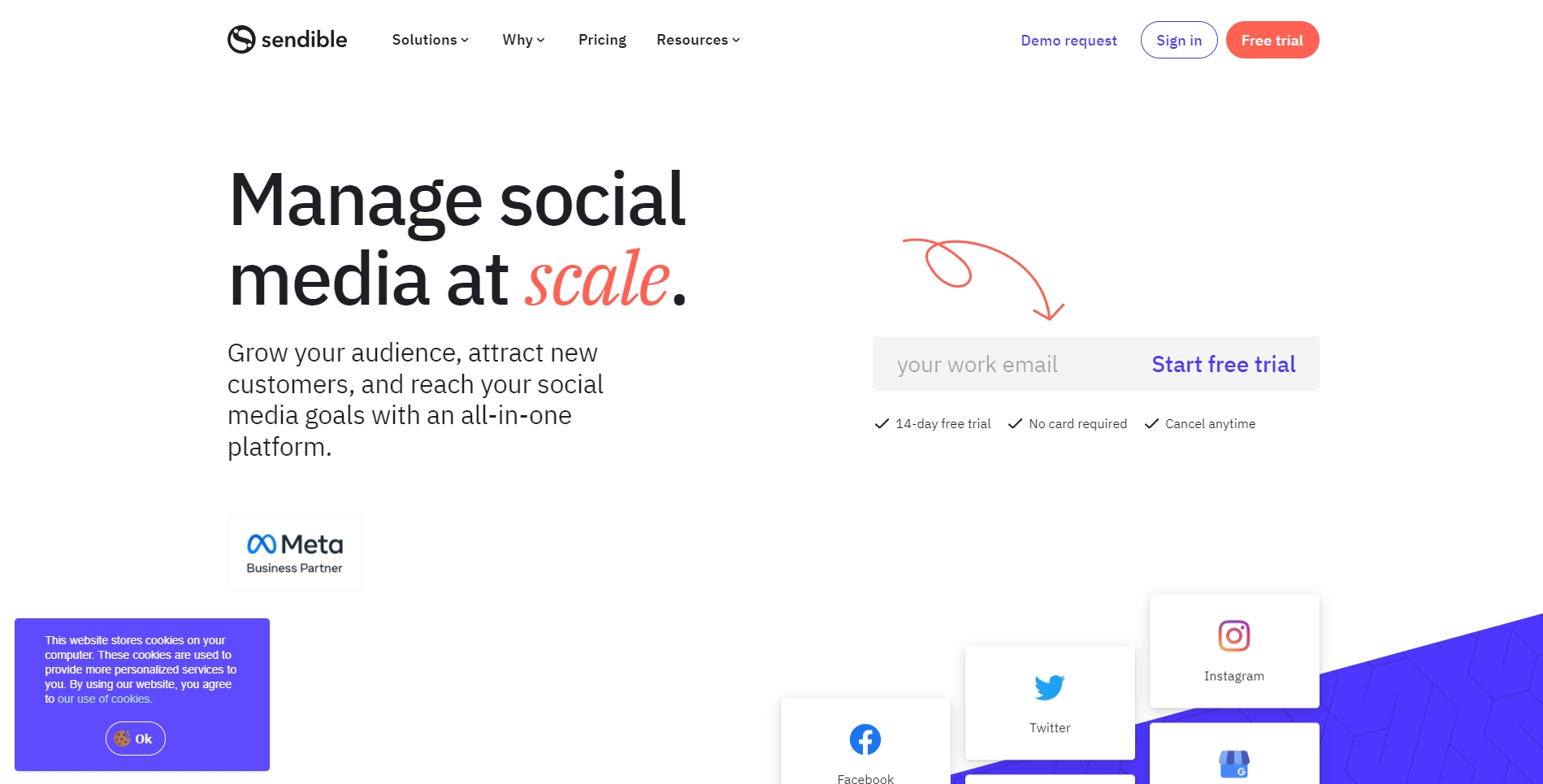 Sendible is a social media analytics tool that provides you with ready-to-use insights into audience profiles across digital media as well as post engagement, mentions, and post content. It allows you to monitor the conversation surrounding your brand.
Top features:
➝ Can track team performance in responsiveness and response times
➝ Can utilize a single dashboard to interact with various social accounts across networks and receive notifications of reactions
Monthly Pricing:
$29 to $399 with free trials
7. Iconosquare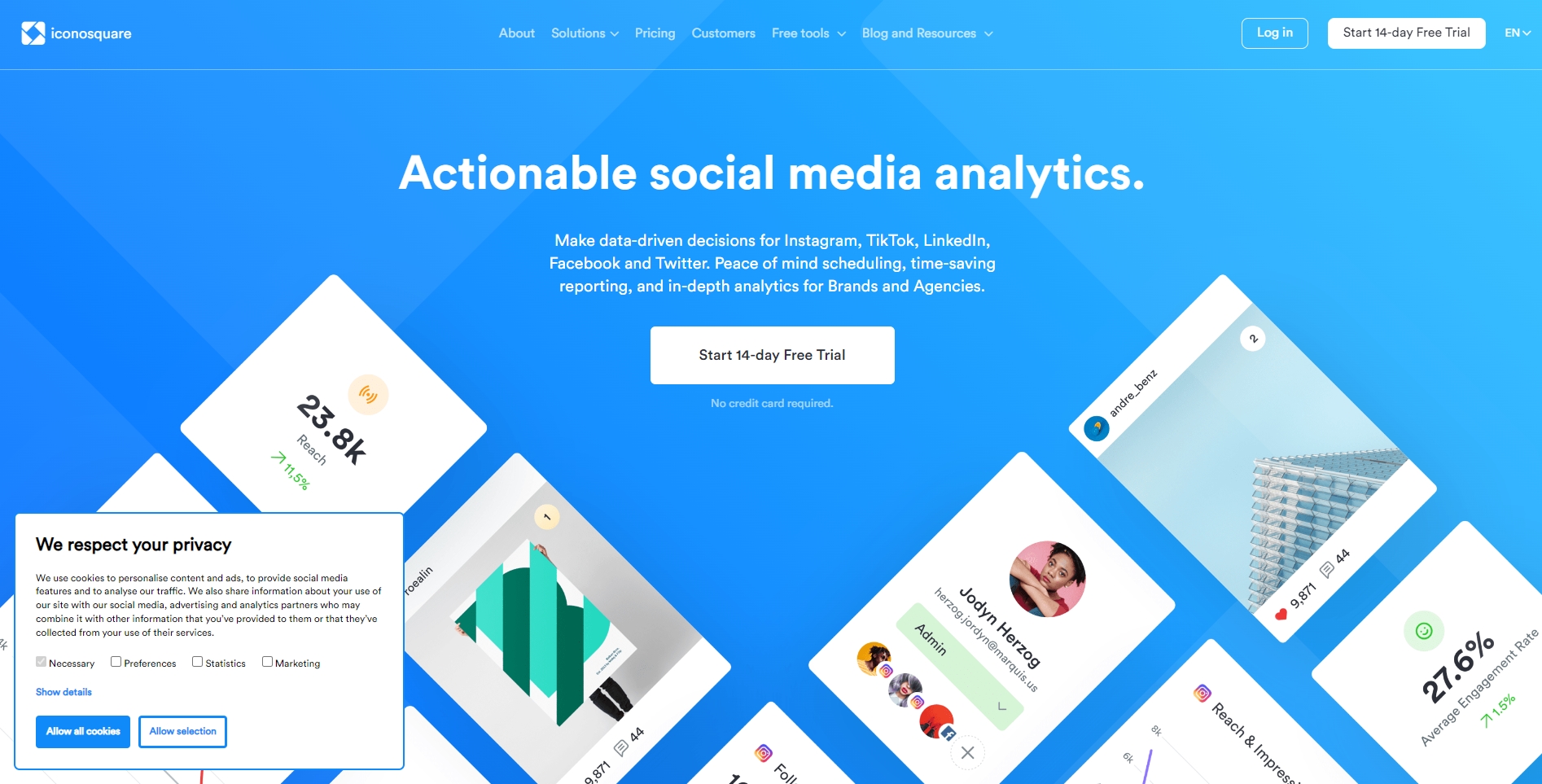 Iconosquare is an analytics tool for social media that lets you monitor, develop, and report on the activity on your Facebook and Instagram profiles. Agencies can schedule reports to be sent directly to clients and manage various brands from a single dashboard.
Top features:
➝ Can find images, captions, and remarks that mention or tag your brand
➝ Can monitor activity on competitor profiles
➝ Can find out when your fans are online and interact with them in real time
Monthly pricing:
$49 to $79 with free trials
8. Zoho Social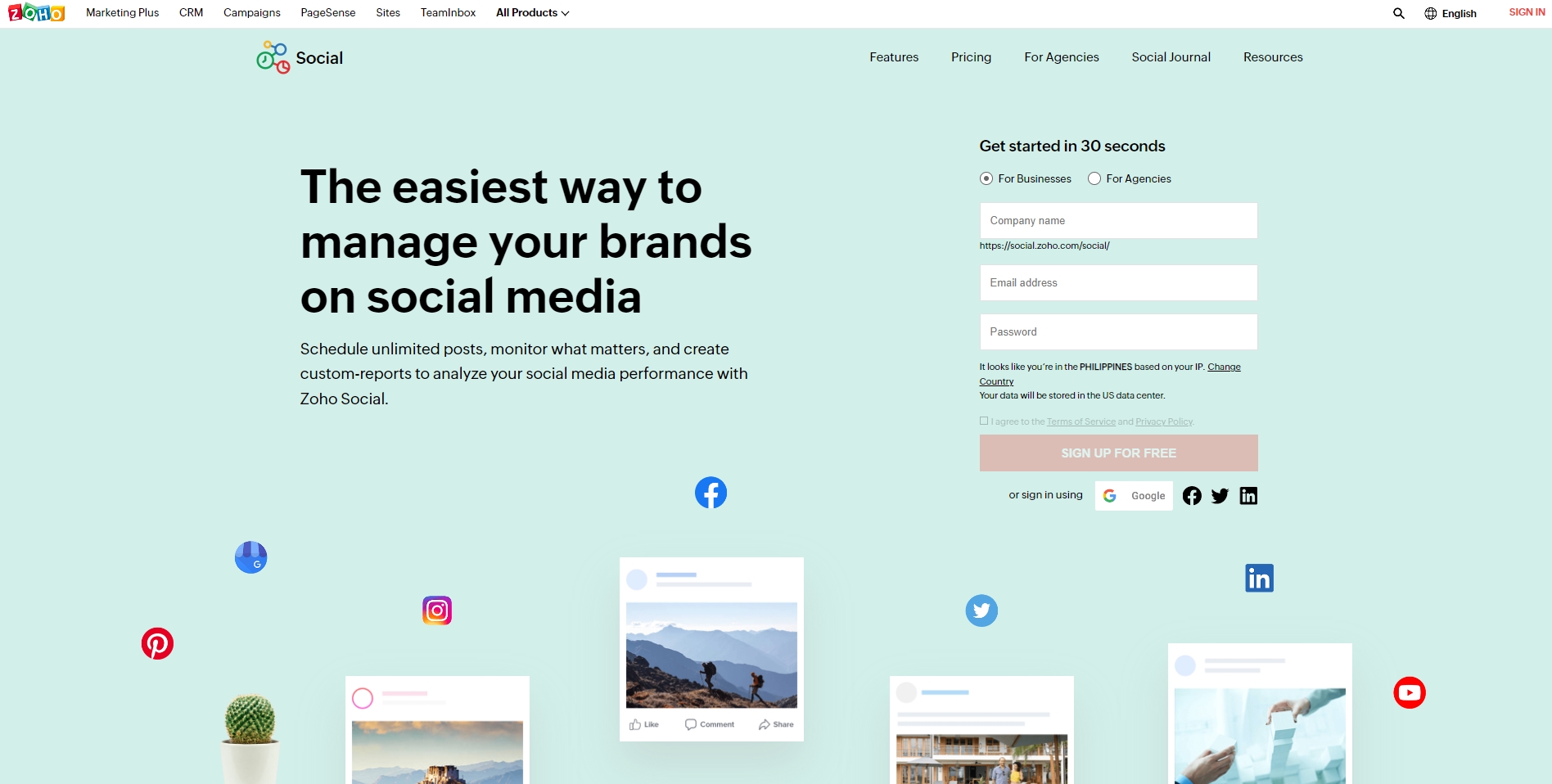 Zoho Social is an all-in-one dashboard where you can listen to several channels and respond in real time. To determine the reach and engagement of any post, you can also delve deeper into it with this social media analytics tool.
Top features:
➝ Can compare the content types that you produce to a breakdown of how your relationships are interacting with it
➝ Can compare fans and the total number of people reached in each post
Monthly pricing:
$10 to $40 with free trials
9. Keyhole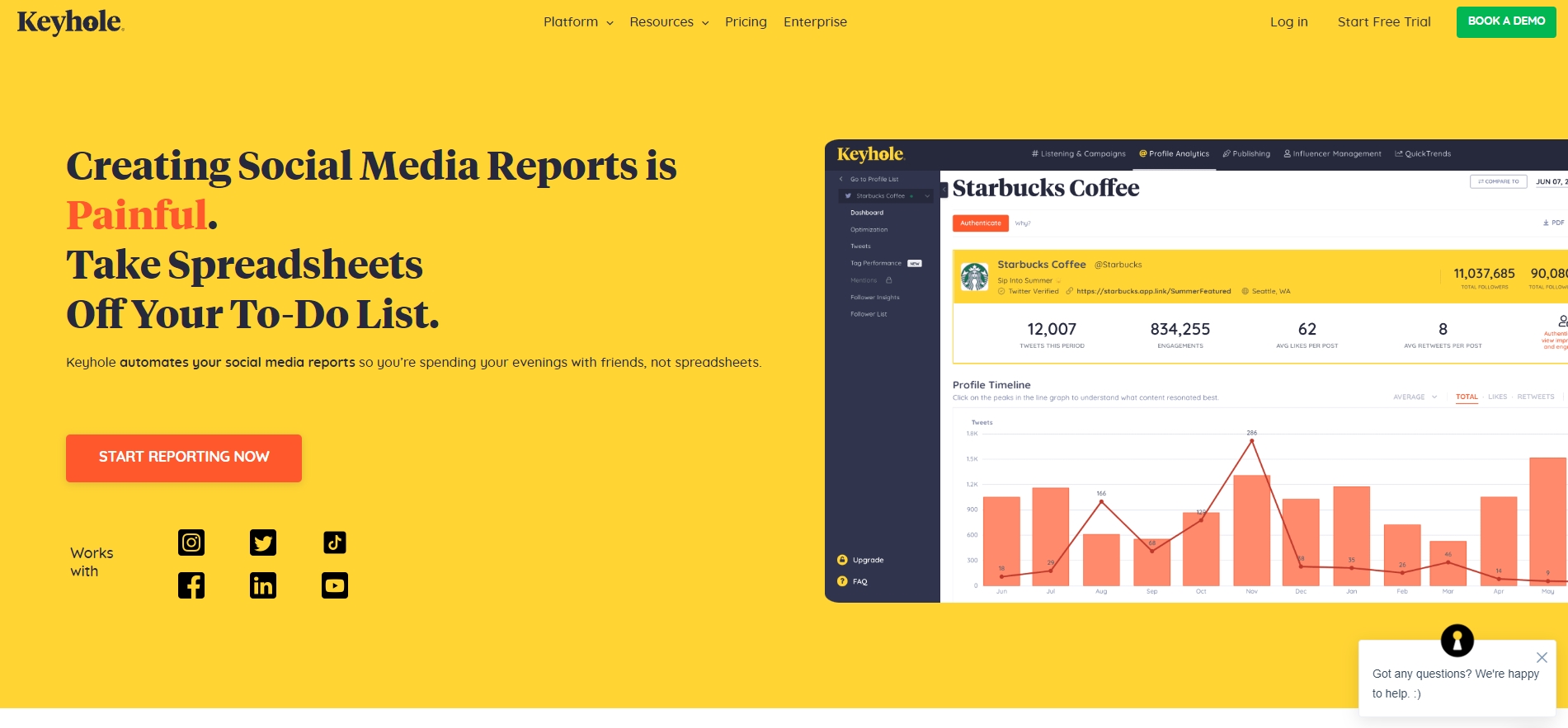 Keyhole is a social media analytics tool that provides a number of trackers to assist you. You can track hashtags, phrases, and accounts, and it gives you a lot of data about your brand's and your competitor's brands.
Top features:
➝ Can utilize machine learning to predict the success of your campaign and make adjustments as necessary.
Monthly pricing:
$99 to $199 with free trials
10. Google Analytics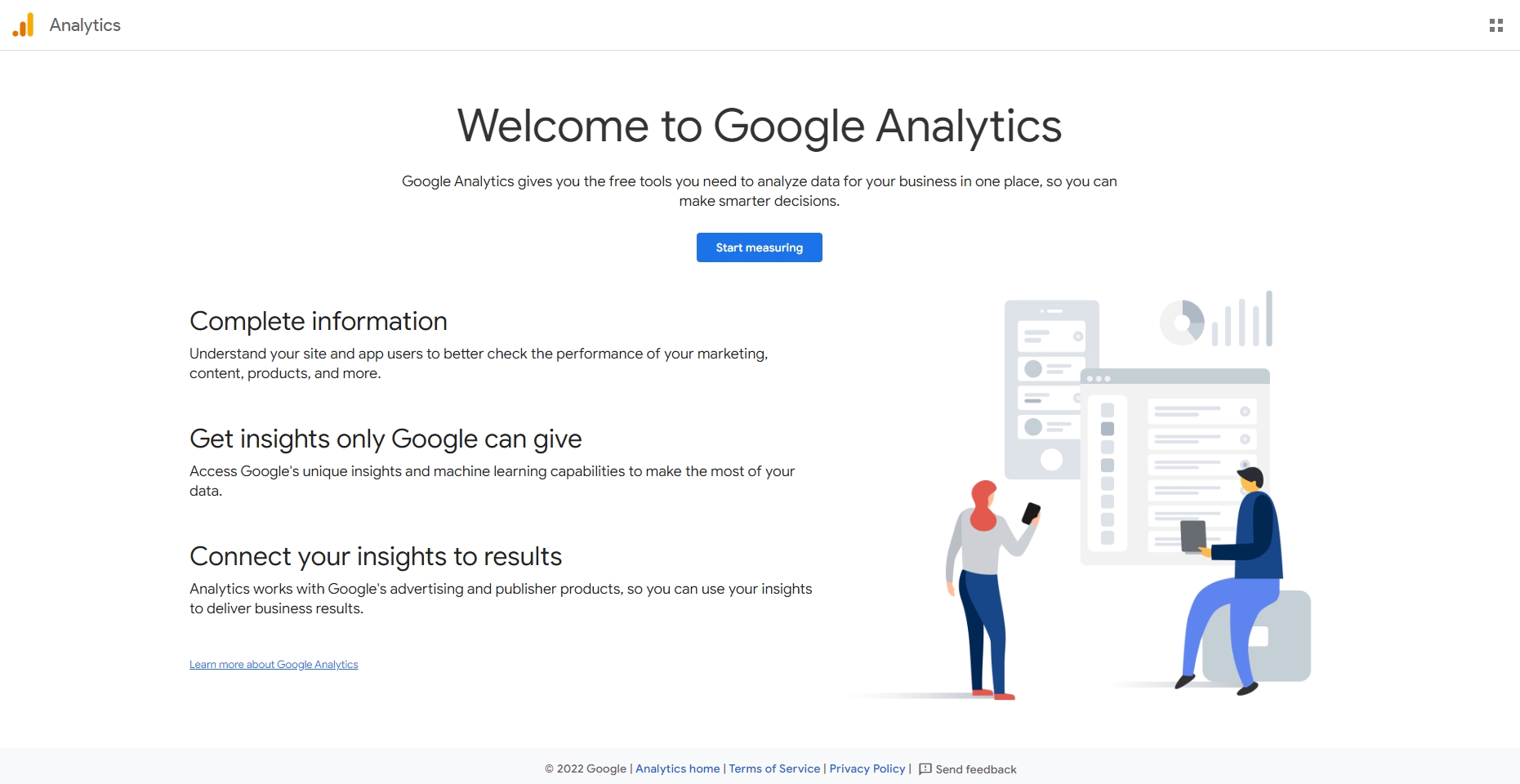 Google Analytics can also be used as a social media analytics tool. You can check social media as a marketing channel and a source of traffic. You can see how many visitors your site receives from each of the major social networks.
Top features:
➝ Can locate the social networks and groups where users are engaging with your content
➝ Can analyze conversions and e-commerce transactions to assess the effectiveness of social media as a channel.
Monthly pricing:
Free to use
Go for the top tool!
There are a variety of social media analytics tools available to help you track your growth. Depending on your social media marketing needs, choose the one that has the best features that you need. And Simplified Analytics is the best tool available. It provides accurate data, is easy to use, and is free. To start tracking your social media analytics, sign up with Simplified Analytics today.
If you want an all-in-one tool that can manage social media accounts and lets you create, schedule, publish, collaborate, and monitor your performance across social media platforms, the answer is simple.