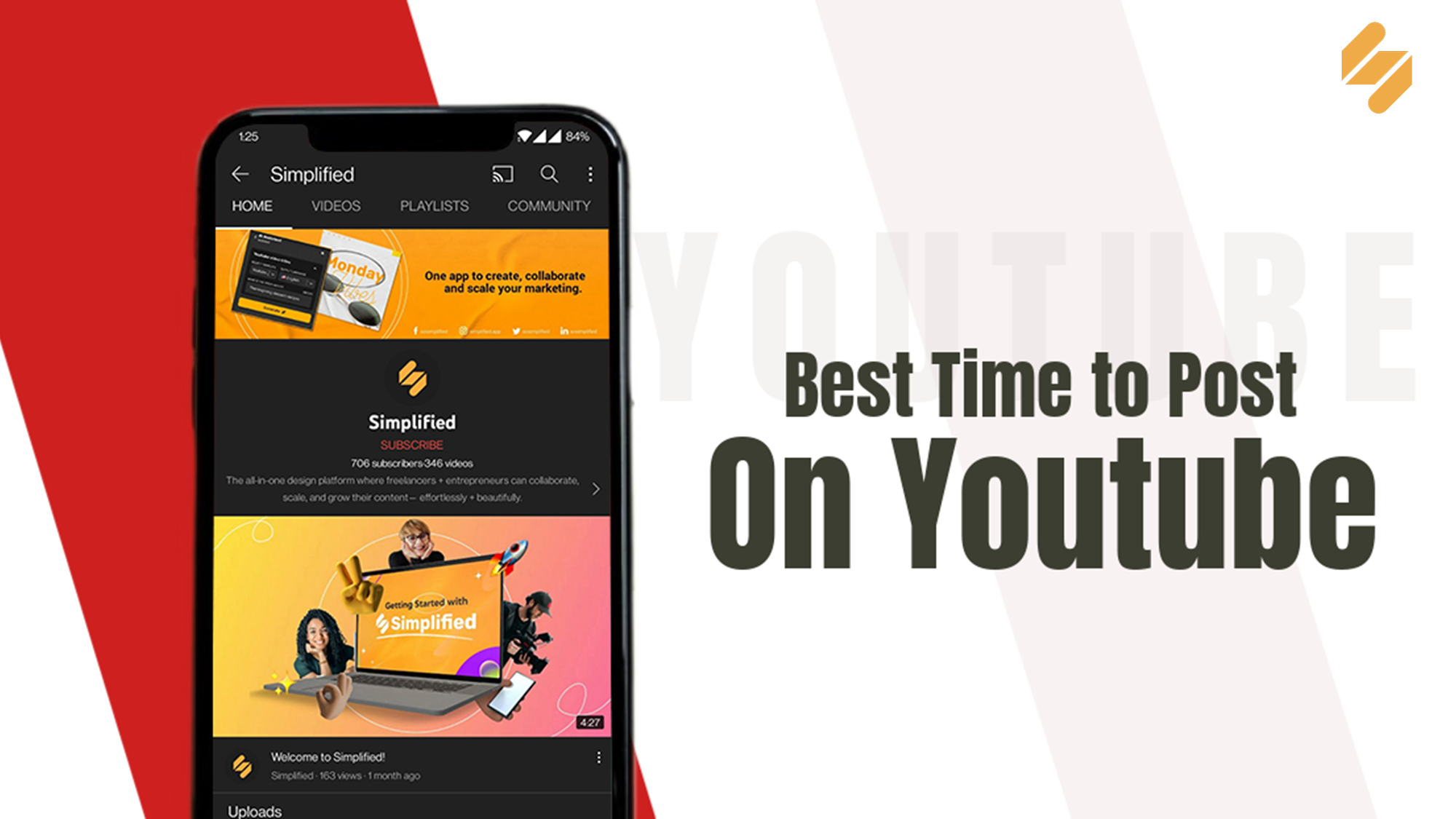 YouTube continues to blaze the trail for video content. As of January 2022, the total global monthly active user count for YouTube sits at 2.6 billion (yep – with a B)! In the US alone, YouTube is predicted to hit 210 million viewers in 2022!
If you have video content, your audience is ready and waiting on YouTube.
Knowing the best days and times to post on YT can maximize your viewer potential and get the most eyeballs for all your hard work. If you already know YouTube is your jam, the next step is perfecting your posting strategy.
In this post, we will deep dive and tell you the best time to post on YouTube to maximize your reach, get more thumbs up and get the subscriber bell ringing non-stop!
When is the best time to post on YouTube?
While viewers have 24/7 access to video content, posting anytime won't get you the engagement you desire. With that out of the way, it's also super important to post consistently to grow your subscriber base and feed the YT algorithm.
When it comes to YouTube, the rules of publishing videos are similar to broadcasting on television. If you post at the right time, you will stop the scroll. As simple as that sounds, there's a lot that goes into clicking 'publish' at the right time.
Related: How To Upload YouTube Shorts From Any Device
The best time to upload YouTube videos is not the best time to post YouTube videos.
Uploading and publishing are not the same. Uploading is the work you do to get your video ready to publish. Publishing is releasing your creation into the wild. If you've uploaded your content on YouTube, you'll agree that you'll need plenty of time between the two.
The best time to upload YouTube videos is at least an hour before the best time to post YouTube videos. 
You want the best possible viewer experience – which means YouTube needs time to process the video in SD, HD, and 4K. And, assuming you're looking to monetize on ads (eventually, if not yet), you'll want to give YouTube enough time to determine your video's eligibility. No ads will show until your video is in the clear, so plan ahead if you're looking to cash in before the first wave of views.
Lastly… no matter how incredible your video is, YouTube has to have time to work its magic and index your video. Without being indexed, YouTube won't know who to show your video to, and your video won't show up in search results.
Find the best time to upload to your YouTube channel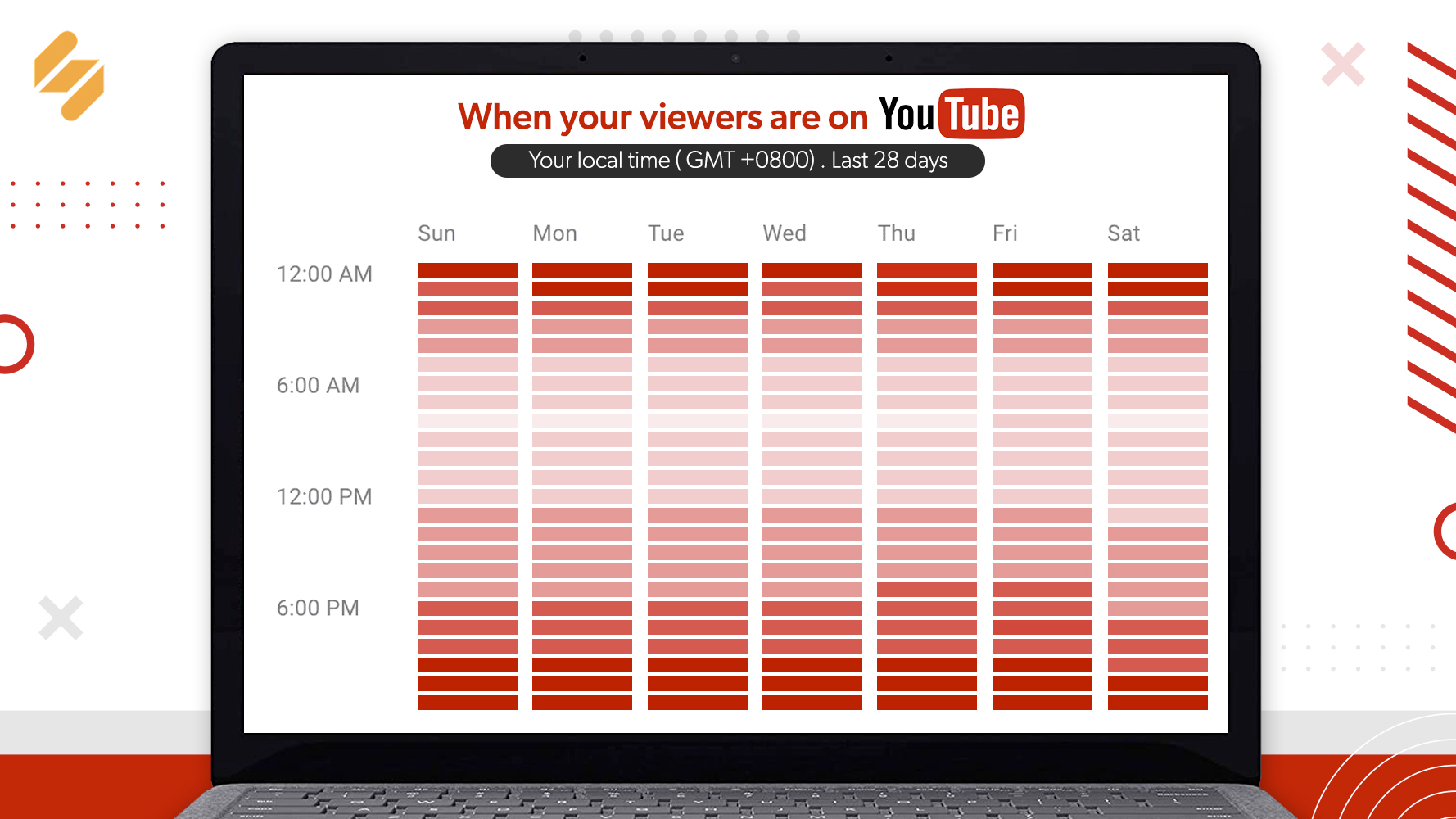 This one is for all YouTubers with an already established subscriber base and good audience engagement. Take advantage of the audience analytics tool. The report details your viewer's YouTube activity over the last 28 days, making your audience's high traffic times crystal clear.
And this one is for YouTubers who are working on building their presence. If you're not sure where to start, there are standard metrics to follow that will help grow your fanbase!
The universal best times to upload to YouTube (CST or EST):
Monday – Wednesday 2-4 pm
Thursday – Friday noon – 3 pm
Saturday – Sunday 9 am-11 am
However, YOUR audience may not follow these typical guidelines. Location and niche have a huge impact when it comes to determining the best time to reach them on YouTube. For example, a channel dedicated to entertainment will typically have higher traffic over the weekend, whereas a professional channel would perform better during the week's business hours.
Consider your ideal viewer. Ask yourself these questions to determine the most likely time they'll be watching your video content:
What is their location/gender/age/occupation?
What hours do they work and have off work?

When they're looking for and watching your videos, are they at work or off work?
When they're watching your videos, are they commuting or on breaks?
All the questions above will help you decide who you're posting for and the time that works well to serve them.
Next, determine the best time to post YouTube videos
Generally, weekdays from 2-4 pm CST/EST is the best time to upload your video to YouTube. This is because YouTube traffic is highest from 7-10 pm CST/EST. On weekends, you'll want to post in the morning from 10-11 am CST/EST as most users are active on YouTube during the afternoon.
Want to get a little more personal? Utilize real-time analytics to find the best time to publish YouTube videos:
1. Open YouTube Studio
2. Click on Analytics
3. Go to the Overview tab and view the 48-hour window
Using the option to see your viewer activity over the last 48 hours will show you the best time to post YouTube videos for your peak audience. Determine your channel's most active time and post your video at least one or two hours before that.
Now that you know the best time to post on YouTube, take a look at this scheduling software that will streamline your posting process and help you plan your content way in advance.
Related: How to Create a YouTube Channel and Grow Your Network
Always hit the best time to post on YouTube with Simplified
There's no better way to boost engagement than to give your people what they want right when they want it! Scheduling posts ensures that you never miss the maximum audience window again. No more scrambling for last-minute content, feeling frozen by imposter syndrome, or worse, forgetting to post entirely. Get ahead and focus on your bigger picture with Simplified Content Calendar.
Imagine uploading all of your YouTube videos for the week or month in one go. Sounds dreamy, right?