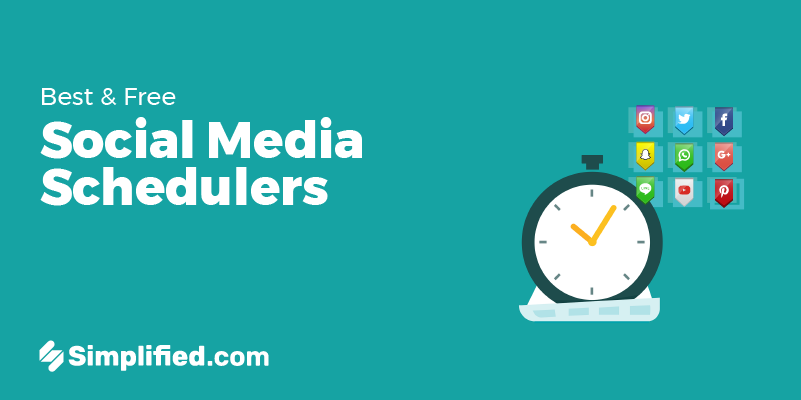 Social media is an amazing way to showcase what you have to offer and engage with your audience. It is also an efficient way to schedule appointments, promote events and services, and even interact with clients on a personal level. Like most small businesses in today's age, maintaining a great social media presence is vital. To do so, you need to constantly churn out relevant content and be active on various platforms in ways that they demand. A free social media scheduler is a great tool that can help you improve your efforts on different platforms, drastically.
So, today we will look at 9 such amazing tools that you can employ for free, and improve your social media presence in an organic and efficient way.
What Makes a Great Free Social Media Scheduler?
Most good social media schedulers have three essential features that allow them to provide the utility you need. These features are
Dashboard: The dashboard is where you will ideally find a single control panel for all your social media platforms.
Automation: Any tool that helps you schedule social media posts for free will have top-notch automation that will publish content on a schedule.
Performance Tracking: Any good marketer knows the value of metrics and numbers. With performance tracking features, you can develop a better marketing strategy and plug the holes in your ship!
Here are some of the best free social media schedulers for you to look out for in 2023.
1. Simplified
Simplified is a free social media scheduler that you can use, primed with amazing features that allow you to work from any device and schedule up to 10,000 posts, and that is just the tip of the iceberg when it comes to their features. The Simplified platform gives you a 360-degree solution for all your social media needs, like tools for design, copywriting, and plenty of other resources to make your social media marketing easier.
Free Forever plan for users on a budget
Seamless integration of all your platforms
Super-friendly interface
Work in real-time
AI Art Generator so your creativity flows with ease
30+ languages to connect with a wide audience
70+ AI templates to write long and short-form content in minutes
Keyword-rich and SEO-friendly content for maximum visibility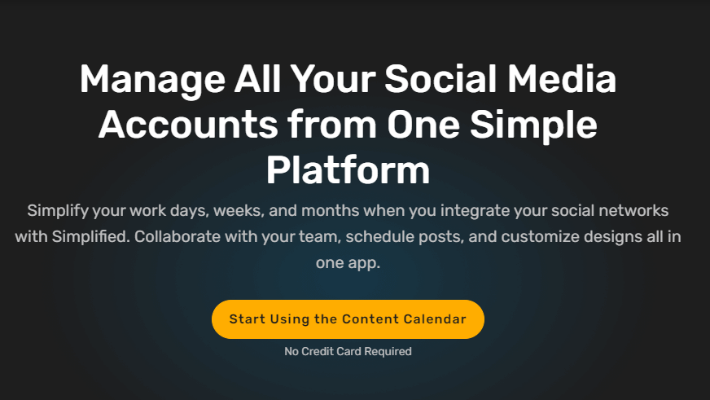 2. Buffer
Buffer is a very popular free social media scheduler. The app is free to use. It also have a paid version called the Buffer Business Plan as well. Its streamlined dashboard makes it a joy to work with.The free version allows users to schedule up to five posts per day and up to three hours of posting time in total (that's 1,000 minutes).
However, if you want more control over how often your content goes out on each platform and how much time is allotted for each post type like video or image, you'll need to upgrade to one of the plans- $10/month or $99/year respectively.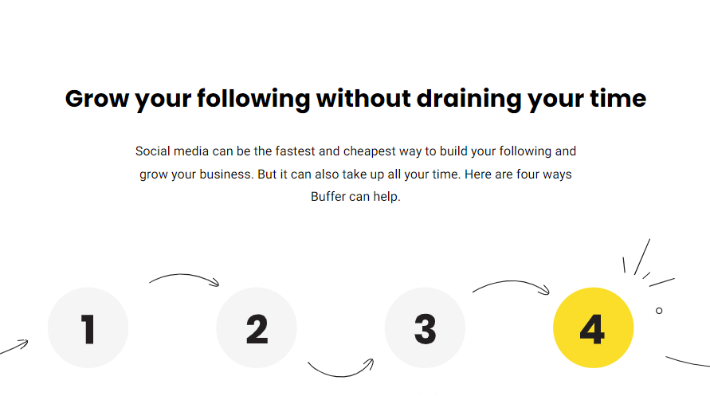 Related: The Best Buffer Alternatives for Marketing and Social media Management
3. Later
Later is a free social media scheduler that lets you schedule posts on Facebook, Twitter, LinkedIn, Instagram, and Pinterest. It is easy to use and has a simple user interface, which helps streamline workflow. The visual nature of its planner gives it a very productive appeal.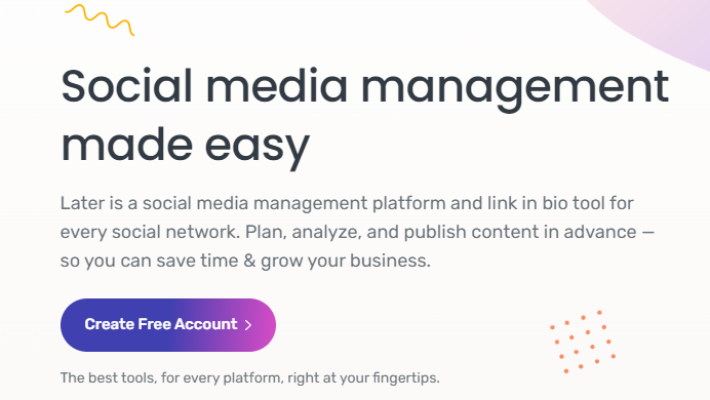 4. Missinglettr
With features like enhanced drip campaigns and amazing automation, Missinglettr is a great option to look at. Its algorithm analyzes the context of your content and automatically finds relevant hashtags to get more visibility and reactions.
Missinglettr will allow you to post directly from your smartphone so no matter where you are or what time of day it is – if there's something important happening in your business world, MissingLettr has got you covered!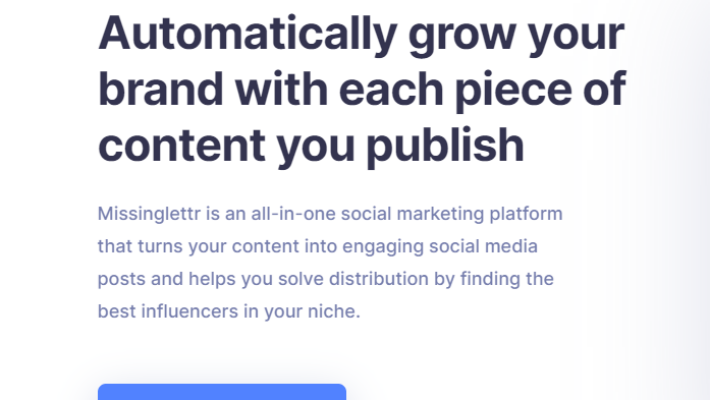 5. Sendible
Sendible is a great option for small businesses to schedule social media posts for free. Its free plan gives you access to the basic features of its app and API. The mobile app is available on both iOS and Android devices, so you can use it on the go.
It also has an extensive list of integrations with third-party apps like Slack, Google Drive, and more.The drag-and-drop scheduling interface makes it easy for users to create their own campaigns right within the platform—no coding required!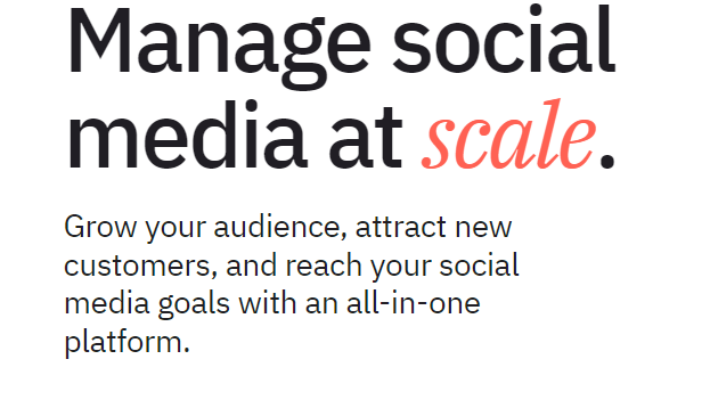 6. Loomly
One of the best free social media schedulers, Loomly allows you to set up your calendar, time zone, and industry for a completely customized experience. You can also create group messages through the app and monitor your entire team's activity in real time.The free version of Loomly includes 2 profiles but no limits on how many posts per day or week you create.
This means if you're just starting out with this app it might be best for smaller businesses. It is ideal if you don't need much functionality but still want access to all the features offered by larger companies like HubSpot or Buffer.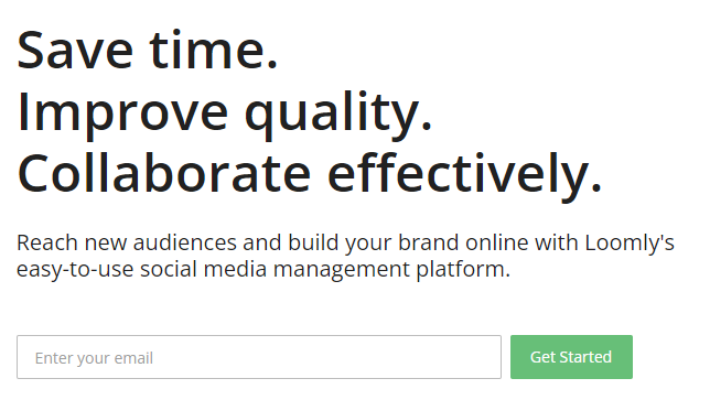 7. SocialPilot
If your goal is to increase community engagement while at the same stay consistent with your content calendar, Social Pilot is one of the best free social media schedulers out there. It has a clean and intuitive interface that makes it easy to use. The app also has a free version that you can use to schedule posts and manage your social media accounts. It is a great entry-level free social media scheduler to start with for small businesses.
Related: How to Schedule a Post on Facebook Page: A Step-by-Step Guide
8. AgoraPulse
AgoraPulse helps you schedule social media posts for free, engage with your followers, and track your metrics. All these essential features are offered with a 30-day trial that gives you flexible scheduling options, report scheduling, ad management, and much more. One of the best features of AgoraPulse is its top-notch customer service which helps in making your experience better and getting the most out of the service.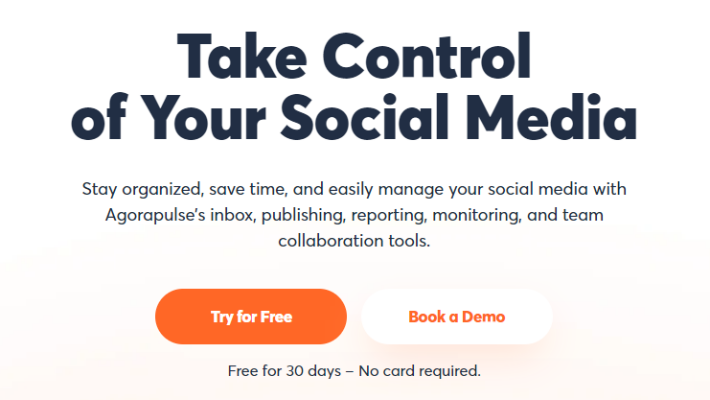 9. ContentCal
ContentCal is a free social media scheduler that is ideal for E-commerce merchants and bloggers, who have a need for visually appealing content. There are approval workflows in place, on this platform that allow the entire team to view, approve and reject content. It also has 'Planning Channels' that allow you to have a more meticulous approach toward your social media targets on various channels.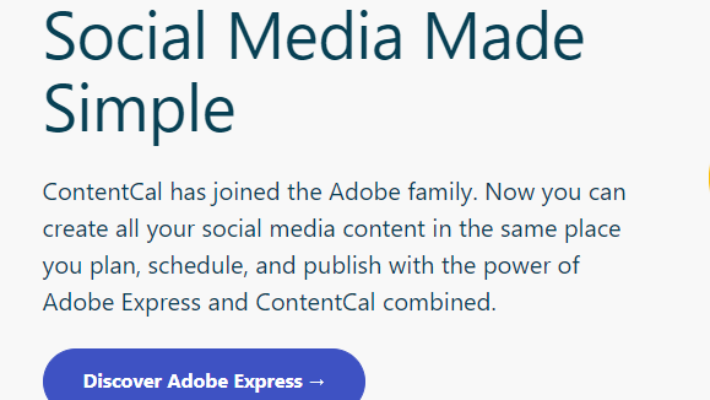 Conclusion [+ Free Social Media Scheduler]
If you're starting out in the world of business, you know the value that social media provides. It allows you to build and nurture a loyal customer base through engagement and information, and really build a solid brand. This list of social media schedulers helps tremendously with your marketing efforts by giving you a fantastic platform to align and manage your activities.
With Simplified you can generate engaging content with design and copy in minutes with their powerful AI tools, and that's not all! They also have tools for email marketing, content marketing, and much more. With its extensive range of services, Simplified is really a one-stop shop for all your marketing needs. So without thinking much, head over to Simplified and start creating !