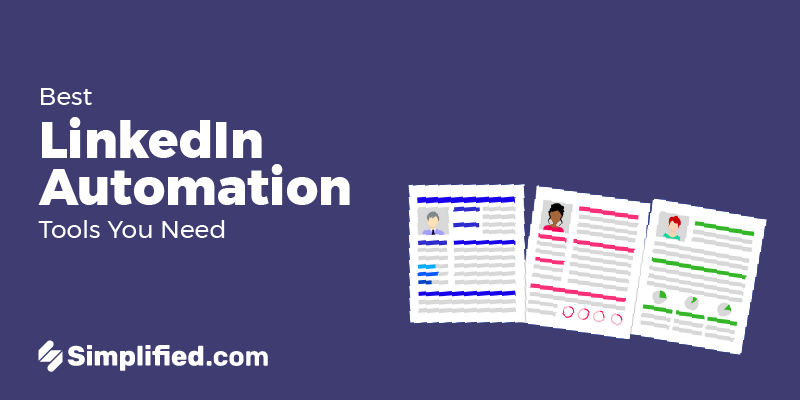 LinkedIn is one of the best social media platforms for business owners. Its suite of tools helps businesses build a brand voice, connect with like-minded professionals, meet their hiring needs, and highlight their business updates to the industry or niche they belong to. Creating content on LinkedIn requires well planning and strategizing; this is where LinkedIn automation tools can be super useful. Automation enables greater planning in your organization's work processes, no matter you're a marketer, a salesperson, a recruiter, or an entrepreneur.
In this post, we'll look at how LinkedIn tools can help your business and 10 of the best options.
What is the process of linkedin automation tools ?
A massive 80% of B2B social media leads come from LinkedIn. It's a no-brainer that your business needs to build a presence on LinkedIn. And then, if you invest in creating an employer brand on the platform, you're likely to attract the best talent too. LinkedIn is also great for encouraging connections with other industry leaders ,and also sharing business understanding.
You can do all of this through regular updates on your company page. Here's where LinkedIn automation tools come in. Managing any social media platform requires a ton of time, effort and resources.
These tools help streamline your workflows, create content calendars, design graphics, write content, and publish and schedule LinkedIn posts easily, all from one place. They're perfect for business owners who normally have a packed calendar so they can focus energy on growing their brand.
Here are a few ways that LinkedIn automation tools help you scale your content creation efforts on the platform:
Design professional graphics: Create professional type design in minutes by selecting from a vast library of stock photos and graphic elements. 
Publish posts anytime, anywhere: Schedule your LinkedIn articles and posts so that they can get to your audience no matter where you are.
Gather campaign insights: A lot of LinkedIn automation tools provide detailed analytics and understanding that will guide your content strategy.
Create custom branding: Some tools like Simplified even allow you to create a custom brand kit too that can then make it easy to design posts around your brand fonts, colors, and creative.
Repurpose older content: Sometimes, you can get tips from your older posts and put a new spin on them thanks to an AI content creator.
Streamline content creation: Batch your content and decide your entire schedule in advance, so that your team stays on top of your LinkedIn content plan.
Save on photography & image creation: Choose from thousands of professional images and graphics with access to the best free stock photo sites that let you save time and budget on hiring a photography team.
Integrate with a suite of other marketing tools: Most LinkedIn automation tools also merge with Slack, Google Drive, and other marketing tools to make your workflow a lot easier.
Now that you're familiar with how these tools can help your business, whats more ? Let's dive into 10 of the best that you could choose from in the coming year.
1. Simplified
Simplified Social Media Planner is an all-in-one marketing tool that lets you create LinkedIn posts, write descriptions, and schedule them in seconds, apart from many other useful characteristics.
Pros
Thousands of custom made templates to design marketing creatives in a pinch;
A photo library with high quality stock photos for every possible need;
Integrated publish and schedule tools to easily manage remote teams
Cross-platform design and content creation within minutes
Create many brand kits for your business use
Streamlines workflows with collaborative workspaces, scheduling tools and calendars
Has AI copywriting tools with 70+ custom made templates
Has a free forever option!
Cons:
Long waiting time to allow app
Monthly Pricing:
$0 to $24
Related: 10 Creative LinkedIn Banner Ideas That Will Make Your Business Stand Out
2. Postfity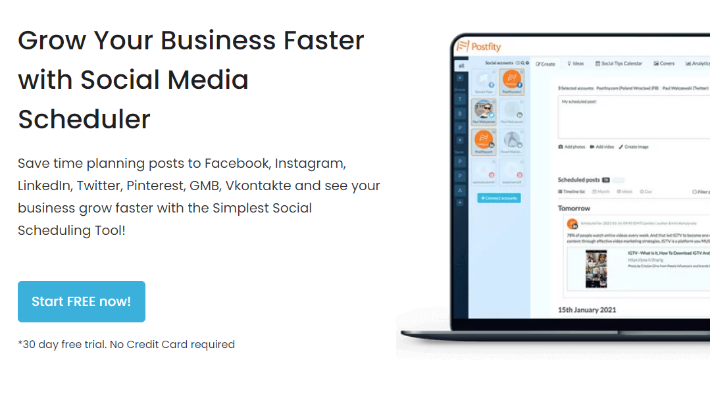 Postfity is a social media scheduler that allows you to plan and publish posts to LinkedIn and other major social networks. They have a feature called LinkedIn Scheduler which allows you to schedule videos and create Twitter screen shots to share, among other chances.
Pros:
Easy sign-up process
Very easy to use
Affordable plans
Readymade research and post ideas
Has social media data
Cons:
Limitations on the free plan
Monthly Pricing:
$14.99 to $199.99
3. Social Pilot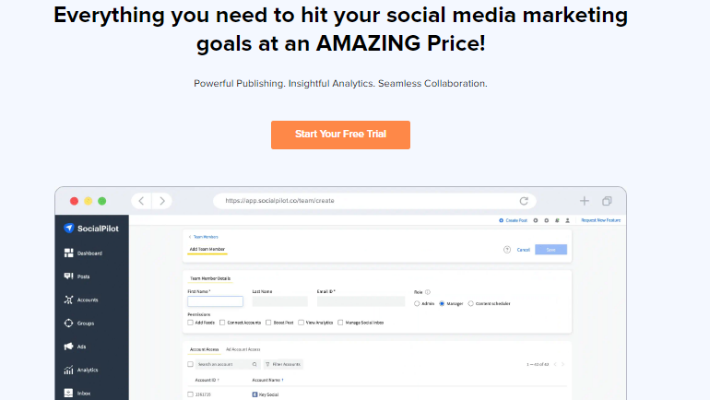 SocialPilot is a SaaS product featuring an easy-to-use social media marketing tool that helps professionals, teams, and businesses automate their social media management activities. It can schedule LinkedIn posts and very well manage content on all your profiles and company pages.
Pros
Very easy to go through
Automatic scheduling
Great for bulk posts
Great social network coverage
Has Android and iOS apps
Cons
No free version
Expensive packages
Fewer characteristics
Monthly Pricing:
$50 to $150
4. LinkedIn Helper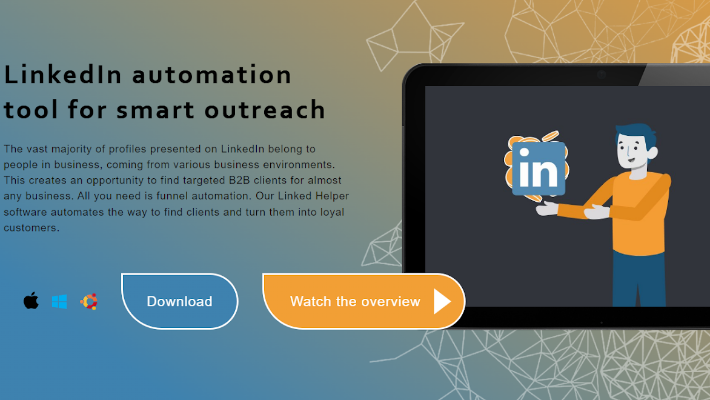 Linked Helper is a popular LinkedIn lead generation tool. They are proud to be the safest tool available. It is a separate app and not a Chrome extension. It does not embed its code into the LinkedIn page. In addition , they also have different product features for sales reps, marketers, and recruiters.
Pros
Auto-visiting LinkedIn profiles and auto-inviting with personalized messages
Auto-messaging and auto-endorse 1st-degree connections
Auto-InMail, reply detection, downloading visited profile data
Enables users to invite 1st connections to join a LinkedIn group
Cons
No integrations with CRM system
Complex interface
No teamwork abilities
No features for setting up follow-up campaigns
Monthly Pricing:
$15 to $45
5. Expandi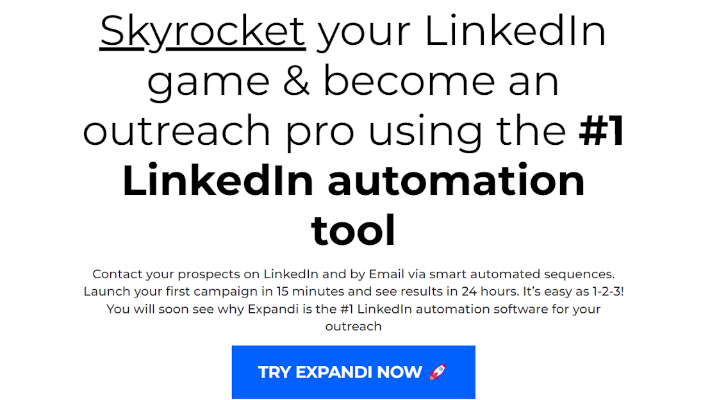 Expandi is a cloud-based platform that boasts its safety as a LinkedIn automation tool. They focus on LinkedIn surpass where you can send personal Invites to connect, messages, and InMails to prospective clients. They even have a certificate course if you want to be a LinkedIn outreach expert.
Pros
Has a random delay between activities to mimic human behavior
Pulling information from profiles to include in personalized messages
Integrates with other marketing tools
Smart limits that ensure you only send up to 100 connection requests or messages in a day
Dedicated country IP address
Cons
Singular costly payment option
Monthly Pricing:
$99
6. Zopto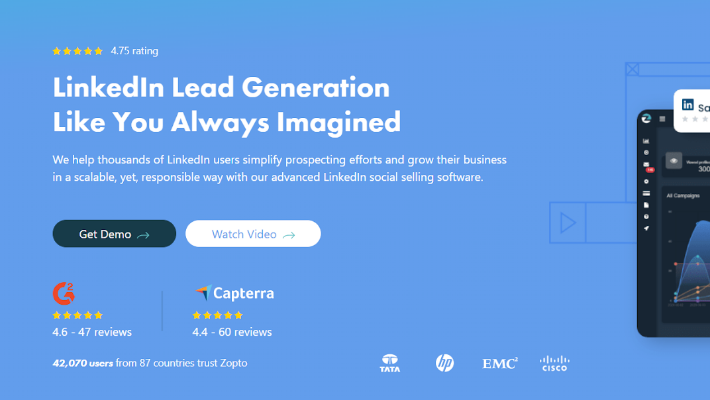 Zopto is a lead generation tool that helps get more educated leads from LinkedIn into your sales funnel. It is a cloud-based software with dedicated IP address which means you can access it from any device via cloud connection.
Pros
Allows to select the desired level of engagement
Can enable various settings for engagement
Cons
Cannot cancel a campaign
User Interface is out of date
No ability to personalize messages
Monthly Pricing:
$45 to $895
7. Lempod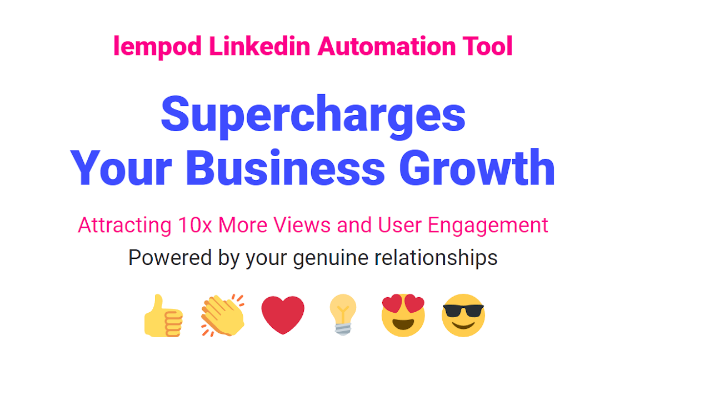 Lempod is a browser-based LinkedIn automation tool that can take care of your campaigns. It is designed to help program one primary activity: engagement. This is an important part of the LinkedIn process because the posts with the most engagement are shown to more people. With more disclosure, you can expect more profile views and connection requests.
Pros
Affordable pricing
Easy to use
Drives views to your content quickly
Cons
Limited functionality compared to other automation tools , moreover it focuses on driving engagement only
Monthly Pricing:
$2 to $5
8. Demand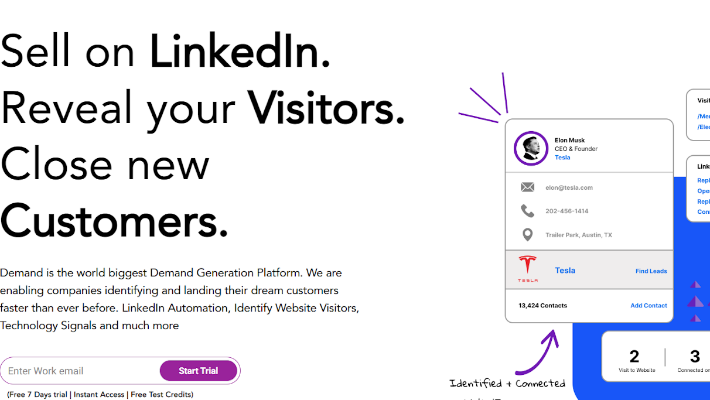 Demand is a LinkedIn lead-generation tool for sales automation and exceed. It focuses on personalized texting within LinkedIn. You can find your ideal chances and build 1-1 relations with their personalization engine.
Pros
Advanced automation options.
Ability to link email and LinkedIn in campaigns.
Data develop for more personalized outreach campaigns.
Cons
A bit complicated for a not of sales person
Lacks tech support
Monthly Pricing:
Free plan to $79
9. WeConnect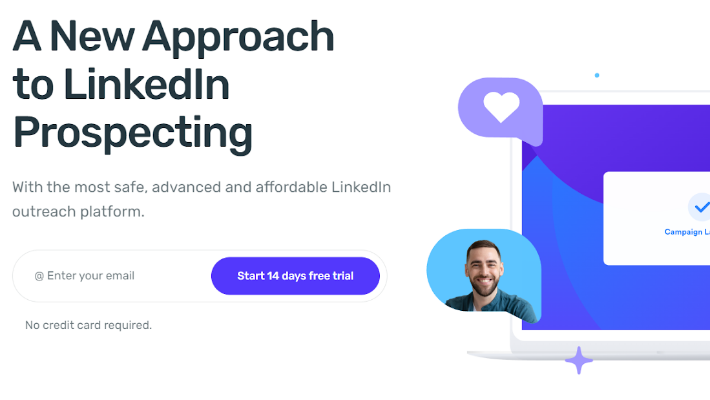 WeConnect is a LinkedIn automation tool that makes it easy to reach out to potential customers and connections, send InMails, and manage LinkedIn marketing campaigns and ads. You can too plan your outreach strategy better with their in-built reporting , in addition analytics dashboards.
Pros:
Affordable pricing plans
Free InMails and Group Messaging
Export Campaign & Profile Data
Interactive Inbox
Powerful Campaign Manager
Cons:
Leans more towards the sales besides that of branding