Images and visual content hook people almost instantaneously. So, it's no wonder graphic design tools have become essential to businesses. However, finding the perfect design software program might be a bit of a hassle. Adobe Spark is definitely one of the best options on the market right now. However, there is also an amazing alternative to Adobe Spark – Simplified!
To find out which is the best app for graphic design out of the two of them, keep reading! We've created this Simplified vs. Adobe Spark comparison guide to give you the full (totally unbiased) rundown.
Simplified vs. Adobe Spark: Comparison at a glance
| | | |
| --- | --- | --- |
| Basis | Simplified | Adobe Spark |
| Free plan for individuals | ✅ | ✅ |
| Pricing starts from | $18 (for 5 members) | $9.99 |
| AI copywriting | ✅ | ❌ |
| Unlimited personalized brand kits | ✅ | ✅ |
| In-app Customer support | ✅ | ❌ |
| Design, Edit & Publish | | |
| Custom Fonts | ✅ | ✅ |
| Design Templates | ✅ | ✅ |
| Upload your own assets | ✅ | ✅ |
| Video editing | ✅ | ✅ |
| Video templates | ✅ | ✅ |
| Animation & Transition | ✅ | ✅ |
| One-click Magic Resize | ✅ | ✅ |
| One-click Background Remover | ✅ | ✅ |
| Content Planner + Scheduling Posts (Publish to Facebook, Instagram, LinkedIn) | ✅ | ✅ |
| AI Image generator | ✅ | ❌ |
| AI Content generator in 25+ languages | ✅ | ❌ |
| Organize & collaborate | | |
| Members | ✅ | ✅ |
| Team sharing | ✅ | ✅ |
| Audio File Management | ✅ | ✅ |
| Real-time Collaboration | ✅ | ✅ |
| Organizing Projects | ✅ | ✅ |
| Built for teams | ✅ | ✅ |
| Premium community | ✅ | ❌ |
| Mobile Friendly | ✅ | ✅ |
| Integrations | ✅Google Drive, Google Sheets, Shopify, Chrome Extension, Storyblocks, Pixabay, Unsplash, Brandfetch, Pexels, Airtable, Zapier | ✅Creative Cloud Library, Google Drive, Pixabay and Unsplash |
Now, that we've covered all the major differences between both apps, let's check out their pricing plans.
Pricing and Plans— A Powerful Free Alternative to Adobe Spark
Well, pricing is definitely one of the most important factors when it comes to choosing design tools. And while both Adobe Spark and Simplified offer great pricing compared to other platforms, you must consider how much value you are getting for similar prices.
You can begin by comparing the free plans for both platforms. Adobe Spark offers a useful graphic design tool for free. It is user-friendly and offers unique templates, design assets, and fonts as well. You also get a limited collection of Adobe Stock free collection photos along with basic editing and photo effects.
On the other hand, the free plan of Simplified offers much more. Yes, you do get thousands of free templates, stock photos, and videos. Plus, you also get to use the AI text to image generator. For video editing, you also get a free audio library with royalty-free music. And let's not forget the background remover and one-click animation credits. What's more? You also get the AI copywriter to create captions, headlines, and much more along with the content planner.
Simplified is clearly a great alternative to Adobe Spark when it comes to free versions. Let's look at further details about the paid plans in the table below!
Simplified vs. Adobe Spark: Pricing & Plans
| | | | |
| --- | --- | --- | --- |
| Packages | Simplified's Pricing | Adobe Spark Pricing | What's the difference? |
| Individual Plan | $0 Free Forever | $9.99/Month | Simplified doesn't offer an individual plan. Individuals can use the platform for free or use the small team's plan, which is similar to Adobe Spark's Individuals plan pricing. |
| Small Teams | $18/per month for 5 members | NA | Adobe Spark does not offer a team plan but individuals can purchase different plans and collaborate. The Simplified offers an upgraded plan with many more features. |
| Businesses | $30/per month for 5 members | NA | The business plan by Simplified is perfect to manage small to medium-scale businesses or agencies with multiple social accounts. |
| Enterprise | $75/per month for 5 members | NA | The enterprise plan by Simplified offers unlimited assets for scaling brands and agencies. |
Simplified offers multiple plans customized for individuals, small teams, and agencies. It becomes a great alternative to Adobe Spark, especially if you are looking to scale your brand.
Related: These 15 Most Convenient Copywriting Templates Are Everything Your Business Needs +[FREE AI Tool Inside!]
All the Features: AI Copywriting, Templates, Videos, and Assets
Although pricing is important, the in-built tools are everything. Especially when you have a specific design campaign that requires you to use certain features or templates. While Adobe Spark is one of the OG design tools, Simplified offers something more(keep reading to find out).
AI Copywriting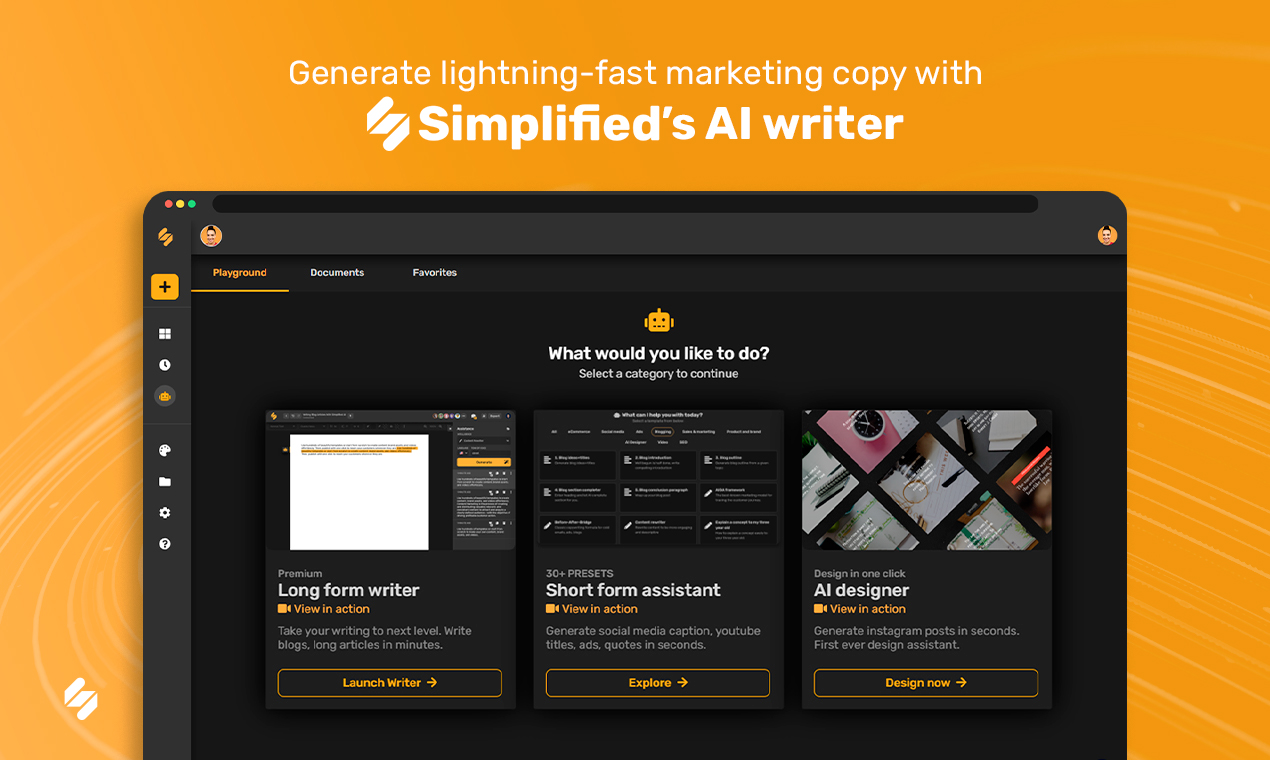 World's first AI and Design Platform, Simplified is a great alternative to Adobe Spark because it's equipped with an AI assistant that can generate copy for all your social media needs and marketing needs. Explore over 50 copywriting templates in more than 30 languages! You can also take it a notch higher by automatically generating visual creatives using the same copy. Pretty cool, right?
On the other hand, Adobe Spark has no AI copywriting abilities, so if you're looking for a design tool that can handle all your marketing needs—Simplified might be the smartest alternative to Adobe Spark.
Features
Of course, both of these apps for graphic design share similarities as well. For example, you can remove backgrounds from images for free on both platforms.
However, there are some important things to consider when you are comparing the features of both these platforms. It's more about how fast you can get your work done with the same features. For example, you can resize images on both platforms. But our alternative to Adobe Spark comes with a magic resize tool that can resize any image in just one click. Adobe Spark doesn't come with an AI assistant or this magic resize tool but you can use it to resize videos and convert JPG files to PNG and vice versa.
Remove background from image in one click
Images
Although there are thousands of images on Adobe Spark, you do have to opt for the Individual or Team plan to use them because the free plan only has limited templates. However, their free plan does offer access to the images via Pixabay.
Simplified, the Adobe Spark alternative also offers a ton of free stock images from websites like Pixabay, Pexels, Storyblocks, and Unsplash so that your creatives and design are always unique.
Videos
Additionally, both free graphic design software offers various video features. For example, you can use video templates and animation tools to design not only your videos but even logos. However, Simplified's one-click video tools make the process of creating videos easier. With access to a library of high-quality videos and video templates, you can create stunning and unique videos each time.
Related: 5 Best Youtube Title Generators That You Can Use For Free
Sharing: Social Publishing and Scheduling
Now that you're all set with your content, it's time to publish your post. For this, you need supportive features like social media publishing and scheduling. After all, it can be quite a hassle to post manually every single day.
Simplified, being an alternative to Adobe Spark, comes with both these features. Not only can you post directly onto your social media platforms, but it also comes with an internal scheduling tool. So, you don't end up spending extra on another tool. Adobe Spark, on the other hand, doesn't come with such a social media calendar. However, you can post on other directly platforms through the premium version.
Related: 10 Proven Strategies To Amplify Twitter Engagement in 2022
Collaboration and Organization: Is it good for teams?
Are Simplified and Adobe Spark good for teams? Well, Simplified is great for collaboration. Not only can you add an unlimited number of teammates to a project, but you can also comment and suggest changes in real-time. And yes, it's on the same document, so there's no lag in communication.
Most importantly, Adobe Spark doesn't offer a team-sharing feature like Simplified.
Additionally, Simplified, being a great alternative to Adobe Spark, offers great workflow management features that help you stay organized. You can create multiple projects with multiple files. These are extremely easy to access as they can be found under the projects tab on the left-hand side of the dashboard.
Although Adobe offers features where you can add users and manage your workflow, you do have to opt for either the Teams plan or the Individual plan. Unfortunately, their free plan doesn't support collaboration.
With Simplified's free plan, you don't have to wait till the final stage of the project to make important changes or receive feedback.
Ease of Use and Interface
The UX/UI is absolutely important for apps like Adobe Spark. After all, a crowded interface with hard-to-find buttons can end up wasting your time. Fortunately, both platforms are extremely clean in design.
Simplified uses a black and yellow color scheme that not only stands out but is also easy on the eyes. Adobe Spark, on the other hand, uses white and green. However, what really stands out in Simplified is the UX. All of the features and buttons are easy to find and use. A beginner can get the hang of both these platforms in a matter of minutes.
Both drag-and-drop editors also come with an easy-to-access dashboard with all the buttons you'll need to use the platform.
Most importantly, Simplified's platform takes into account the fact that the user might face issues and roadblocks during the project. This is why they've introduced in-app support to help fix real-time issues, in addition to their email support.
Try Simplified to Scale and Grow Your Brand!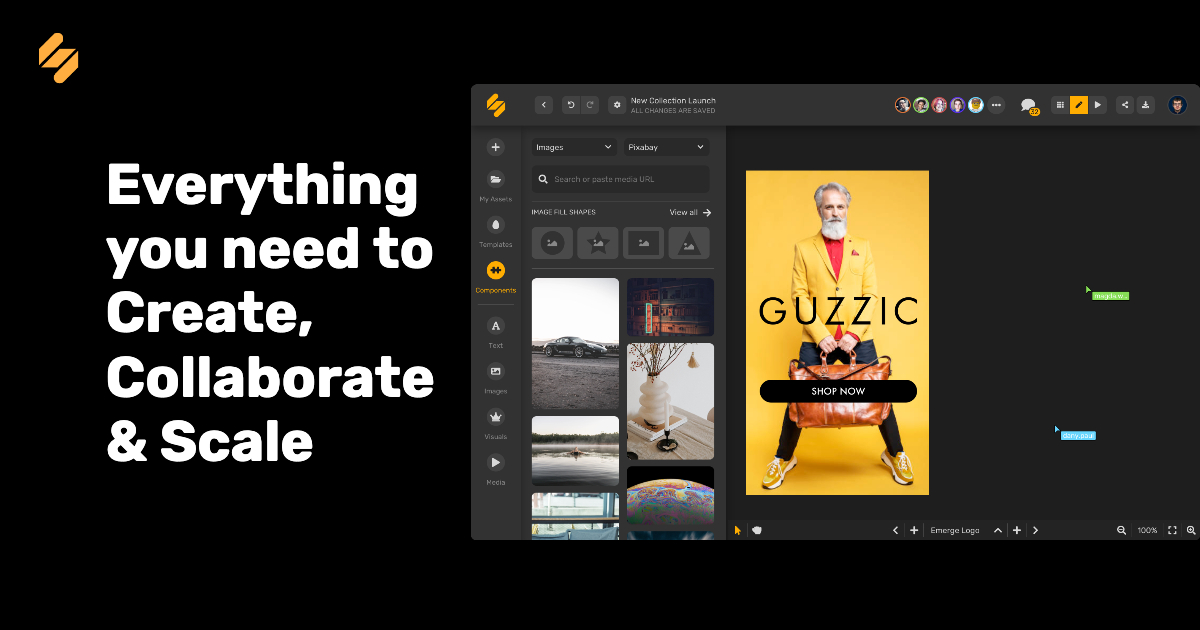 Graphic design apps like Adobe Spark can make doing your work a whole lot easier. Especially if the program comes with amazing features, templates, and so much more that help saves you a lot of time. Simplified is an amazing alternative to Adobe Spark that can help you in every step of your content creation journey- from ideation to publishing!