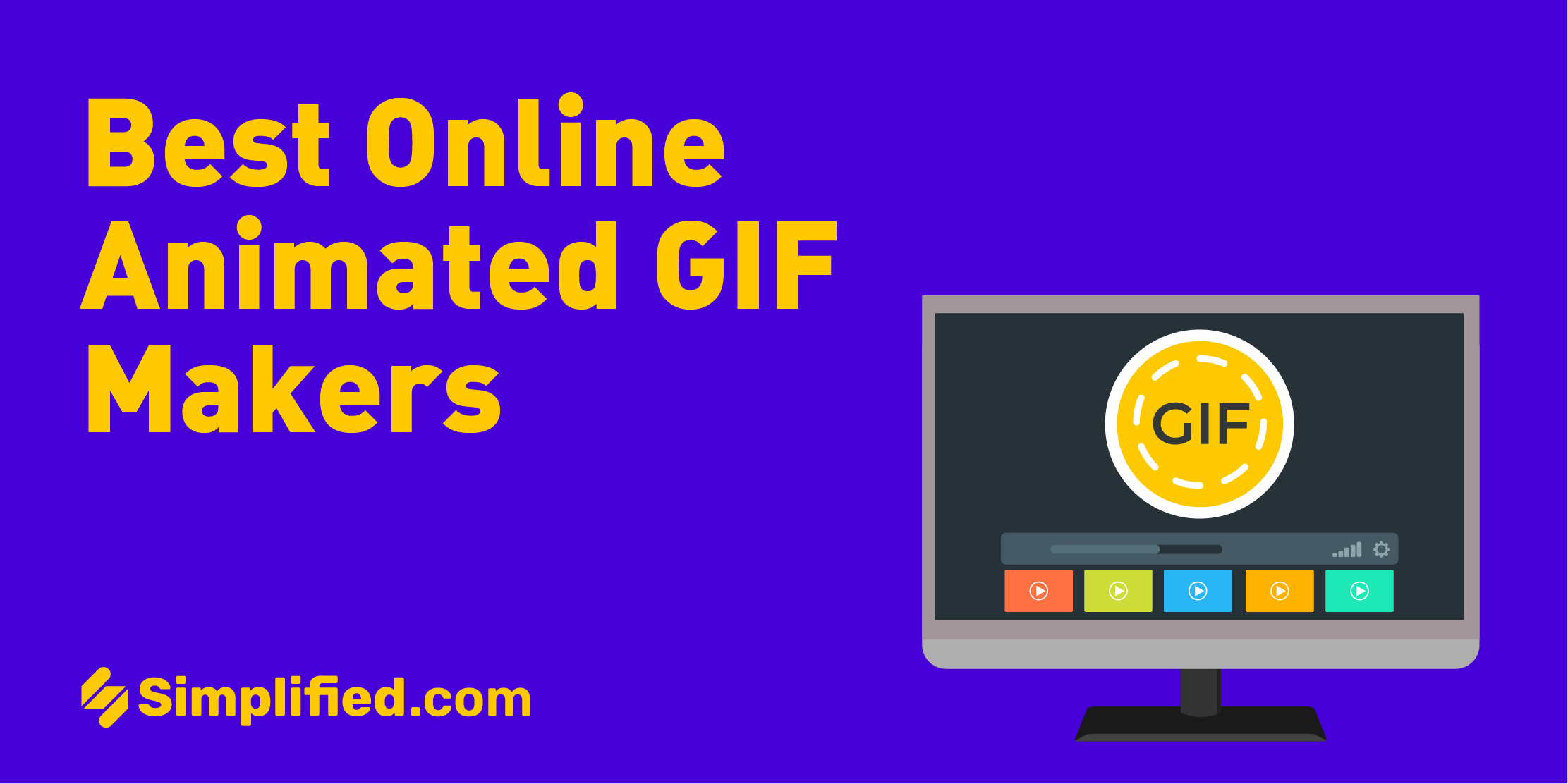 Animated GIFs are one of the most popular marketing tools that you can use for your content strategy. They are a fun way to add some pep to your content and make it more interesting.
They will surely make your blogs more engaging and improve your storytelling technique. GIFs can give a bonus point if you aim to reach a specific target audience. Plus, you can create them easily online with the help of different tools.
In this blog, we'll cover some of the best options out there to help you choose the best GIF maker for you. Let's jump right in!
What is a GIF?
Before choosing the best GIF maker, you first need to know a bit more about what a GIF is and how it functions. And if you are wondering how to make a GIF, that's not so tough either!
A GIF (Graphics Interchange Format) is a series of images played one after another. This is a great way to make a moving picture, and it can also be used for simple animations to create a video-like effect. This format can display up to 256 colors. Each image frame has a time delay determining how long it takes for a frame to be displayed.
Steering away from the technicalities, a GIF could be a video or a sequence of animated images that you'll often see on social media, blogs, emails, or when talking to a friend. GIFs can even be used to create marketing memes that make your brand feel more relatable and human!
Do I Need GIFs in My Marketing Campaigns?
The answer to this question is YES, and there are three major reasons why:
Improve Branding – You can add your brand's colors and logo when creating a GIF or even include what you're offering. For example, Amazon's logo can easily be transformed into a GIF to express what the website offers everything from A to Z.
Offer a Better Explanation – Visuals certainly make explaining different concepts a whole lot easier than plain text. Motion images contribute to this even more. Ranging from memes to important animations, GIFs can add little things to engage your readers and contribute to your content strategy by visualizing the emotions that you want to evoke in your audience or showing how to use a product.
Attract Visitors – A rule of thumb is that visuals break huge chunks of pieces and make them more appealing to people, who are on the internet to quickly find solutions to problems. If you want to produce fun, informative and engaging pieces, you can add GIFs to your copy. This way, your visitors will have a better experience with your content online.
If you're looking for the best GIF maker to save you time, boost your marketing campaign, and bring you more engagement online we've got your back!
The next sections are an overview of some of the best GIF apps on the Internet. After exploring them, you'll be able to select the best gif maker for your brand needs.
Related: How to Add Awesome Music to Your YouTube Videos for Free!
12 Best Online GIF Makers
1. Simplified
If you are looking for an easy way to create professional GIFs in seconds, Simplified is the best tool! The all-in-one content tool has become quite a favorite among modern creators for multiple reasons.
Simplified offers an amazing content library for inspiration. You can start from a pre-made template to create your GIFs or start from scratch. The design editor is easy to use with drag and drop feature and you also get to access tons of media assets like fonts, images, videos, and music. After your creation, you can export them as mp4 to share on your social media platforms.
You can also publish content with Simplified's content calendar across different platforms. What's more? You can invite your teammates to work with you on your projects. Collaboration and creation in just part of the fun.
Sounds great, doesn't it? And you can do all of this in the Free Forever plan. Start creating stunning animations with Simplified's GIF maker. There is no limit to your creativity once you have the right tools!
2. GIFPAL
GIFPAL is an online application with a straightforward approach to creating GIFs in seconds. It is among the best GIF makers though the interface may look slightly dated. All you have to do is add an image and choose any of the effects available.
Now, you can add more layers to the GIF and change the settings. You can also preview the changes you make to your GIFs and alter the speed within the app. Just bear in mind that GIFPAL doesn't offer as many features as Simplified.
3. Imgur
Imgur offers you a GIF gallery, as well as the opportunity to make your own GIFs. You can create and edit your pieces with features like resizing, rotation, and cropping. The gallery allows you to explore and discover the best GIFs for your content.
However, keep in mind that the servers hosting this website do get overloaded sometimes, so uploading and downloading images can take a while.
4. Wave
Wave video maker is a tool that has many different elements that you can use to edit your GIFs. Additionally, you can save your video entirely or in parts (up to 15 seconds) as a GIF. Also, you won't need any third-party applications.
You can save your whole video or in different smaller parts depending on what you need. While the platform does offer a free version, you can get much better features in the paid plan starting from $16 per month.
5. Make A GIF
Make A GIF is another online tool with which you can create animated GIFs. With this website, you can generate GIFs from Facebook or YouTube URLs. The tool lets you use a webcam video directly and rearrange the picture order using a drag-and-drop interface.
This means that you can create GIFs from your webcam and edit the video that you've just taken. But this platform is not completely free and you have to pay to access certain features. For example, to add a personalized watermark and social links, you'll need to become a premium member.
6. GIMP
GIMP is an online GIF generator that has more than 100 plugins. You can do multiple undo and redo actions during the working process as needed. You also have access to a foreground extraction tool. This tool allows you to extract the foreground from a selection or the active layer.
Additionally, you can access transformable selections and paths to get your desired animation. This means that you can create selections and adjust them depending on your preferences and needs. GIMP's only drawback is that the interface of the program is quite cluttered which means it isn't as easy to navigate as other apps.
7. GIPHY
You're probably familiar with GIPHY and may have even visited the website yourself. With this tool, you can create GIFs from videos, images, and different URLs from Vimeo, YouTube, and Facebook. You can also create your own designs with different stickers, filters, and freehand drawings. One setback of GIPHY is that irrelevant GIFs sometimes come up in the search results, so browsing for something specific can take a while.
8. Picasion
Picasion is a tool that lets you make avatars without the need for Flash. Another reason why you may consider Picasion is because, you can adjust animation speed on different levels: fast, normal, and slow. You can add text, captions, and even virtual glitter to your finished GIF! One downside of this website is that the user interface is a little outdated and hard to navigate. There are also ads and links that may ruin the user experience.
9. ezGIF
This is another of the best GIF maker apps that makes GIF-making easier with its user-friendly interface. Moreover, it allows you to add text and flip the images that you're using. Another advantage of this app is that you can create GIFs without watermarks or attribution. Lastly, Ezgif makes transforming a video into GIF online super simple with its 2000 file limit.
10. Gifs
This is the best GIF maker out there if you are looking to create fast and easy gifs. You can easily edit your videos by uploading them or adding the live URL. Now you can add the effects, filters, stickers, and captions as required. Free users get a limited amount of features along with the watermark. In order to use all of the best effects and tools you'll have to subscribe for the premium membership. The price starts at $1.99 per month depending on your usage.
11. Imgflip
Imgflip is a great GIF maker because of its simple user interface and ability to change multiple aspects of a GIF. You can not only create the transitions but also edit the size of the GIf- whether you want to upload it in your story or as a post. You can also create memes with GIFs and explore the ones created by the community. Though the platform may look outdated, the simple features for free make it worth exploring.
12. GIFMaker
GIFMaker is quite unmissable in your toolkit of the best GIF makers of 2023. Just like Simplified, it also offers you a ton of templates to choose from and begin with. The best part is that you get a variety of transitions and animation in high quality. On the downside, as a video app, it is quite expensive starting at $10 per month.
Boost Your Engagement with Simplified GIFs
As you can see, we've covered a lot of ground and have given you all the information you need to create your own GIFs. If you're looking for the best GIF marker for saving you time and effort while helping you boost your content strategy, Simplified is the top choice.
Simply upload a photo, choose your animation options, add text with our custom fonts, and download the finished product! The best thing about Simplified is that there are so many useful features to explore including the animation maker, the background remover, and many other graphic design tools. Moreover, you also get access to the AI writer and AI image generator. It's the first all-in-one platform that you can use to design stunning visuals with compelling copy.
Looking for that perfect app to design and create compelling content? There's is actually nothing better than Simplified!