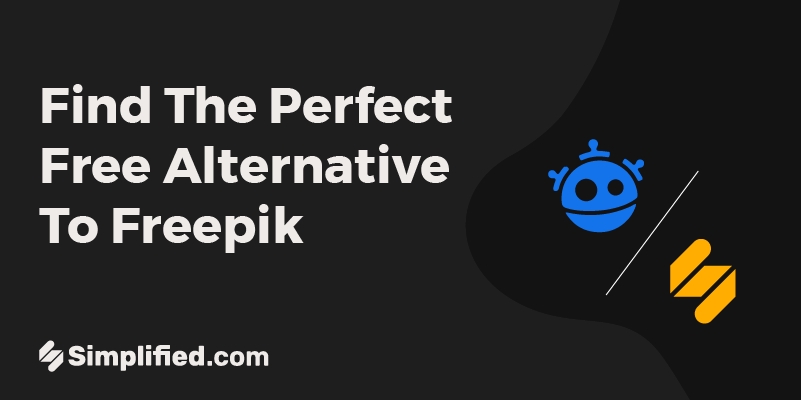 If you're reading this, you'll know that design platforms are a dime a dozen. It can be tough to decide which design app is right for you with all the options on the market! And it's even harder when you're trying to find one that has all the features you need and is affordable. But don't worry, we're here to help! This guide will show you why Simplified is the best free alternative to most design apps. It's easy to use and has excellent integrations, like Unsplash! Looking for a free Freepik alternative? Well, now you've found one!
| | | |
| --- | --- | --- |
| Basis | Simplified | Freepik |
| Pricing starts from | $18 | $10.49 |
| Features Simplified Offers that Freepik doesn't | | |
| AI Writer | ✅ | ❌ |
| Unlimited personalized brand kits | ✅ | ❌ |
| In-app Customer support | ✅ | ❌ |
| Design, Edit & Publish | | |
| Custom Fonts | ✅ | ❌ |
| Design Templates | ✅ | ✅ |
| Upload your own assets | ✅ | ✅ |
| Video editing | ✅ | ❌ |
| Video/Image conversion | ✅ | ❌ |
| Video templates | ✅ | ❌ |
| Animation & Transition | ✅ | ❌ |
| One-click Magic Resize | ✅ | ❌ |
| One-click Background Remover | ✅ | ❌ |
| Content Planner + Scheduling Posts (Publish to Facebook, Instagram, LinkedIn) | ✅ | ❌ |
| Organize & collaborate | | |
| Members | ✅ Unlimited | ❌ |
| Team sharing | ✅ | ❌ |
| Audio File Management | ✅ | ❌ |
| Real-time Collaboration: share your workspace + commenting while designing | ✅ | ❌ |
| Organizing: Folders | ✅ | ✅ |
| Built for teams | ✅ | ❌ |
| Premium community | ✅ | ✅ |
| Mobile Friendly | ✅ | ❌ |
| Tweet to Image | ✅ | ❌ |
| Integrations | ✅Google Drive, Google Sheets, Shopify, Chrome Extension, Storyblocks, Pixabay, Unsplash, Brandfetch, Pexels, Airtable, Zapier | ❌ |
Now, let's take a closer look at the pricing and features so you can determine which design app best suits you and your brand!
Pricing and Plans — A Powerful, Free Freepik Alternative
It is crucial to pay attention to pricing if you are a freelancer or small business owner because you probably have less expendable capital. And when you're scaling your brand, less is more. More than a Freepik alternative, Simplified is a powerful free design platform that takes care of everything big and small, from A to Z. Whether you want to generate sensational Instagram post captions or compelling LinkedIn ads, we have built the platform for you and your team.
Most Freepik alternative design platforms offer free trials before you subscribe to their services for a monthly or annual fee. These trials are short-lived and do not always include the breadth of features you'd like to test drive. Furthermore, design apps may be free for you to use, but they will have features, images, and design tools hidden behind paywalls for subscribers only.
For instance, websites like Freepik only allow access to premium photos and vectors once you have paid to use the design platform. Plus, you'll likely have to deal with pesky ads and won't have permission to download files after a certain set limit.
On the other hand, Simplified has a free forever plan which includes beautiful, high-resolution photographs integrated with Unsplash to make designing easy and fun! Moreover, you can add custom fonts and get access to vector icons and images – all for free! Is it a Freepik alternative or something MUCH cooler? You decide!
How is Simplified the best free Freepik alternative for teamwork?
Freepik only offers individual accounts, and therefore, there is very little scope for teamwork and collaboration.
However, with Simplified, you can invite your team to your workspace, comment in real-time, and share links to your design for viewing and editing – all for free!
| | | | |
| --- | --- | --- | --- |
| Packages | Simplified's Pricing | Freepik Pricing | What's the difference? |
| Free | $0 Free Forever | 30-day trial | Freepik offers a free trial for 30 days, after which you will need to pay either monthly or annually to unlock features and images. |
| Small Teams | $18/Month up to 5 members | N/A | Freepik does not have separate billings for teams and only allows individual accounts as part of its subscription plans. |
| Businesses | $30/Month up to 5 members | N/A | Freepik does not offer any plans for businesses, unlike Simplified, which is specifically geared toward teamwork! |
| Growth | $75/Month up to 5 members | N/A | Simplified offers a brand-new subscription plan that allows established businesses to subscribe! |
| Enterprise | Talk to us for the best plan for your enterprise! | N/A | Simplified has custom pricing plans for your brand, so get in touch today to receive a quote! |
All the Features: AI Copywriting, Templates, Videos, and Assets
Now that we've covered costs, let's get down to the brass tacks – which design app offers the specific features that your brand needs? Below, we'll detail some great features that make Simplified the best free Freepik alternative!
Related: The Best Free Alternative to Visme: Simplified (Free Forever or Paid Premium) vs. Visme ($25 Per Month)
AI Copy Generator
Simplified is the world's first design platform with an AI copy generator. Simplified makes it easy to create stunning marketing copy for all your social media platforms. Your brand is a promise to your audience, and Simplified's promise to you is speedy and efficient copy that's generated in seconds!
Simplified covers all the bases you can think of when it comes to writing AI copy. From AI copywriting for Facebook Ads Headlines to PAS copywriting and Blog Introductions to Hashtag Generator, your brand's copy is in good hands.
Freepik doesn't offer the same copy AI services to generate copy for your brand. Clearly, better Freepik alternatives exist.
Furthermore, Simplified's intuitive AI software also generates creatives once you have chosen your favorite generation, ready to post and repost!
Templates
Both Simplified and Freepik allow their users to choose from design templates to create graphic designs for social media. Even so, there are some essential differences that make Simplified a great free alternative to Freepik:
Simplified's template library is free forever so everyone can create stunning graphic designs, whether for Instagram posts or LinkedIn ads. However, Freepik only offers access to its template library during the 30-day free trial, after which you will have to subscribe to its pricing plan.
Simplified offers design templates for ALL social media channels – Facebook, Instagram, LinkedIn, Snapchat, Pinterest, Youtube, and Twitter. On the other hand, Freepik does not have design templates for Pinterest, Snapchat, or LinkedIn.
Related: The Best Alternative to Snappa: Simplified (Free forever) vs Snappa ($120 Paid Annually)
One-Click Editing Tools
Who needs small, pesky edits to slow down their creative process? To minimize effort and maximize efficiency, the Freepik alternative Simplified offers one-click editing tools like their magic background remover! The world of graphic design and social media marketing is cutthroat.
To stay neck and neck with your competitors, you need all the design tools to push content with minimal errors and maximum effect. Simplified offers these one-click editing tools that make the all-in-one design platform the best free alternative to Freepik:
Removing Image Background. Drag and drop the image onto your artboard or choose images from Unsplash, then choose "Remove Background" from the top menu. Easy peasy! Freepik does not offer this one-click tool.
Image Resizer. This is Simplified's gold mine – the fastest editing tool there is! Simplified's Image Resizer can optimize posts for social media marketing. Need to use an Instagram post for a Youtube thumbnail image? The Image Resizer will reformat it for you in seconds! However, Freepik does not offer the same feature.
Animations. Simplified's one-click text and image animation tool is free for everyone, whatever package you are on. All you have to do is click on your image and then on "Animate"!
Videos
Can't get that one song you heard on Reels or TikTok out of your mind? That is how brands stay fresh in their audience's memory – and with Simplified's one-click video tools, you can create a trending video, too! If you don't know where to start, head over to Simplified's high-quality and free video database, which is free and accessible to all! For content creators who love making videos but aren't sure where to start, Simplified is the best Freepik alternative.
Resource Library
Freepik has 2 categories of vector images – "Free" and "Premium" – while Simplified is stocked with millions of free stock images from Unsplash, plus other watermark-free photographs and videos from Giphy, Storyblocks, and Pexels! You'll probably find the images you want on Freepik locked away in their Premium Plan, so Simplified has way more to offer. Again, is it really a Freepik alternative if it's sooo much better?
Social Sharing: In-App Planning, Posting, and More on Freepik and Simplified
Congratulations! You've reached the end of your design journey and now it's time to share your stunning work on social media. This is the checkpoint where you're ready to publish your design as part of your brand campaign or marketing strategy.
Here, let's look at why scheduling posts for social media is oh-so-easy with Simplified!
Online Diary. You can schedule to post your design at a particular time by setting a time on Simplified. Even if you're away from your laptop, the post will be up!
Efficiency. Stay on brand and on time with scheduled posts so you never miss your optimized posting window.
In-App Planning. Simplified is a complete graphic design platform in itself because you can ideate, create, visualize, design, and publish all through your Simplified account! Our platform allows you to visualize the layout of your social media calendar – doesn't that sound easy?
Meanwhile, Freepik does not have the same in-app planning and scheduling features. Therefore, Simplified is the best Freepik alternative for all your brand's needs – from designing all the way through to publishing.
Collaboration & Organizing: Are Freepik and Simplified Good for Teams?
First off, Freepik is optimized only for individual accounts. This means that the design platform is not ideal for small teams or businesses who want to collaborate on projects and use helpful features such as commenting in real-time. When it comes to teamwork, what makes Simplified the best Freepik alternative? Let's take a look below:
View and edit your team's design projects and offer comments in real-time instead of going back and forth over email or Slack.
Share the link to your design with people outside of your team to get feedback or send it to your brand's clientele for easy review.
Simplified also offers the feature of shared workspaces so you can create stunning graphics together as a team.
Getting Started: How Easy is it to Use Freepik and Simplified?
How easy is it to use both design platforms? For new users, and especially people who don't like a lot of visual content, Freepik can be a bit much. Simplified's UX, on the other hand, is a sleek, modern interface with yellow buttons set on a black background for maximum visibility and easy navigability.
Furthermore, Freepik only offers support to its Premium users, while Simplified's in-app support bot is always there to help you navigate your design journey!
There's a clear winner here – and we can assure you it's not Freepik! (Psst – it's the Freepik alternative, Simplified)
What are you waiting for? Go try out Simplified TODAY! Did we mention it's free forever?