If you've been looking for free graphic design software, you may have come across websites like Pixlr. But with so many options available, it can be hard to figure out which one is best for you and your business.
Not to mention whether they have all of the features that you need. To help you make the right choice, we've compared Pixlr with Simplified – a free Pixlr alternative that offers powerful graphic design, photo editing tools, and more! Read on to learn more about each option.
Simplified vs. Pixlr: Comparison at a Glance
Basis

Simplified

Pixlr

Pricing starts from

$8

$4.90

Features Simplified Offers that Pixlr doesn't

AI copywriting

✅
❌

Unlimited personalized brand kits

✅
❌

In-app Customer support

✅
❌

Design, Edit & Publish

Custom Fonts

✅
✅

Design Templates

✅
✅

Upload your own assets

✅
✅

Video editing

✅

❌

Video templates

✅

❌

Animation & Transition

✅

❌

One-click Magic Resize

✅
✅

One-click Background Remover

✅
✅

Content Planner + Scheduling Posts (Publish to Facebook, Instagram, LinkedIn)

✅
❌
Organize & collaborate

Members

✅ Unlimited

❌

Team sharing

✅
❌

Audio File Management

✅
❌

Real-time Collaboration: share your workspace + commenting while designing

✅
❌

Organizing: Folders

✅
❌

Built for teams

✅
❌

Premium community

✅
❌

Mobile Friendly

✅
✅

Integrations

✅
Google Drive, Google Sheets, Shopify, Chrome Extension, Storyblocks,
Pixabay, Unsplash, Brandfetch, Pexels, Airtable, Zapier
✅
Google Drive
Pricing and Plans- A Powerful Free Alternative to Pixlr
If you were wondering is Pixlr free, it has a basic free plan with limited access to tools and features. It also offers a free 30-day trial of their premium plan, which is billed $7.99 after the first month.
Simplified, on the other hand, is a completely free Pixlr alternative with access to a huge number of graphic design and photo editing tools.
However, if you are looking for an option with collaboration software and want to know does Pizlr have team plans, the answer is No. Pixlr does not offer plans for teams. Instead, it provides free, premium, and creative plans that are designed for individual creators. If you want a Pixlr alternative with more collaborative plans, Simplified has a range of options that cater to teams of all sizes.
| Packages | Simplified's Pricing | Pixlr Pricing | What's the difference? |
| --- | --- | --- | --- |
| Free | $0 Free Forever | Free | Pixlr's free plan gives you some design elements and templates for free, but you'll need to pay for the premium version to access all the templates, icons and tools. Simplified's entire template and asset library is free forever. |
| Small Teams | $8/member per Month | $59 per year for individuals | Pixlr does not offer team plans. There is only a premium plan with a 30 day free trial. |
| Businesses | $24/member per month | N/A | Pixlr doesn't have a plan for mid-size businesses. |
| Enterprise | Talk to us for the best plan for your enterprise! | N/A | Simplified's enterprise plan has advanced AI features like long-form content and automated workflows. Pixlr on the other hand, does not have enterprise plans. |
All the Features: AI Copywriting, Templates, Videos, and Assets
Moving to the biggest part of this comparison, it's time that we get into the details and talk features and tools! Here is all that you need to know about Pixlr and Simplified to see which one has the capabilities that you need for your content and marketing workflow.
Templates
Choose from a variety of Templates on Simplified.co
Pixlr offers templates as part of their premium and creative plans, which are both paid subscriptions. If you want access to creative templates without the cost, Simplified is a great free alternative to Pixlr. You can browse a wide selection of templates and assets to help you create great designs easily, without spending a penny!
AI Copywriting Generator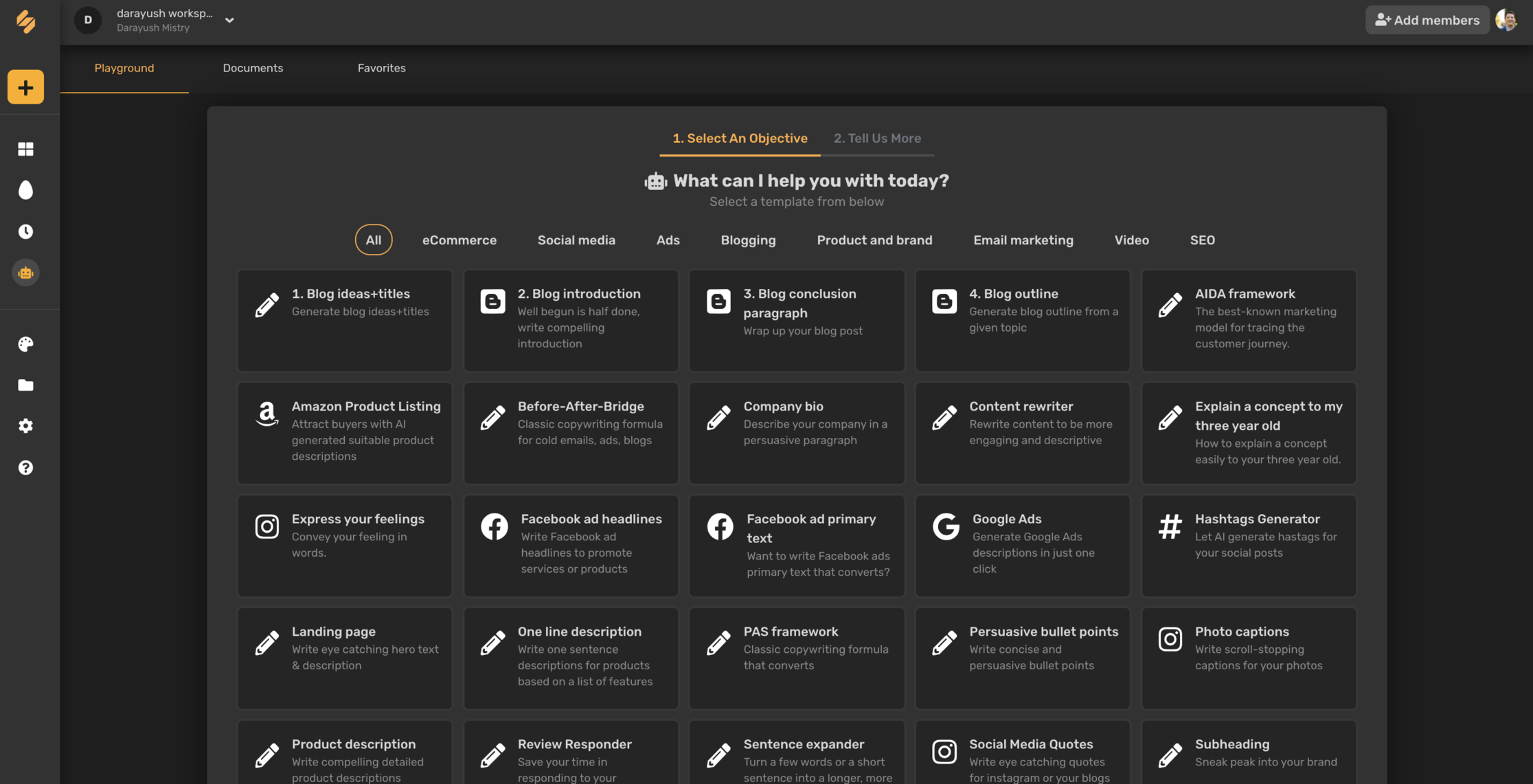 Write effective AI copies with Simplified.co
Free design websites like Pixlr offer graphic design and photo editing tools, however, they do not provide copywriting features. If you need help with your web copy, Simplified has a variety of free AI copywriting tools to help you create unique copy for all your content needs. This means Simplified is not only a free graphic design software but more of an all-in-one solution. You also have the option of turning your AI-generated copy into a design in literally one click using Simplified. It really doesn't get any better than this!
One-Click Editing Tools
Editing is as simple as a click on Simplified.co
Pixlr offers several editing tools, but these are part of their paid premium and creative plans. The free Pixlr plan only offers a limited number of basic editing tools. Simplified, on the other hand, provides free access to all of its one-click editing tools, making it a great alternative to Pixlr.
Simplified's magic, one-click background remover is free forever, while Pixlr's is a paid feature for premium users only. Other free tools on Simplified include the Image Resizer, which can take one design and reformat it for any platform. This means you save time and energy not having to reformat all your designs for different platforms.
Another tool to speed up your workflow is Simplified's one-click text and image animation tool. Spice up your designs with animations, all with the click of a button, all for free! Creating an animation on Simplified is as simple as highlighting an element and clicking "Animate." Choose from choose 35+ animation styles to make your designs stand out!
Videos
As a simple graphic design tool, Pixlr only offers features for photo editing and design. As a result, you will not be able to create video content on the platform. If you want a Pixlr alternative that can help you create videos as well, Simplified has built-in video editing software to use in your designs. You can browse Simplified's free, high-quality video library with thousands of videos that are available to you with the click of a button. Also, Simplified offers amazing video templates that make it easy to get started with creating your video for free!
Resource Library
Pixlr only offers a limited collection of stickers and overlays on the free version, requiring you to upgrade to the paid version to access the rest. Unlike other graphic design software, Simplified provides access to a huge resource library with assets and templates.
Simplified lets you access millions of watermark-free, stock images and videos from Unsplash, Pexels, Giphy, Storyblocks, and more. Choose from a massive stock image and video library on Simplified and use them in your designs for free!
Social Sharing: In-App Planning, Posting, and More on Pixlr and Simplified
Simplified is a one-stop platform for marketing teams to work on writing, design, and much more. With features to make collaboration easy, Simplified is a great Pixlr alternative for design and marketing teams to create content and work on projects together. With folders, comments, and other collaborative features, Simplified is more than just a graphic design software.
With Simplified's social sharing features, you can easily create, schedule, and share social media posts to create effective social media campaigns. Have your team work together easily and use Simplified's brand kits to create a cohesive brand image and marketing campaigns.
Collaboration & Organizing: Is Pixlr and Simplified Good for Teams?
One of the biggest parts of content marketing is collaborating with your team. Say goodbye to endless rounds of feedback and miscommunication, with Simplified's powerful collaboration tools.
Both Simplified lets you comment in real-time, share workspaces, and has project organization tools, all for free. Pixlr does not offer you collaboration tools or features even if you pay for the paid version. However, on Simplified, you can organize projects, assets, and more in 'folders', making it easy to organize and work as a team.
Simplified also lets you create unlimited workspaces for separate clients, projects, or campaigns as a free user. You can also streamline your approval process by assigning roles and customizing sharing settings on Simplified's free plan.
With the absence of collaboration or organization tools and features, Pixlr is more suited to the individual designer. On the other hand, Simplified's collaboration workflows are built for teams and brands of all sizes and is easy to scale with your needs.
Getting Started: How easy is it to use Pixlr and Simplified?
Pixlr has two interfaces called Pixlr X and Pixlr E. Pixlr X is more basic and targeted at beginners, while Pixlr X is aimed at advanced users. They both offer a similar interface but differ in the kind of workflow and tools that each of them offers. However, power users and teams may find the free version of both to be limiting with advanced features reserved for premium users.
Meanwhile, Simplified has a clean and easy-to-use interface that is well laid out and simple to navigate. With all the tools laid out in an easy-to-navigate manner, Simplified is great regardless of your experience level. Simplified's interface is designed for you to easily find what you are looking for and get started. Tools and templates are laid out in a user-friendly interface that is easy to work on and scale as your team and brand grow.
Tools and projects are laid out in an easy-to-navigate interface on Simplified.co
If you are looking for a free graphic design software that can accommodate all your needs, regardless of your experience or the size of your team, Simplified has you covered. You can collaborate on all your marketing projects from designs to copywriting and ads in one place. Hence, if you are looking for a one-stop Pixlr alternative that is free and easy to use, head over to Simplified.co now and see how you can make your design and copywriting process simple so you can spend more time on creativity!
Better Shopify sales are just a few steps away.

One Free app to design, collaborate, and scale your work – try Simplified today.