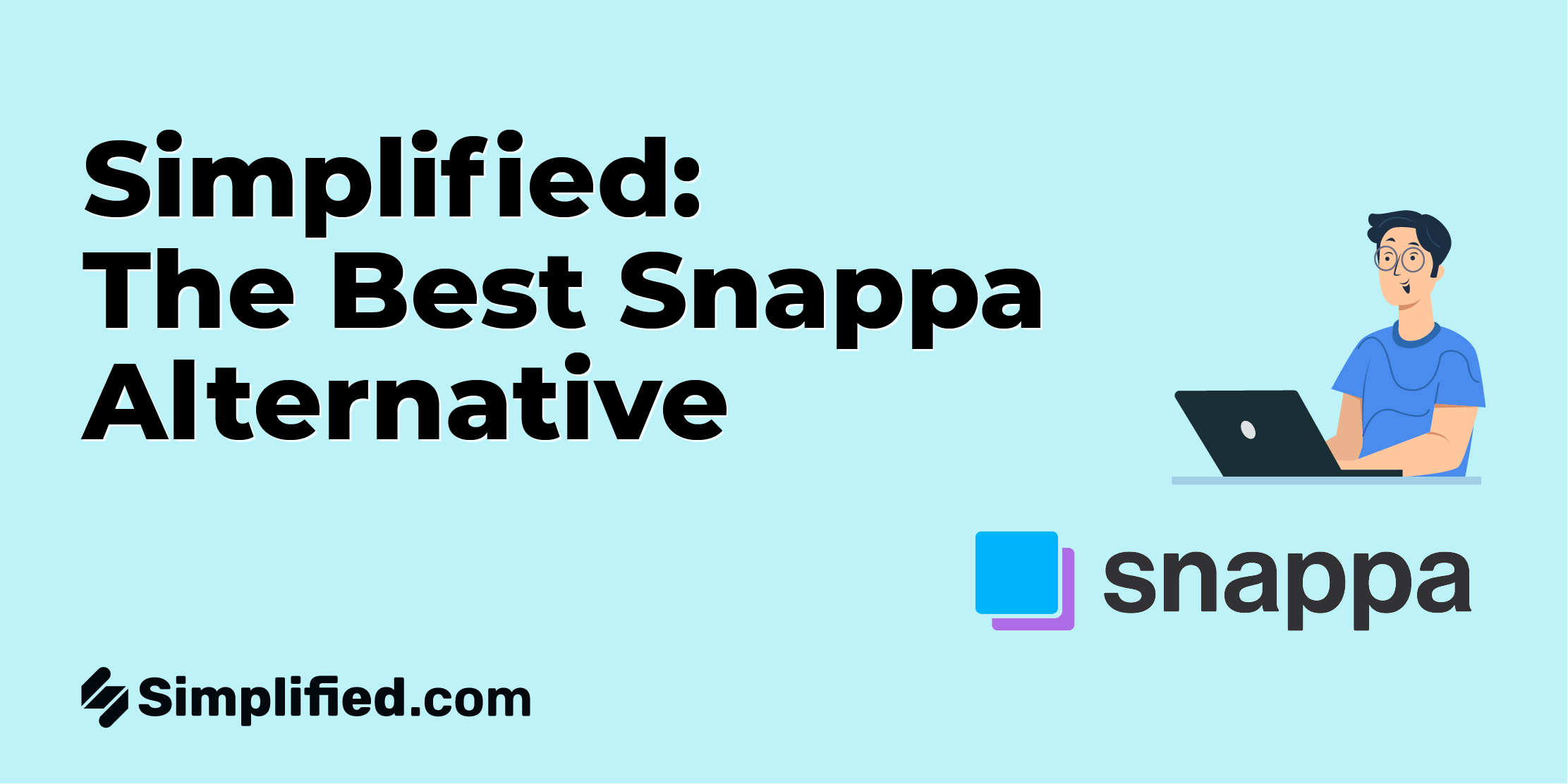 Sometimes the hunt for the perfect design tool is more exhausting than the design journey. You're likely swimming in an ocean of options, confused about which design platform will be the ideal fit for your brand.
Are the editing features free? Which platform offers more resources? Will I get my money's worth? Among many other questions, these are important factors in choosing one design tool over the others.
In this guide, we'll walk you through Simplified – the best Snappa alternative – together with its features and pricing plans. We'll also show you how this all-in-one platform compares to Snappa.
Simplified vs. Snappa: Comparison at a Glance
| | | |
| --- | --- | --- |
| Basis | Simplified | Snappa |
| Pricing starts from | $21 (for 5 members) | $15 (Individual) |
| AI copywriting | ✅ | ❌ |
| Unlimited personalized brand kits | ✅ | ❌ |
| In-app customer support | ✅ | ✅ |
| Design, Edit & Publish | | |
| Custom Fonts | ✅ | ✅ |
| Design Templates | ✅ | ✅ |
| Upload your own assets | ✅ | ✅ |
| Video editing | ✅ | ❌ |
| Video templates | ✅ | ❌ |
| Animation & Transition | ✅ | ❌ |
| One-click Magic Resize | ✅ | ✅ |
| One-click Background Remover | ✅ | ❌ |
| Content Planner + Scheduling Posts (publish to Facebook, Instagram, LinkedIn) | ✅ | ❌ |
| Organize & collaborate | | |
| Members | ✅ | ✅ |
| Team sharing | ✅ | ✅ |
| Audio File Management | ✅ | ❌ |
| Real-time Collaboration: share your workspace + comment while designing | ✅ | ❌ |
| Organizing: Folders | ✅ | ✅ |
| Built for teams | ✅ | ✅ |
| Premium community | ✅ | ❌ |
| Mobile Friendly | ✅ | ❌ |
| Integrations | ✅Google Drive, Google Sheets, Shopify, Chrome Extension, Storyblocks,Pixabay, Unsplash, Brandfetch, Pexels, Airtable, Zapier | ✅Buffer |
| AI Text-to-Image Generator | ✅ | ❌ |
| Approval Workflows | ✅ | ❌ |
Now that you've had a cursory glance at the features offered by Simplified vs. Snappa, let's take a look at pricing and plans for each design tool below.
Pricing and Plans— A Powerful Free Alternative to Snappa
This one goes out to all freelancers and small business owners looking to get more bang for their buck. Simplified is a powerful free design tool that takes care of your design needs for your brand at no cost!
However, websites like Snappa have a short free trial period after which you need to pay to unlock basic features.
Many design platforms offer free trials before you subscribe to their services for a monthly or annual plan. However, these trials are short-lived and don't always include the breadth of features you'd like to test drive before subscribing.
In fact, these design tools may be free for you to use, but they will have features hidden behind paywalls so subscribers can only access them.
For instance, Snappa limits users to 3 downloads per month, after which you have to subscribe to their Pro Plan for unlimited downloads.
However, Simplified's free forever plan includes gorgeous high-resolution photos integrated with Unsplash to make design accessible and fun! Furthermore, you can add custom fonts and get access to vector icons and images – all for free!
What makes Simplified the best alternative to Snappa for teamwork?
Snappa offers limited resources for free users, with no Buffer or social media integrations on their free plan. Moreover, their Pro Plan and Team Plan also limit the number of users to a maximum of five, which makes team collaboration harder.
Meanwhile, Simplified has free resource libraries even for those who only use the free plan! When it comes to its paid plans, it offers a platform for small to big teams to collaborate in real-time. Additionally, this wonderful Snappa alternative also allows the functions of video editing and AI copywriting (which we will discover in our next section).
Simplified vs. Snappa: Comparing Pricing & Plans
| | | | |
| --- | --- | --- | --- |
| Packages | Simplified's Pricing | Snappa Pricing | What's the difference? |
| Free | $0 Free Forever | Free with limited functions | Simplified offers a free forever plan while Snappa only allows a free trial.Once your free trial expires you will have to upgrade to their Pro Plan to unlock unlimited downloads among many other features hidden behind a paywall. |
| Small Teams | $21/up to 5 members per month (billed yearly) | N/A | Snappa doesn't have a plan for small teams. Their Pro Plan only allows one user and is billed yearly at $10/month. |
| Businesses | $35/up to 5 members per month (billed yearly) | $30/Month Billed Monthly | Snappa's Team Plan offers features to a maximum of 5 users which is hugely limiting when it comes to team collaboration. |
| Growth | $85/up to 5 members per month (billed yearly) | N/A | This plan is extremely suitable for high-growth businesses, with extra-helpful and advanced features. |
| Enterprise | Talk to us about the best plan for your enterprise! | N/A | Simplified's enterprise plan has more advanced AI features for enterprises/ agencies such as long-form content, extra workspace, and automated workflows. Snappa Enterprise plan includes features like Multiple Brand Kits, which are accessible for free with Simplified! |
All the Features: AI Copywriting, Templates, Videos, and Assets
Now that we've covered the basics of pricing plans let's get down to the nitty-gritty – which design tool offers the specific features that your company needs? Below, we'll detail some great features that make Simplified a great free alternative to websites like Snappa!
AI Copywriting Generator
Simplified is the world's first design platform that uses AI to create copy for your marketing collateral. With Simplified, you get to keep up with your competitors and create stunning marketing copy in seconds!
Simplified has all kinds of features for writing copy; whether your goal is to generate content for social media or make an ad, you can do it all on Simplified!
However, Snappa doesn't offer copy AI services so you will likely have to shell out more money to generate copy for your brand.
Templates
Both Snappa and Simplified offer hundreds of templates. However, not all these can be accessed and downloaded on Snappa. What makes Simplified the best Snappa alternative for design templates?
The Simplified template library is free forever so that everyone can create stunning graphic designs. Whether you're creating Instagram posts or LinkedIn ads- these design templates are the perfect way to promote your brand. On the other hand, Snappa offers free templates but you can only download them a total of 3 times in one month until you upgrade to their Pro Plan.
Simplified offers quick and professional design templates for ALL social media channels – Facebook, Instagram, LinkedIn, Snapchat, Pinterest, Youtube, and Twitter. However, Snappa's templates are limited to Facebook, Instagram, Linkedin, Twitter, Pinterest, and YouTube.
One-click Editing Tools
Both design tools, Simplified and Snappa, have one-click background removers and resize tools, which are perfect for quick and easy editing. However, did you know that Simplified also has a one-click animation tool?
Here's how to animate your photograph/media on Simplified:
Click on the image on your artboard.
From the top menu select "Animate"!
Your graphic is now ready to be shared as a boomerang on Instagram or a GIF for your brand!
Websites like Snappa do not offer this neat design tool!
Videos
Instagram Reels and TikTok videos are always buzzing with new songs! At Simplified, we recognize the importance of building your brand identity with the assistance of audio-visual tools.
This is why the best Snappa alternative offers one-click video editing tools to help your brand go viral! On the other hand, Snappa does not offer any video editing tools.
Resource Library
We've simplified the process of finding and using images with Simplified. This great Snappa alternative is powered by millions of free stock photos from Unsplash, watermark-free photos, and videos from Giphy, Storyblocks, Pexels, and much more!
Snappa also offers copyright-free photos; however, since you're limited to only 3 downloads per month, the images that you want to use for your next campaign will have to wait until you've subscribed to their Pro or Team Plan.
Related: The Best 2023 FREE Alternative To Peppertype AI: Simplified
Social Sharing: In-App Planning, Posting, and More on Snappa and Simplified
Once you're done with the design, it's time to share your content on social media. To make sure your content is seen by everyone who matters, you need to schedule posts in advance. The easiest way to do this is through Simplified!
Online Diary – With Simplified's online diary, you can schedule to post your design at a particular time. You simply set the time, and it will be posted for you, even if you're away from your laptop!
Time Management – Schedule content in advance to stay on brand and on time. Our editorial calendar makes it easy to plan, publish, and share your content with the team.
In-App Planning – Simplified is a complete graphic design platform in itself because you can ideate, create, visualize, design, and publish all through your Simplified account! Now you can see the layout of your social media calendar without having to go anywhere else.
However, Snappa doesn't offer the same features of post-scheduling and in-app planning. Therefore, Simplified is the best Snappa alternative because it helps you at every step of your design journey, from ideation to publishing!
Collaboration & Organizing: Are Snappa and Simplified Good for Teams?
First of all, Snappa only allows up to 5 team members to collaborate on their Team Plan. So, if your team exceeds five members, you cannot edit in real-time simultaneously because of this limitation.
On the other hand, Simplified allows you to add an unlimited number of your teammates to your workspace! What makes Simplified the best free alternative to Snappa for team collaboration? Let's take a look below:
You can view and edit your team's design projects in real time. This way, you don't have to go back and forth over email or Slack.
With the shared workspaces feature, you can create stunning graphics together.
You can share the link to your designs with others outside of your team or send it to clients for easy review.
On the other hand, websites like Snappa allow the function to share designs to your social media channels but don't offer the useful function of commenting in real-time as Simplified does!
Getting Started: How Easy Is It to Use Snappa and Simplified?
Simplified's user interface is extremely modern, with yellow buttons on a black background for increased visibility and easier navigation. Simplified also has an in-app bot to help you navigate your design journey! Snappa's UX is crisp with blue text on a white background.
However, this wonderful Snappa alternative can switch between dark and light modes depending on your preference – isn't that cool?
Simplified is an all-in-one content creation platform and undoubtedly the best Snappa alternative on the web today!
Create amazing graphic designs for ads, social media posts, company headers, logos, invitations, and more using designer-made templates. With key features like the image resizer, background remover, and animation maker, designing has never been easier.
Upload your own unique brand kit to Simplified or make new brand assets with beginner-friendly, no-code design tools!
So, sign up for Simplified – the best free Snappa alternative today!