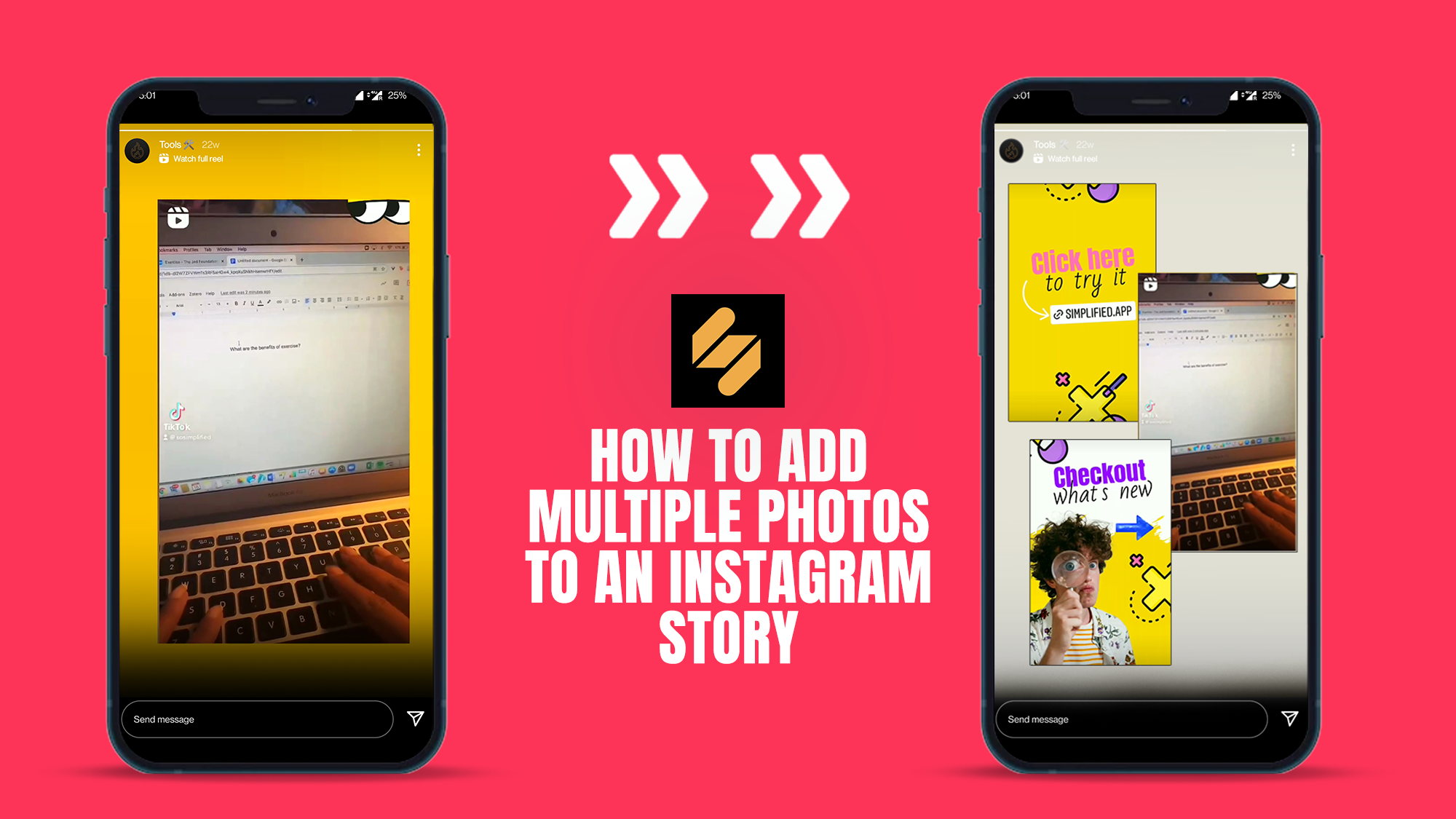 Did you know that you can add multiple photos to an Instagram Story? As one of the most well-known social media platforms, Instagram is continuously thinking of new ways to let people see glimpses of your life. The introduction of Stories, which was adapted from Snapchat, has been one of the key developments over time. Now, Instagram gives users the option to share a post with numerous images instead of requiring them to pick only one for their post.
Through Instagram Stories you have the ability to post pictures or videos that are only accessible for 24 hours. This encourages people to contribute more since it lessens the pressure of needing to produce a single Instagrammable post.
Posting several Instagram images at once allows you to create a better story while also saving time, boosting engagement, and maintaining distinct themes. We'll show you 2 ways to add multiple photos to an Instagram Story.
Related: 9 Tips For Having Fun At Work: Instagram Stories for Your Business
How to Add Multiple Photos to an Instagram Story Using Instagram
Uploading many photos to your Stories can help you express yourself more creatively. You can add multiple photos to your Instagram Story at once or make a collage with multiple images.
There are various ways to simultaneously upload multiple photographs to an Instagram Story.
You can choose up to 10 images and videos from your camera roll and these will be added to your Story as 10 individual slides.
You can layer many images on a single slide as stickers.
You can use Instagram's built-in Layout feature to make a collage in your story.
It's quite simple to add multiple photographs to your Instagram Story, and it's a terrific method to increase engagement and gain more followers.
Adding 10 Images Using the Instagram Story Editor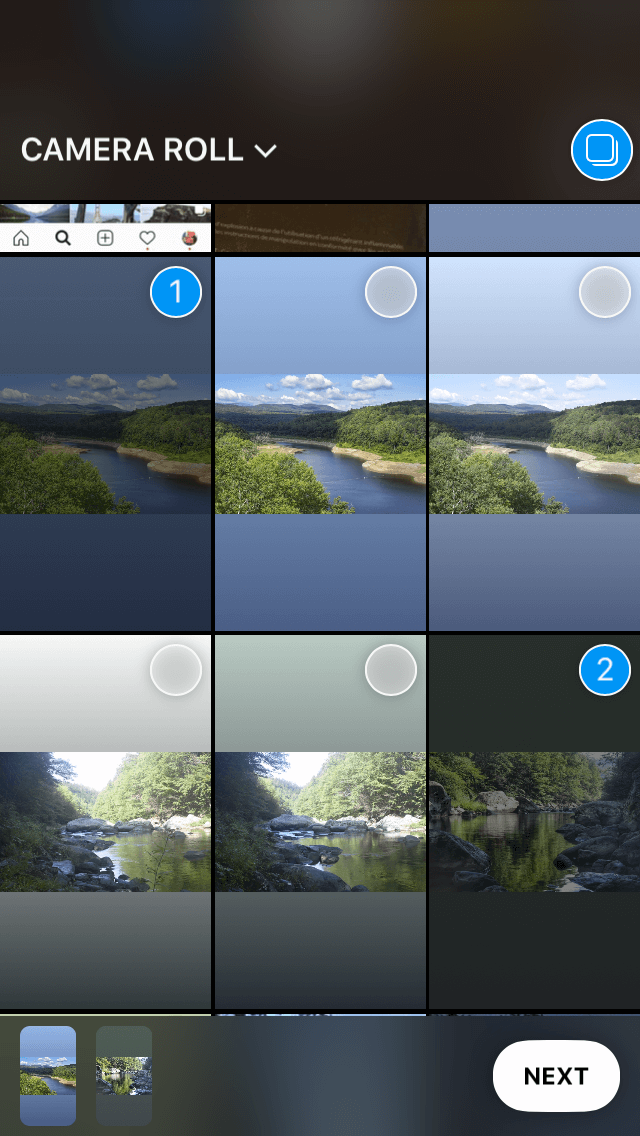 1. Open Instagram Stories.
2. At the bottom of the screen, tap the photo icon.
3. In the upper right corner, click on the "Select" button or the multiple photo icon.
4. Tap the pictures you want to include in your Stories in the order you want them to appear. When you tap each image, a number will appear so you can see the order. Your Stories can hold up to 10 photos at once.
5. When you click "Next", you will be asked to choose from the "Separate" or "Layout" options. Choosing the separate option means the 10 photos will each have their own slide. The layout option will turn your photos into a collage in a single slide.
6. Complete your story by adding text, music, filters, or other stickers.
7. Post it.
Adding Multiple Photos in One Story Using the Sticker Feature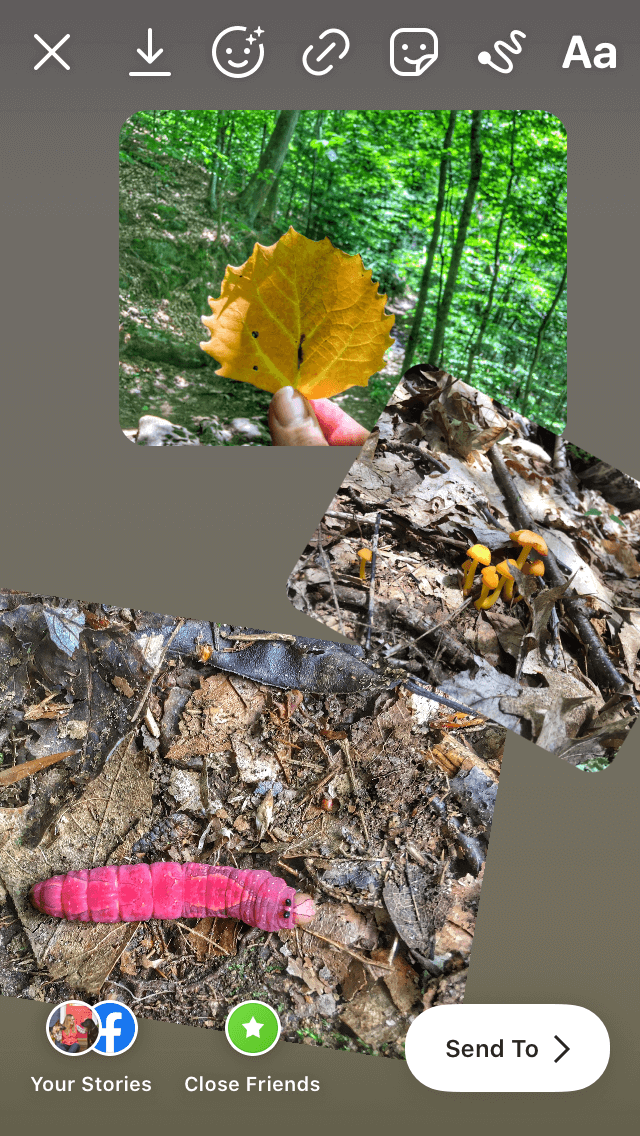 1. Open Instagram Stories.
2. At the bottom of the screen, tap the photo icon.
3. Click the sticker icon in the upper-right corner of the screen.
4. Scroll down and look for the photo sticker icon.
5. Click it and it will make you add another image to the screen.
6. Continue doing this until you have all the images you want for your Story.
7. Change their position or make the images smaller or larger by pinching the screen with two fingers.
8. Complete your story by adding text, music, filters or other stickers.
9. Post it.
Adding Photos to the Built-in Layout Feature of Instagram Stories
1. Open Instagram Stories.
2. Click the Layout icon located on the left side of the screen.
3. Browse the various layout choices depending on the number of photos you want to collage.
4. To select the photographs for your collage, click the photo icon in the lower left corner.
5. You can add stickers, text, music, filters, and other stickers after creating your collage.
6. Post it.
How to Add Multiple Photos to Instagram Story Using Simplified
With Simplified, you can manage your Instagram account better. Simplified allows you to post and schedule Instagram Stories. You can do this within the content calendar.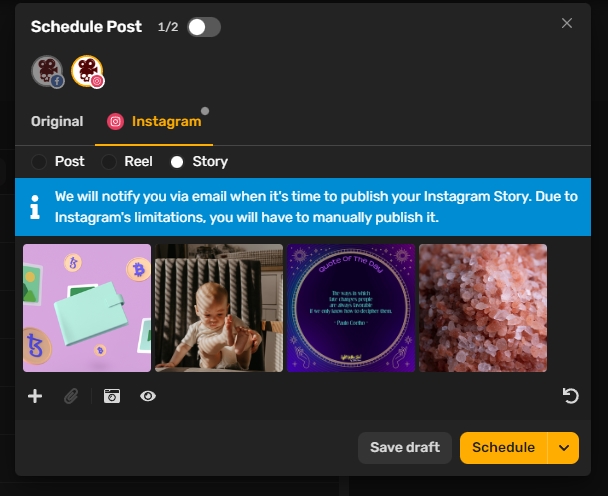 1. Create a post.
2. Select Instagram as your platform of choice.
3. There are 3 options: Post, Reel, and Story. Choose the "Story" option.
4. Click on the plus sign to add photos from any source.
5. Schedule it or post it right away.
Design Instagram Posts in Minutes
Not only can you use Simplified to add multiple photos to an Instagram Story, but you can also design visuals, write content, edit videos, and publish posts on just one platform. It's an all-in-one marketing tool.
Simplified can provide you with everything you need for Instagram, from the creation of key visuals to the actual posting. There are different templates to choose from and you can even resize photos for Instagram.
Start using Simplified right now to make Instagram easy to manage!