Want to remove the background from an image but don't want to blow money on software that's expensive and has a steep learning curve? Well, here, you're in luck. In this blog, we're going to give you a list of the best 10 background remover tools out there. To make our recommendations, we've assessed these tools based on the following features:
UX
User-friendly UI
Fast output with minimal clicks.
Some of the background remover tools in this list can work instantly with just one click. It's like magic, only based on artificial intelligence (AI). Others make you select areas of your image to remove. And then, some tools give you complete creative freedom by offering both methods of background removal.
However, the most convenient tool is the one that does it all for you. But before we explore our recommendations, let's take a look at what you can use this feature for.
Related: Be Meeting-Ready: 10 Free Zoom Backgrounds You Can Use
Why Use A Background Remover?
Busy backgrounds tend to take away from the focal point of your image.
It's important that your product photos really grab the attention of your customers. Firstly, clean, professional images can help improve branding and drive up sales. Secondly, when the colors pop more, and the product's natural qualities are emphasized, the customer is more likely to be interested and would take a closer look. Finally, this will result in better conversions and increased sales!
Get transparent backgrounds for versatility.
Create better graphics with transparent backgrounds, add colorful backgrounds, white backgrounds, etc. Additionally, you can use your photo subject to make stunning YouTube thumbnails, banners, magazines, visual presentations, and more.
Related: Make the Perfect First Impression with the Right YouTube Thumbnail
10 Best Background Remover Tools For You
1. Simplified: Best Background Remover Tool
We believe Simplified is the best background remover tool for various reasons.
First, it's effortless to use.
One-click magic background remover!
Eraser tool to remove unwanted elements from images.
Speed up the workflow for small businesses and designers.
Hassle-free and simple to use, even if you've got no prior design experience.
AI Text-to-Image Generator.
Thousands of free backgrounds, design elements, video editor, and rich-library for stock photos.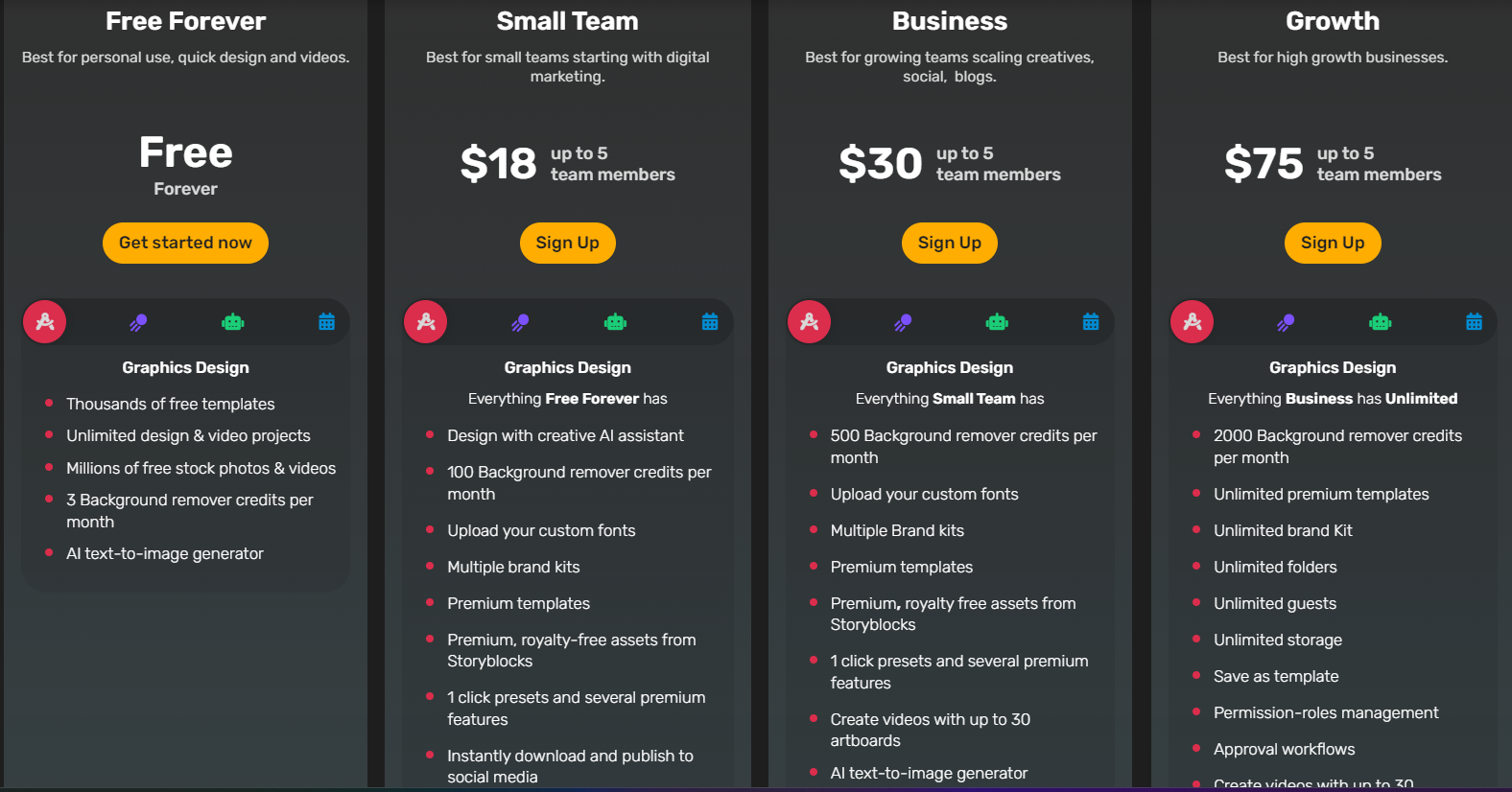 Subscription is completely free. But if you require the use of additional features like content planning or team collaboration, plans start at just $18!
Pros:
User-friendly UI
Removes background with one click
Perfectly handles details without jagged edges
Add solid-color or image background
Create images with transparent backgrounds
Edit and collaborate with your team
Access preview images for free
Related: How To Remove TikTok Watermarks From Your Videos In 8 Easy Steps
Related: How To Make Transparent Logos With Simplified's Free Background Remover
2. Remove.bg
Remove.bg allows you to add transparent backgrounds, making images easier to edit for other purposes. However, the free trial version allows you to download 612×408 pixel images only. Although it also uses AI technology, its subscription fees are higher than Simplified's (which is free forever). For instance, the 40 images package costs $9.00 while the 75,000 images package is a whopping $5,450.
Pros:
Easy-to-use
Removes background from images fast
Cons:
Free version has limited features
3. Clipping Magic
The next best background remover tool is Clipping Magic. It's effective at cutting out objects from clean backgrounds. Moreover, it allows an effortless way of preparing images for further edits. Their scalpel tool allows you to cut out low-contrast areas from your photos. This tool doesn't come cheap, though. Their smallest package is priced at $3.99 per month for only 15 credits/images.
Pros:
Easy and fast to use
Handles edges perfectly
Suitable for batch processing
Cons:
Related: How To Crop Images and Clip Shapes
4. Photoscissors
This online background remover was created for e-commerce, product photos, and media images. Moreover, low-resolution images are free to download. However, for high-quality image resolution, you'll need Photoscissors credit. You can choose to buy between 10-1000 credits for $4.99- $29.99. This works out at between 50¢-3¢ per image.
Pros:
Easy and fast to use
Removes background from image online for free
Cons:
Lacks editing features
Limited features on the free version
Related: Quick Tools That Will Make Your Job Easier
5. Kapwing
Kapwing is next on our list of background remover tools. Instead of utilizing modern AI technology, it lets the user control the background removal process. Additionally, the mouse, finger, and eraser tools on the app give you more dexterity. The app is simple to use, but it takes a lot longer to edit just one image. Hence, it's not suitable for people who edit hundreds of photos a day. Lastly, the free version has a 250MB file upload limit. The $20 monthly subscription has a 1GB file upload limit.
Pros:
Useful editing features
Free background remover
Cons:
Complicated to use
Requires a lot of manual work
Shows watermark in results without a subscription
Related: How To Edit Product Photos For Your eCommerce Website For Free
6. Autoclipping
Autoclipping is a web-based app that allows you to remove backgrounds automatically or manually. But the manual tool is simpler and more accurate than the automatic tool. Although the online editor is free to use, if you want to download the finished image, you will have to pay. They have a limit of 5 free downloads for non-commercial use, depending on your subscription.
Moreover, a monthly subscription costs $9.99 for up to 300 images. Or you can opt for a no-subscription account for up to 200 downloads at $14.99.
Pros:
Provides useful editing tools
Cons:
Slow processing speed
Confusing buttons
Fails to remove background automatically as promised
7. Inpixio
InPixio is a good tool if you need to edit images for use in product catalogs. Besides, it removes backgrounds to provide the perfect base for photomontages and other creations. However, the fact that you need to manually highlight the areas for removal makes the process more time consuming. Additionally, pricing for its services are not disclosed on the site. Therefore, this forces those interested to register their details first – an inconvenience when you are comparing prices for services.
Pros:
Cons:
Not effective at handling edges
Related: How To Edit Product Photos For Your eCommerce Website For Free
8. BeFunky
Befunky is a useful photo editor that offers an effective background eraser tool. Unfortunately, there is no free trial, and you will need to go premium if you want to combine it with your workflow. But if you have a budget for the low-cost plan, this could be a good option.
Pros:
Cons:
Not easy to use
Not free to use
No free trial
Related: How To Make Transparent Logos With Simplified's Free Background Remover
9. Apowersoft
Another low-effort method is offered by Apowersoft Background Eraser, which is accessible on PC and mobile devices.
In order to erase the backdrop from your photo, the Background Eraser tries to identify the subject in your picture. After that, you may either export your photo or begin using a template. This might save you time if you handle hundreds of ecommerce pictures each week.
Pros:
Automated cropping tool
Batch background removal
Cons:
10. Superimpose: Creative Cutouts on iOS
It's challenging to describe Superimpose. This innovative picture editing software, designed for iPhone and iPad, has a ton of features. It is mostly intended for those who enjoy altering photographs and creating digital art, however, a background remover is one of the tools that is offered.
Reviews suggest that the background remover within the app can be challenging. Moreover, on a smartphone screen, Superimpose functions like Photoshop. For designers who have expertise, this tool can be easy-to-adapt. But keep in mind that it can be time-consuming if your main goal is to remove backgrounds.
Pros:
Dynamic tools
Batch background removal
Cons:
Not beginner-friendly
Difficult to find background remover tool
Not available on Android
What's The Best Background Remover For Beginners & Experts
In this review, we have introduced you to 10 of the best background remover tools on the market. Have you found the best tool for editing your images? We hope so.
Simplified AI stands out as the best background remover tool out of all of them. Besides supporting beginners with tutorials and experts with versatile design tools, it allows you to remove the backgrounds from images with just one click.
What's more? Its highlight feature – the eraser tool, allows you to specifically remove certain elements from images. Edit backgrounds, design stunning images and increase brand awareness, engagement, and shares with Simplified. It's time to say goodbye to expensive software and get on a Simplified journey!