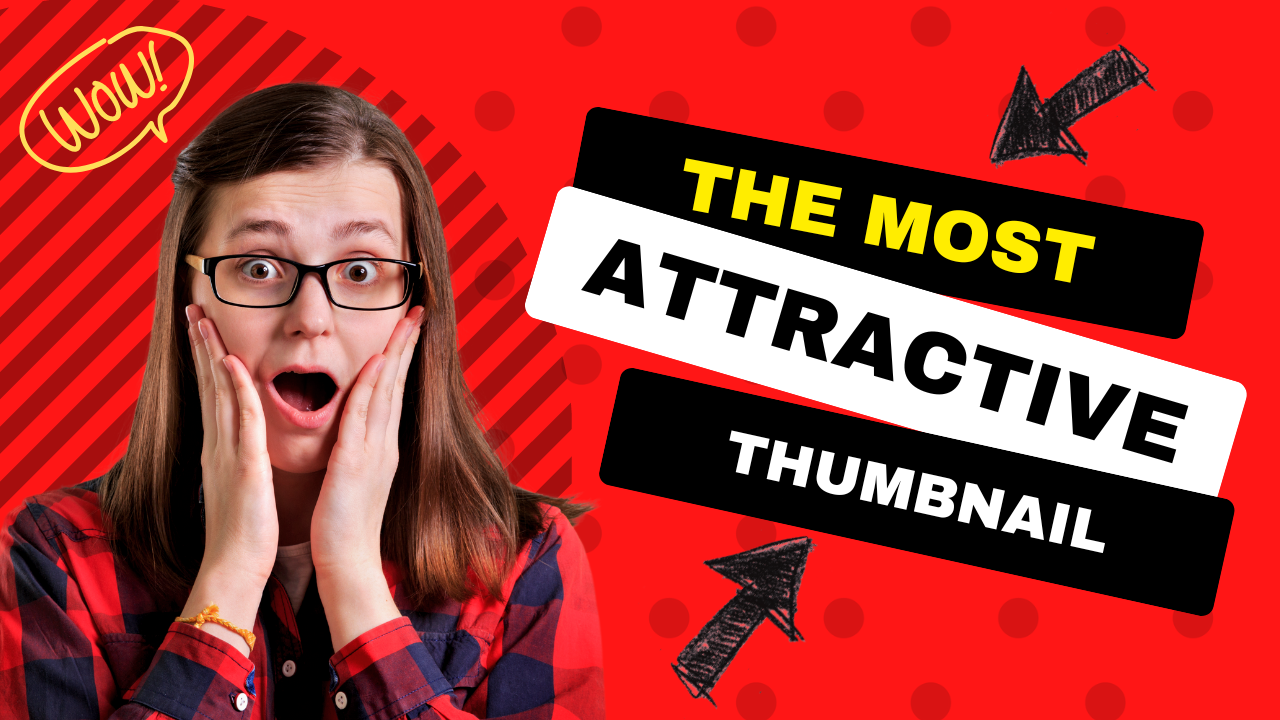 YouTube is one of the biggest social media platforms in the world. There are over 51 million channels on Youtube and over 30 million people visit the site every day. YouTube is also an excellent platform for building your brand and connecting with your audience. But first, you must grab their attention with an eye-catching thumbnail.
So, if you're wondering how to make a thumbnail that grabs your target audience's attention, this detailed guide will show you just that in easy steps. We've also included a free thumbnail maker at the end that will help your creative process.
What Makes a YouTube Thumbnail Stand Out?
There are a few things that make every winning YouTube thumbnail and channel stand out. Once you work out the specifics related to size, titles, and targeted audience, be sure to include the following four things in making your YouTube thumbnails.
Related: 5 Simple Ways to Sky Rocket Your YouTube Engagement
1. Suggestive Photos
Create a photo or "look" that expresses the particular emotion that you want your video to produce. For example, if your video is about "How To Make Her Say Yes!," you may want to include a picture of a woman crying with her hands over her mouth. Your image must suggest what your content hopes to provide. Adding a photo for your YouTube thumbnail on Simplified is easy and simple.
2. Catchy Captions
Credit: Jessica Zziwa
The photo may be the first thing viewers notice when they look at your thumbnail, but the title or caption is what they notice immediately after. Be sure to include a caption that addresses your audience's problems and concerns while hinting at the solution. A caption such as "Myth#1: 4C Hair Can't Grow," is great because it addresses a specific audience's pain point and hints at a solution in one sentence.
3. Bold Graphics
Every effective YouTube thumbnail must include more than an expressive photo and a catchy caption. Your thumbnail should also include bold graphics such as huge fonts in contrasting colors that stand out in your small image. Various frame shapes and angles also make your thumbnail stand out. Test out a variety of combinations to see what image captures your attention.
4. Custom Stickers
Credit: Casey Faris
Once you've added a suggestive photo, catchy title, and bold graphics, amplify your thumbnail's reach with a custom sticker or two. Usually, no more than two are needed to create a thumbnail that stands out. Custom stickers could be your brand logo, another social media logo, or random pictures that enhance your content. Remember that sometimes less is more, so one or two stickers should be enough to get momentum moving.
How To Make a Thumbnail for YouTube Using Simplified
Now that you know what makes a YouTube thumbnail stand out, let's talk about how to make a thumbnail. Follow the below steps to create an irresistibly clickable YouTube thumbnail.
1. Choose a Custom Template or Create Your Own
Using Simplified's free YouTube Thumbnail Generator, choose from thousands of templates or start with a blank canvas, already set to the custom YouTube thumbnail size of 1280 x 720 px.
If you decide to use one of the templates on Simplified, it makes creating a thumbnail even easier. This is because many of the templates already come with suggestive photos, catchy titles, bold graphics, and custom stickers.
2. Add a Photo to Capture Your Audience's Attention
If you decide to start with a blank page, upload your desired photo or background by clicking on "My Assets" at the top of the left sidebar followed by "Upload Assets." Once you have uploaded your background and photos, drag and drop them on your blank canvas. Simplified automatically adjusts the various sizes to fit perfectly on a YouTube thumbnail.
And switching out the template's elements such as photos of your own is as simple as clicking on the photo, deleting it, and inserting your photo from your assets.
Related: Removing Background from Images and More With One Click!
3. Choose a Custom Font That Contrasts the Background
You will be able to choose from thousands of fonts that highlight your thumbnail. Just click on your desired font and start mixing up different styles to get the right pop. You can also change the color, size, position, angle, and even the distance and shadow.
Related: How to Upload Custom Fonts
4. Add a Simple Yet Persuasive Sticker to Accentuate
Nothing will stop you from creating a thumbnail that stands out and draws in. You can add even more life and persuasiveness to your YouTube thumbnail by adding a sticker or two.
Choose from Simplified's vast library of stickers, graphics, or doodles. Type in what you're looking for in the search or choose from one of their suggestions. Like the photos, you can adjust your sticker and even add animations like transitions, layers, and time presets.
5. Download Your Finished Thumbnail and Publish It
The great thing about creating a thumbnail on Simplified is that you can share it directly with others around the world for input and critique, download it on your computer or phone to save for later, or publish it immediately on your social media.
To share it with colleagues, click on the "Share" icon in the top right to input their emails. In addition, you can change the share setting to view, comment, or edit.
You can save it for later by clicking on the "Export" icon in the top right, followed by "Download Now." To publish it immediately on social media, click on "Publish on Social." If you have added your YouTube account, it will automatically upload.
Stand Out From The Crowd Using Simplified
As an influencer, nothing matters more to you than producing high-quality and valuable content, and the perfect YouTube thumbnail will help you do that. Creating a YouTube thumbnail that stands out will generate more clicks, views, and subscribers, elevating your voice and growing your channel.
Follow the steps in this guide, and you will be able to create a thumbnail on Simplified that stands out and builds your brand. And that's not it! Create stunning designs, write YouTube descriptions & captions in seconds, make & edit videos and publish your content for all socials easily only on Simplified.