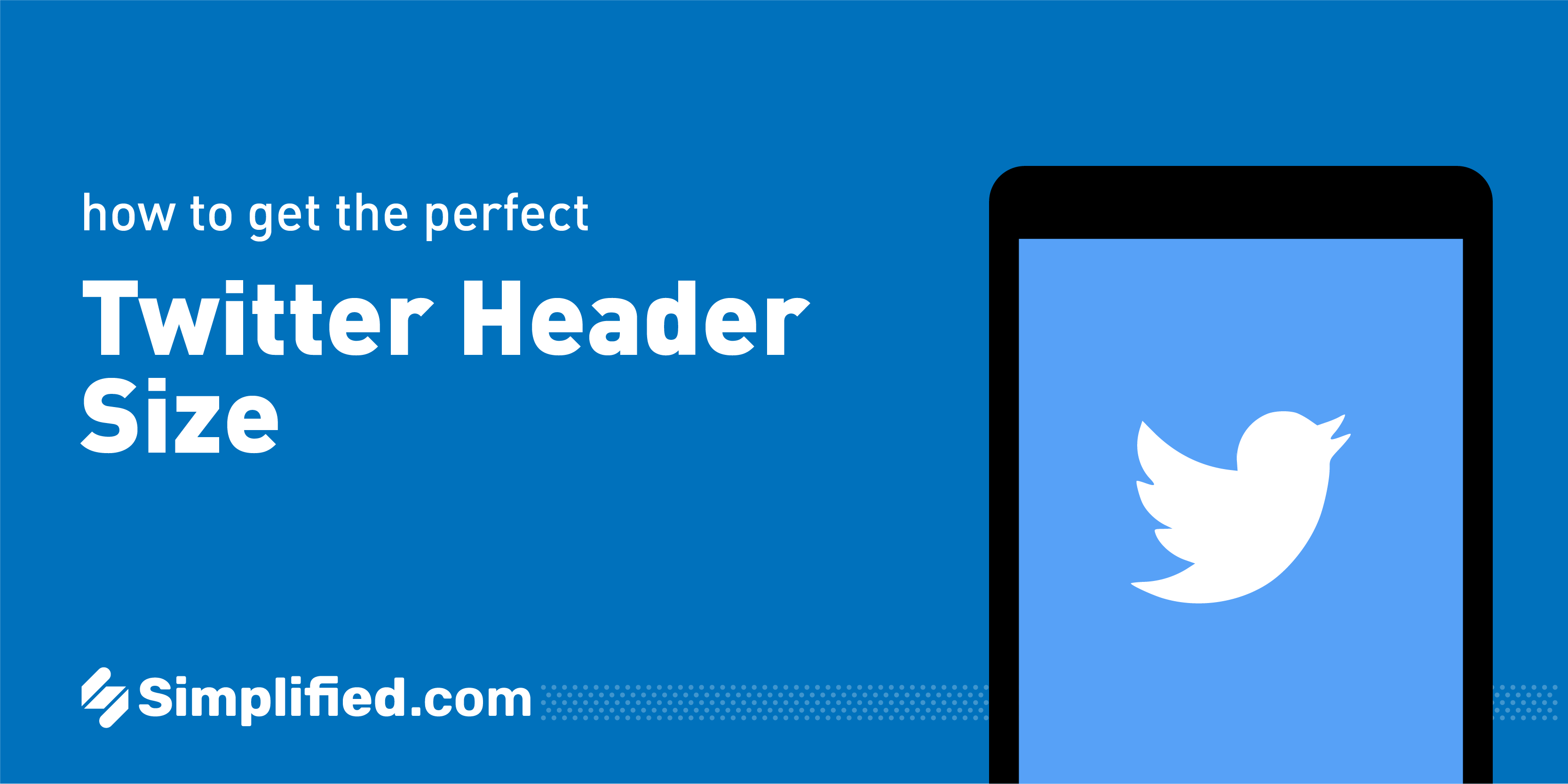 With over 330 million monthly active users, Twitter is one of the most popular social media platforms today. Whether you're a small business or a large corporation, Twitter is a great way to reach out to potential customers and followers.
One of the most important aspects of your Twitter profile is your header image. This is the first thing that people will see when they visit your profile, so it's important to make a good impression. But, with so many different sizes and dimensions to choose from, it can be hard to know where to start.
Don't worry – we've got you covered. In this guide, we'll show you everything you need to know about creating the perfect Twitter header size for your profile. You'll be a Twitter header expert when you're finished reading!
Related: How To Get Verified On Twitter (And STAY That Way!)
Twitter Header Size Guidelines
A Twitter header is a large banner image that appears at the top of your Twitter profile. This image can be anything you want, from a photo of yourself to a picture of your product or company. Your Twitter banner should consist of an image that's both visually appealing and on-brand.
According to Twitter, these are the recommended guidelines for header images:
Your header image should be in either JPEG, GIF, or PNG file formats. However, you can not use animated GIFs. (Images containing nudity will be removed.)
Recommended dimensions for standard header photos are 1500 pixels wide by 500 pixels tall, which has an aspect ratio of 3:1.
The maximum size for your Twitter banner should be 2MB.
But here's the thing, guys. Even if you follow the recommended header size, you may still notice that Twitter has cropped out some parts of your header. This is because everyone views these images from different browsers or devices.
This is why you should test your design on various devices, browsers, and screen sizes – it will allow you to see how well your design scales to different sizes.
Another important thing you need to know is that your profile photo is going to cover up the lower-left corner of your Twitter banner. So, we recommend that you leave some space at this particular corner of your banner. By doing this, you won't have to deal with some parts of your design being blocked out by your profile thumbnail.
Related: How To Save A GIF From Twitter In 4 Easy Steps
Best Practices for Your Twitter Header
As one of the most visible parts of your Twitter profile, your header is a great opportunity to make a strong first impression. Here are some best practices to keep in mind as you create or update your Twitter header:
As your header image may be cropped on smaller screen sizes, make sure the most important details are visible in the center of the image.
Make sure you use an image or design that's visually appealing and of high quality.
Choose an image that represents your brand well. Your Twitter header is a great opportunity to show off your brand's personality, so choose an image that reflects your brand's values and style.
Leave some space for the lower left area where your profile image overlaps with your banner.
Ensure that your text is legible and easy to read. Use a font that is simple and easy to read, and avoid using too much text so people can easily get an idea of what your brand is all about.
Use bold colors and fonts to make your header stand out.
Keep the design simple and clean.
Don't forget to add your website URL to your header, as it's a great way to drive traffic to your website.
Update your header regularly to keep things fresh for your followers.
Related: Secrets Behind Famous Brand Logos You Didn't Know
How to Make Twitter Banners Using Simplified
Now that you know the Twitter header size specifications, all that's left is to create a captivating one. There are many tools you can use, but Simplified is hands down the best tool for the job.
We have a variety of free templates and brand kits which allow you to add your brand colors and logos to your Twitter header. With our magic resizer tool, you can easily resize any image or add your custom size.
Related: Magic resize, more fonts and lot more
But the fun doesn't stop there. As Simplified is an all-in-one tool, you can also write blogs, design amazing graphics, generate AI images, collaborate with your team, create videos, manage your social media, and do so much more!
Looking to make a stunning Twitter banner that perfectly reflects your brand? Simplified can help you out! We have tons of professionally designed and customizable Twitter banner templates that you can choose from.