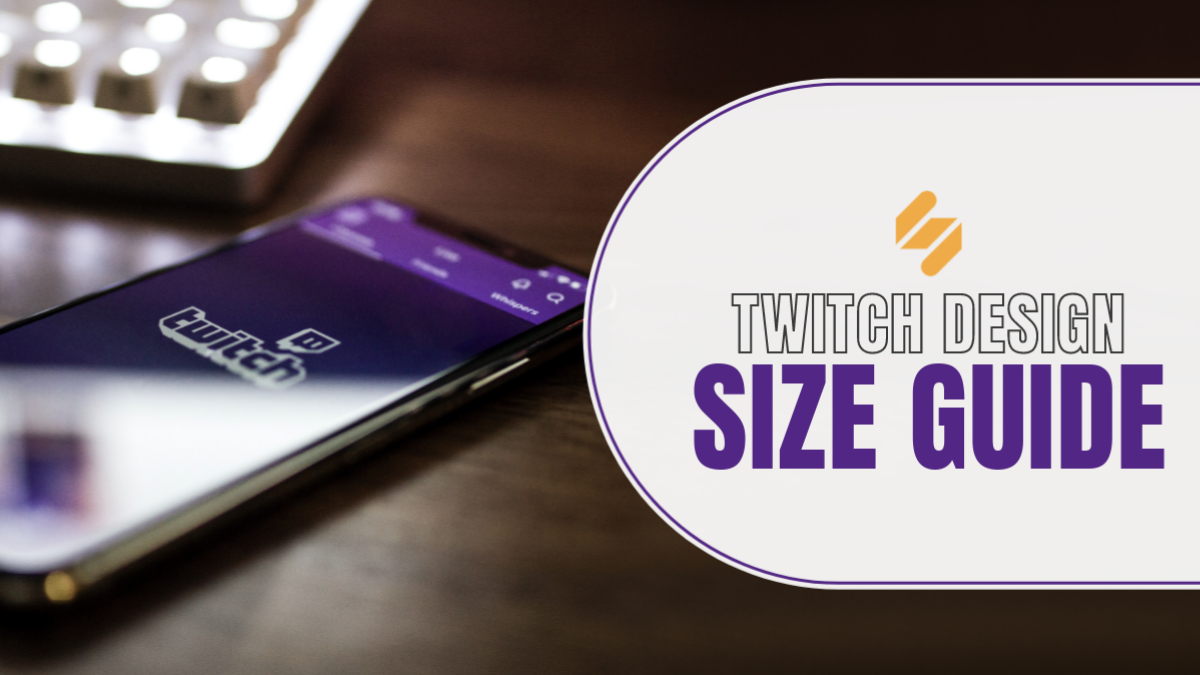 It's no secret that the live streaming industry is booming. Platforms like Twitch have made it easier for people to share their lives and hobbies with the world. Whether you are a new streamer just starting out or a social media pro looking to increase influence with Twitch marketing, you will want to make sure your channel looks professional. The following Twitch size guide will help you achieve just that!
Graphic design plays the most important role when it comes to live streaming. This is not just about the live video quality but also the other pictures used to create a Twitch profile. From your avatar image to your Twitch alerts picture, everything can make an impact. Getting the right Twitch graphics size, dimensions, and format is the first step to ensuring a professional look. This Twitch size guide can be used by influencers, Twitch game streamers, artists, and anyone who wants to stand out on the platform.
The Ultimate Twitch Size Guide for a Professional Live Streaming Channel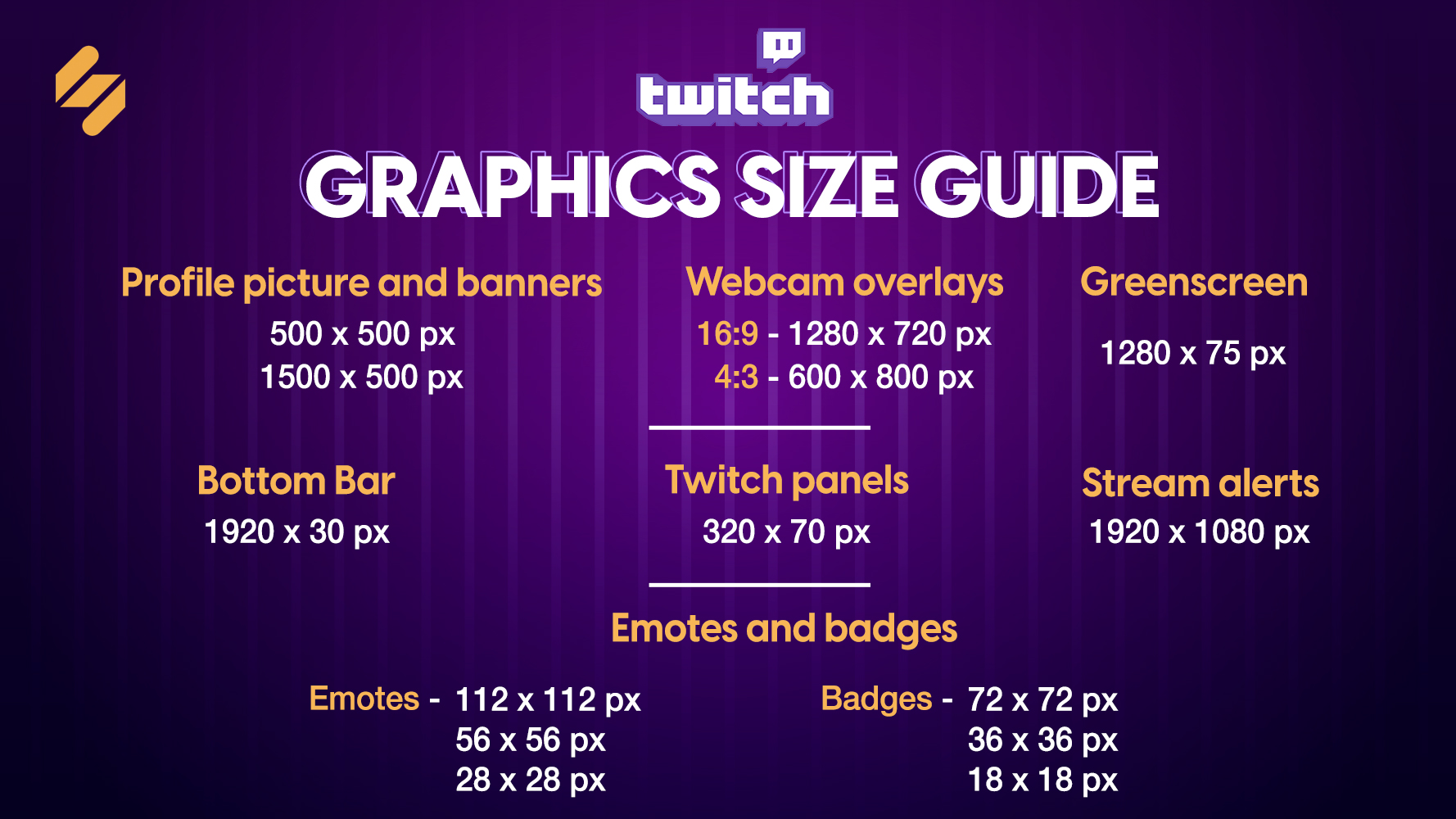 1. Twitch Profile Picture (Avatar) Size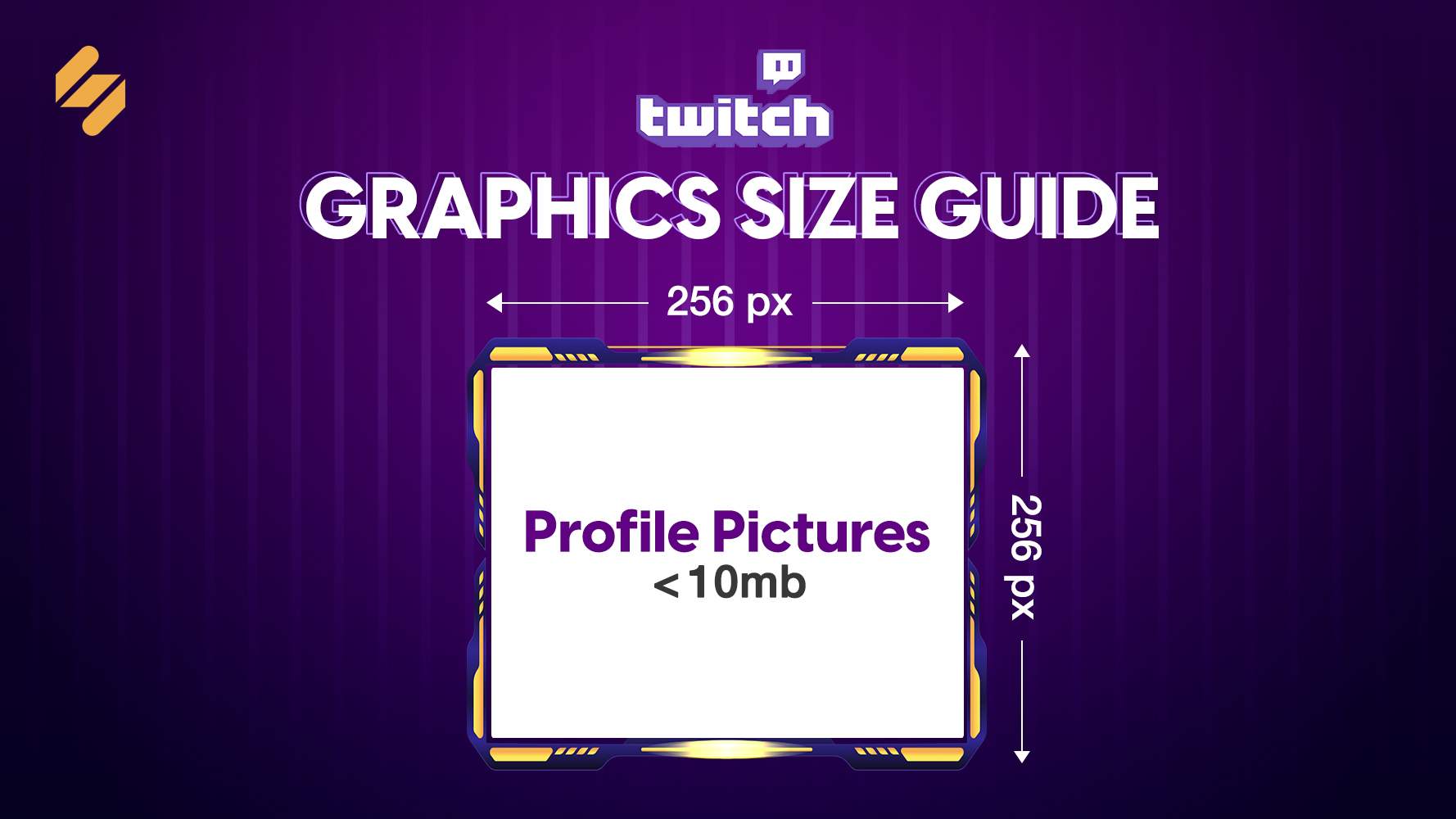 The profile picture or the avatar is the most important image that represents you and your brand. It is the primary image that is associated with your channel. Your audience gets their first impressions of you from the profile image and it helps them to recognize you later on as well. Most importantly, the profile picture appears everywhere!
Recommended Twitch profile picture size: 256 x 256 pixels
Maximum file size: up to 10 MB
Recommended file types: JPEG, PNG
Use a 1:1 aspect ratio with equal height and width. Try to use your brand image here like a well-crafted logo or an image of your face. However, it must be easily recognizable so that your audience can find it.
Note that your Twitch profile picture will be viewed in a lot of places including the Twitch navigation bar, web searches on Google, and even when you post your stream link on Twitter. Your audience will receive "Going Live" email alerts with your profile picture. So, make sure that you nail it perfectly!
2. Twitch Profile Banner Size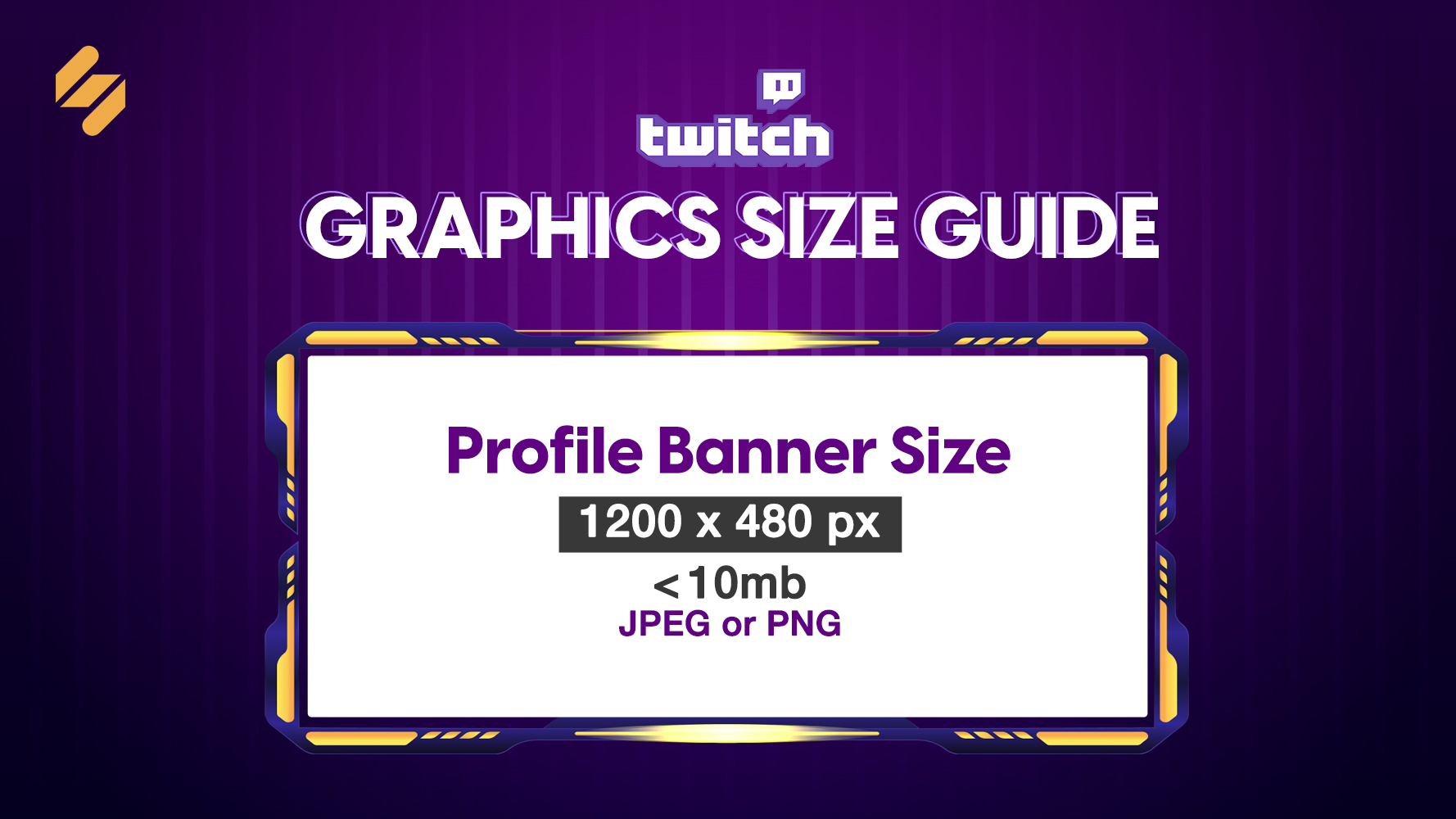 Recommended Twitch banner size: 1200 x 480 pixels
Optimal height for the banner: 480 pixels
Banner image size: up to 10 MB
Recommended file type: PNG, JPEG
While the minimum banner width by Twitch can be 900 pixels, going beyond is useful for larger screens. 900 pixels is great if you are focusing on mobile screen users. 1200 x 480 pixels is best for crisp quality on every screen.
3. Twitch Webcam (Overlays) Size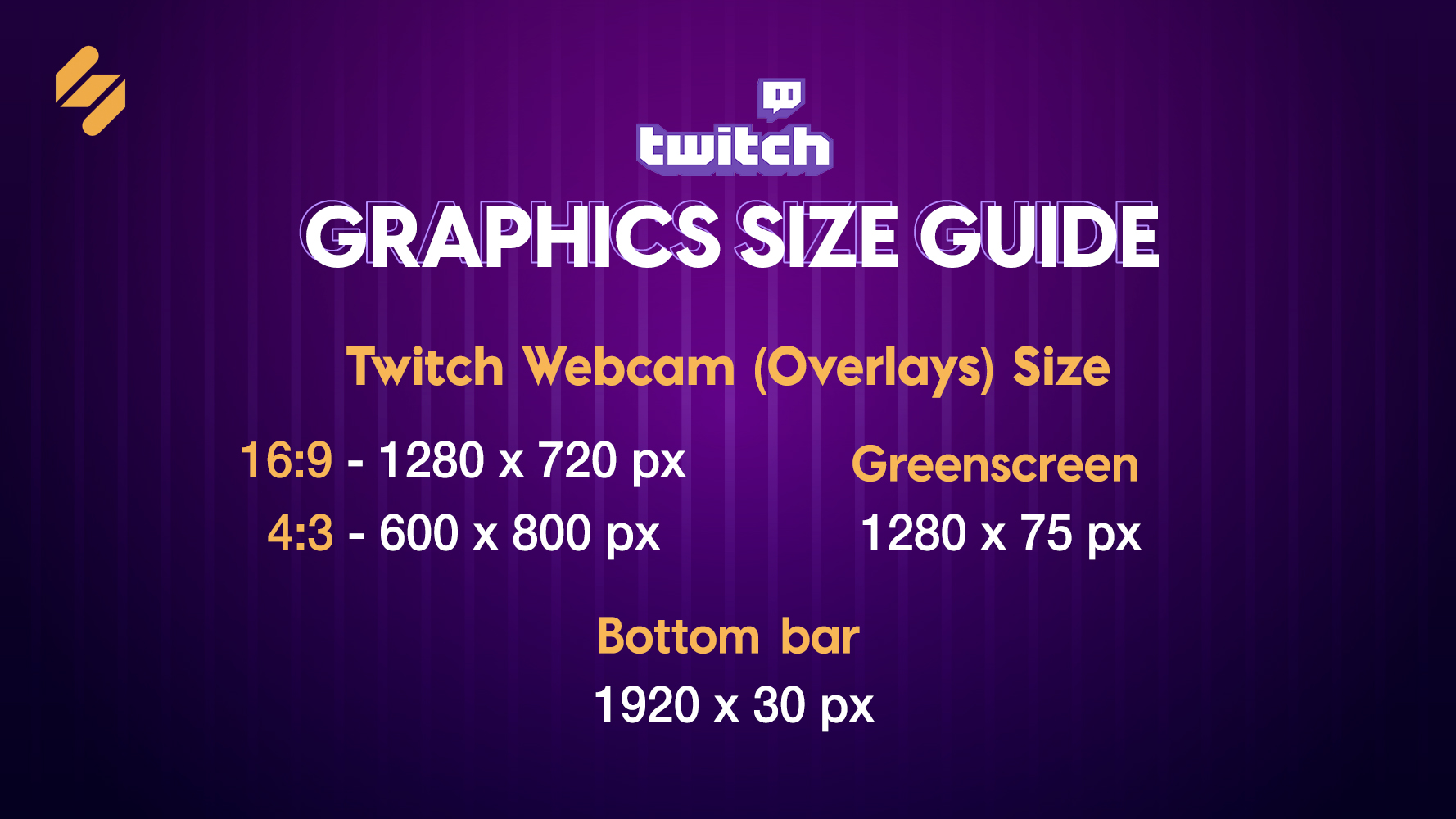 The Twitch webcam size can vary widely depending on user preferences. There is no such recommended size since there are so many different types of content that go live on the platform.
There are two most popular webcam dimensions to consider depending on aspect ratios:
For 16:9 cams, use a canvas of 1920 x 1080 pixels
For 4:3 cams, use a canvas of 1600 x 1200 pixels
It's always safer to have larger pixels so that the quality is intact for every screen. The accepted file types are PNG and WEBM.
There are multiple design types available for the webcam layout. You can choose anything from a plain, minimalist frame to complex and animated designs. Go for stream overlap size and design that will fit your brand values and visual theme.
Related: Explore the 9 Best Image Resizer Tools for All Your Digital Needs
4. Twitch Panel Size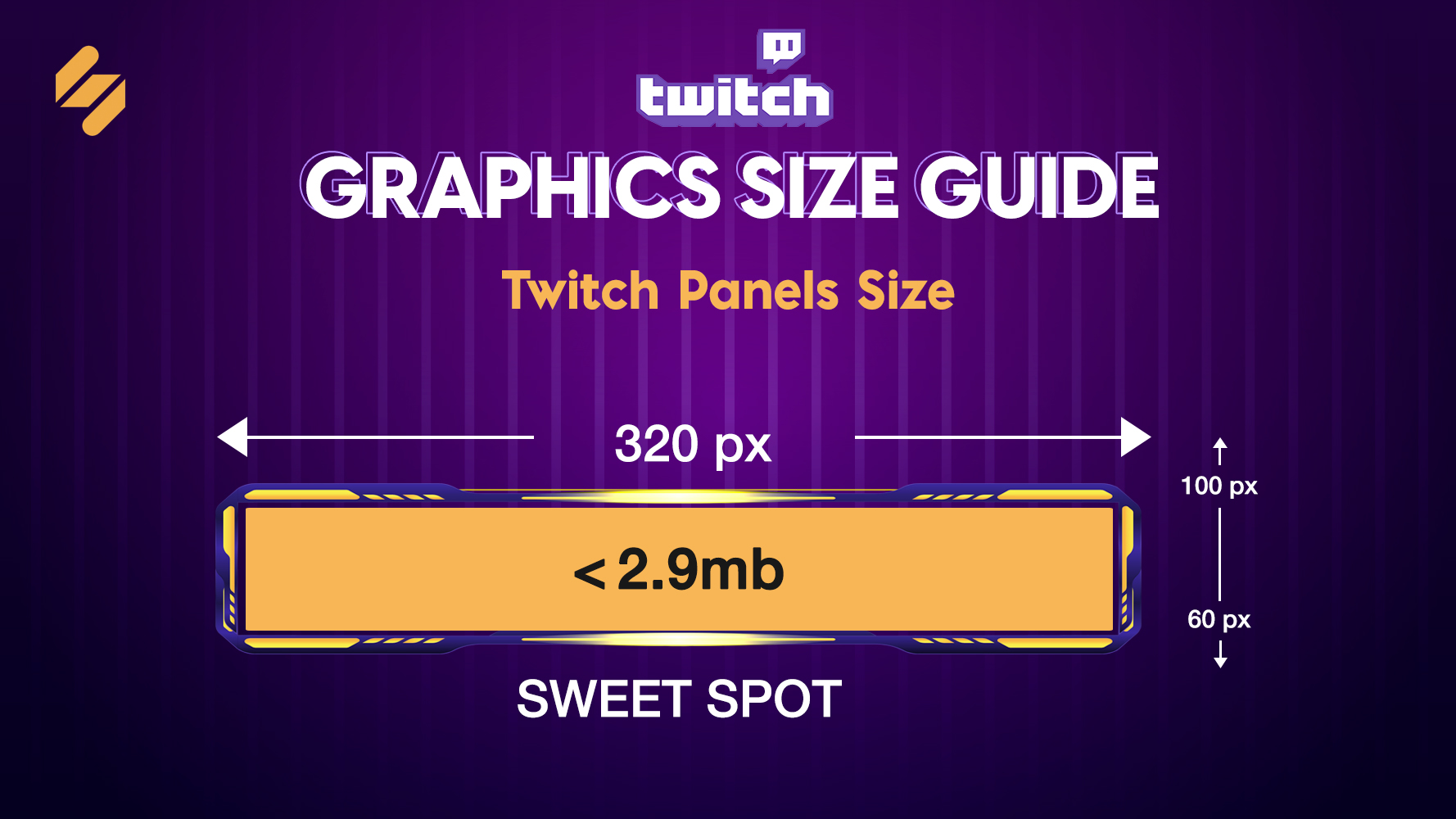 Recommended panel height: 60 to 100 pixels
Recommended panel width: 320 pixels
Recommended file size: less than 2.9 MB
File Type: Transparent PNG
Transparent PNG will allow you to play creatively with your panel that aligns with your brand. You can try multiple art styles including non-linear shapes, as long as you stick to the Twitch size guide.
5. Twitch Video Player Banner Size (Offline Screens)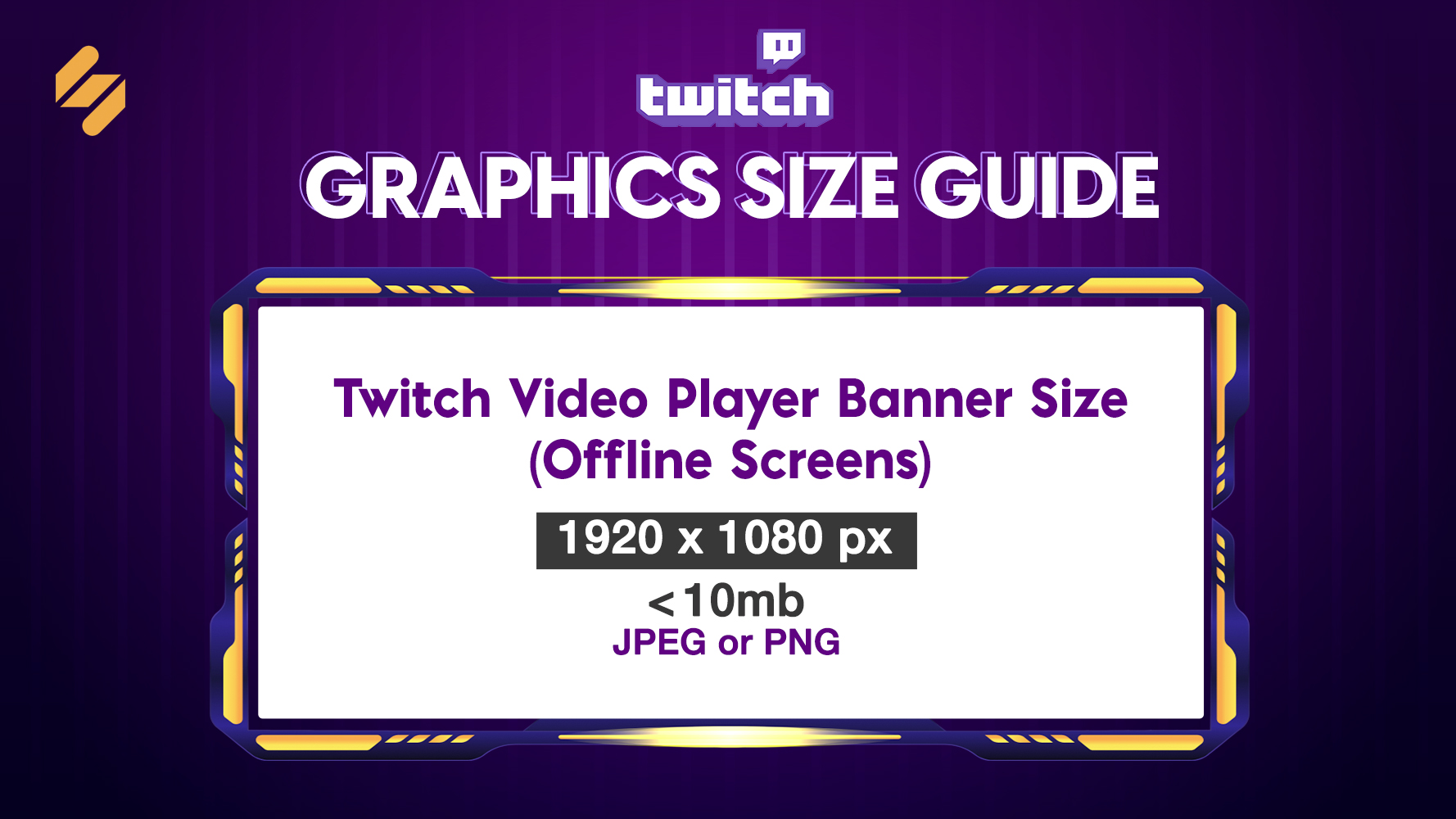 Recommended video player banner size: 1920 x 1080 pixels
Maximum file size: up to 10 MB
Recommended file types: JPEG, PNGThis is the offline screen that appears when the video is not playing. Your image must match the dimensions of the video screen for good resolution.
6. Twitch Alerts Size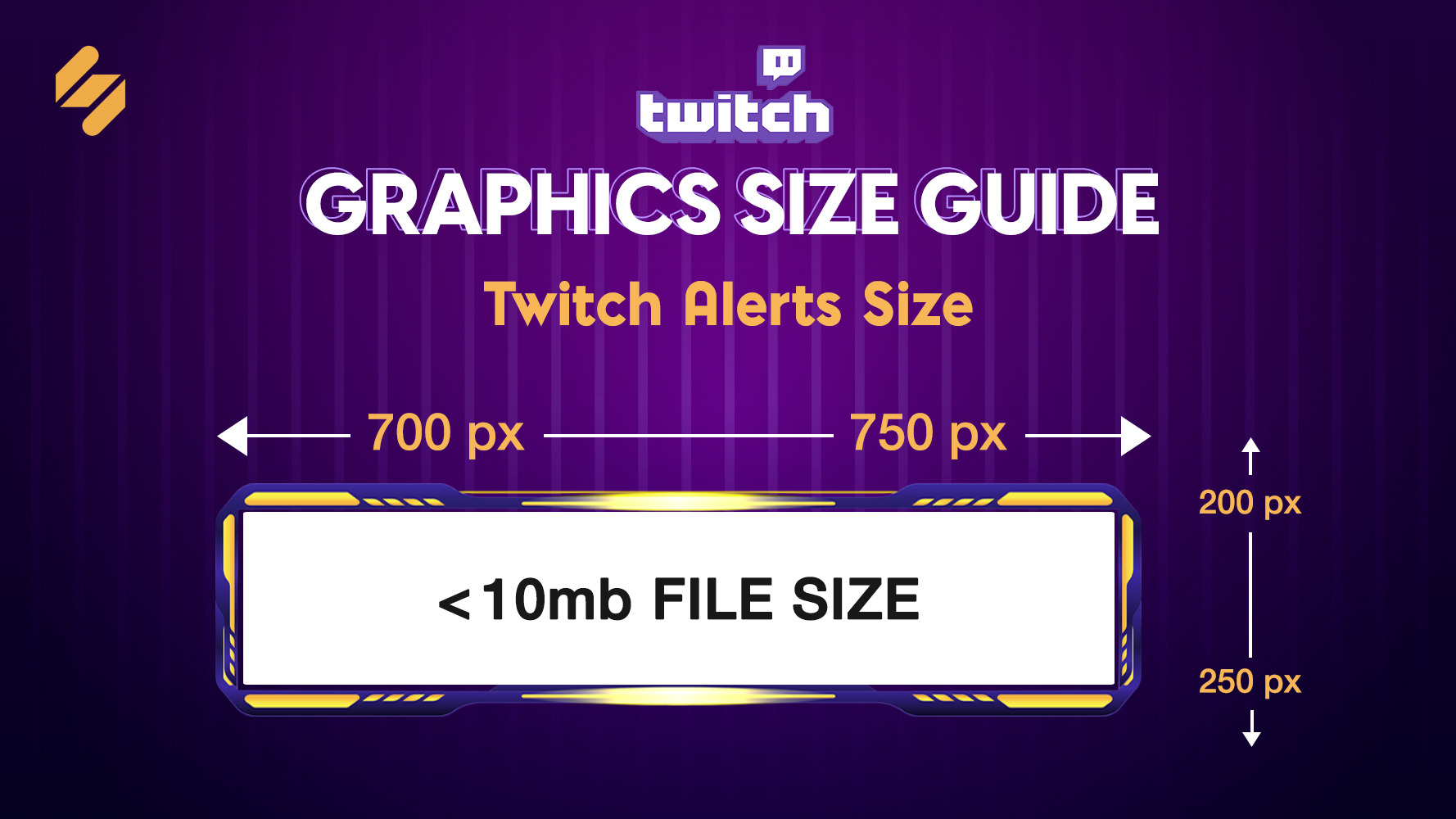 Customizing the Twitch alert icon is great for brand marketing and attracting your audience. You can add a lot of animation effects and messages for grabbing attention. The dimensions can vary depending on the effects added but do not deviate too much from the Twitch size guide.The permitted file size depends on the streaming platform and OBS software. Therefore, it's best to keep your file size low for better performance across every software.
Recommended alerts height: 200 to 250 pixels
Recommended alerts width: 700 to 750 pixels
Recommended file size: 2 to 3 MB
Recommended file type: Transparent PNG, WEBM (for animated)
Related: 7 New Year Resolutions For Graphic Designers In 2022
7. Twitch Emote Size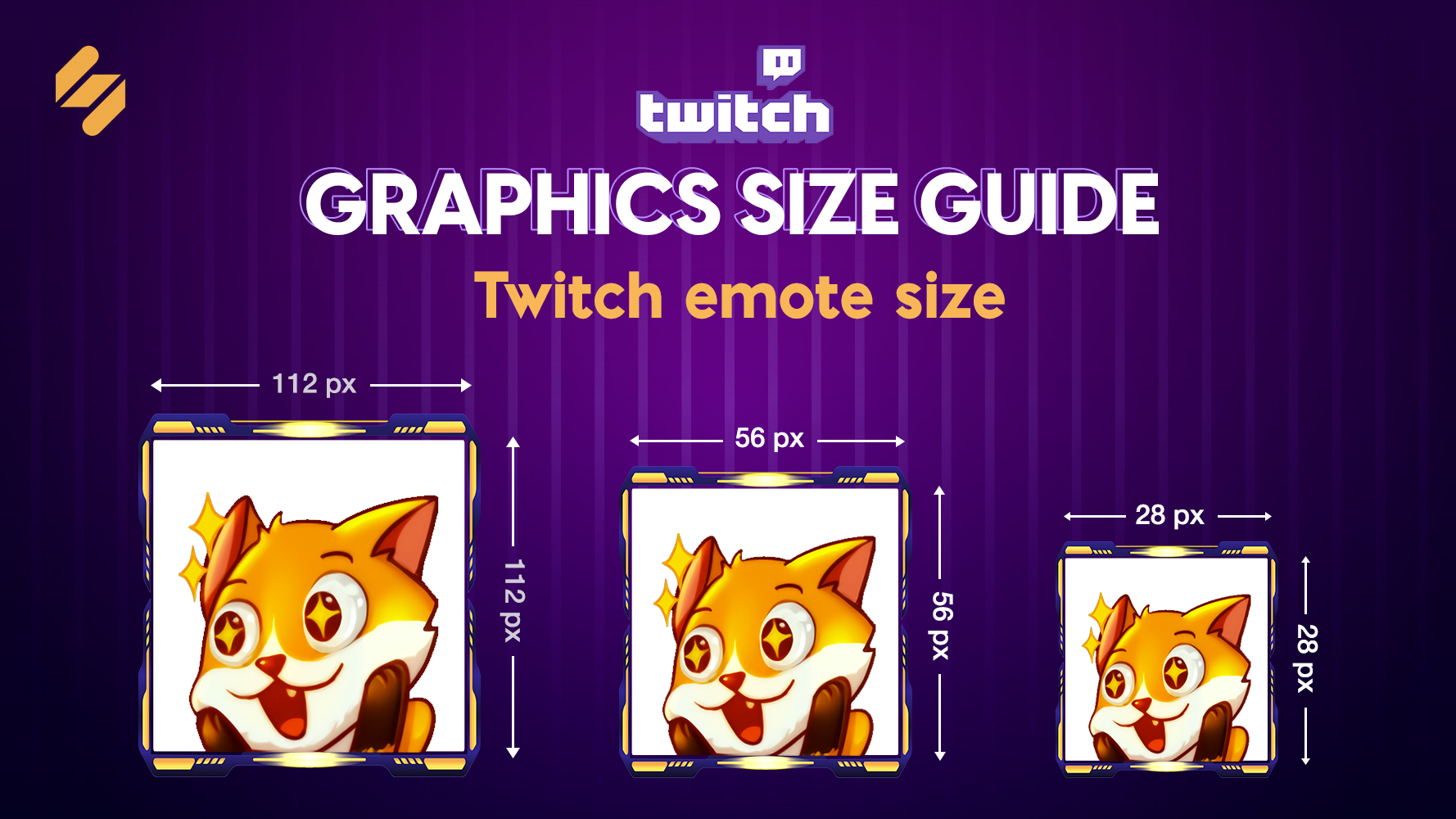 Emotes are the modern artsy way to express yourself in 2022. To create a good design, you must focus on the right size and format. Your emotes will be submitted to review by Twitch and get approved before they can appear on your channel. There are three dimension requirements.
Recommended emote dimensions: 112 x 112 pixels, 56 x 56 pixels, and 28 x 28 pixels
Maximum file size: 512 kb
Recommended file types: PNG, GIF
Make your emote simple and minimalistic. Avoid filling in too many details. Do not add too many words or phrases. Use strong colors for high definition. And finally, make the emotes iconic to your brand identity.
8. Twitch sub badge size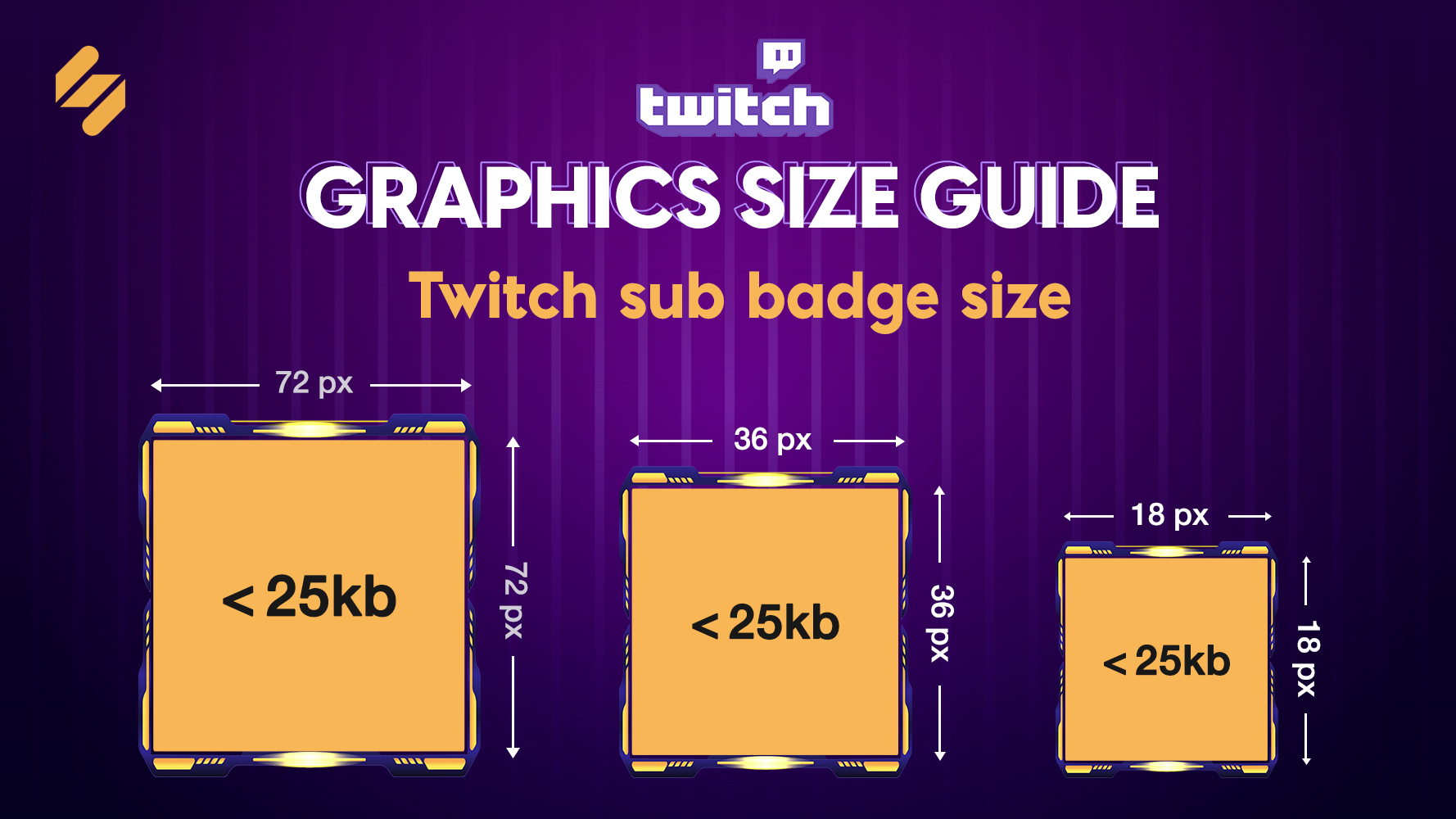 Being a subscriber to a particular channel is a matter of loyalty and pride on Twitch. Upload custom subscriber badges to see which viewers are exclusive to your channel. Create a design that matches your brand aesthetic and what it presents. The badges can be changed according to the number of months subscribed by the audience as a sign of brand loyalty.
Recommended Dimensions: 72 x 72 pixels,  36 x 36 pixels, 18 x 18 pixels
Maximum File Size: 25 kb
Recommended File Types: PNG
Again, you must be careful to make the design super-simplistic and easy to scale down. The small badge should be easily seen on different screen sizes. Follow the Twitch size guide for the best quality.
9. Twitch VOD Thumbnail Size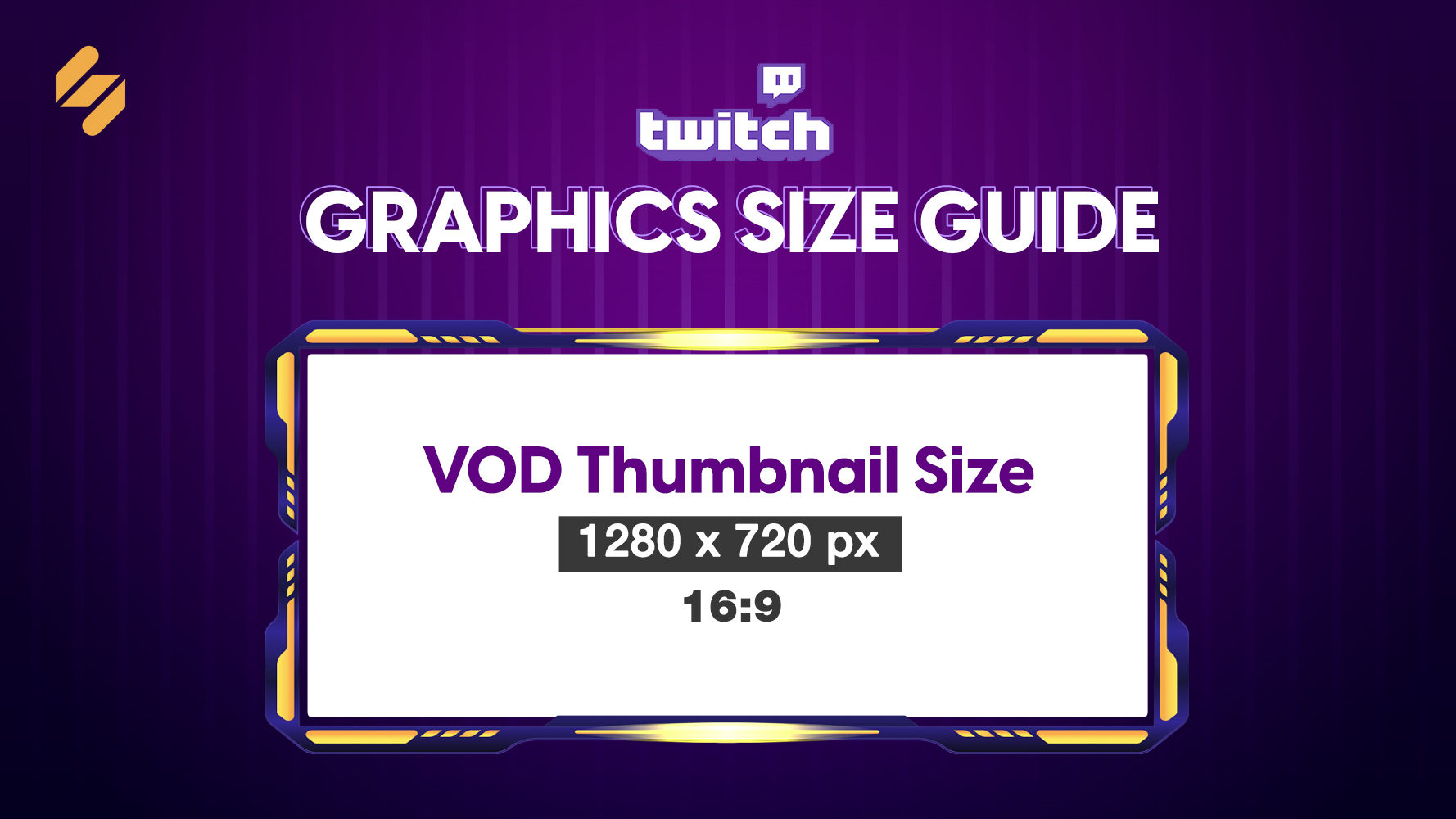 Recommended Dimensions: 1280 x 720 pixels
Recommended File Types: JPEG, PNG
Many live streamers like to reshare their VOD after a good streaming session. This allows the audience to get back to favorite episodes and review content. Using a good thumbnail is a must if you want your audience to click your last videos.
It's very simple to design a thumbnail with bold colors, clear images, or a good snapshot of the live stream. You must communicate the content of the video and make it attractive.
Create the Perfect Images for Twitch with Simplified
Are you looking for the perfect place to get your images as per the Twitch size guide? Simplified can be your best friend! This all-in-one design tool helps you create stunning designs and customize them according to your brand style.
Explore attractive pre-made templates to get innovative ideas and customize them to fit your unique brand identity. You can also get a variety of media options to add including premium images, fonts, stickers, and endless design elements. Start building your Twitch channel with Simplified today!