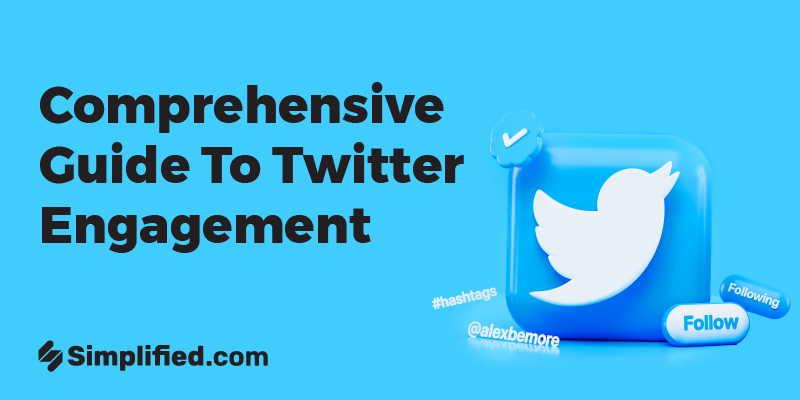 Twitter is one of the most popular social media platforms in the world, and it's a great way to connect with potential customers, industry leaders, and influencers. However, with so many users on the platform, it can be tough to stand out and get your tweets seen.
In this blog post, we'll explore 10 proven strategies for amplifying your Twitter engagement in 2023. From crafting compelling content to leveraging hashtags, these tips will help you boost your reach and increase your chances of getting your tweets seen by a wider audience. So if you're looking to take your Twitter game to the next level in the new year, read on!
10 Proven Strategies To Increase Twitter Engagement
1. Understand your target audience
Understanding your target audience is one of the most important and primary steps toward a successful Twitter engagement strategy. The best way to do it is to study successful competitors. Other brands in the same niche that get a lot of engagement are doing so for a good reason.
Go through their feeds and note which tweets get the most attention. You can take inspiration and learn to make more relevant content for your audience. Or you may also reach out to the top influencers in your niche and collaborate. You will get gems for tips and practical guidance.
Knowing your target audience and your competition is extremely important before you can get a strategy to boost engagement on Twitter.
2. Offer value to your audience
Now that you know what makes your audience retweet, give them the same or more value! As a growing brand, it's your responsibility to share information relevant to your niche. This can be inspirational content, entertainment, or key learnings. You can retweet content from other important figures in your industry or share links to information pieces and blogs.
As a brand, every tweet counts toward making an impression in your user's mind. A good percentage of your users can unfollow businesses within a month if there is no strong engagement. Therefore, do not post random content unless there is a strong value attached.
3. Keep your tweets short and smart
Twitter has increased the character limit to 280, but that's not great if you want engagement. Shorter tweets get much more attention than longer sentences on Twitter.
So if you want to increase Twitter engagement, it's best to keep your tweets between 80 to 110 characters. This would mean that you create concise copy that says exactly what is needed. Smaller tweets have greater chances to be retweeted, giving users enough space to add their own thoughts.
Fortunately, there is a way for you to find assistance to write short, catchy tweets when the creativity bank starts running dry. Simplified's AI writer can help you brainstorm or come up with original tweets in an instant!
4. Share links, images, and videos to engage your followers
When it comes to providing value to your followers, you can do so with more than just words. By adding links, images, and videos, you're giving your followers more reasons to be engaged and loyal. You can also share valuable information pieces as blog links from your website, to double up on promoting your content. This way, every engagement you get will directly reflect on your website and in turn, also affect sales.
Using Simplified's all-in-one platform, you can do it all, keeping up with professional standards. You can use the video editor and graphic design tool to create visual content that rocks!
5. Know the best time to post on Twitter
When you're competing with over 3.5 million tweets every minute, timing matters! As you research your target audience and influencers, you must note down the peak hours of activity. This can vary according to your geographical location and your niche.
It's best to test different timings to find out the sweet time window for your brand. In general, it's good to schedule tweets before time. This would also help you make edits if required. Use the automated Simplified publishing feature to organize your Twitter posts in one place.
6. Engage directly with other users and customers
The simplest way to increase Twitter engagement is by talking to your audience and customers. Give out likes, comment more often and follow similar brands like yourself. The simple law of reciprocity will ensure you get what you give!
When you retweet and comment on others' posts, you also get visibility. This increases the chances of you getting noticed. Acknowledge your customer's comments by actively engaging with them. Let them know that you care and support them.
7. Use hashtags relevant to your brand and industry
The right use of hashtags can help make your strategy bulletproof. They allow you to reach a wider audience outside of your direct network. Given the open nature of hashtags, you must use them only when relevant. Use one or two hashtags that are directly associated with your brand or an exclusive campaign. You can also tap into trending topics and conversations on Twitter with hashtags. To save yourself the hassle, you can even use the hashtag generator by Simplified, to get the most relevant and engaging hashtags.
8. Leverage trending topics on Twitter
Twitter is the go-to social media platform to find "what's happening." The best part is that everyone gets to participate in the conversation and capitalize on hot topics to gain visibility. Twitter shortlists the most happening events based on your location and industry. The trending topics can change every day, giving you a ton of options. Go ahead and choose a conversation where you can add value to your target audience. This step is a great way to increase Twitter engagement, and sharing good content on these subjects can enhance your brand image as well.
Related: The Complete Twitter Ad Specifications in 2023
9. Organize giveaways
Looking for the ultimate way to increase Twitter engagements? Whether you are a small business or an upcoming brand, nothing can get more traction than free goodies. These simple tips will ensure a successful campaign:
Begin with a purpose for the giveaway. Do you want to increase followers or generate leads? Accordingly, you can frame the rules of participation and control action.
In most cases, you can ask participants to follow your account and favorite your post. Also, ask them to comment about their reasons for entering the giveaway. A strong incentive will keep their morale high to participate.
Make the prize relevant to your business. This will help you win some loyal customers as well.
10. Use polls to increase Twitter engagement
Kill two birds with one stone— use Twitter polls. First, it will spike up your engagement as people can vote with just a click. Second, it helps the Twitter algorithm boost your post and fetch you more visibility.
While using polls, make sure that you choose relevant topics. Asking questions will help you know your users better. You can also ask them about your products, services, and what can be improved. Or, you may also ask questions on trending topics related to your industry. You can also use Simplified Analytics to check your engagement level and how it affects your brand.
Create engaging content for Twitter with Simplified!
Amplifying your Twitter engagement in 2023 is all about creating engaging content, leveraging hashtags, and staying consistent with your posting schedule. While these strategies may take some time and effort to implement, the results can be well worth it in terms of increased reach and engagement.
If you're looking for a way to manage your Twitter better, to create and schedule your tweets, Simplified's tools are the perfect solution. With thousands of easy-to-use templates, social media scheduler tool, analytics, and an AI writer, you can create and post high-quality content that resonates with your audience. And with Simplified's free forever plan, it's easy for beginners and those on a budget to get started and start seeing results. So why wait?