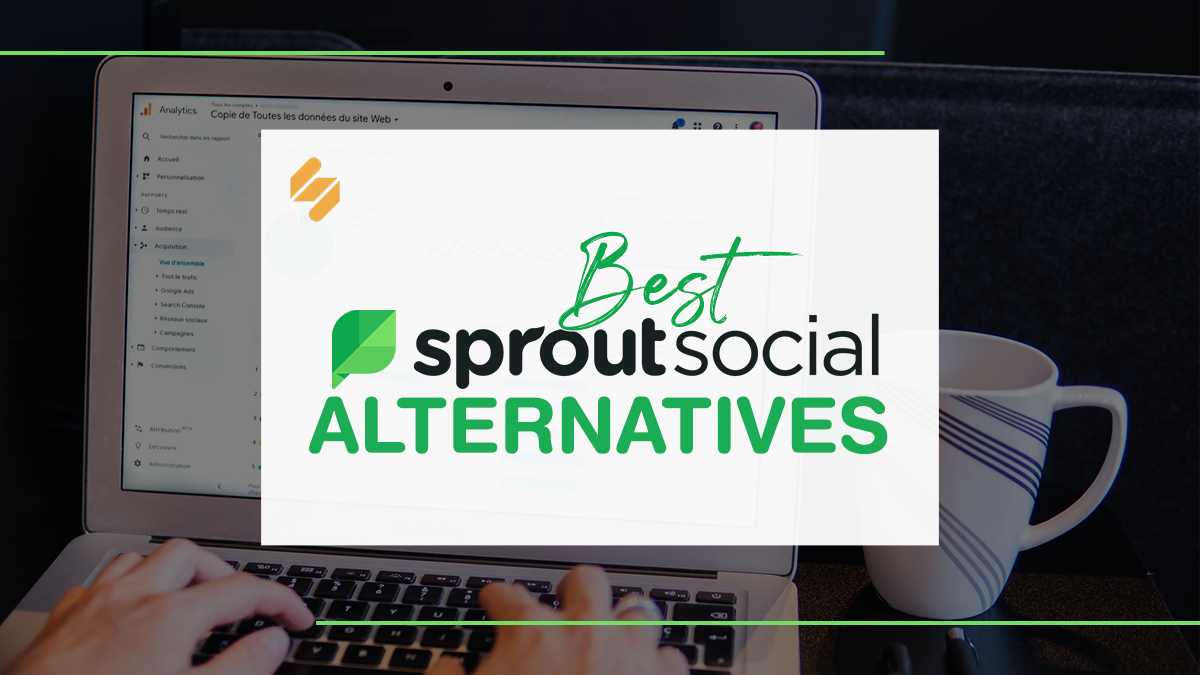 Managing your social media as a budding influencer or small business owner can sometimes be tricky, especially if you plan to expand your brand. So, you've probably heard of Sprout Social as one of the many social media management platforms you can use. The tool offers publishing, scheduling, and even analytics, the basics! But, if you're still looking for more options, we've listed down the 5 best Sprout Social alternatives for 2022.
5 of the Best Free Alternatives to Sprout Social
1. Simplified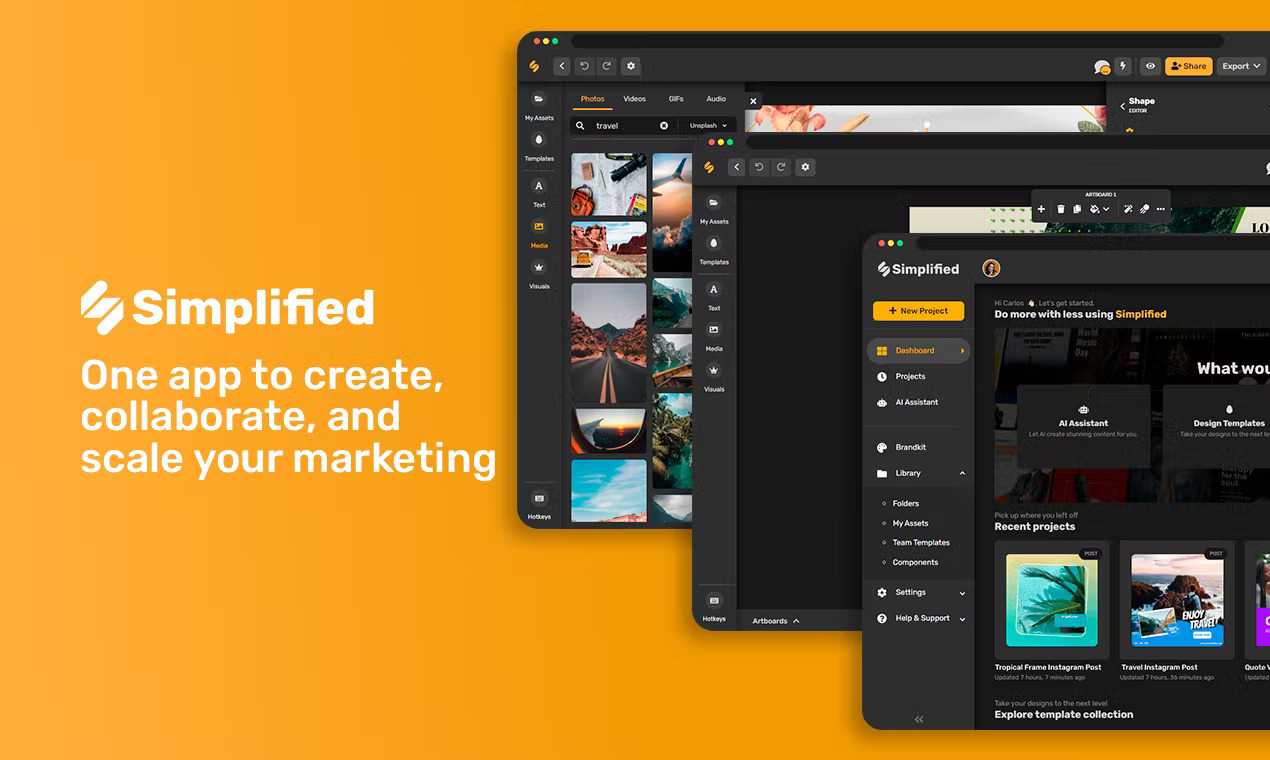 Simplified is simply one of the best Sprout Social alternatives for businesses and marketing agencies. It's easy to prepare, plan, design, and publish content within the tool, plus effortlessly collaborate with team members and customers all in one workplace.
Features:
Has an AI-powered graphic design tool where users can create content without needing any prior graphic design experience.
Can connect to multiple social networks (Shopify, Google Drive, LinkedIn, and more).
Team and customer collaboration are possible with tagging and commenting reflected in real-time on the workspace. The tool also assigns roles for both team members and customers.
Can prepare and plan thousands of posts in advance with the tool's Content Calendar.
Can schedule posts from multiple accounts with its social media automation.
Pros:
Has a free forever plan for users on a budget.
Makes designing easy with the tool's one-click editing tools.
Works with only one workspace, so you don't have to worry about changing or having multiple tabs open.
Cons:
Has a dark interface, but a light mode is on the way.
Pricing: The monthly plans are $15 for small teams, $30 for businesses, and $120 for growth marketing teams and agencies. Annually, the pricing is $12 for small teams, $24 for businesses, and $99 for growth marketing teams and agencies, billed per month.
2. Buffer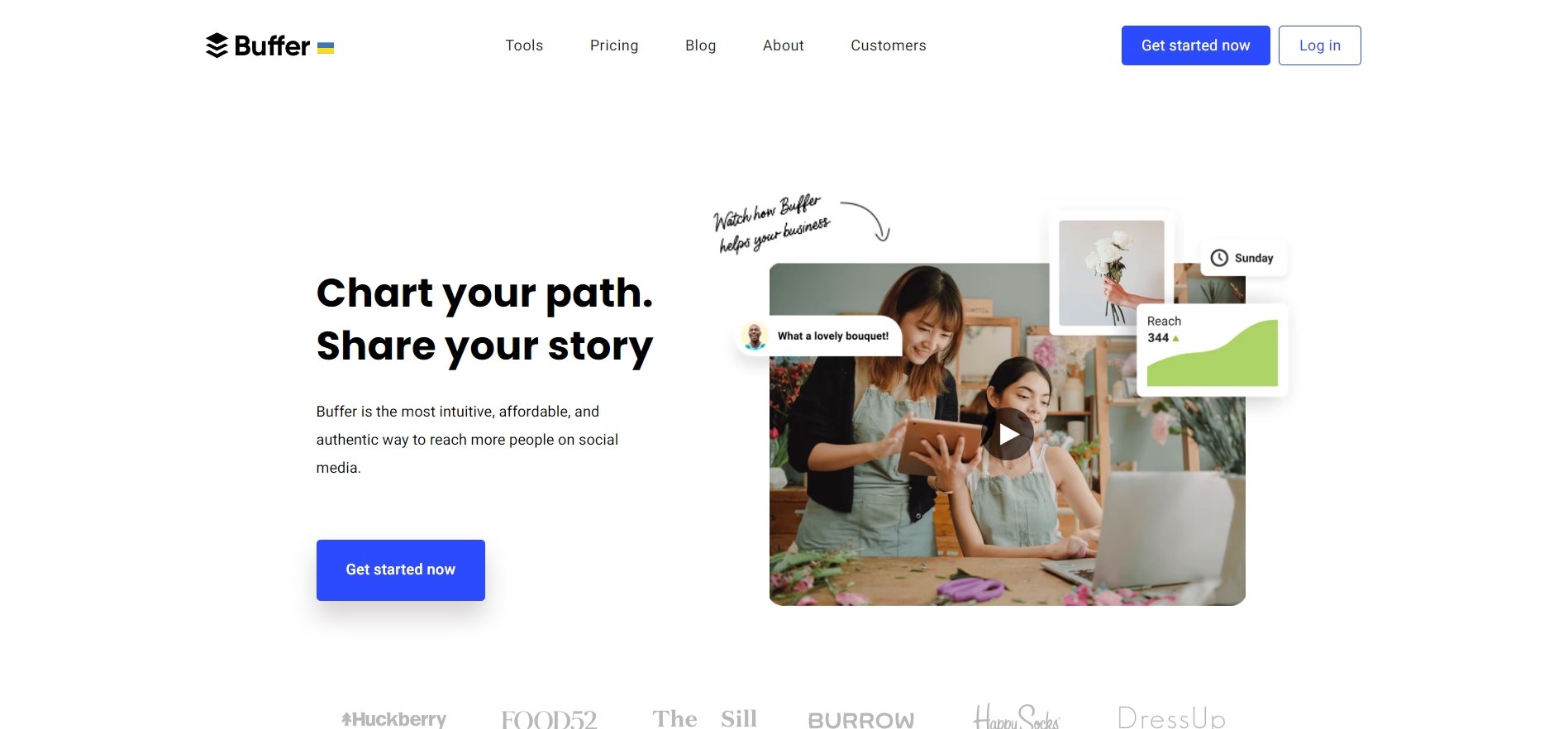 Buffer is more appropriate for big marketing agencies. The tool performs planning with a social media calendar feature and has inter-team collaboration. More than that, Buffer is integrated with WordPress and RSS readers, making it easier to find content for your brand.
Features:
Measures the performance of all your social media platforms and can create reports for Instagram, Facebook, Twitter, and LinkedIn.
Can schedule posts on Instagram, Facebook, Twitter, Pinterest, and LinkedIn from one dashboard.
Pros:
Offers a free plan with limited features.
Cons:
Some users report images crashing when fixing scheduled posts.
Unable to monitor mentions and polling for posts.
Integrated social media networks are limited.
Pricing: Buffer offers three plans with monthly and annual payments. For professionals, $6 monthly and $5 annually. The team plan is $12 monthly and $10 annually. For agencies, it's $120 monthly and $100 annually.
3. SocialBakers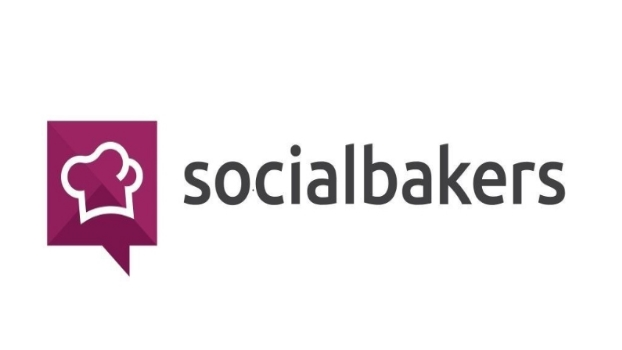 Socialbakers is one of the best social media schedulers marketing agencies can use. It's a unified social media marketing platform where managing multiple social media profiles is possible. The tool is also AI-driven and suggests new trends perfect for your audience, competitors, and
Features:
Can schedule and publish posts from one collaborative calendar.
Has an integrated Content Hub of your publishing insights and analytics that all team members can access.
Powered by AI, so content is posted at optimum times.
Pros:
Has an easy-to-use tool.
Provides easy-to-read analytics.
Cons:
No free plan or account.
Cannot publish on LinkedIn.
Cannot post videos on Instagram.
Unable to upload gifs or videos in the scheduling tool.
Pricing: There are two plans: Essential and Complete Socialbakers Solution. The Essential package starts at $200 to $480, while you would need to request a consultation for the Complete Socialbakers package.
4. MeetEdgar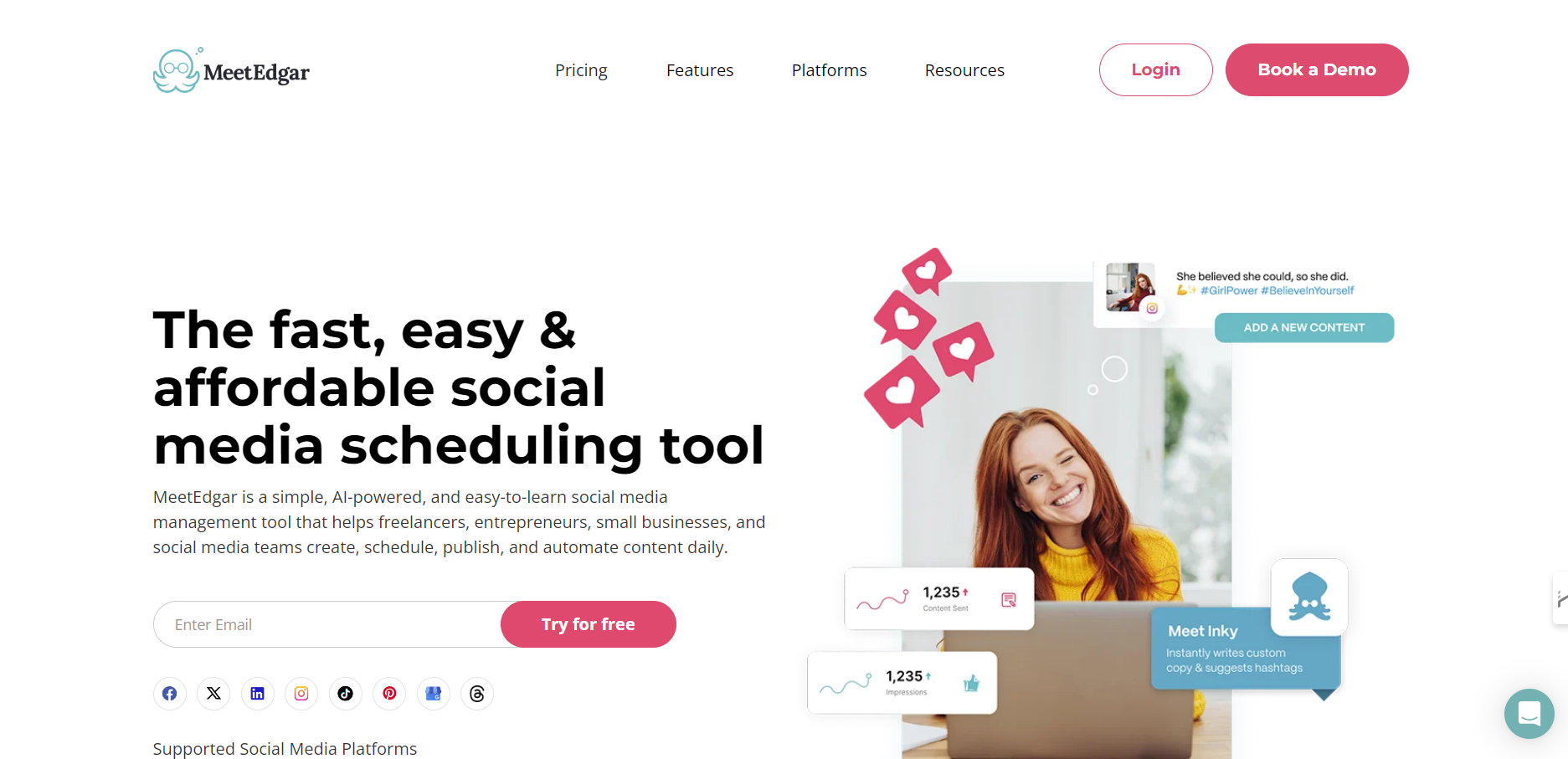 MeetEdgar is one of the Sprout Social alternatives ideal for entrepreneurs and small businesses. The tool specializes in social media automation and offers four categories to organize your content. You can use MeetEdgar to post on Instagram, Facebook, Twitter, Pinterest, and LinkedIn.
Features:
Has weekly social media automation and has no limit for scheduling posts.
Recycles evergreen content by resharing old content if there's no new content to post.
Tracks history and performance data for all posts.
Pros:
Relatively easy-to-use tool.
Cons:
No free plan/account, only a 7-day free trial.
Doesn't have any integrated apps.
Not recommended for big businesses or agencies due to its limited features.
Pricing: The monthly plans are $29.99 and $49.99. Annually, MeetEdgar costs $24.91 and $41.58 billed per month.
5. Sendible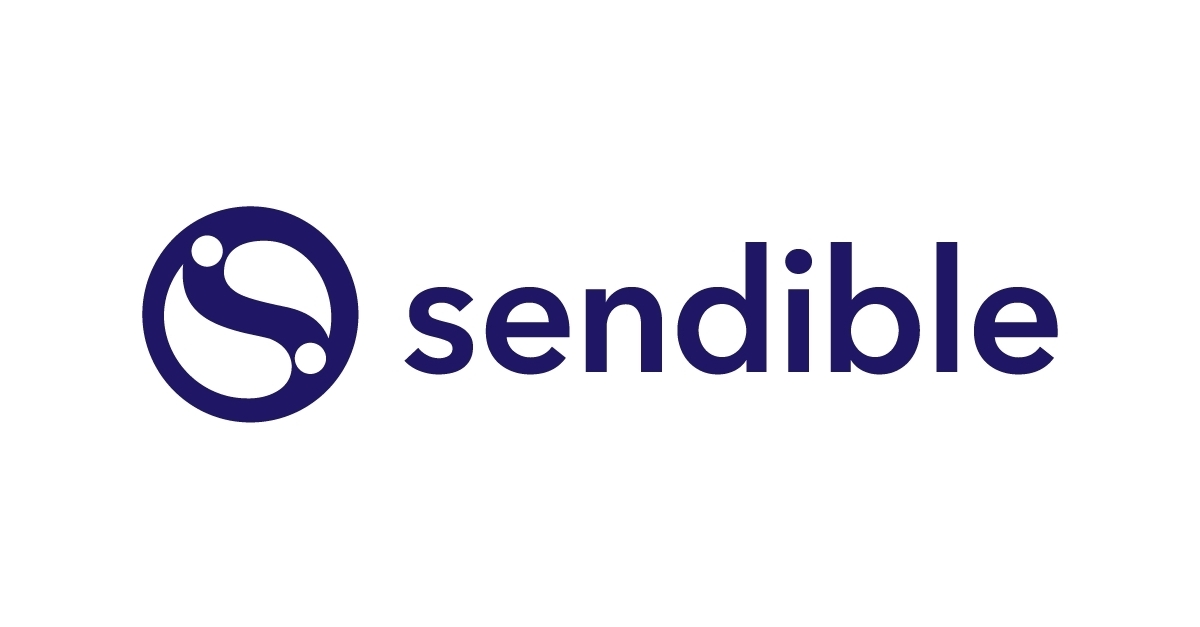 Managing multiple social media platforms is possible with Sendible. You can upload your brand's content to Facebook, Twitter, and Youtube, plus you can schedule your posts. Their social media calendar tool also makes planning ahead easier.
Features:
Can schedule posts.
Has an informative dashboard where your social media platform's performance, comments, and user engagement report are available.
Pros:
You can manage multiple social media platforms all at once.
Cons:
No free account plan and only offers a 14-day free trial.
Picking thumbnails for video posts isn't possible.
Some reviews say that managing promoted posts isn't allowed within the tool.
Pricing: Their prices vary for monthly and yearly plans. Monthly plans are $29 to $399, while annual plans run $25 to $340 and are billed per month.
Simplified is the best Hootsuite alternative
If you think the questions above are perfect for your business, go for Simplified. It's a social media calendar tool, post scheduler, and graphic design tool in one! With multiple integrated social media apps and social media automation, Simplified is a great free alternative to Sprout Social. You can easily monitor and create your content in just one workspace without needing to change between tabs! What more can you ask for?