Brands are remembered for their logo. This little graphic is your calling card across platforms, whether it's on your website or your packaging. So there's often a lot of pressure to get it right. But as the person at the helm of your enterprise, you have an unmatched understanding of your brand. You know exactly what you want it to look like and the impression it needs to create. Logo-making platforms help to make this vision come to life. Here, we've compiled a list of best logo makers that you can choose from to create yours.
"Logos are the graphic extension of the internal realities of a company" – Saul Bass.
How do I find the best logo maker for my brand?
The power of a logo is in the impression it creates. The connotations of power, play, or class that it exudes. You don't have to tell the entire story of your brand with that little logo. Just give people a clue. A glimpse into what your brand is about and what they can expect to experience. Aim to make people feel something rather than just telling them something. Feelings prompt connection.
Typography, graphics, colors, and layout are some of the key elements that go into designing a logo. Mixing and matching these in different combinations creates different messages. If you're creating a logo for a luxury brand, the design will be quite different from a logo of an educational website. The potential audiences and purposes for these two brands would be completely different. The impression that these two brands are looking to create is also different.
There are a hundred different approaches to creating a piece of art. And it's the same with design. This process is so creative that everyone with motivation and a good idea is able to picture what they want. And logo makers take care of the technicalities of the design. We've put together the best logo makers or logo generators to help you make your vision a reality.
Related: The Complete Logo Design Checklist for Your Brand
How do you choose between the best logo makers?
How can you gauge whether the logo maker you have in front of you is the best? Everyone thinks differently, so you just have to see which one works for you. Luckily, most logo makers offer free trials so you can play around to get the feel of them before you buy!
The common thread that runs through all of them is that they've simplified the process for non-designers. A few rules of thumb to keep in mind as you try these platforms are –
A user-friendly interface: Are you able to access all its features easily and understand how to manipulate the design?
Customization: The whole idea is to make the design unique to your brand so there should be plenty of options to customize!
Cost: What are you willing to pay for the logo and does the platform offer this price point?
10 of the best logo maker platforms to try
What are your options? We've compiled this list of websites and apps that are simple to navigate. They have been designed for those with little or no experience in design so they have plenty of designs and layouts on offer. Use a logo maker that appeals to you and recreate your brand image or create a new one.
1. Simplified
Design, simplified for small businesses or individuals. Simplified offers a free logo maker with an array of templates to get you started. A variety of customizations are available for different industries. You can choose between logo templates made for different types of businesses, websites, and YouTube channels. And it's easy to customize these templates thanks to the extremely user-friendly interface.
You do not need any graphic design skills to get started with Simplified. Customize your logo with interesting fonts, colors, and premium photos. You can also create animated logos to convey your dynamic brand identity. Try the free online logo generator today!
2. TailorBrands
This is one of the best logo maker tools for those who want to make a high quality logo in a flash. All you have to do is enter your brand name, your industry type, and a description. Next, choose the type of logo you want – text-based or icon-based. Then you will be given a series of sample logos to choose from. This is a fun activity that will eventually generate some amazing logos to work with.
Choose your design and tailor it to suit your needs. Most designs have a basic format, but you can always add a bit of flair using the platform's design elements. You're billed per month and the cost varies depending on whether you need vector files or JPG/PNG files.
3. Logaster
Logaster is known for its speed and efficiency. Simply enter your brand name and the industry to get started. Then you'll be shown samples featuring a variety of colors, icons, and fonts. Plus, every suggestion comes with the option to customize. Different sizes are available for each logo. Small-sized logos can be downloaded for free, and vector images carry a small fee.
4. Looka
Looka makes it easy to understand the appeal of AI in logo design. The first step is to pick your favorite out of the 20+ samples shown. Choose a color scheme and the symbols you'd like to see in your logo. Then you will be given a range of logo options that you can customize and use for your brand. Looka is a great logo generator that offers modern and bold designs. Being AI-driven, it's very easy to use and have fun with.
5. LogoMakr
This is an excellent logo maker if you want the full range of customizations. You can either choose a pre-made template or create your logo from scratch. This DIY logo maker offers you a number of design tools that are easy to use. You can also refer to tutorial videos if you need help with your design.
6. Brandmark
Brandmark is a great option for those who want a great design with minimal effort. Just type in the keywords for your brand and choose your color scheme. Then you will receive an auto-generated catalog to explore. The algorithm identifies the top designs based on your keywords. To edit the designs that you are offered, you will have to pay a fee.
7. Logo Maker Shop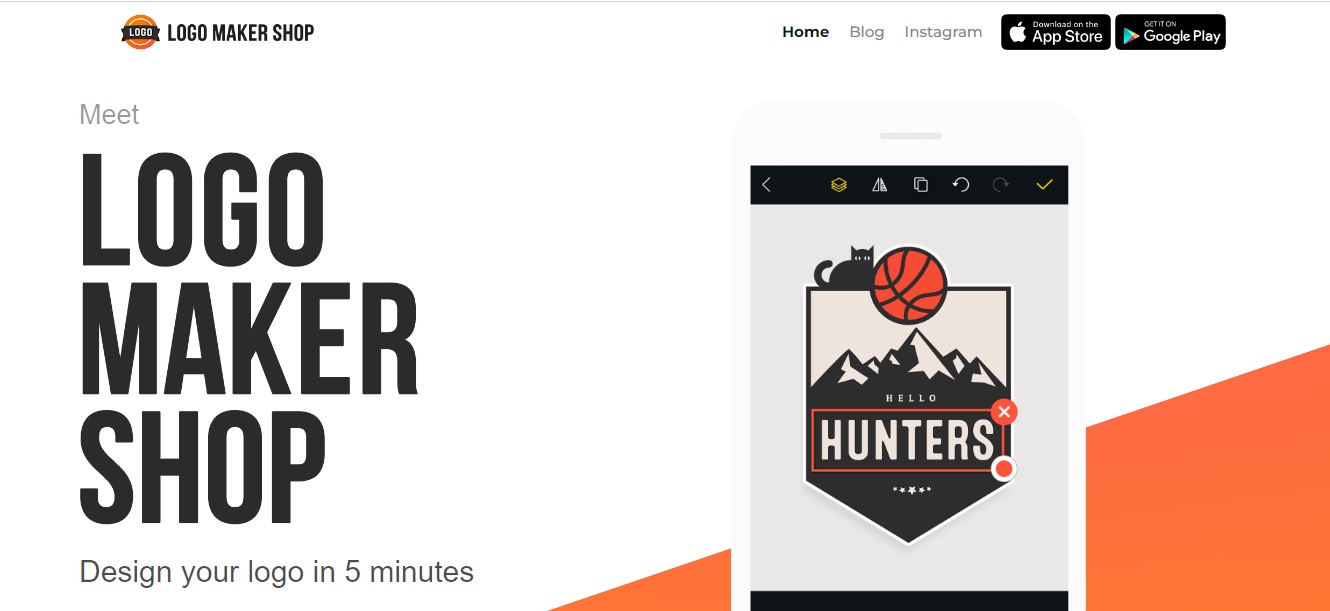 There are mobile apps that also offer a ton of features. The Logo Maker Shop by PIXO offers you more than a thousand templates to choose from. Take your pick and customize it using any number of fonts and colors. All their designs are simple but bold, making them very striking. There is a variety of free and paid templates that you can consider.
8.Canva
Canva is a popular design platform for beginners thanks to its easily navigable interface. Besides creating social media posts, emailers, and even simple websites, it can be used for business logos as well! To get you started, it asks a few simple questions about your brand and business. The drag-and-drop facility makes it quite simple for anyone to use. Canva offers a 30-day free trial, so you can definitely get started before being charged!
9.Hatchful by Shopify
Ideal for e-commerce, you can simply choose from a wide range of design options to put together an intuitive logo for your brand. It's super easy to customize the designs and achieve the feel you're going for. Once you're happy with your design, it is sent to your email inbox, ready to use in a range of aspect ratios and sizes. This way, you can use the appropriate sizes on your website, your merchandise, and other platforms.
10.DesignEvo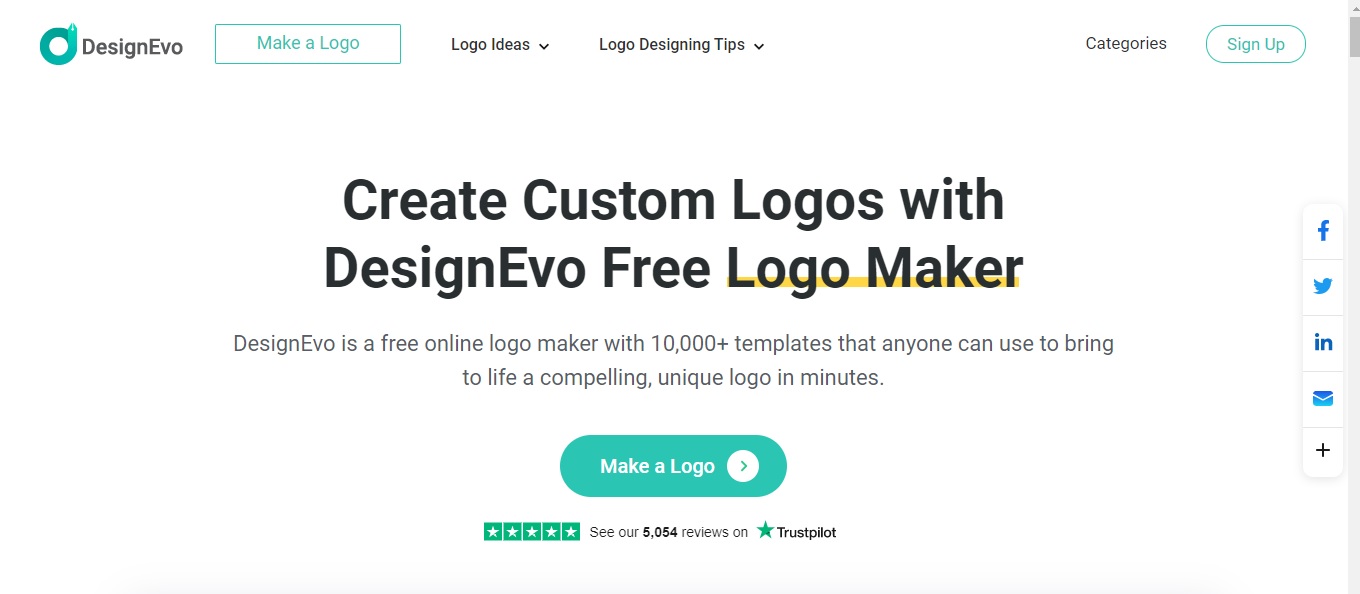 DesignEvo offers you over ten thousand templates to get your creativity flowing. Just move your cursor over a given template to customize the details. You can change the colors, font, shape, and so on, to match your brand. It also allows you to preview the logo design on your marketing material and on your website. This way, you can make those little tweaks before deciding on it. If you have cloud access, the tweaks can be made from any device.
Begin your branding (or re-branding) journey today!
Logos have the most brilliant way of talking for your brand. We hope our list of the best logo-maker tools has got you excited. Are you a new business owner or a budding content creator? Start growing today with the best logo-maker tools the internet has to offer.
Create a powerful visual brand story with Simplified
Explore Simplified to be able to give people a glimpse of your brand. The wide variety of customizations and helpful templates makes this platform ideal for creating your brand story and prompt a real connection with your audience.