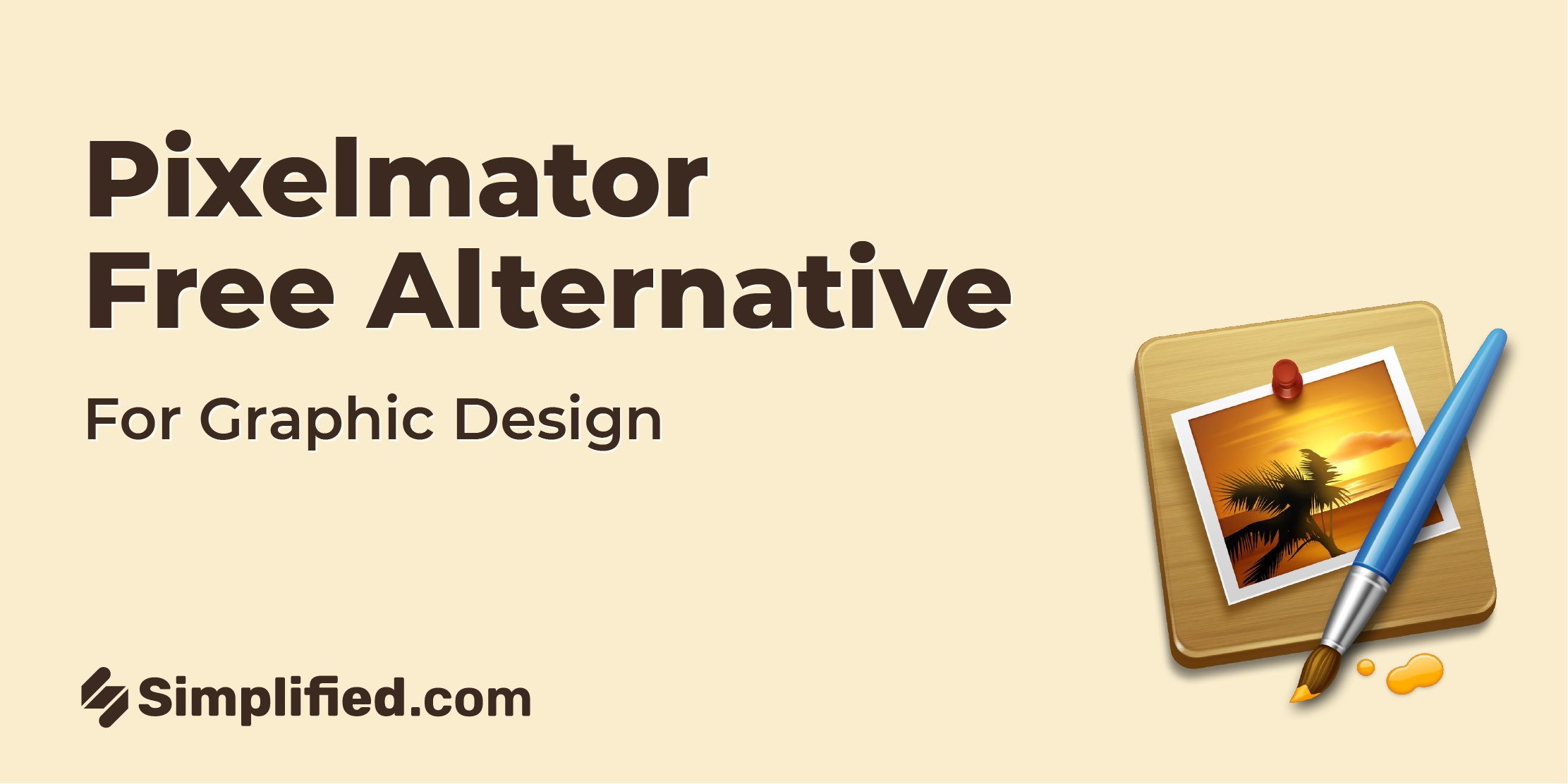 To design content for your website, business cards, or social media graphics, you need a great design tool. With so many options out there, it can be hard to find the right one for you and your budget. Simplified is a free alternative to most design apps with its intuitive software and a fantastic community of users! In this guide, we'll walk you through the features and pricing plans of Pixelmator and the best Pixelmator alternative – Simplified!
Simplified vs. Pixelmator: Comparison at a Glance
Basis
Simplified
Pixelmator
Pricing starts from
Free Forever Plan
$4.99
Features Simplified Offers that Pixelmator doesn't
AI copywriting
✅
❌
Unlimited personalized brand kits
✅
❌
In-app Customer support
✅
❌
Built for Mac & Windows
✅
❌ (only Mac)
Design, Edit & Publish
Creative AI assistant
✅
❌
Custom Fonts
✅
✅
Thousands of FreeTemplates
✅
❌
Upload your own assets
✅
❌
AI text-to-image generator
✅
❌
Premium, royalty-free assets
✅
❌
Video editing
✅
❌
Premiumaudio library
✅
❌
Video templates
✅
❌
Animation & Transition
✅
❌
One-click Magic Resize
✅
❌
One-click Background Remover
✅
✅
Content Planner + Scheduling Posts
✅
❌
Organize & Collaborate
Members
✅ Unlimited
❌
Team sharing
✅
❌
Audio File Management
✅
❌
Real-time Collaboration: share your workspace + commenting while designing
✅
❌
Organizing: Folders
✅
❌
Built for teams
✅
❌
Premium community
✅
❌
Mobile Friendly
✅
❌
Integrations
✅Google Drive, Google Sheets, Shopify, Chrome Extension, Storyblocks,Pixabay, Unsplash, Brandfetch, Pexels, Airtable, Zapier
❌
Now that you have a rough idea of the features offered by both design tools, let's take a closer look below at the pricing plans for each platform!
Pricing and Plans— A Powerful Free Alternative to Pixelmator
If you're a freelancer or small business owner, price points are especially important because you're likely operating on a tight budget. Especially when you're scaling your brand, less is more. Simplified is a powerful free design platform that takes care of everything from generating sensational Instagram post captions to compelling LinkedIn ads!
Free trials and plans for most design platforms are available before you subscribe to their services for a monthly or annual plan. However, these trials may be short-lived and don't include the full range of features that you'd like to test drive.
Furthermore, some free design platforms will have features like images and editing tools hidden behind paywalls for subscribers only. For example, Pixelmator only offers a 15-day trial period after which you'll have to upgrade to their Pro plan if you want to have full access to the design tool's features.
So, what makes Simplified the best free Pixelmator alternative? First of all, it's free. Moreover, the all-in-one design platform offers high-resolution photos and premium templates. Additionally, you can use custom fonts, upload your assets, use text-to-image generator and get access to vector icons and images – all for free!
Simplified vs. Pixelmator: Comparing Pricing and Plans
| | | | |
| --- | --- | --- | --- |
| Packages | Simplified's Pricing | Pixelmator Pricing | What's the difference? |
| Free | $0 Free Forever | 15 Day Free Trial | Pixelmator offers a free trial for 15 days after which you will have to upgrade to their Pro plan for access to editing tools and other features. |
| Small Teams | $21/month upto 5 members | $4.99/month/per member | Pixelmator doesn't have separate plans for teams and only allows individual accounts as part of its subscription plans starting at $4.99/month. |
| Businesses | $35/month | N/A | Unlike Simplified, Pixelmator only offers individual plans for different versions of their software such as Pixelmator Pro. However, the best Pixelmator alternative has been built for you and your team in mind. |
| Enterprise | Talk to us about the best plan for your enterprise! Growth plan starts from $85/month. | N/A | Simplified offers custom pricing plans for your business, so get in touch today to receive a quote! |
All the Features: AI Copywriting, Templates, Videos, and Assets
Finally, it's time for the comparison's most significant aspect: the features. You may need to decide which features you can do without depending on what features are most important to you. For some users, a straightforward design platform is all they want. Others that need to grow their content marketing are looking for an all-inclusive solution.
1. AI Copywriting Generator
Simplified is the world's first AI copywriting and design platform that generates stunning content for all your social media channels! With this wonderful Pixelmator alternative, you can create a copy in seconds! Simplified's promise to you is fast, reliable, and efficient copy for all of your brand's needs, whether it's writing your Instagram captions or product descriptions!
However, Pixelmator is primarily a photo-editing tool and doesn't offer the advanced copy AI features that Simplified does. So if you are looking for an alternative to Pixelmator that can write great marketing copies as well, Simplified is a great option. What's more? With Simplified, you can create both engaging copies and stunning visuals at the same time. Pretty cool, right?
Related: The Best Alternative to Snappa in 2023: Simplified (Free forever) vs Snappa ($120 Paid Annually)
2. Templates
Users can design unique graphics for their social network profiles using both Simplified and Pixelmator. The distinction between the two is that Simplified offers a broader selection of templates for you to select from. The fact that there are pre-made templates by professional designers is the finest thing about this great Pixelmator alternative.
Therefore, if you don't have access to a graphic designer, don't worry—with just a little bit of study on the kind of template you want to use and a few small tweaks here and there, you'll be good to go in no time!
Explore Simplified Templates !
3. One-Click Editing Tools
While creating quality graphics or videos takes time and energy, with the right tools you can make the process much faster with an output that looks like it's done professionally and without losing its quality.
Both Simplified and Pixelmator offer a background remover, but Simplified is a more advanced all-in-one design tool. Not only can you crop images optimized to share on social media, but also clip images into shapes!
Only Simplified has the one-click magic resize feature. As the term implies, the one-click magic resize feature allows you to resize your images in just one click. All you have to do is click on your desired size and wait for Simplified's AI to do its magic! Not only does it help if your blog or website has a lot of content, but it also helps if there are large images that take up a lot of space.
Did you know that you can create animated graphics in one click? Pixelmator's animation features are hidden behind a paywall, but Simplified's AI allows you to test drive this super cool one-click-editing tool for free!
4. Videos
Video editing is a complex and demanding job that requires patience, attention to detail, and creativity. Simplified's video editing feature can help you edit and produce videos easily! With this Pixelmator alternative, you can crop, trim, and edit videos in seconds! However, Pixelmator only offers editing services for GIFs since it's primarily a photo-editing design tool.
5. Resource Library
Simplified is a free, one-stop design tool where you to millions of free stock images from Unsplash, in addition to other watermark-free photographs and videos from Giphy, Storyblocks, and Pexels! This means that you can easily edit your photos, create blog posts with them, or even make social media graphics! However, after Pixelmator's 15-day free trial ends, you'll not be able to maintain free access to the resources.
Social Sharing: In-App Planning, Posting, and More on Pixelmator and Simplified
YES! You've finally created all of your designs, written all the copy, edited and refined the material, and your team has given final approval. The time has come to publish your work! The problem is, how can someone make posts every day at a certain time? Have them scheduled beforehand to keep you on top of it!
Online Diary: With our online diary, you can schedule to post your design at a particular time. Just set the time on Simplified. No matter where you are, the post will go up!
Efficiency: Schedule your posts to appear at optimal times so you never miss the window of opportunity.
In-App Planning: You can ideate, create, visualize, design, and publish all of your social media content through Simplified. This wonderful Pixelmator alternative allows you to visualize the layout of your social media calendar – doesn't that sound easy?
However, Pixelmator is largely a platform designed for individual use and therefore doesn't have the same breadth of features that Simplified offers for social sharing!
Collaboration & Organizing: Are Pixelmator and Simplified Good for Teams?
First off, as mentioned above, Pixelmator is chiefly a photo-editing design tool optimized for individual use. However, the wonderful Pixelmator alternative has been built with you and your team in mind. If you're a team of designers or creatives, Simplified can make your life much easier.
Let's take a look below at the advantages of shared workspaces:
Share and view your graphic design work in real-time with your teammates, wherever they're based with Simplified's collaborative workspaces.
Add comments and notes directly on your designs right from your Simplified account without having to go back and forth over email or Slack.
Share your designs with people outside of your team to get feedback, or send it to clients for easy review.
Finally, with Simplified, you can add an unlimited number of people to your workspaces!
However, Pixelmator doesn't allow the same functionality for teams and collaborative design projects.
Related: The Best 2023 FREE Alternative To Peppertype AI: Simplified
Getting Started: How user-friendly are Pixelmator and Simplified?
The Pixelmator platform might be challenging for design novices to use, especially if they lack experience with photo editing. Although the UI is pretty simple to use and has bright graphics and buttons, there are many options and features that can be quite unfamiliar for design novices.
The finest Pixelmator alternative, on the other hand, has a contemporary interface that is appealing and immediately attracts attention to its features! With Simplified, you get better readability and maximum efficiency!
Design invitations, ads, social media posts, videos, and more. Create, collaborate with your team, and publish online – all in one place.