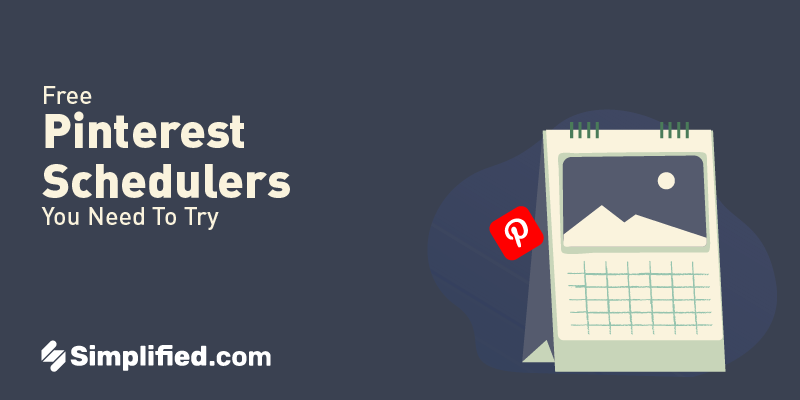 Pinterest is a platform that small business owners should not ignore. As of 2023, it had over 445 million active users, and those users were spending over an hour per month on the site. In other words, Pinterest is a goldmine for new businesses wanting to increase website traffic and engage new shoppers. Still, the process of scheduling pins can be extremely time-consuming, so today, we will look at eight free Pinterest schedulers that'll do the job for you.
Related: The Best Time to Post on Pinterest and How to Increase Pinterest Engagement
8 Free Pinterest Schedulers to Grow Your Business
1. Simplified
Simplified is an AI tool that offers Pinterest scheduling as one of its features. It's a tool that allows you to create pins and schedule them to automatically post to your account . Simplified has hundreds of designer-made templates, layouts, fonts, gifs, stickers, and images to help you create eye-catching content. With Simplified's Ai content writer, you can create catchy titles and captions for your Pinterest posts that help convert customers. In addition to all of this, Simplified offers an analytics tool that will help you measure and track the performance of each pin, helping you to You can try Simplified's Pinterest scheduler for free !
2. Later
Later is a scheduling app popular for Instagram scheduling. However, it can also be used as a great Pinterest scheduling tool. All you need to do is connect your Pinterest account and add your images according to the boards. The free plan allows you to schedule up to 30 posts. If you want to schedule video pins as well, you will have to upgrade to the paid plan.
Related: The Ultimate Pinterest Size Guide for Your Brand
3. Buffer
Buffer is a free Pinterest scheduler that works in two different ways. Download their free chrome extension and schedule your pins directly from the website. You can also open the Buffer scheduler and add images to your schedules. The free plan allows you to schedule up to 10 pins at a time. Therefore, you must fill up your queues frequently to be on track.
4. Planoly
Planoly is also a free Pinterest scheduler that works like Later. Originally made for Instagram, it has also launched a Pinterest scheduling tool. You can sign up and connect your Pinterest profile to start scheduling. Once you have connected your account, you can add images and easily schedule. However, the free plan only allows you to pin up to 30 posts.
5. Tailwind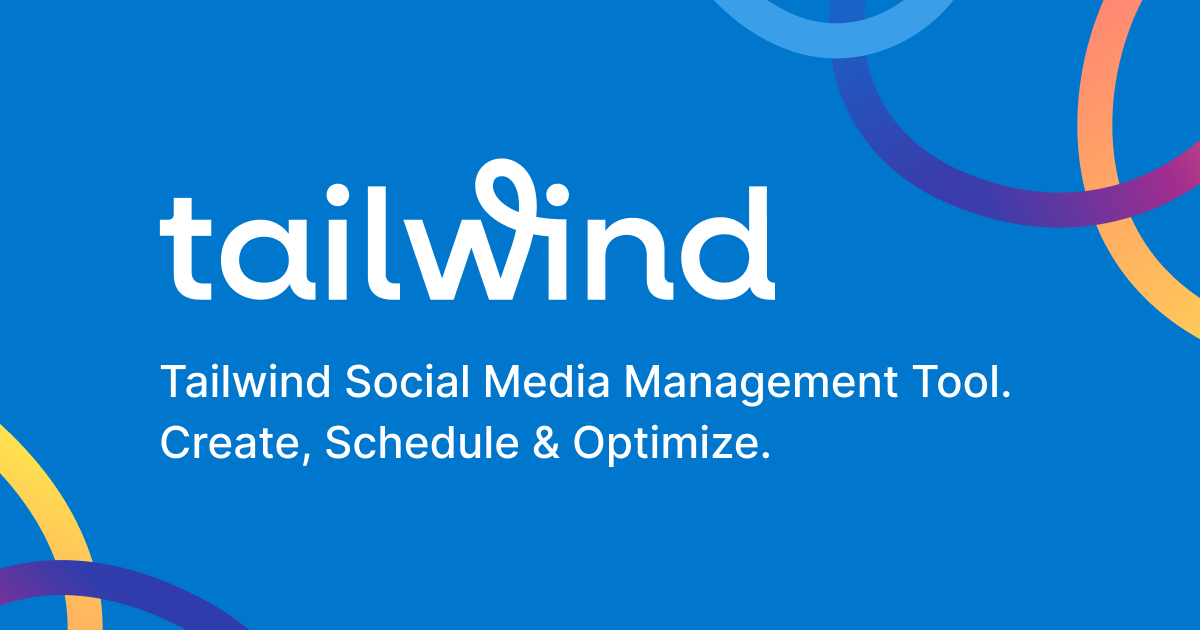 Tailwind offers a free Pinterest scheduler that lets you schedule up to 20 pins per month. Their free plan allows you to collaborate with five groups and is perfect for bloggers, small businesses, and other social media influencers that want to up their posting game. With Tailwind, you can schedule your pins in advance and keep track of your performance—you'll know which types of posts get the most engagement, when they're most likely to be seen by your audience, and more. You can also use their analytics dashboard to see what type of content gets shared the most (and why) so that you can try out new ideas in the future.
6. Pinterest Scheduler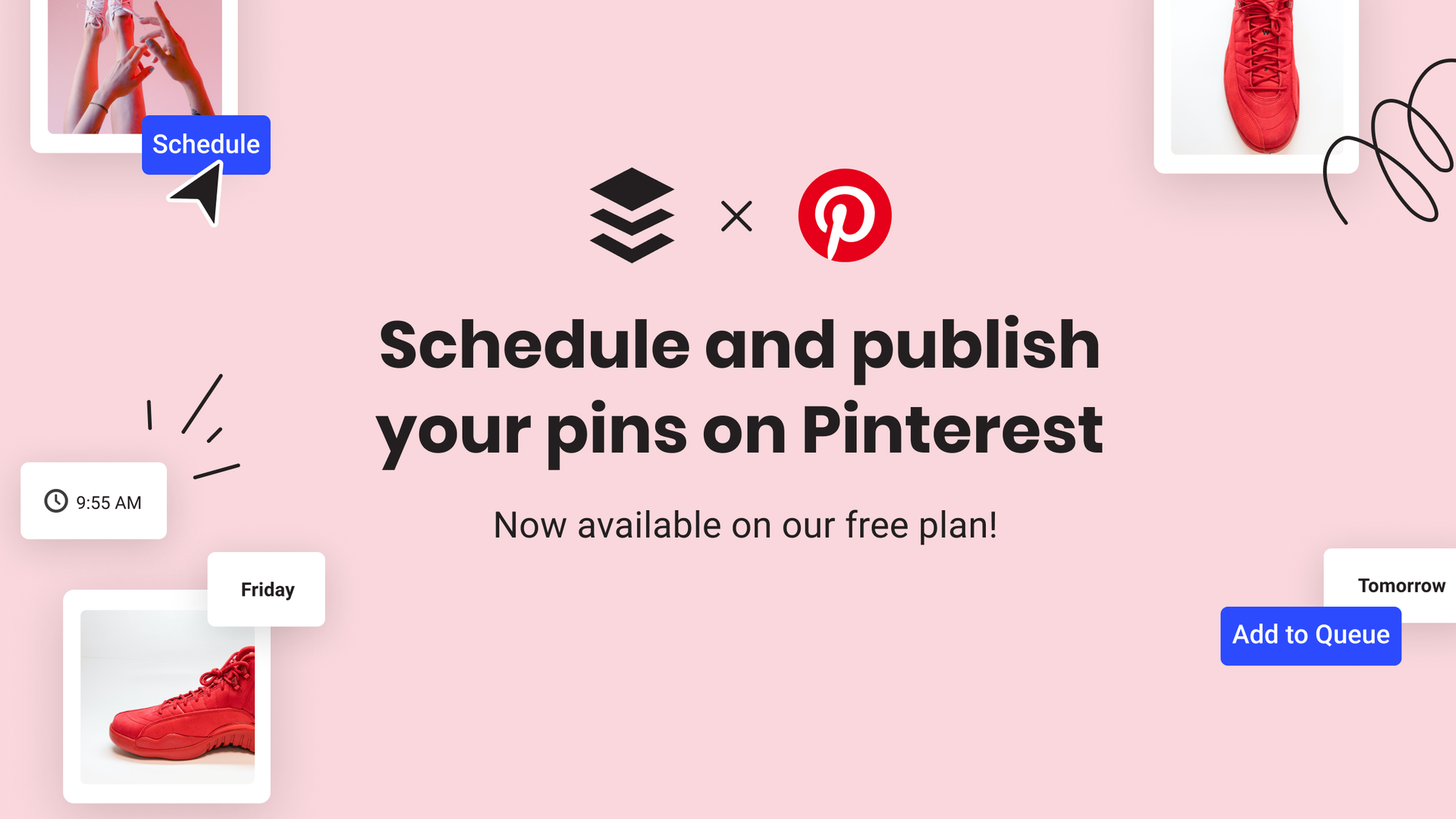 Pinterest also offers a free Pinterest scheduler for its users. You must have a Pinterest business account and create pins before scheduling them. Add your image/video and select a board to pin them. Now, instead of publishing, you can choose "Publish Later" and choose your date and time.
This will also show up on your accounts page so that you can have an overview of what's coming up next. The free Pinterest scheduler allows you to schedule up to 100 pins two weeks in advance.
Related: 5 Strategies To Boost Your Pinterest Marketing
7. Hootsuite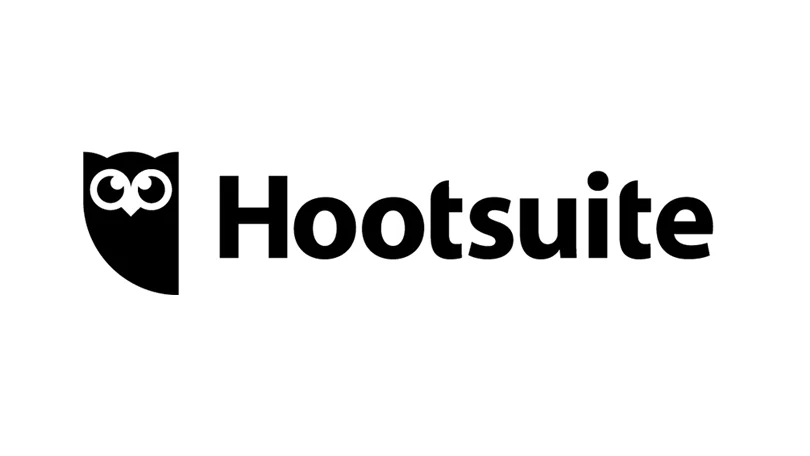 Hootsuite offers a free Pinterest scheduler plan with basic social media functionality, including up to 3 social profiles and 30 scheduled posts. The best part of Hootsuite's free plan is that it isn't limited to a certain number of monthly posts. So, if you wanted to schedule 30 posts in one day and come back later after they've all been posted, that would be an option. Another option is to schedule 4-5 posts a day—you could do this once a week or so and then fill your queue only when it gets empty again.
8. MeetEdgar
MeetEdgar is a simple yet powerful free Pinterest scheduler that helps you schedule posts and creates an editorial calendar. It allows you to schedule posts in advance. Share them automatically as they're posted. You can choose from various social media platforms, such as Pinterest, Instagram and Facebook.
Grow your business with Simplified!
Are you ready to take your Pinterest game to the next level in 2023? Look no further than Simplified – the ultimate Pinterest scheduler that will have you engaging with new shoppers in no time. With its easy-to-use interface and ability to schedule pins from any device, it's no wonder Simplified stands out amongst the 100 million active users on the platform. Don't be left behind. Give Simplified a try and watch your Pinterest exposure soar!"
Try out Simplfied's Social Media Scheduler today!
Common FAQs
How do I schedule a pin on Pinterest for free?
There are two options. The first is using a third-party service like Simplified. This free Pinterest scheduler allows you to schedule pins ahead of time. Share them automatically once they're posted. The other option is using the native Pinterest scheduler. You can find this by logging into your account, clicking on the "Home" button in the top left corner, and selecting "Scheduled Pins" from the drop-down menu. Here, you can choose the date and time you want to post your pin. You can also add a description and tag any relevant keywords.
How do I get traffic to Pinterest?
Pinterest is a great place to share your content and connect with people who are interested in what you're doing. It's not always easy to get followers. Here are our tips for getting more views and followers:
Research your audience: Find out what kind of content they like by looking at the boards that have been repined the most. You can also use tools like Tailwind or Later to find people who are sharing similar content and follow them!
Keep your pin descriptions short: Make sure your description is brief so that it doesn't take up too much space on someone's phone when they're browsing through their feed.
Use hashtags: Hashtags help people find your pins, so make sure to use them when appropriate!
Related: All About Pinterest Video Pins: 2023 Trends, Tips, and Tricks
Can you make passive income on Pinterest?
Yep! You can make passive income on Pinterest.
If you're a blogger, Pinterest is a great place to build your brand, find new readers, and even sell your products. If you're not a blogger, but you have an idea for a product that could sell well on Pinterest, you can use the platform to find out if it's viable and then set up an online store to sell it.
Plus, if you already have a blog or website and want to increase traffic, there are plenty of ways that Pinterest can help with that too!
How many pins are allowed on Pinterest per day?
There's no cap on the number of pins you can post daily on Pinterest.
You can pin as many times as you want in a day—but if you do, your followers may not appreciate it. The key is ensuring that your pins are relevant and interesting to your followers. If you post too often, they may be less likely to notice when you have something valuable to share. If you post too often, they may be less likely to notice when you have something valuable to share.