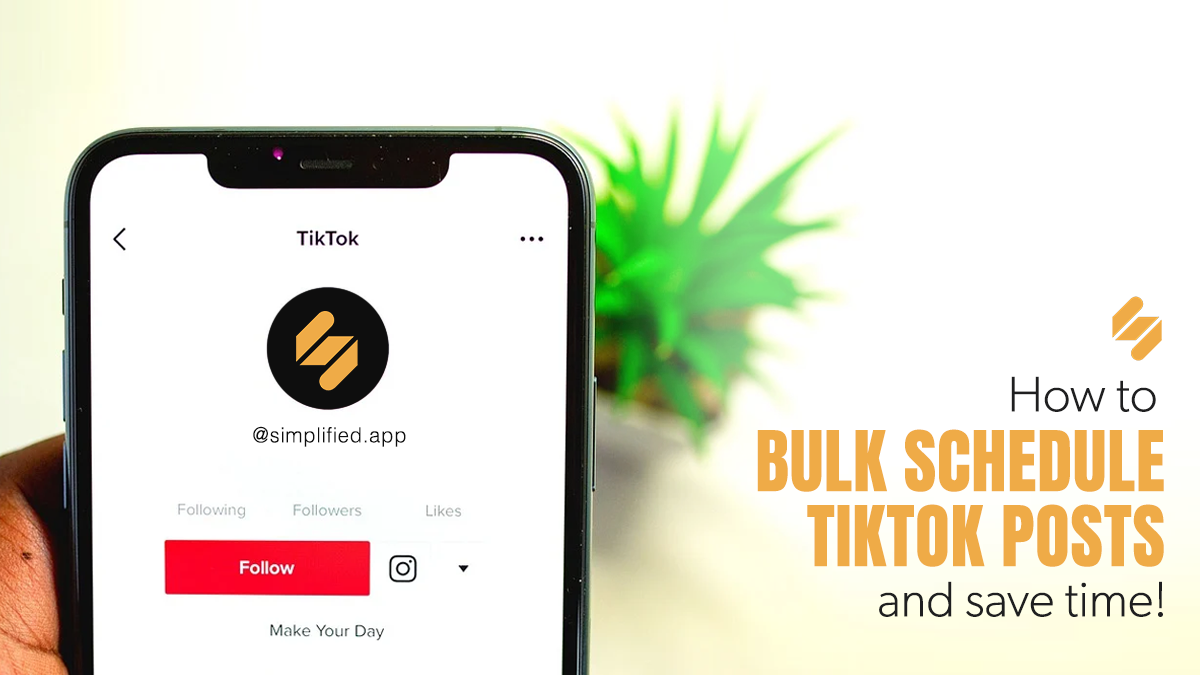 With TikTok quickly gaining popularity, more and more brands are using the app to share content with their followers. But creating quality content on a regular basis can be time-consuming, especially if you want to post multiple times a day. Luckily, there's an easy way to bulk schedule TikTok posts in minutes using Simplified. It's a free online platform, that lets you upload videos, create amazing AI-generated copy, and schedule posts for Instagram, Facebook, and Twitter.
In this blog post, we will look at how you can bulk schedule TikTok posts and streamline your social media workflow. What's more? We've also included a TikTok upload schedule to help you find the best time to post- keep reading!
Four Easy-Breezy Steps to Bulk Schedule TikTok Posts!
1. Sign up on Simplified & add your TikTok account
Simplified is the all-in-one design and organization tool that every social media manager needs. You can sign up by entering your credentials and get the Free Forever plan. This will give you access to a plethora of TikTok design templates as well as the social media calendar.
After signing up, you will find the content calendar option from the side panel. Link your TikTok account by entering the login credentials. And that's it! You are all set to schedule TikTok posts for free!
2. Organize all your posts in a sheet
To bulk schedule TikTok posts, you must organize and prepare your content. Organize all your posts in a Google Sheet. Mention the details in different columns as mentioned below:
Date in format YYYYMMDD
Time in format HHMM
The description or message that will go along with the post
The link to the content (optional)
Now, you can download this sheet as a CSV file used for bulk scheduling on Simplified!
3. Upload your files
Once you have organized your content, go to your Simplified dashboard and go to the content calendar again. To bulk schedule, your TikTok posts, tap on the big yellow New Post button on the top right corner. A drop-down list will appear where you will find the option to Bulk Schedule.
A small dialog box will open up with the same instructions as above to organize your posts. Here, you can upload your CSV file, choose your TikTok handle, and click on the toggle button to automate the post timings. Click on Next and your posts are ready to be scheduled.
4. Bulk schedule within seconds
You will find your TikTok upload schedule ready on the screen after uploading your sheet. You can have an overview of the post content and text. Feel free to tweak any details if necessary by clicking on the three dots on the corner. You can upload your TikTok videos or choose them from the content library of Simplified. Learn how to remove TikTok watermark to upload quality content.
Edit your captions and once you are satisfied, hit the Save Post button. All the content goes into your TikTok calendar, and you can also get a view of them in your calendar. Check the video below to understand the steps.
Pro Tip: To schedule your posts lightning fast, you can also install the Simplified Chrome Extension. This way, you can save posts to your calendar anytime and anywhere with just a click!
Best Practices to Follow Before You Schedule TikTok Posts!
Now that you are ready to schedule TikTok posts, you must also try to create content smartly. Follow some of these top tips to get the most out of your TikTok strategy!
Good quality is a priority: The social media platform is very competitive, with almost a billion users regularly. If you don't know how to beat the TikTok algorithm, your content can easily get lost in the crowd. Use the power of copy, design, and high-quality videos for the best quality. Learn about your target audience by looking at competitors and research. Pre-plan your concepts before you are able to execute them perfectly.
Create unique value-driven posts: To get true recognition as a good brand, you must create value-driven content. Use the trending songs and video concepts to showcase your products and services. Your videos should be informative as well as eye-catching.
Have a balanced schedule for posting: While you are planning your monthly schedule, remember that you cannot bulk schedule everything at once. You should leave enough space in your schedule to accommodate moment marketing and personal stories as well. You can follow the rule of thirds in this matter. Keep one-third of your posts for product-related content, one-third for influencer content, and another third for personal brand-building stories.
Stay consistent and be patient: It's a great plan to schedule TikTok posts for regular posting. This will help you stay consistent. But don't expect the results to reflect instantly. Your TikTok marketing strategy should focus on long-term results! Keep posting great content, and you will see the results steadily.
As you keep posting consistently, you will also find out the best time to post on TikTok as per your niche. This will help you improvise your TikTok upload schedule for better engagement rates.
Simplify Your Social Media Life with the Best Design & Marketing Tool!