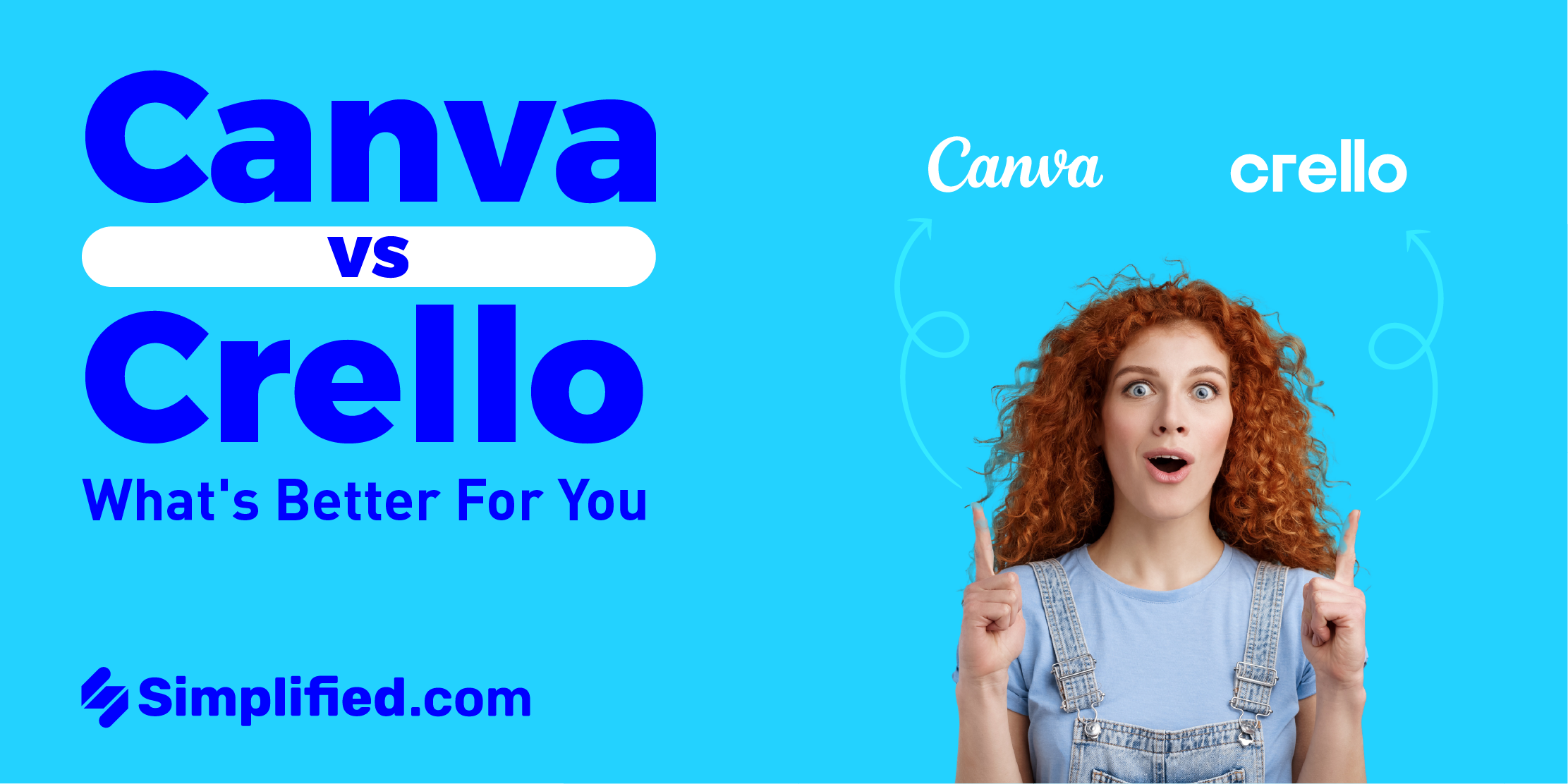 Currently, there are numerous free and paid platforms to easily create visual content, but in this blog, we'll be weighing the pros of two huge designing apps- Canva & Crello.
We'll start by seeing the history, pricing, and features of both tools to find out which is the best one, especially for non-designers or those without any graphic design experience. Plus a third FREE tool that's better than both, read on to find out!
History of Crello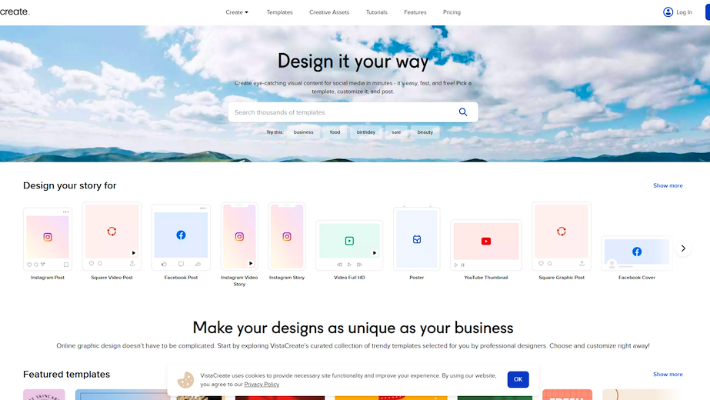 Crello or VistaCreate was developed in 2016 and released in 2017 as a browser-based design application. They're now known as VistaCreate.
History of Canva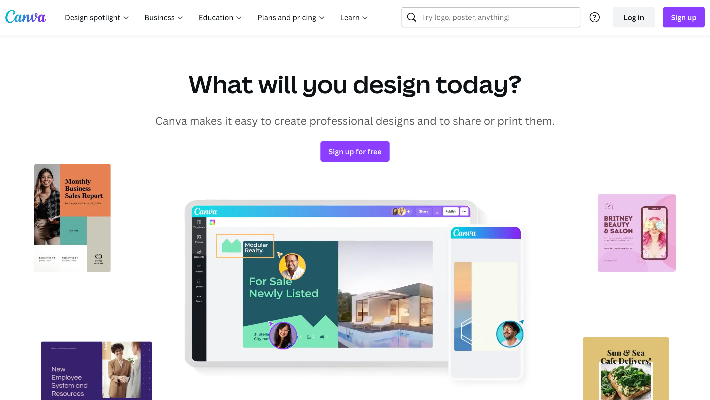 Canva is slightly older, being launched in 2012. The company's design template platform has grown to be one of the most popular and successful in the market.
Related: 11 Best Canva Alternatives for Graphic Design in 2023 [Free & Paid]
Comparing Canva vs Crello + a FREE tool Simplified
Whether you're a seasoned graphic designer or a beginner, you have to weigh your options when it comes to choosing a graphic design tool. Find out in this side-by-side comparison of two of the most popular graphic design applications.
1. Pricing
Canva has a free plan. Their paid plans start at $12.99 to $119.99. Crello pricing has only two options. It has a free plan and one paid plan called Pro, which costs $10 per month.
Simplified has five plans: Free Forever, Small Team ($30/month & $252/year), Business ($50/month & $420/year), Growth ($120/month & $1,020/year), and Enterprise (Contact Simplified's sales team for your own price). Here, you have more options that depend on how small or big your business is.
Features on Free Plans:
Canva's free plan features:
250,000+ free templates
100+ design types (social media posts, presentations, letters, and more)
Hundreds of thousands of free photos and graphics
Invite members to your team
Collaborate and comment in real-time
5GB of cloud storage
Crello's Starter plan has these features:
50K+ design templates
1M+ creative assets
Brand Kit with colors, logos, and fonts
Background removal feature
Free fonts, music, animations, backgrounds, and objects
10GB storage for files and projects
Simplified's Free Forever Plan:
Thousands of free templates
Unlimited design & video projects
Millions of free stock photos and videos
Unlimited guests are allowed
Unlimited presets available
Free audio library
AI text-to-image generator
5GB storage
96 hours of email support
2. Templates and Assets:
With Canva, you have access to over 250,000 distinct templates with the free plan. There are over 100 different design types to choose from. Though there are only a few animations, there are thousands of visuals and photos to choose from.
With Crello, there are over 30,000 free templates with different design types to choose from, and they can be static or animated. In terms of assets, Crello has over 650,000 photos and graphics, as well as over 32,000 HD video clips and animations. Crello is an excellent choice if you need a lot of movement in your design.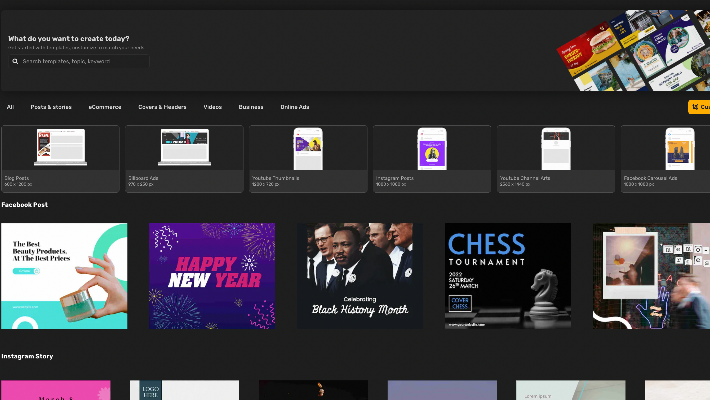 With Simplified, there are over thousands of ready-made templates of varying types available. Simply use the search bar to look for the specific platform you're making content for or use a custom size.
3. Integrations:
From file hosting services to email marketing software, Canva is integrated with hundreds of third-party platforms and apps. Third-party integration isn't available in Crello. You can, however, share your creations directly on social media from their platform.
For more integrations, Simplified has hundreds from Google Drive, Storyblocks, Unsplash, Pixabay, Giphy, and Zapier to Instagram, Facebook, Twitter, LinkedIn, Pinterest, TikTok, and more.
4. Interface and Ease of Use:
Canva's interface has been categorized to make it easy for people who don't want to spend hours looking for the perfect design, as well as those who just want to look around and see what works.
The template tools are all available on the left in a convenient sidebar with both icons and text. Selecting any of them will bring up a slightly wider sidebar with the options available.
Once you've completed a design, the top bar of the interface contains everything you'll need for the final export preparations. You may share, download, or publish your finished design by using the options on the right side.
Crello's interface is nearly identical. All of the toolbars and workspaces listed in Canva are in the same locations and perform the same functions.
The only notable variations are small ones, such as the top bar for publishing having more icons than text.
The other notable distinction is that Crello appears to have a pop-up window for making asset changes as needed. Instead of using the top bar, dragging some text over it will open a mini-window with choices for making edits.
The workspace is the most important aspect of the interface, and that's why Simplified only uses one workspace for everything. To the left, everything you need to edit (assets, templates, text, media, visuals, and AI images), and at the bottom, your artboards. Then, the top bar has the settings to share and publish your design.
Related: The 10 Best AI Graphic Design Tools You Need To Know About
5. Customer Support:
Canva features a whole "Learn" section dedicated to substantial tools for learning the platform. Courses will lead you to a wealth of information on how to use Canva for everything from personal branding to graphic design.
There are additional tutorials available in a variety of formats. But Canva has several limitations when it comes to technical help. All inquiries and concerns point to an FAQ area, as well as some articles on common issues and problems with the platform.
Crello is far more limited in terms of support. The only resources you'll find are in the template area, and they all seem to be related to specific projects.
Crello also features a help section that essentially duplicates Canva's tutorial pages. They appear to have an advantage in terms of their easy-to-find contact form, which allows consumers to communicate with developers.
Simplified has a Help Centre for all your FAQs and even advice on how to navigate through the tool.
There's also Simplified Academy where you can find step-by-step tutorials and informational videos about social media.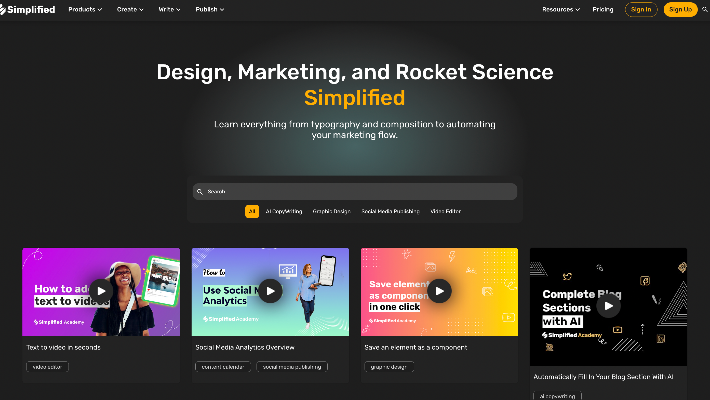 Final Thoughts
In comparing and contrasting Canva vs Crello, both are exceptional design applications, making it tough to choose since they're so similar. Both of them feature the easy-to-use functionality of dragging and dropping elements for a rapid and simple design. Based on what you need, you can easily call the shots.
But there are other apps better than Canva, imagine a tool that has both Canva's and Crello's features in one. Luckily, there's already one called Simplified. It's cheaper (with a free version), has more features, and is more flexible. You can create, edit, collaborate, and publish in just one workspace.
You can maximize Simplified's potential by using its AI copywriting tools, video editing features, text-to-image generator, and automated social media posting. Simplified has everything you need (and didn't know you needed).
Simplified makes content creation, sooo simple. It's easy, free, and made for everyone.