Artificial Intelligence(AI) has been invading every aspect of our lives, and graphic design is no exception. Designers are always looking for new and more efficient ways to tackle repetitive and tedious tasks. However, it's no wonder AI design tools have also found their way into the industry. Knowing the best AI graphic design tools can significantly improve your workflow and productivity. Especially in today's fast-paced world of 24/7 business and social media marketing. But what if you don't know which tools to use or features to look out for? Don't worry, this article has you covered by providing you with the 10 best AI graphic design tools to help you with your projects. Let's get started!
1. Simplified
Designing digital products is indeed a complex and time-consuming task. But now, no more with Simplified- The #1 free AI graphic design tool. Simplified is an AI graphic design app that allows you quickly create stunning designs for all sorts of digital products, for example, invitations, ads, social media posts, long form content, videos, 50+ copywriting templates, and more, without any technical coding knowledge. 
Simplified also offers AI Image Generation From Text Prompts feature. These AI Image Generators create stunning and eye-catching images directly from the text inputs without manual effort. All you need to do is give instructions and enjoy your favorite drink till the time AI will work for you. So why wait? Get started today and see how easy and fun graphic design can be with Simplified AI.
Related: Digital Design vs. Graphic Design: What's The Difference?
2. Canva
Canva is an online AI graphic design tool that eases the process of designing graphics for social media, blogging, and more. Also, you can create everything from blog headers and creative logo to infographics to YouTube thumbnails in minutes. In addition, it has a drag-and-drop interface and simple prebuilt templates so you can focus on what matters: your message. It doesn't require complicated skills or knowledge of AI designing software like Photoshop or Illustrator.
3. Visme
Visme is a graphic design tool that offers some of the best AI features on the market. The software has a drag-and-drop interface, which makes it easy to create professional-grade visuals without any previous graphic design experience. Additionally, you can use Visme to collaborate with other designers. Also, you can share your creations with clients in real-time, and make edits to your projects without starting from scratch.
4. Prisma
Prisma is a powerful and easy-to-use app. It uses artificial intelligence to transform your photos into beautiful graphic designs. Prisma's features include customizing your image by choosing the color palette and filter. It's available for iOS and Android devices so you can enjoy it on the go!
Related: Biggest Challenges Faced By Every Freelance Graphic Designer
5. Vance
Vance is deep learning and AI design tool used to generate high-quality graphics in an automated manner. It works by feeding it a photo and then asking it to create a similar image based on what it learned from the picture. Also, you can quickly get quick mockups or generate an entire marketing campaign with just one click.
6. Uizard
It is an AI graphic design tool that can be designed to create wireframes prototypes and mockups within minutes. Its innovative features allow users to transform hand-drawn drawings into wireframes and convert wireframes into prototypes with just a single click. However, this AI graphic design app offers a wide range of templates for graphic designing with drag-and-drop functionality. You can alter and modify your designs in just a few minutes.
7. Khroma
Khroma is a design platform that combines artificial intelligence with the power of human creativity. Also, it connects designers and clients to create personalized artwork. However, Khroma is also a marketplace for designers who can collaborate and make their designs available for purchase through the platform.
8. Adobe Sensei
Adobe Sensei is a powerful graphic design tool that let's you create stunning designs in a snap. With Sensei it is possible to quickly and easily design complex designs that might otherwise be challenging or difficult to make on your own. Sensei also comes with a broad array of features that will allow you to customize your designs to the highest quality. If you're looking for a tool that can help you take your graphic design to the next level, Adobe Sensei is definitely worth checking out.
9. Fronty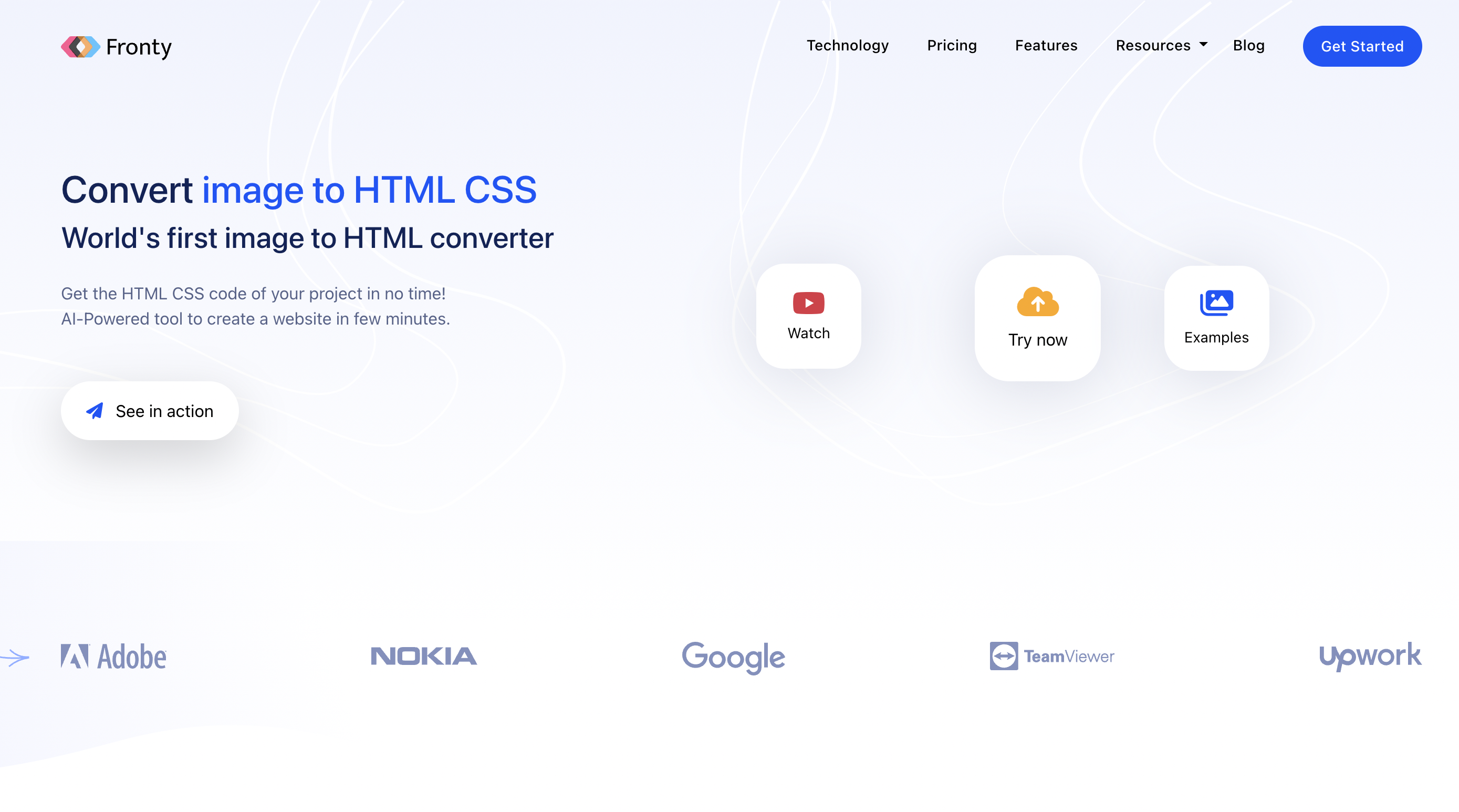 Fronty is a free, easy-to-use, browser-based app that helps you create beautiful infographics with just a few clicks. However, this cool new AI tool has an extensive library of templates and prebuilt layouts to help you get started without any design skills. Additionally, it's possible to export your infographic in PDF and JPEG formats. 
Related: How Graphic Designers Can Make A Real Difference Right Now
10. Sketch2code
It is an excellent tool for designing graphics, icons, logos, and more. Sketch2code uses artificial intelligence to create professional design concepts in minutes. The algorithm is designed to do the tedious work so that you can focus on what matters most: your creativity. Whether, you're looking for a new logo, web design, or social media graphics, Sketch2code will provide endless options to suit your needs.
Bottomline
In conclusion, AI graphic design tools are improving at a rapid rate. These tools have the potential to revolutionize graphic design and fundamentally change the way we create graphics. However, there are a variety of AI graphic design tools available that can assist you in your work. The best AI graphic design tools are those that are user-friendly, allow you to create high-quality designs, and provide you with a variety of features. Try Simplified if you are looking for an all-in-one AI Graphic Design Tool that will help you create stunning designs without any programming knowledge.
FAQ's
What is AI in graphic design?
AI in graphic design is a method where computers design or enhance visual solutions, often using specialized software. For example, It can range from simple tasks such as correcting color and images to more intricate tasks such as making illustrations or 3D models.
What is AI software in design?
AI design software is a kind of application that lets designers design and alter digital images by using AI. This type of software can be designed to produce images that could be utilized for various uses, including designing products or architecture.
Is AI replacing graphic designers?
With the rapid advances in AI technologies, usually people think that AI could take over human designers completely. Although AI is getting ever more efficient, it's still not in a position to rival the imagination and originality of human artists. However, AI is best used as a tool that can help human designers develop more appealing designs, but not replace them entirely.
Which tool is best for AI?
To answer this question, you must first understand your own needs and requirements. What type of AI graphic design project are you working on? What budget do you have to work with? Once you have a clear understanding of your own needs, you can then begin to compare the different AI graphic design tools on the market.