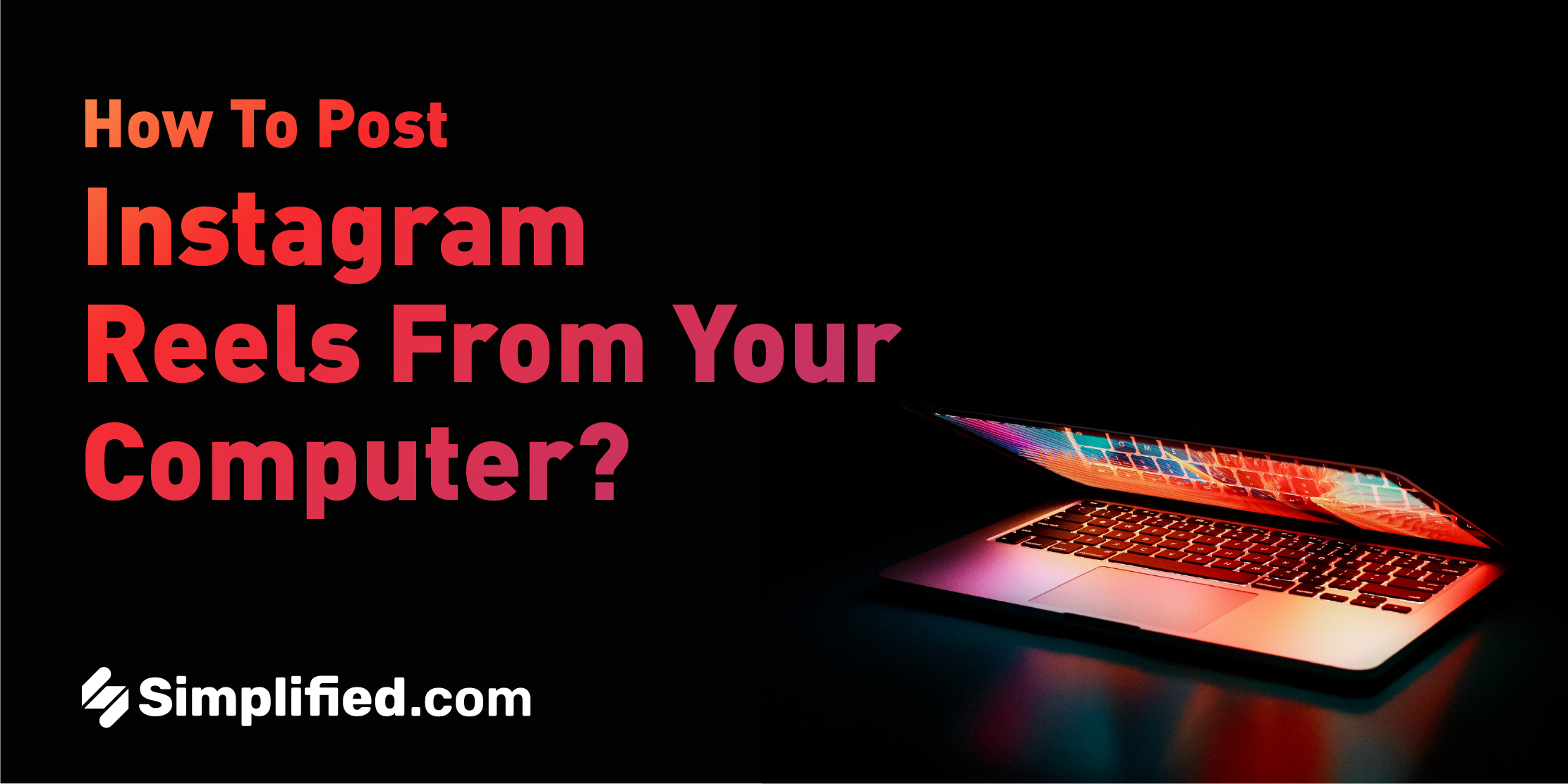 Are you an Instagrammer, or a marketing team who wants to post reels from your computer instead of your phone? Uploading your reels from your PC or desktop after creating them is a great way to get work done without having to go through the rigamarole of uploading the contents and editing them on your phone.
It's just easier to work on your reels in this way. You can edit and tweak the videos, add music and effects, and make sure everything is in order before uploading them. In this blog, you'll learn how Simplified can help you post Instagram reels from your computer with very simple steps.
What Are Instagram Reels?
Instagram Reels is a new feature on the platform that allows users to create 15-second videos set to music. These videos can be edited with various filters and effects, and users can also choose to add text overlays and AR effects. Reels can be shared in a variety of ways, including on the Instagram feed, in Stories, and on the Explore page.
Why would you want to use Instagram reels?
There are several reasons.
First of all, they're a great way to promote your work online. By putting together a well-crafted reel and promoting it effectively, you're more likely to attract followers who might enjoy seeing what you or your brand has to offer!
Secondly, using reels can help build brand awareness – for example; people who see your reel may think "Hey! I need to check out that photographer's work !" or "I love this brand's product. What else do they have to offer?"
Finally, using reels can help boost engagement rates – if people like what they see (and potentially learn something new), they're more likely to engage with your content or follow along for more updates.
Related: 8 Instagram Reels Hacks You Need to Know in 2023
Why Post Reels On Instagram From Your PC?
There are a few reasons why you might want to post Instagram reels from your PC or desktop.
First, it's a great way to save time. If you're uploading a lot of videos, it can be a lot faster to do it from your computer than from your phone.
Second, it gives you more flexibility when it comes to editing. You can use more advanced editing tools on your computer than you can on your phone.
Finally, it can be an excellent way to keep your account organized. When all of your videos are in one place, it's easy to keep track of them and make sure they're all up-to-date.
Pro Tip: Learn how to upload multiple images to your Instagram story and save yourself a lot of time using Simplified.
How to Post Reels From Your Computer Using Simplified
Here's how to post a reel from your computer using Simplified:
Log into your Simplified account and connect to your Instagram account.
After selecting the account you want to post the reel to, click on the 'Post-New Reel' tab.
Choose the photos and videos you want to include in your reel, and enter a caption and location if needed.
Customize your reel settings, like choosing a start and end time.
Click Post Reel' and you're done!
Tips for Creating Great Instagram Reels
Making a great reel on Instagram can be tough. But with a little bit of know-how, and following these simple steps, you'll be well on your way to creating reels that are both creative and eye-catching.
Choose the right clips: When putting together your reel, make sure to choose clips that are both creative and tell a story.
Keep it short: Reels that are too long can be tedious to watch. Try to keep your reel to around 3-5 clips max.
Use a consistent theme: Try to use a consistent theme throughout your reel. This will help it look more polished and professional.
Add music: Music can be a great way to add extra emotion and flair to your reel. Just make sure to choose music that's in line with your brand and target audience.
Use creative transitions: Use creative transitions between your clips to help keep your viewer engaged.
Pro Tip: Follow these 10 tips to create fast and easy videos for your Facebook and Instagram feed.
Related: All About Instagram Reels Analytics for Video Creators in 2023
Types Of Reels That You Can Create
There are several different types of reels that you can make, each with its benefits.
Creative reel: This type of reel is designed to show off your creative skills and highlight your unique style. It's a great way to show why you're worth hiring or investing in, and it can give potential clients or collaborators a better idea of what you're capable of producing.
Business reel: A business reel is similar to a creative reel, but it focuses on showcasing your work within the context of businesses and marketing campaigns. By showing how well your approach has worked in the past, this type of reel will convince others that working with you is an advantageous decision.
Fun & Engaging Reel: If you want people to keep watching your videos include funny anecdotes or clever jokes, as well as interesting footage that showcases all sides of your personality (both good and bad). Nobody wants boring content; spice things up so viewers have no choice but to stay hooked until the end!
Conclusion [+ Free Content Calendar To Post Instagram Reels From PC]
Instagram reels are a great way to showcase your work in a fun, engaging way. Posting Instagram reels from your computer makes it easier to show off your creative process and make use of the larger creative resources to connect with potential clients or customers.
Now that you know all about reels, it's time to start creating your own. Just remember to keep it under 30 seconds, add some engaging text and audio, and use relevant hashtags. You can also experiment with different types of content to see what performs best with your audience.
Most importantly, have fun with it! Reels are a great way to show off your personality and connect with your followers in a more meaningful way. Simplified is an all-in-one tool that makes it super easy to design, write, create and post your reels from your computer.
And the best part is that you can manage all your social media accounts, and schedule posts from one simple platform easily in minutes for FREE!