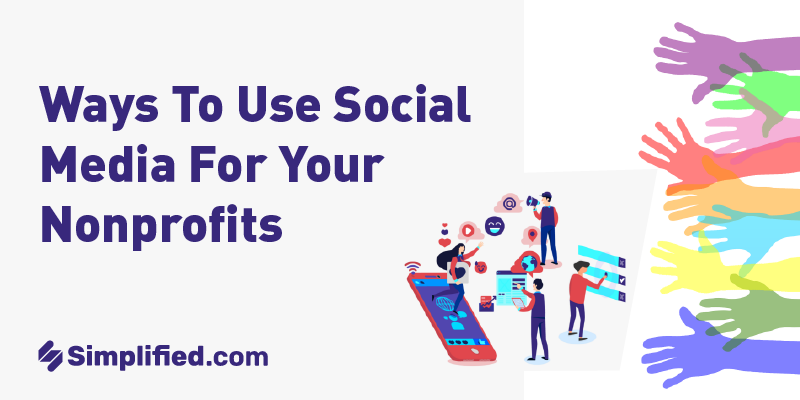 Social media has become an integral part of our lives. We use it to connect with friends and family, share news and experiences, and stay up-to-date with current events.
But did you know that you can use social media for nonprofits to strengthen and seek support for the cause?
There are several ways to use social media for nonprofits to reach a wider audience, engage potential donors, and achieve their fundraising goals.
In this blog post, we will explore 8 ways nonprofits can use social media to further their cause.
1. Create Your Social Media Plan
To be able to attract, engage and retain a large audience, you must plan your content beforehand to avoid any kind of mishaps. With Simplified social media planner tool, you can manage your content on all platforms effectively.
This tool will help you integrate your social networks, collaborate with your team, schedule posts, and customize designs all in one app. It will also help you plan out relevant content that is to be posted on special days and strategic content needed for campaigns and fundraisers so that you don't miss out.
2. Recruit Volunteers
Social platforms are a great place to find passionate people who are willing to stand for a cause. You have access to the entire world and can easily attract people who would want to join hands with you and support you in your mission. You can do this by posting videos, and creating digital designs to spread the message and build your team of volunteers.
Social media for non profits is a tool that if used wisely can help attract a large number of people with one successful campaign.
3. Develop Targeted Social Media Strategies
It is crucial to understand who you want to speak to with your content i.e who is your target audience. To reach them, your brand messaging and strategies must be optimized. Build your presence on all social platforms by creating content and repurposing it.
You can utilize social media for nonprofits by building an omnipresence of your business in the market. Instagram, Twitter, and Facebook are some of the top platforms you can start with.
4. Create Sharable Content
Do you remember the viral egg trend on Instagram? Well, this was when a picture of an egg got the most likes on the internet. But, in reality, it was posted to raise awareness of mental health. You must also aim to create quality posts, high-quality graphic designs, videos, and descriptions for your campaigns to gather the audience's attention you need.
Simplified is one tool that can help you design shareable content. With premium visual elements, a vast selection of design & video templates, an AI writer, an AI art generator and so much more- your content will always be fresh, unique, and viral.
5. Build Relationships with other Nonprofits
If you are looking for ways to build relationships with other nonprofits or like-minded organizations on social media, there are a few key things you can do:
 Find out what organizations share your mission and values. You can do this by searching online or attending industry conferences or events.
Reach out and introduce yourself. Attend their events, schedule coffee meetings, or offer to volunteer. 
Look for opportunities to collaborate. This could be joint fundraising efforts, cross-promotion, or even co-hosting events.
There is no limit to ways in which you can use social media for fundraising. By following these tips, you will be on your way to building strong relationships with other nonprofits and like-minded organizations.
Related: 10 Creative Ideas to Ace Gym Marketing in 2023
6. Be Relatable and Share Real Stories
Being relatable is important because it allows you to connect with potential donors on a personal level and build trust. When donors feel like they know and understand you, they're more likely to support your cause.
Use social media for non profits to build connections and relatability. Share and create authentic facebook stories, video backlogs, and your day-to-day workings via tweets, and posts to connect and attract an authentic audience.
7. Launch a Fundraiser
There are many ways to launch a successful fundraiser using social media. One of the best things about using social media for fundraising is that it allows you to reach a wide audience. You can use platforms like Facebook, Twitter, and Instagram to raise awareness for your cause and encourage people to donate.
Another great thing about using social media for fundraising is that it's easy to track your progress and see how much money you've raised. You can also use social media to thank donors and keep them updated on how their money is being used.
8. Run Live Events and Campaigns
Hosting events and integrating the community regularly is the biggest advantage for nonprofits. With social media, you can regularly communicate and keep in touch with your supporters. This helps in keeping the community tight and well-informed.
You can also arrange offline events and invite supporters and volunteers from all around the world to participate by sharing Instagram reels, and YouTube shorts and using Tiktok marketing.
Conclusion [ + Free All-in-one Marketing tool ]
Social media has created a revolution in the way that nonprofit organizations communicate. It has provided a way for them to connect with their supporters in a more personal way and to build relationships.
Content is at the heart of every activity performed on social media; thus, you need a tool like Simplified. It is an all-in-one platform that lets you design, create videos, write engaging content and schedule your post in minutes easily for FREE! Try the all-in-one Marketing tool – Simplified today and have the smoothest ride to content creation & marketing.