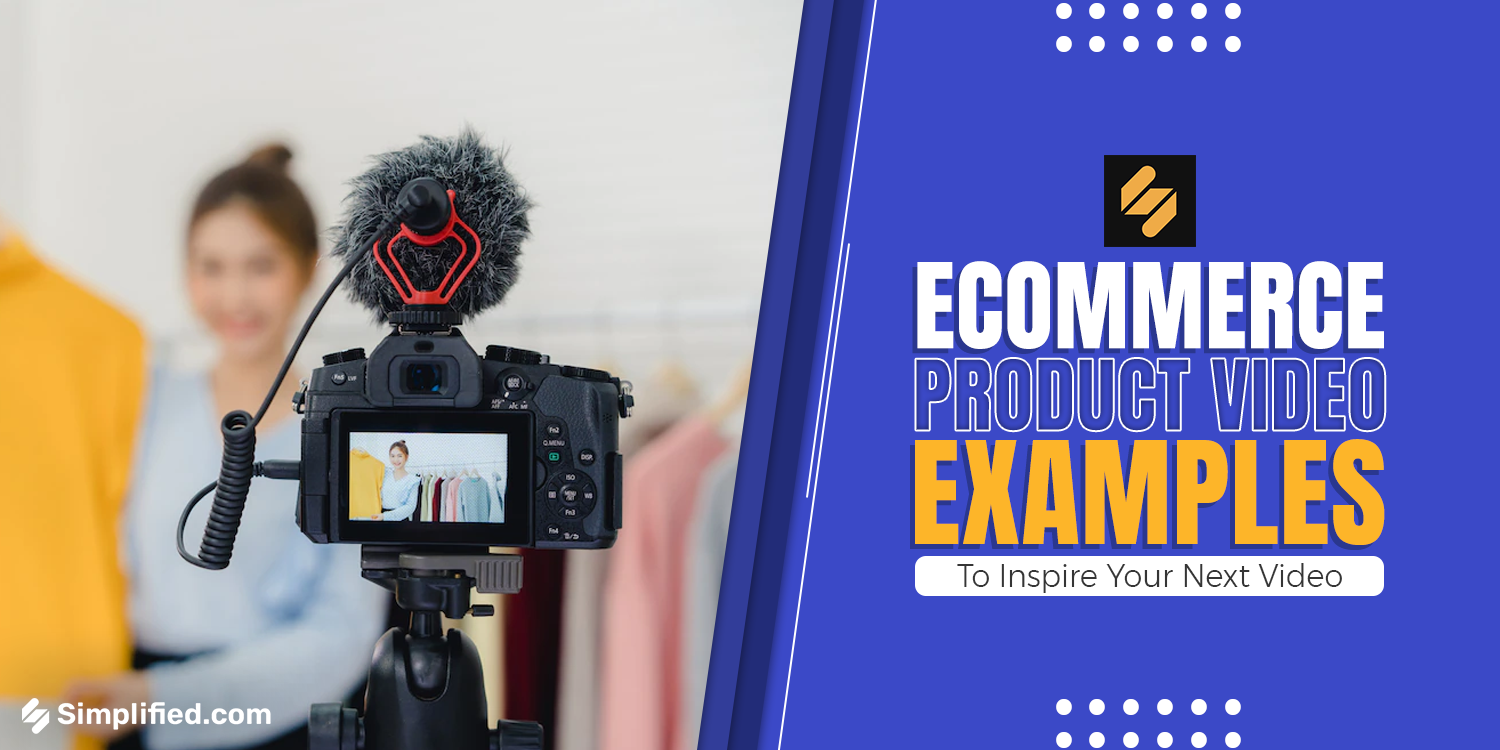 Your eCommerce product videos may be your most important marketing tool to explain your product/service and showcase your brand aesthetic. Whether on your website, your socials, or in-store, product videos show usage in practical life and create interest in your products that plain text can't always do justice to.
A good eCommerce product video can make or break your business, so creating the best product video is essential. The biggest challenge in creating great product videos, however, isn't in the filming or video editing but in writing a good script to highlight the USPs.
If you're looking to make your next product video and need some inspiration, you're in the right place. Check out our list of the best product video examples that will get your creative juices flowing.
List Of Top 9 Ecommerce Product Video(s) Examples
A well-made eCommerce product video can be the difference between a customer clicking "buy" or moving on to another product. Check out this list of product video examples to get a good idea for your next video project.
1. Solo Stove
The video will offer impressive details in less than 2 minutes. The video is shot from various angles and shows family and friends having fun with the bonfire in different settings and other items.
The most important thing about this product video is that the product's narrator reviews feature that come with advantages, such as the exclusive patented design that doesn't require large batteries and the double-walled airflow, which creates less smoke and a more durable fire, and also the product's warranty for life. All of these features are the USPs of the product and can help a buyer take a decision based on these features.
2. Raspberry Pi
Never undervalue the power of transparency and relatability. Additionally, it is helpful to know your audience. This video discusses all these elements. The founder was able to tell an engaging story that explains the reason he started the business. The video pulls wistful hearts and brings to mind how technology has positively transformed our world.
3. Native Union
Tech product videos generally rank among the top. A large part of the popularity of these clips can be due to the legendary advertisement of Apple. Indeed, these clips show where Apple could have benefitted from some extra innovative thinking.
Native Union conveys a beautiful story of modern-day tech-savvy consumers who are currently all of us. The lighting is subtle and crisp. It touches on the desire and needs – urging viewers to make the switch. In addition, the home reminds viewers of their own homes or the ones they'd like.
4. Training Mask
It is crucial to show the product in its use. While this video is straightforward, it will help drive the idea to potential clients. The product is unique and targeted toward a specific market dedicated to improvement and education, getting up at the crack of dawn to work out before heading to work and repeating the process repeatedly to experience a time of awe and hundreds of smaller moments.
5. Dollar Shave Club
This collection of product videos could not be complete without mentioning Dollar Shave Club as an illustration of viral video marketing in its best form. It's mentioned frequently, but for all good reasons.
Although the video is an advertisement, it's racked up more than 27 million views thanks to how it harnesses the potential of quirky storytelling. Additional points it gets for making evident the value proposition (more high-quality blades for less cost, every month).
6. Sierra Designs
People will be more likely to trust a product if they can't relate to the brand or understand the application of the product. The Sierra Designs' product video teaches us the correct way to address our target audience effectively. The creator is featured throughout the film and he takes the viewers through a vigorous step-by-step routine to create the perfect tent suitable for hikers and campers.
7. SISU Mouthguards
This is a simple product video but the presence of an expert, a dentist, gives this video edge over all its competitors in the market. I mean, who would know mouthguards better than a dentist, right?
The strength of this video lies in the doctor endorsing it. This increases a consumer's trust in the product and the brand.
8. Patagonia
The Patagonia Men's PowSlayer Bibs product video(s) provides a highly brief and compact visual representation of the item. It features a model of the PowSlayer Bib, which shows the front and back features of the Bib while removing pockets to show the fabric's characteristics.
The clip is clear and simple and the narration voice is clear and concise, making it possible for the video to fulfill its goal of supplying valuable objects that have technical specifications. In this video clip, we learn that you don't need an overcomplicated product video, because sometimes the simplest ones can explain your product well and boost conversions.
9. Red baby
The goal of any promotional product video is to bring life to the product by illustrating all they need to know and answering any questions customers might ask. And this video accomplished the job of providing the entire product's features live with uses.
FAQ
What should be included in a product video?
When making a video for a product, you must include the following points to make it a success. First, you must explain the product and what it can do. You can do this through narration as well as the use of on-screen text. In addition, you must highlight the item's benefits and features. This usually happens through an amalgamation of animation and live action. Additionally, you should include a call to action that tells viewers what they should do next. If you have these elements in your product video, you'll soon be on the path to creating a powerful marketing tool that helps increase sales and raise awareness of your product.
What is an example of a product demonstration?
A product demonstration is an event where a company or individual showcases a product to an audience. You can do this in person or online to generate interest in a product or to sell a product. A product demonstration can be as simple as showing how a product works or a more complex event that includes live demonstrations, craftspeople, and more.
The Best (& Free) Product Video Maker & Editor
Simplified is the world's first design & AI Platform. It is an all-in-one tool that makes it easy to create and share content. From creating stunning product videos, customizing, resizing videos, and caption generators for videos to writing engaging copy and publishing your content in seconds- you can do it all using Simplified.
You don't need to be a video expert to create high-quality product videos. All you need is a product and some basic video skills. Select a product and template, and our platform will do the rest. Simplified AI creates realistic, engaging, and informative videos, making it the perfect tool for promoting products online. Simplified is an all-in-one tool that makes it easy to create and share content. From creating stunning product videos, customizing, and resizing videos etc.
Get started with Simplified Product Video Maker, today and create the most engaging content easily, every day.