Photo editing is something of an art. Your original photo might be amazing, but proper editing can take it to another level. It's like touching up a painting. And a good photo editing app can help you do just that. Yes, smartphones these days do have brightening tools, filters, etc. But those tools don't even come close to what the best photo editing apps can do. There are so many photo editing apps to choose from now. And the good news is, many of them are available for free!
Here's a list of some free photo editing apps that you can use to enhance your pictures:
1. Simplified
Simplified's free online photo editor is at top of the list because of its user-friendly interface. It is a blessing for those who are short on time or those who want something easy to use.
If you want to edit your pictures for use on social media, Simplified has your back. Indeed, this is one of the best photo editing apps for Instagram. You can showcase your creativity with a variety of filters. Simplified also lets you adjust the settings of any filter to create your own unique photo filter. Plus, its quick image resizer can resize your images quickly without compromising the quality of your image.
Unlike the other image editors on this list, Simplified lets you download your edited pictures without a watermark. But the best thing about Simplified is how many stock images, design components, and fonts you have access to. With the Simplified image editor, you've got everything in one place so you don't have to use multiple tools.
2. Adobe Photoshop Camera
The Adobe Photoshop app has been the industry standard for photo editing for a long time. But Adobe's newest mobile app, Adobe Photoshop Camera, takes the Photoshop game to a whole new level. This new Photoshop app can edit an image even before it's even captured. It works on iPhone as well as Android. And it can produce effects that would previously have called for a lot of time spent behind the computer.
Cons
It does not have the provision of depth adjustment.
Certain photographs may appear over-edited when compared to the auto enhancement tool in iOS.
Related: The 6 Best Instagram Editing Apps for Brands on a Budget
3. Adobe Photoshop Mix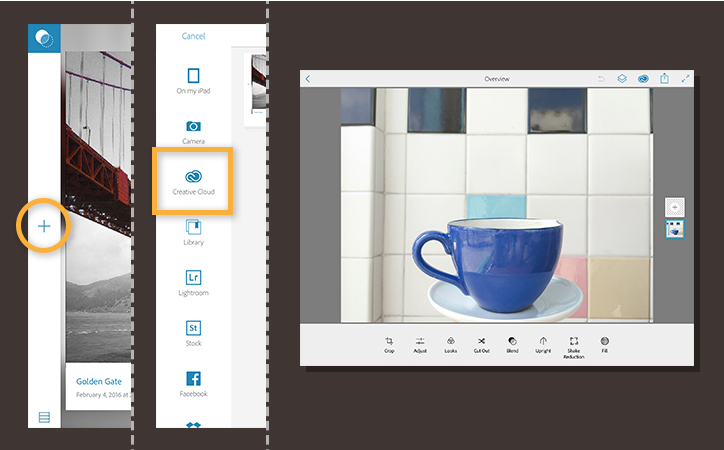 All Photoshop apps are free to download on your phone. Adobe Photoshop Mix is best known for its photo background change features. To blend with other shots, you can trim out subjects from the backdrop or erase portions of an image. Each image is converted into a layer, which you can then blend or alter to achieve more realistic effects.
Apart from photo background changes, you can do basic photo editing or apply one of the many FX Looks to enhance your photos as well. All of these changes are non-destructive, which means that both the edited image and original image are saved.
Cons
Beginners may find the program difficult to learn.
Working on a phone might make thorough editing difficult.
4. PicsArt
The PicsArt app is quite fun and straightforward to use. It covers nearly all of the elements for consumer mobile photography. This photo editing app for iPhone and Android gives you a lot of creative power. It has excellent image editing features and a wide range of beautiful filters. You can arrange your photos into customized collages and add artistic text. Plus, make your own stickers to decorate them!
The only issue with the PicsArt app is that ads for PicsArt Premium appear regularly in the middle of the editing sessions. The only way to get rid of them is to purchase a premium subscription which costs $4.66 a month.
Cons
It sometimes crashes and can be slow to respond to user's commands.
Pictures edited in PicsArt cannot be shared on most social media sites.
5. Pixlr
Pixlr is a photo editing app for Android and iPhone. It works very well for you casual photographers who want to fine-tune their photos. Or, if you're a social media marketer or content creator, this is also a good photo editing app for you.
Pixlr's editing tool is simple and easy to use, allowing you to dive straight into the thrill of experimenting with your photos. The special effect filters, overlays, and borders are interesting and eye-catching. It has a HD photo background editor for your selfies. The Pixlr editor also has some fun cartoonish stickers for you to use. You can create collages by using pre-set layouts or templates that allow you to rearrange, zoom, and move your photographs.\ Cons:
Not the best option for businesses.
Ads can sometimes get in the way of the photo editing process, which is distracting if you're trying to work.
Related: 6 Cool Instagram Story Hacks You Wish You Knew Sooner
6. Snapseed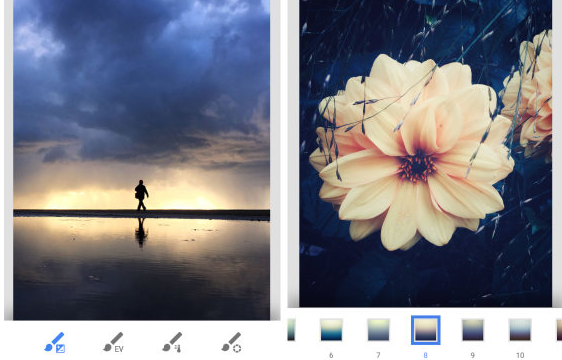 Snapseed is a free photo editing app for Android and iPhone. It was designed for photographers looking to professionally upgrade their images. Snapseed provides a complete set of editing tools, including select editing brushes and a good variety of filters that emulate film.
The software employs the method of stacking/layering of edits, allowing you to remove, rearrange, or apply them at your leisure. These stacks can be stored as a "look," which is a style that can be applied to other photos.
This app has a good collection of filters, brushes, and editing tools that will impress any serious picture editing enthusiast.
Cons:
Not ideal for beginners.
The options for social network integration aren't as clear as they could be.
7. Facetune 2
Facetune 2 is an excellent photo editing tool for portrait retouching. It goes beyond skin smoothing, toning, and teeth whitening by utilizing a sophisticated AI feature. This includes cosmetic tools, contours with subtle color, shadows, and highlights. You also can adjust the intensity of the effects with the basic slider controls. And Facetune even lets you make changes to your portrait in the camera's preview before taking the shot!
Cons:
Instead of a one-time payment, users have to renew their subscription every year.
New users may find the range of tools overwhelming.
8. Adobe Lightroom
Adobe Lightroom Mobile is a great photo editing app for both Android and iPhone. It is part of a cloud-based solution that covers the storage of your entire photo library.
Lightroom Mobile is an excellent learning platform. Its ever-expanding library of tutorials will show you how to edit photographs like a pro. The feature set is extensive, with several tools for working with exposure, color, filters, and so on. Lightroom Mobile is a great photo editing app for anyone who is committed to getting the most out of their photos. However, if you're only looking to make superficial edits this app may be too sophisticated for your needs. For basic cropping, brightening, and special effects, you might want to go with one of the other programs we've mentioned. Simplified is one of the best tools for this purpose because of its easy-to-use interface.
Cons:
It doesn't have a lot of graphic design elements, e.g., text elements or stickers.
No layers or blend modes.
Related: How to Optimize YouTube Video Playlists to Generate More Views
9. Pixtica
This photo editing app for Android is designed to replace your phone's default camera app. Pixtica is an excellent alternative if your default camera has a low resolution. It's also good if you need something better for professional-quality images. There are a lot of other editing apps that do what Pixtica does. However, it's unusual to get all of this in one spot.
This app also gives you full control over every element of photography. This includes ISO, shutter speed, and focus. It also features live filters, panorama, HDR, stickers, and hyper-lapse modes for added creativity.
Cons:
There are watermarks in the free version.
Limited resolution.
10. Afterlight 2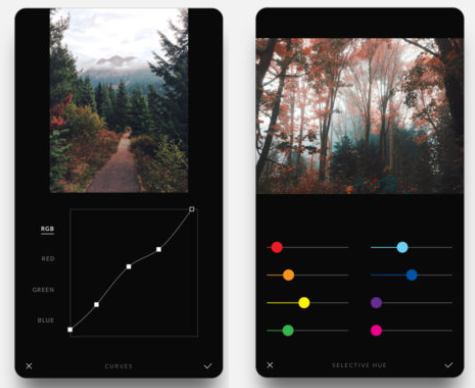 Afterlight 2 is one of those photo editing apps that is intended for individuals who spend a lot of time altering individual images. Its color, exposure, composition, and structural tools are quite extensive. You can use the history panel to roll back your image to a specific stage. This is in addition to the numerous layers of undo and redo. Apart from that, you can use the layers screen to select, edit, or delete a specific edit. Its interface is also very simple to use.
Cons:
Lack of Frame Options.
Users have to make in-app purchases for fairly small additions.
Are you looking for an easy-to-use and fast photo editor that'll take your pictures to the next level? Sign up to Simplified! With Simplified's photo editor you get access to a range of filters, stock photos, and much more.
Get started on the free Simplified photo editor today and impress your audience with your one-of-a-kind photos!
One Free app to design, collaborate, and scale your work – try Simplified today