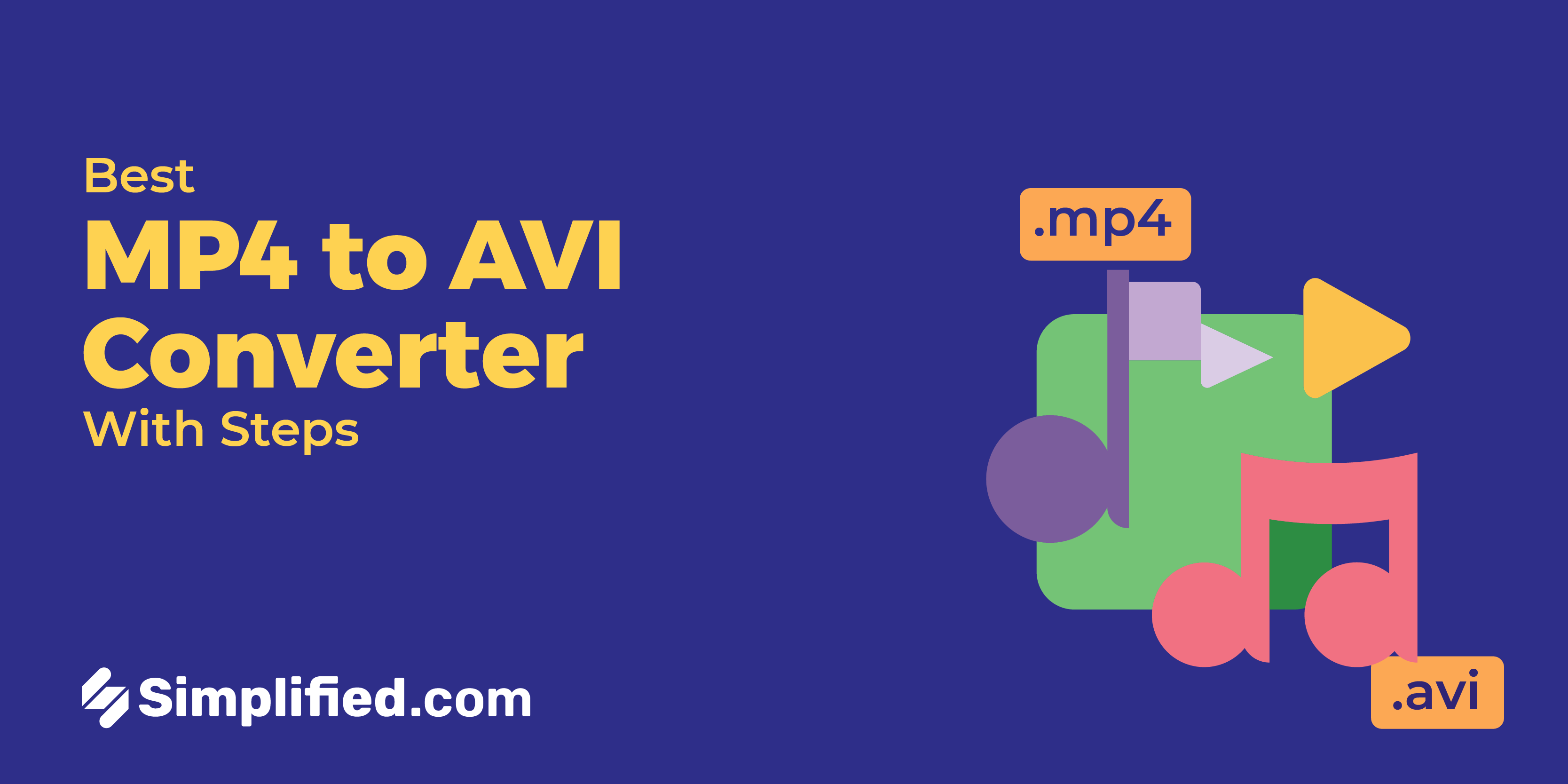 The world of video files can sometimes be very complicated. With all the different formats, codecs, and resolutions, it can be hard to keep up with all the types present and ways to convert them to a file format you can use. If you've ever found yourself with an MP4 file that you need to convert to AVI and other formats, then you've come to the right place!
In this article, we will cover ways to convert your video using 2 tools: Simplified and CloudConvert.
By using any of these methods you can convert any file that is MP4 to AVI without any fuss. So let's get started!
What Is an MP4 and AVI File?
An MP4 file is a multimedia file that stores videos of various formats and may also contain subtitles, images, and metadata. It is a standard tool and is reliable for its feature of supporting different operating systems and thus making it easy to use and beginner friendly.
Video editors, graphic designers, and marketers prefer mp4 file formats because it makes sharing content on different platforms easy and hassle-free.
Whereas, AVI is one of the most popular video formats in the world. It's compatible with a wide range of devices and platforms, which makes it ideal for sharing videos with friends and family. Plus, AVI files are small in size, so they won't take up too much space on your hard drive.
Related: How to Convert HEIC to JPG: A Simplified Guide
Converting an MP4 file to an AVI file using Simplified [Free Forever MP4 to AVI converter]
The easiest way to convert your MP4 file to AVI format online is through Simplified. This video converter will allow you to upload, convert and download the AVI file with just one click without having to install any software.
Here is an easy-to-follow 3-step outline you can follow to quickly convert your MP4 file to an AVI file with Simplified.
Step-1: Login/ Open Simplified , and among the various tools offered, look for the "Video Converter" in the products section. Choose the file options according to your video.
You will be directed to a page with an option to drop the file you want to convert.
Step 2: This tool allows you to drop video files of different formats to make your process of video conversion one step simpler.
Drag and drop your files in the box.
Select the option MP4 to AVI in the conversion tool.
At last click on convert and wait for the magic to happen.
Step 3: Your MP4 file is now converted into an AVI file, click on the download now button to save your file on your desktop.
It's that simple on Simplified ! And that's not it, you can use Simplified for video editing , one-click animations, subtitle generation, video resizing, and much more. The best part? It's Free forever!
Related: 6 Simple Steps To Quickly Crop and Resize Your Videos For TikTok
Converting an MP4 file to an AVI file using CloudConvert
CloudConvert is another online tool that lets you convert your files from MP4 to AVI. Let's look at a step-by-step guide on how you can convert video files on CloudConvert.
Step 1:
Search for the cloud convert website and select the option according to your file.
Step 2:
Once you select the desired option, upload the file you wish to convert. 
Select AVI as an option from your drop-down list and click on the red button 'convert' to start the process. 
Step 3:
Once the file is converted, download it and save it on your desktop. 
Converting heavy video files at lightning speed with the right tools can make the process smooth and easy.
Conclusion
Still confused? Which tool is the best MP4 to AVI converter? Well, choose the one which saves you time and effort. Simplified MP4 to AVI converter is the best(and free) converter that can help you with your entire video creation journey. From video editing and resizing to animations and even publishing. You can do it all on Simplified.