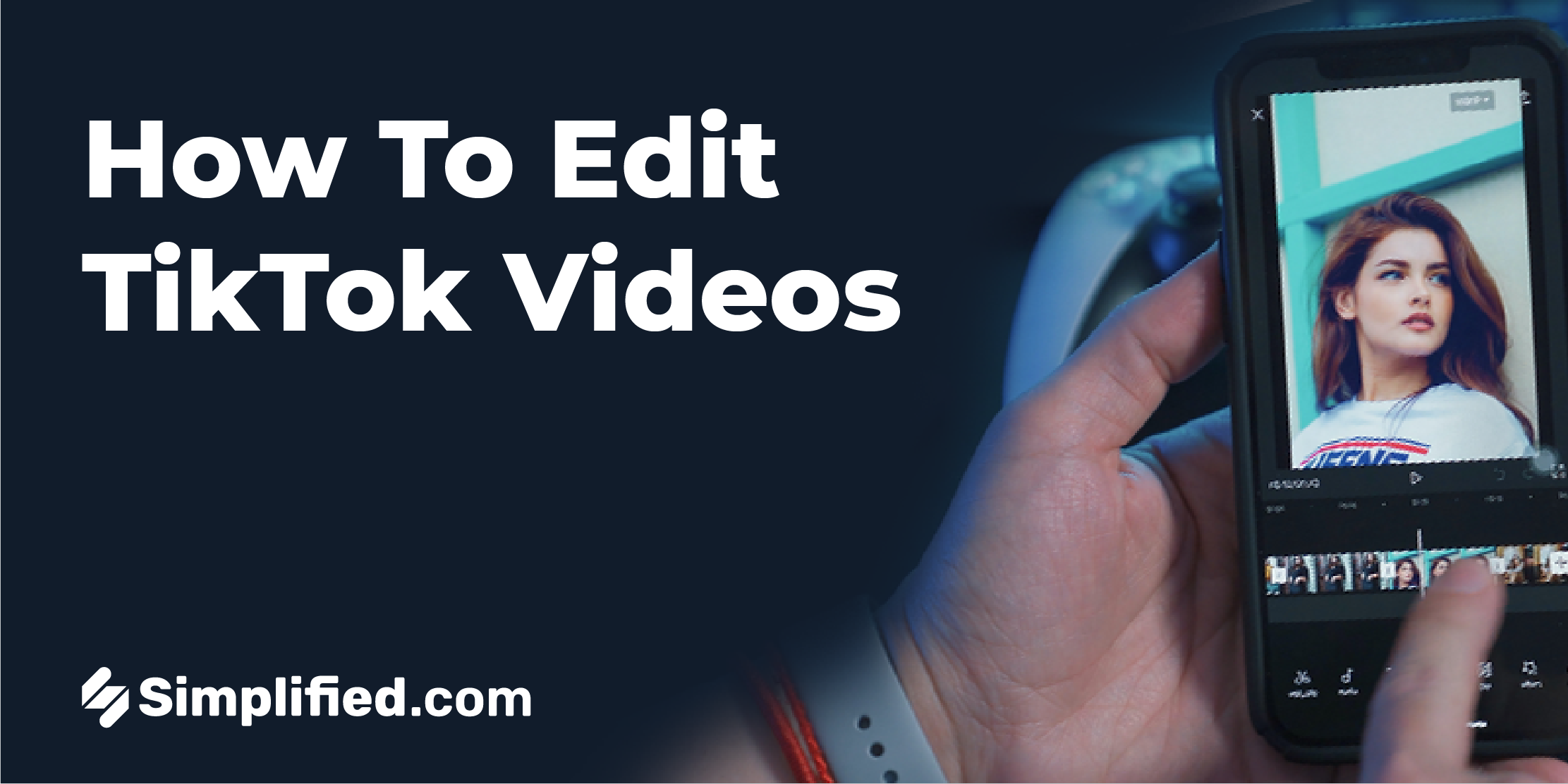 Have you been spending countless hours on TikTok, binge-watching videos, wondering if you could make them too? Well, it is often intimidating to create TikTok trends, with the texts and transitions and whatnot! But you don't need professional video-making skills to get better engagement on TikTok.
Don't know how to edit TikTok videos and trends? Fret not, our one-stop video editing app, Simplified has got you covered! This blog will give you an easy-to-follow 10-step guide on how to edit TikTok videos like a pro and become a TikTok hit! Let's get into it, shall we?
How To Edit TikTok Videos On Simplified In 10 Steps
Simplified offers a wide range of video editing tools that will help you edit your TikTok videos with ease. You can recreate your videos, add text, add music to TikTok videos and so much more. Here's how you can edit your videos in 10 easy steps:
Step 1: Record Your TikTok Video
Though you can record your videos on the TikTok app, you can also record them using your phone camera for easier editing on Simplified. You can use a green screen if you wish to add a background later and filters to make your video look more aesthetic. Make sure you use good lighting and audio for better-quality videos. Better the quality, the better the engagement.
Step 2: Adding Cool Backgrounds
If you wish to add a background to your videos, shoot them with a green screen and replace them with stock images or your own media. If you are using images to make a video and wish to remove their backgrounds, you can use the background remover tool on the Simplified app and choose a cool background from Simplified's stock image library.
You can also add a background from your own media by adding it in the 'My Assets' tab. These backgrounds are usually used for TikTok videos that you shoot at home but they have a premise set in another location like a grocery mart or a beach.
TikTok App Interface
Step 3: Splitting & Cutting TikTok Videos
Different TikTok trends have different types of splits and cuts to make the video all the more fun. For instance, if you are making an outfit jump transition video, you will need cuts of you jumping up in the first outfit and a cut of you jumping down in the second outfit.
Simplified has an easy Video Cutter and Video Splitter tool which lets you split your video into two videos or cut out parts you do not need. You can also replicate or rearrange these cuts based on how you want your video to be.
Step 4: Create A Brand Color Pallete On The Simplified App
If you are editing TikTok videos for your brand, you need to create a color palette and set a tone before adding text, cover slides, etc. Simplified has a color palette generator that lets you create a palette for your brand.
You can also choose from their unlimited brand kit options. Find one that suits the tonality of your brand and you will have a certain set of fonts, colors, logos, etc. This helps build brand identity so that when people watch your TikTok videos, they know it's your brand. This helps you sell better with brand awareness as well as engagement rates.
Related: New Top 7 Best Video Trimming Tools In 2023
Step 5: Add Your Text
Once you have chosen the color palette, it's time to add your font. You can choose the font size, style, and typography. If you want to grab people's attention, it is important to use catchy captions and typos. The more you make people stop and stare, the better they engage.
For brand videos, make sure you add a super catchy CTA towards the end that drives people to increase your sales or follow your TikTok channel.
Step 6: Add Trending Music To Your TikTok Videos
You can add music to TikTok videos on the Simplified App. You can choose from the stock music library or directly add the music from TikTok. However, it's important that you choose your music before you add your transitions. This helps you place your transition in sync with the beats and makes your video super interactive.
Adding trending songs to your TikTok videos also helps increase your reach on the app. This will ensure better engagement and impressions for your brand.
Girls Dancing On A TikTok Trend
Step 7: Transition Time!
Once you have your video cuts, music, and text ready, it's time to add your transitions. There are several transition videos on TikTok that go viral. You can choose one of them or replicate a trend. The next step is to use a smooth transition between the video clips on Simplified. One way to go about this is to choose from the transition or animation library.
But you can also choose a video template on Simplified. These FREE video templates are ready-to-use samples with text animation, transitions, video cuts, etc. All you need to do is, switch the sample text with your text, choose a color palette for your brand and add your video clips according to the time stamps of the template!
It's literally that easy to create your TikTok video. These templates are also made for better engagement and to help gain traction for your brand.
Sale Video Ad
Recipe Video
Product Awareness Video
Step 8: Add Voice Overs & Automatic Captions
Once you have chosen your transitions and synced them with the beats of the music, you can add a voice-over to your video. Just record yourself, add it via Simplified and align it with the video and the music. You can also use the text-to-speech option which adds an automated voice to your video.
Once you have added the recording, you can add automatic captions, which convert the recording into closed captions within the video. Just proofread and edit them in case of errors during transcriptions. This makes it helpful for people to read and understand what's being spoken.
Related: The 10 Best TikTok Video Editing Apps To Make Your Videos Go Viral
Step 9: Convert & Save Your Video
With Simplified's one-click conversion tool, convert your video into the format that ensures high-quality video for your TikTok page. Save your video to your device. And that's it!
You can also use the Magic Resizer tool on the Simplified app to change the dimensions of your TikTok video for any other platform like Instagram reels, Facebook videos, YouTube shorts, etc. Save yourself the time and effort of creating a separate video for each platform.
Friends Watching TikTok Videos
Step 10: Post it on TikTok [+ Free TikTok Editor & Scheduler 👇🏼]
Now that you know how to edit TikTok videos like a pro, post it on your TikTok page and watch the magic unfold!
You can create several such videos in minutes using the Simplified app. Explore the stock video library, video templates, and easy-to-use video editing tools only on Simplified.
Now that you know the secret sauce of how to edit TikTok videos in seconds, it's time to make your brand a TikTok star!
Happy editing!