Are you an in-house marketer, freelancer, small business owner, or influencer? If yes, then Buffer is probably one of the tools in your social media management kit. The affordable software solution has features that allow one to schedule, publish, and analyze social media campaigns. But like any other tool, it has its faults. If you're looking for alternatives to Buffer with better functionalities, you've come to the right place! This article compares five social media management tools that are similar to buffer, but with some extra sauce.
1. Simplified.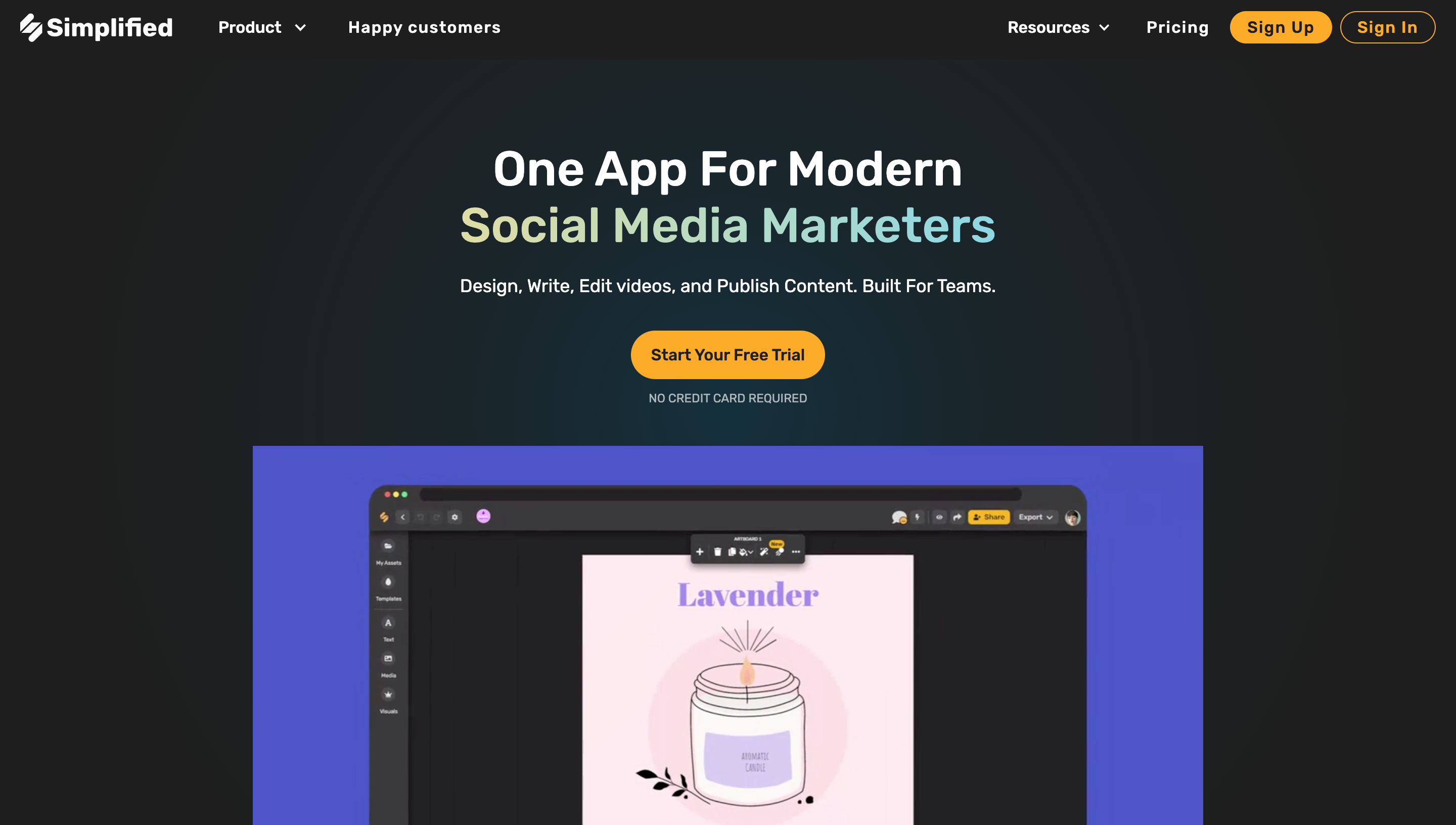 Simplified is an all-inclusive content automation and marketing tool that's capable of performing all related marketing tasks, including copywriting, social media publishing, video editing, graphic design, and more. Simplified was created to serve virtually anyone that needs to create and share content. These include freelancers, marketing teams, influencers, or non-professional content creators.
Simplified comes in three packages. The first one is the free version which comes with millions of stock images, thousands of design templates, and an AI writer that can write a maximum of 1000 words. The second package is priced at $12 per month. It offers premium design templates, video editing, AI background remover, 1000 plus Google fonts, and an AI writer capable of churning out up to 20,000 words. Lastly, we have the Business package for enterprises. This option provides a ton of lucrative features, including unlimited brand kits, 25 AI background remover, an AI writer that can spin up to 50,000 words, and social media publishing just to name a few.
Simplified Features:
The simplified app comes with a no-code graphic design tool that gets you designing in a matter of seconds. The app possesses top-quality design templates for all kinds of social media posts or documents, all of which are free. On top of that, the design tool has AI capabilities that enable it to make and edit animations, erase backgrounds, and download images with a single click. 
Simple User interface: Just like its name, the app's UI is very simple to navigate. 
It allows for collaboration: The Simplified app allows teams of up to five members to share a working space and scale their small business in an organized fashion. You can tag and comment on team members' projects to enhance workflow, or even create multiple workspaces to avoid jumbling up your different projects. 
In-app social media management: Got a business that relies heavily on posting on social media? Simplified internal social media scheduling and publishing tools will greatly alleviate your marketing process, since you won't have to exit the platform in order to post on Instagram, Twitter, Facebook, or even Pinterest. Ultimately, Simplified is the best social media scheduler in this whole round-up. 
Simplified is an all-in-one kind of tool: As opposed to having different tools to handle design, copywriting, and team collaboration, you can run all these functions with just one click if you choose the simplified way. 
2. Social pilot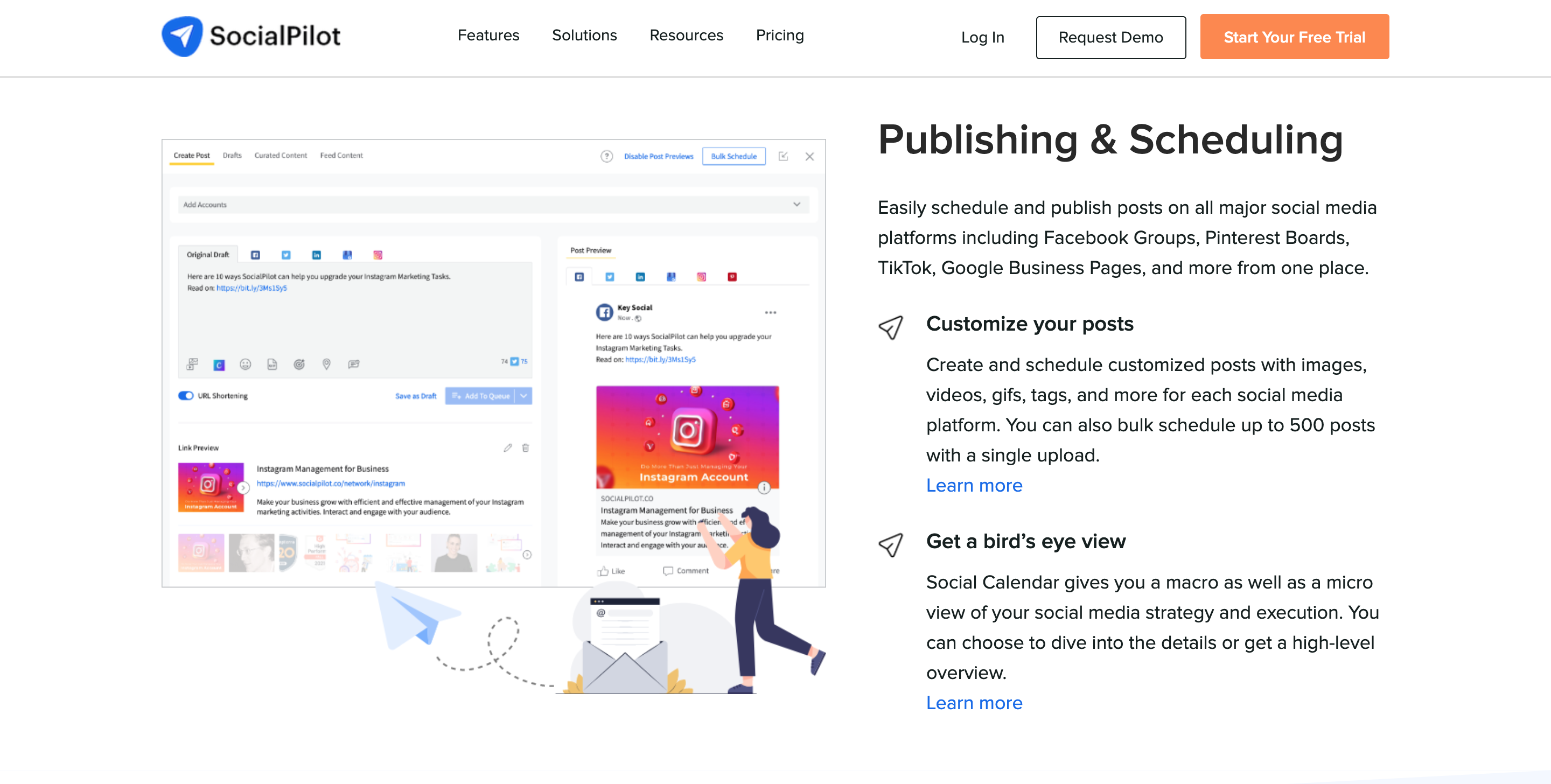 Designed for small agencies, upcoming businesses, professionals, and enterprises, Social pilot is another social media marketing tool worth checking. Social pilot is similar to buffer in that it helps streamline the marketing process by enhancing team collaboration and simplifying the design
Social pilot Pricing:
The asking price for social pilot features currently stands at $25/month
Social Pilot Features:
It has a social inbox feature that offers an easier way to keep tabs on social media conversations. Through this feature, one can comment or respond to messages on different social media networks. 
Facebook Ad Management: This feature strongly distinguishes Social pilot from Buffer. It allows one to track and analyze Facebook Ad campaigns from within the app. It also has the social inbox, a tool that enables marketing teams to run multiple Facebook pages at a go. You can literally run comments, likes, and tags across different Facebook pages from the platform. How cool is that?
Analytics and reports: Social pilot generates insightful data reports to help influence your social media marketing strategy. You can also use the tool  to generate, share, and customize social media reports
3. Meet Edgar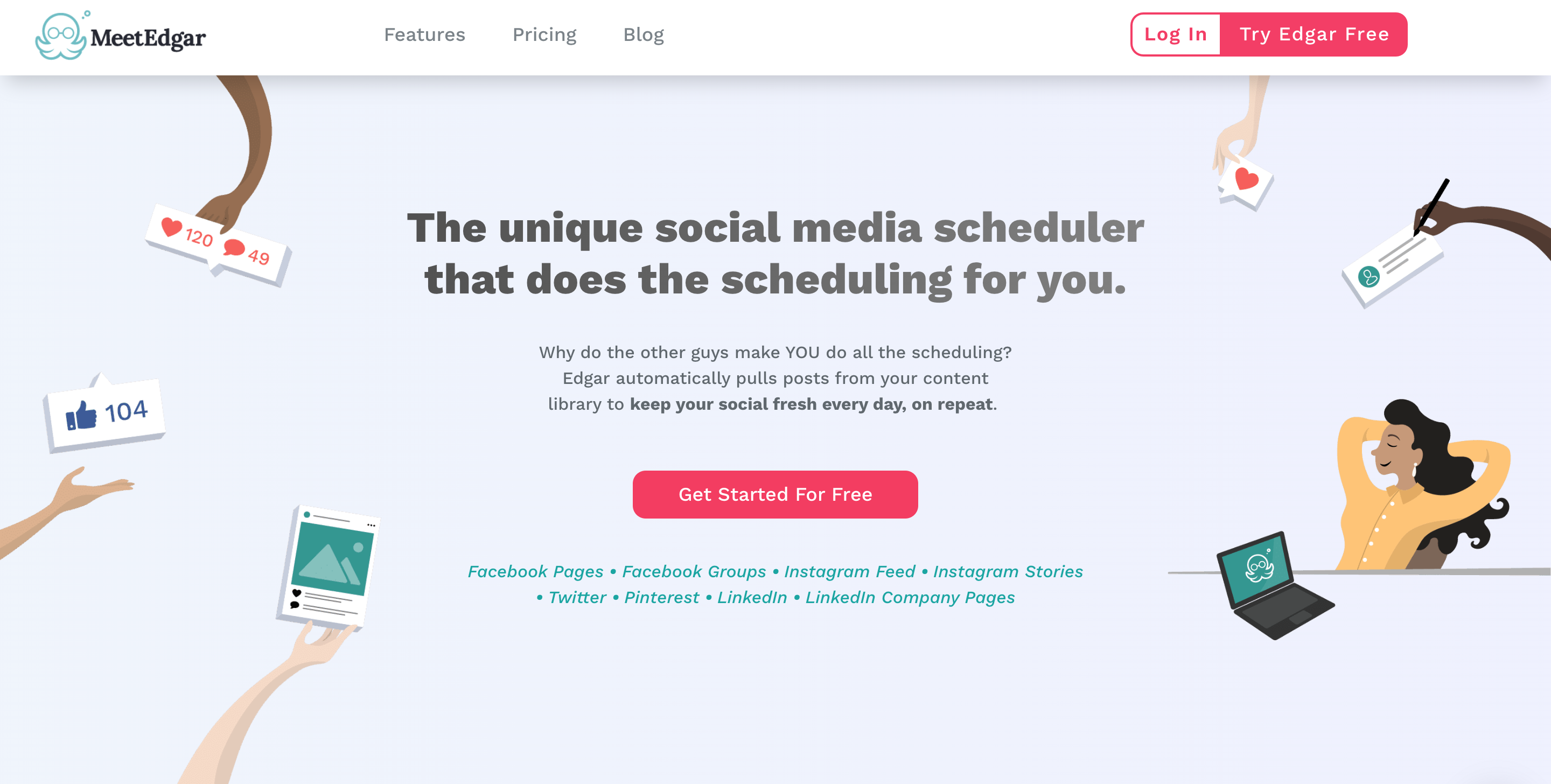 Meet Edgar is a buffer alternative that's good for creating the best social media schedule. It's perfect for professionals who run more than five social media profiles, or those who run blogs.
Meet Edgar Pricing
Meet Edgar comes in two packages. The first one is the lite package which goes for $19/month. The second package is the entrepreneur and small business tier which costs $49/month.
Meet Edgar Features
Allows for content organization: If you're seeking alternatives to buffer that will let you categorize your content in a library-like fashion, Meet Edgar can do that perfectly. 
Social media crawling: If you struggle with coming up with content ideas, Meet Edgar will scour through your linked social media accounts to identify and offer ideas on what you need to post and when. 
It offers content syndication: Meet Edgar is capable of extracting content from your external websites or blogs. 
4. Hootsuite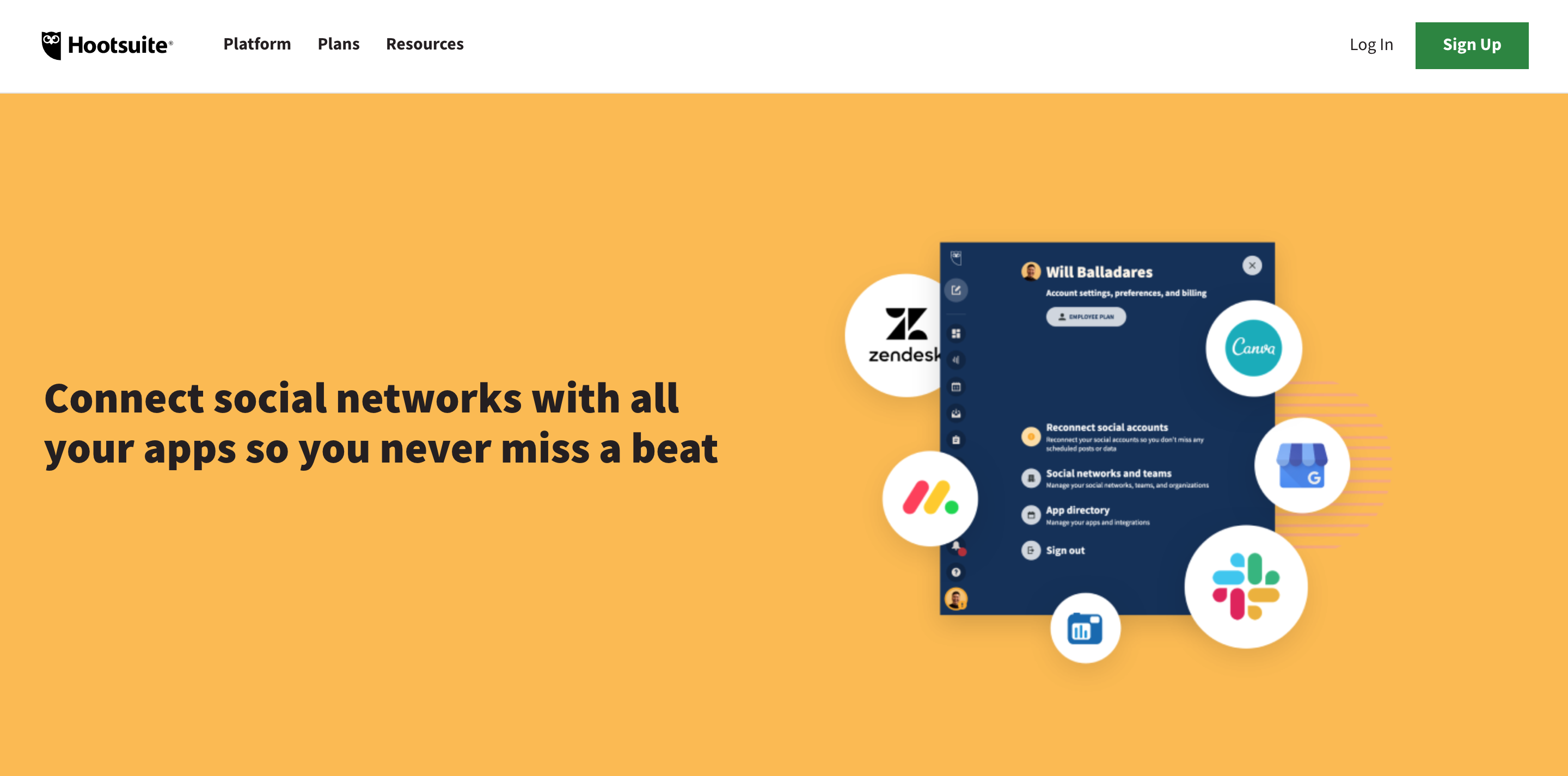 It would be impossible to mention alternatives to buffer and leave out Hootsuite. This tool is helpful when it comes to scheduling social media posts and performing analytics. Hootsuite is suitable for both marketing teams and individual users. However, Hootsuite trails buffer since it lacks white labeling features and its reporting ability is also very limited.
Hootsuite Pricing
You can choose from three options when it comes to pricing: $29, $129, and $599 per month. However, it has a 30-day free trial option that allows access to managing three social profiles.
Hootsuite Features
Hootsuite supports many social networks: You can link up to 35 social media networks using Hootsuite, making it suitable for social media managers that serve many clients. Some of the accounts it accepts include Facebook, Twitter, YouTube, and Instagram.  
Scheduling and Analytics: Hootsuite makes it easy to come up with social media performance reports. This enables you to determine whether your social media strategy is working as expected and whether you are meeting the set ROIs