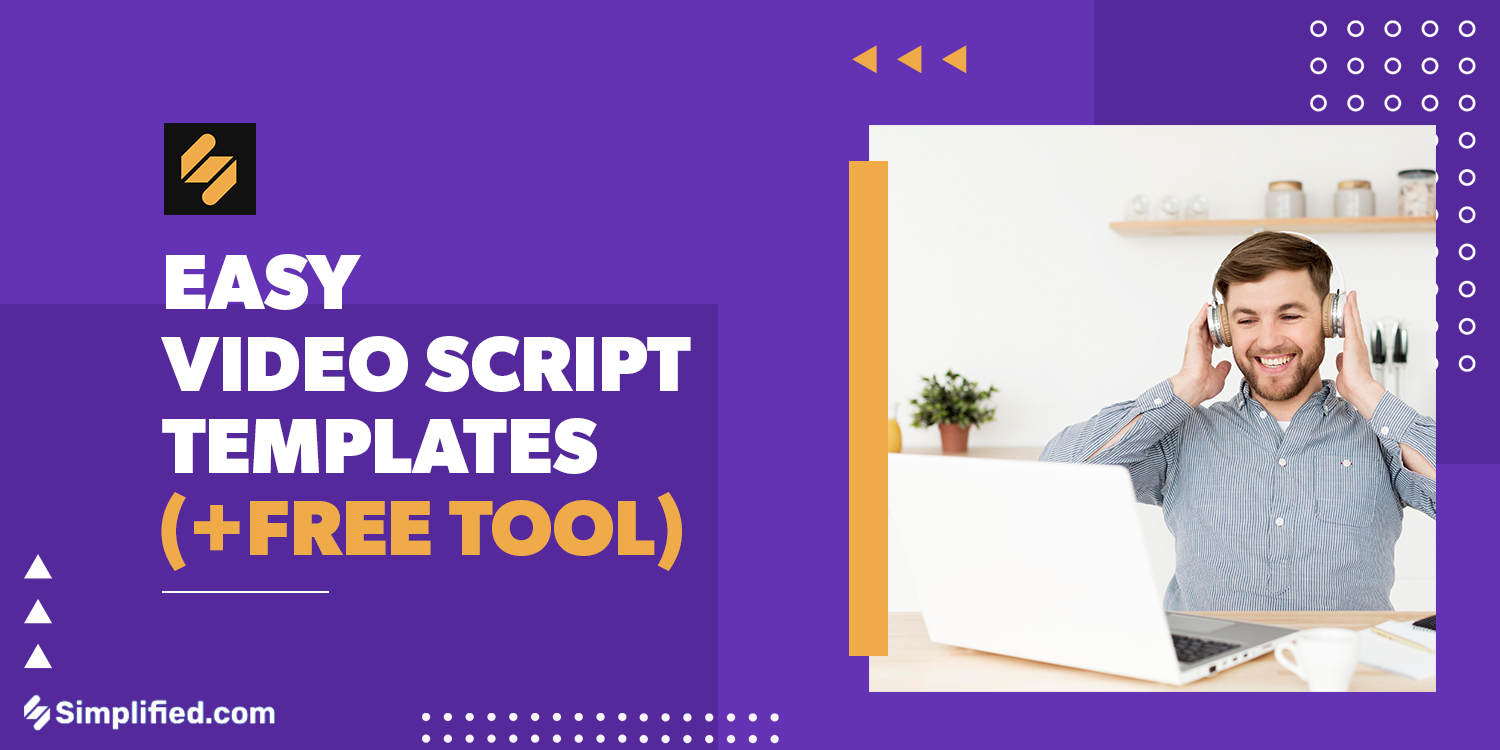 If you've ever had to write a video script, you know how difficult it can be to come up with ideas and organize your thoughts. Coming up with a video concept is hard enough, but once you have to start putting words to paper (or screen), it can be daunting.
The good news is that there are several templates and frameworks that you can use to make the process easier. In this blog, we'll share 7 video script templates that will help you write better videos.
What Makes A Great Video Script?
A great video script will do more than just tell a story – it will also engage the viewer, hold their attention, and leave them wanting more. So how do you write a great script? Here are a few tips to get you started:
Keep it short and sweet: Keep your script focused and to the point.
Start with a strong hook: Start with a strong opening that will make people want to keep watching.
Adopt a clear writing style: A good video script should be well-written, clear, concise, and easy to follow.
Use a proper structure: The script should have a clear beginning, middle, and end, and each scene should flow smoothly into the next.
Keep your audience in mind: Write your script in a style and tone that resonates with your target viewers, focusing on the topics and issues that are most important to them.
Include a Call-To-Action: Tell the viewers what you'd like them to do after watching the video.
Related: Using Basic Psychology To Create Effective CTAs: Call To Action Simplified!
6 Video Script Templates (Plus Examples)
Here are 6 different types of templates for video scripts, plus examples of each one in action.
1. Explainer Video Script
You've probably seen them before – those short, snappy videos that break down complex concepts that are easy to understand. They're called explainer videos, and they're a perfect way to introduce your audience to a new concept or product. These types of videos are usually short-form and business-focused. They are mainly used to highlight a business's products or services in an easy way.
Explainer Video Outline Template
Intro: Hi, We're [company name] and we're here to tell you about what we do and how we do it. Our company specializes in [Ethiopian beehive locker systems/providing safe water to Flint, Michigan/etc.]
Main points: What sets us apart is our unique approach to [our work/the problem]. Our goal is to [improve the lives of our customers / make a difference in our community]. If you're looking for a company that cares about its customers and is making a difference, then look no further than [company name].
Call to Action: If you're interested in learning more about us/our product, please visit our website or give us a call.
2. The Before-After Video Script
The before-after format is one of the most popular video types out there. It's a simple way to show your audience the before and after of something – whether it's a physical transformation, a lifestyle change, or anything else. Creating a before-after video is a great way to show your audience the power of your product or service.
Before-After Video Script Template
Intro: Hello, this is [name of company] and today we would like to show you how to use a great program called After Effects.
Before: Before some of our customers started using After Effects, their videos looked like this [show a video clip of the old work]
After: But after they started using After Effects, the videos started to look like this [show a clip of your customers' new, improved work]
Call to Action: Isn't that amazing? If you'd like to learn how to use After Effects too, then click here to sign up for the free trial.
Related: How to Create an Engaging Video Script [+Free Generator]
3. Testimonial Video Script
A testimonial video is a video that features a satisfied customer or client speaking about their positive experience with a product or service. These videos are usually short, to the point, and highly persuasive. They're also a great way to build social proof and boost your brand.
Testimonial Video Script Outline
The story of how the customer found your product or service
The problem that the customer was trying to solve
How your product or service helped the customer solve their problem
The results the customer achieved thanks to your product or service
A call to action for other potential customers
Template
Hi, my name is [insert name] and I'm a big fan of [insert company name]. I've been using their products for years and they've never let me down. I remember the first time I used [insert company name]'s products, I was impressed with how well they worked.
I've tried other products in the past, but none of them compare to [insert company name]'s products are always top quality and they go the extra mile to make sure their customers are happy.
I would highly recommend [insert company name] to anyone looking for a [insert problem that your company's products solve] to try it out today.
4. How-To Video Script
A how-to video is exactly what it sounds like: a video that teaches the viewer how to do something. This could be anything from "How to Make a Delicious Apple Pie" to "How to Fix a Leaky Faucet." These videos are great for product demos or tutorials and are some of the most popular types of videos on the internet.
How-To Video Script Outline Template
Intro: Hey there! In this how-to video, we'll show you how to [insert task]. This is a really handy skill to have, and it only takes a few minutes to learn. So let's get started!
Steps: First, you'll need to gather your supplies. For this task, you'll need [insert materials]. Once you have your materials, it's time to start! The first step is to [insert step one]. After you've completed step one, it's time for step two: [insert step two]. Once you've completed all the steps, you're done! Now you know how to [insert task].
Call to action: And, if you would like to find more videos like this, visit our website [insert website].
5. Brand Promotion Video Script
If you want to promote your brand with a video, this type of video is a perfect choice. It showcases your company's story, personality, and values and is also a great way to connect with your audience on a deeper level.
Brand Promotion Video Script Outline
Introduce your brand (This is your chance to capture your viewers' attention and make them want to learn more about your company.)
Highlight your brand's Unique Value Proposition (Why should people buy from you instead of your competitors?)
Share your brand story (This is the human element that will make people connect with you on an emotional level. So don't be afraid to share it! Talk about how your brand started, what drives you, and what your goals are for the future.)
Call to action
Template
Intro: Hi, we're [name of company]. Our brand is all about [insert brand purpose]. We believe in [insert company values]. And we're passionate about providing our customers with [insert product/feature].
Main points: We're different from other companies because [insert unique selling proposition]. We're the best at what we do because [insert reason]. We want our customers to know that when they choose us, they're choosing [insert what]. Thank you for choosing us. We hope you enjoy our products and services.
Call to Action: If you'd like to know more, you can contact us at [insert contact info]
6. Case Study Video Script
Case study videos are a great way to show off your company's successes and how you've helped your clients achieve their goals. With a case study video, you can show off your company's personality, build trust with potential clients and show them that you're an expert in your field.
Template For A Video Script With Example
Intro: Hey there! We're [insert company name] and we make [insert products.] In this video, we're going to show you how our products helped one of our customers, John, solve a problem he was having.
Main points/benefits: John is a construction worker who was using a traditional drill to make holes in walls. The problem was that the drill was taking too long and John was getting behind on his work. That's when he decided to try our [insert product name] drill.
As you can see in the footage, John can make holes much faster with our drill. He's also less fatigued at the end of the day, which has helped him stay on schedule. John is just one of the many people who have had a great experience with our product.
Call to Action: So if you're ever in need of a better way to do things, be sure to visit our websites and check out our amazing products!
The Best(& Free) Tool To Make Scriptwriting Easier
Now that you know the types of video script templates, nothing is stopping you from writing the best scripts ever! And, because we know the process can be daunting, we have a tool that can make things easier and faster.
Simplified is an all-in-one platform for all your content needs (AI copywriting, design, videos, content planning, and social media publishing) that can help you generate video scripts with a few clicks of your mouse. With Simplified, you:
can write full blogs in 2 minutes
have access to 30+ languages to reach a wider audience
can choose from over 70+ AI templates to choose from to write both long and short-form content
can use the "free forever" plan if you're on a tight budget
equipped with Grammarly integration and plagiarism checker for perfect writing always
get keyword-rich SEO content to help your content rank organically
can easily collaborate with your team and client with real-time editing and planning